The complete guide to buying a pre-loved wedding dress
With sustainable weddings rising in popularity, it's now easier than ever to find the perfect pre-loved wedding dress. Here's everything you need to know if you're thinking of buying vintage for your big day
For most women, we're told from an early age that our wedding days will be one of the most important in our lives. And, influenced by celebrity weddings on social media and a wedding industry only too happy to endorse excess and extravagance, the pressure on brides to throw the most memorable celebration possible is extreme. Which is problematic not only financially and socially but environmentally too.
Destination weddings, bridal showers and the purchasing of a dress that will only be worn once can create a worryingly large carbon footprint. With sustainability becoming a top priority for many couples in recent years – according to wedding planning platform The Knot, more than 70 per cent now factor it into their wedding plans – brides are seeking ways in which they can plan a more environmentally-friendly celebration.
Buying a pre-loved dress is a great step in the right direction and, according to Lyst's 2021 Wedding Report, searches for pre-owned wedding dresses are up by 93 per cent year-on-year. As brides strive to make more eco-conscious decisions, the industry is set to boom, with many realising just how special a pre-loved wedding dress can be. Plus, you'll be following in royal footsteps: Princess Beatrice wore a vintage Norman Hartnell dress previously belonging to the Queen when she wed Edoardo Mapelli Mozzi in 2020.
As the pre-loved bridal industry grows in popularity, there's no reason that you should have to compromise on quality, either — second-hand sellers such as The Loop and Threads Bridal source a number of highly sought-after labels. Of course, as with any dress, there are a number of things to consider when buying vintage. Below, four experts share their top tips for finding your perfect dress.
Why buy a pre-loved wedding dress?
"Although many of us wouldn't hesitate when buying, say, the perfect vintage pair of jeans, there's still somewhat of a stigma surrounding pre-loved wedding dresses," explains Grace Richmond of The Loop. "I think, when it comes to their big day, brides don't want to compromise on both quality and condition. What they don't realise, though, is the industry is growing — there's a vast amount of options out there now, including designer labels. Every dress we personally sell on The Loop is of the highest quality, and we research, hunt down and examine each and every dress before taking the process any further. This gives us access to a great range of designer labels, including Cult Gaia, Brandon Maxwell and Khaite."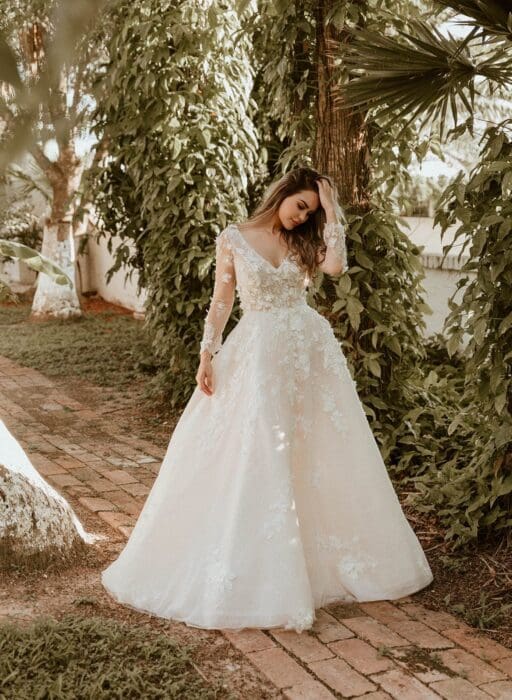 "I have certainly seen an increase in brides looking to buy more sustainably," adds Helen McMorine, managing director of White Dress UK. "Buying a second-hand gown is obviously a great way to do this. You're giving a dress another chance to shine, rather than remaining in a closet, unworn. Of course, the prices of weddings, in general, are on the rise. Designer dresses can be a large proportion of a bride's total budget, and buying pre-loved dresses can be a fantastic way to cut costs, if you need to do so. In 2023, you don't have to pay an astronomical amount of money for the perfect dress."
For Ingrid Szajer, co-founder of pre-loved bridal store Still White, sustainability was one of the core reasons for starting her company. After her own wedding, her husband Bruno asked her what she was going to do with her dress, as he helped her stuff it beneath their bed. Unimpressed by existing services, the power duo decided to build their own website that allowed brides to sell their dresses in a trusted, reputable and safe manner. As of today, the company has 78,327 active listings, and has generated more than £61 million in sales.
"Sustainability is hugely important to our company and to our users," says Szajer. "In 2023, there is much more consciousness around textile waste and our platform certainly means less wedding dresses are getting dumped. Our mission is to change wedding dresses from the traditionally single-use product they once were." The company is also committed to helping accelerate the circular fashion movement, contributing 1 per cent of its total revenue to carbon removal to better the future of the planet.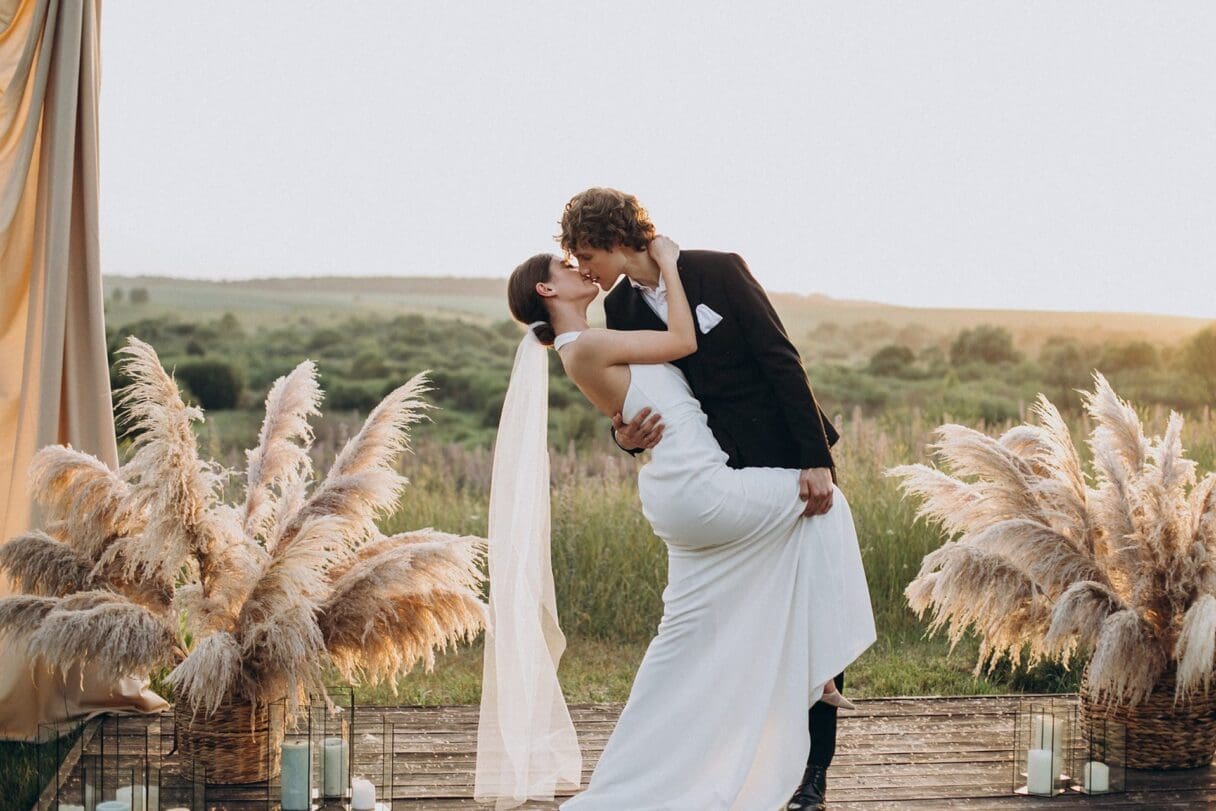 How to find the perfect pre-loved wedding dress
Finding the perfect pre-loved wedding dress is largely similar to buying a dress brand new, though, of course, there are a few more things to consider.
Finding inspiration online, using apps such as Pinterest and Instagram, can be hugely helpful, as it gives you an idea of the sort of style you like, which can narrow down your search when the time comes. It's also worth having a look in traditional dress shops, says Laura Arnold, owner of Threads Bridal. "Go to a variety of dress shops, both secondhand and new, find a style that you really like and that suits your shape. Then when visiting the secondhand shops, you know which dresses you'll love. Be open minded about the designer too, you might find a really similar style by a designer that you haven't heard of which is perfect for you."
"From a broader perspective," says The Loop's Richmond, "getting to know your body, sizing and shape is paramount when buying pre-loved. Easier said than done, I know, but understanding what kind of styles, shapes and pieces work for your body is always an essential place to start. Don't forget if it doesn't work, most resale sites make it super simple to re-upload and sell it on again."
What do I need to consider before buying a pre-loved wedding dress?
If you're buying your second-hand dress online, it's important to make sure you have a plan B in case the dress isn't suitable. Fortunately, most second-hand websites make it easy to return or relist your dress if things don't go to plan.
It's also worth keeping in mind that the dress may need to be dry-cleaned, however, many second-hand bridal boutiques have started to include this as part of their services. "At Threads," says Arnold, "customers get the same experience as they would if they were shopping for a new wedding dress. Private two-hour appointments, beautiful dresses all fully dry cleaned, and an in-house alterations service are all included. I like to make the bride, and their entire party, feel as comfortable as possible."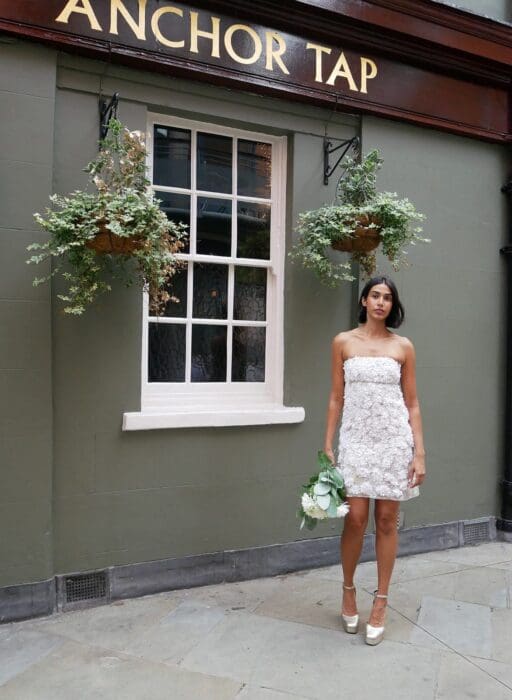 What about alterations?
Another factor to consider when buying pre-loved is, more often than not, the dress will need altering. Even if you have a perfect size match to the dress you're buying, it's likely that it will still need a few adjustments — every body is different.
"Once the dress has been bought, usually our customers like to do the tailoring with us as well," explains Abi Gadsby, co-founder of The Loop. "We're fortunate to have the best tailor ever — we love her, and she is a genius. We work back from the wedding date, and depending on the type of dress, usually suggest two fittings max. Everything we do, we want to do simply to relieve stress, but, of course, we make sure everything is done expertly and efficiently. Between us and the tailor, we tweak the dress until it is perfect."
Can I resell my pre-loved wedding dress?
Perhaps the most beautiful element of buying pre-loved is the fact that so many incredible moments can be experienced in a dress that would otherwise be left to gather dust – so it makes sense you would want to pay it forward by offering your dress to another lucky bride. Each second-hand seller mentioned above makes it incredibly easy for brides to sell on their dresses after their wedding. Not sure what the going rate is? At Still White, brides looking to sell their dress, for whatever reason, can use its helpful sold page to research the predicted value of their dress.
"One particular dress has ended up back in my store three times," says Arnold. "It's amazing that so many moments of pure joy can come from a shared piece of clothing."