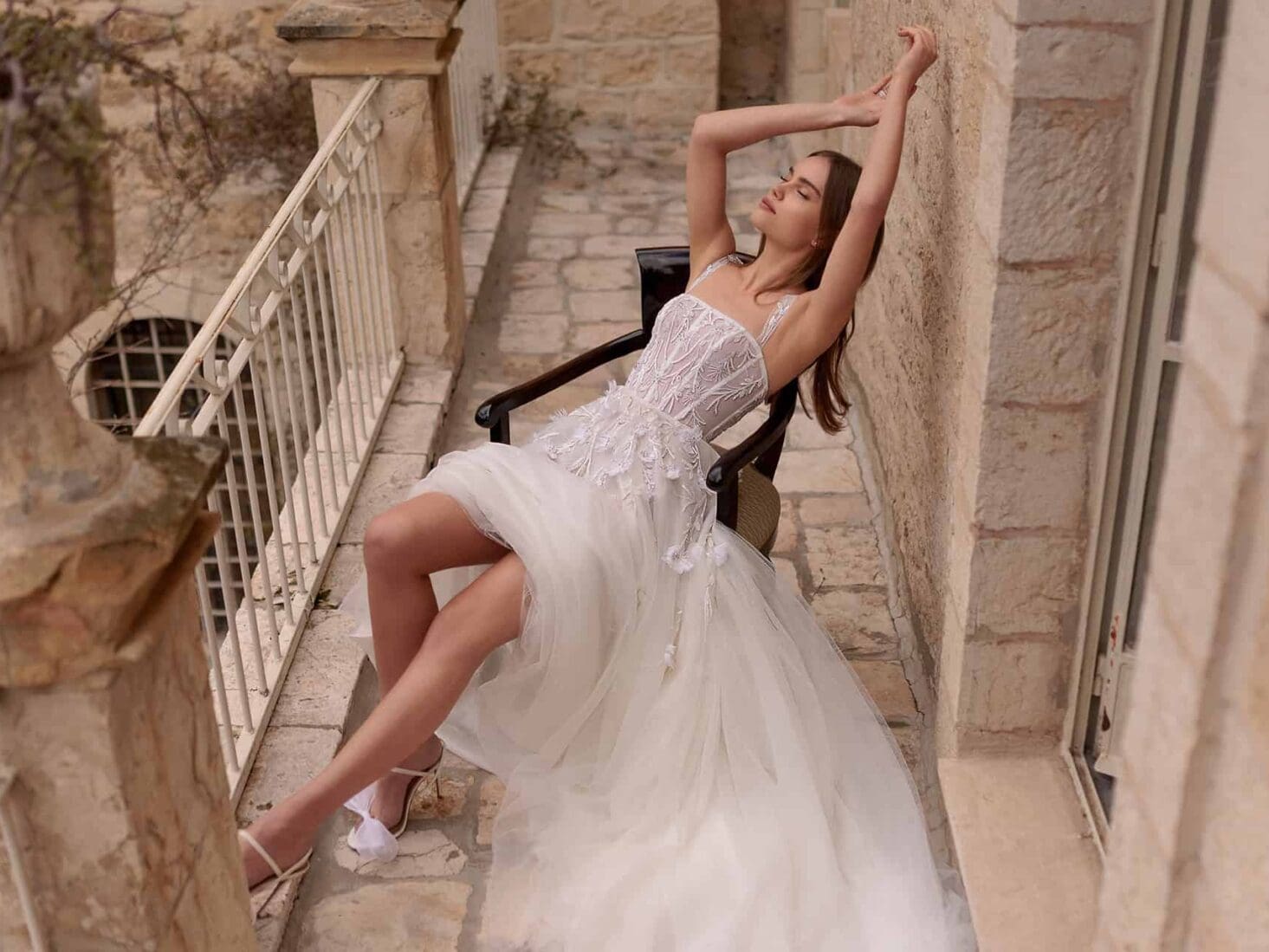 2023 bridal trends: The wedding dresses to try on now
From full-length to mini dress, flared sleeves to strapless, floral fabrics, feathers, frills and more, here's our edit of our favourite 2023 bridal trends
If you're reading this, then you might well be recently engaged and in pursuit of your dream wedding dress. We're here to help – and congratulations! Or you might just love beautiful dresses, in which case, do continue (and let us know via Instagram which of the trends you manage to adapt for your own everyday wardrobe). Although almost all wedding dresses are from a very narrow colour palette (white, cream or ivory) and the majority are full length too, the top designers show remarkable creativity season after season, in creating new designs, using unusual fabrics and piquing the interest of the newly engaged with dresses ranging from simple and subtle to statement showstoppers.
Read on to discover the top wedding dress trends coming out of the 2023 collections and the bridal boutiques in London where you can try them on.
Bridal boudoir
One of the best things about bridal fashion is that there really is a style for everyone, no matter what your sartorial preferences. Some prefer demure, leaving plenty to the imagination, while others favour a more sensual look. For those in the latter category, the latest collections have many styles for you to choose from, from tasteful sheer panels to figure-enhancing corsets and sleek silhouettes.
To show off the beautiful lines of your body to maximum effect, turn to Lihi Hod. The Israeli designer's latest collection features Nova, a body-hugging dress with a sheer, embroidered corset, and Ella, a corset style made slightly less revealing but with similarly delicate adornment. Mira Zwillinger's Eleni is gorgeous too – an elegant, understated boudoir style.
Princess for a day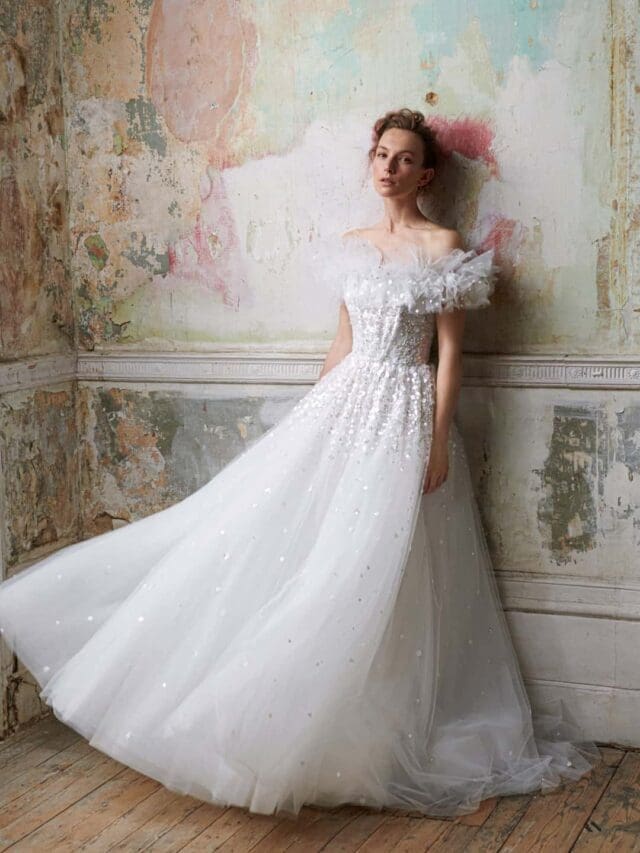 We repeat – there really is a style for everyone and, for every bride who loves sheer, clinging, boudoir styles, there's another who just wants to go full princess ballgown. We're talking huge skirts, long trains, flouncy details and nipped-in waists. This is a perennial trend that is going nowhere and designers delight us once again in 2023 with more showstoppers, both traditional and Disney-esque.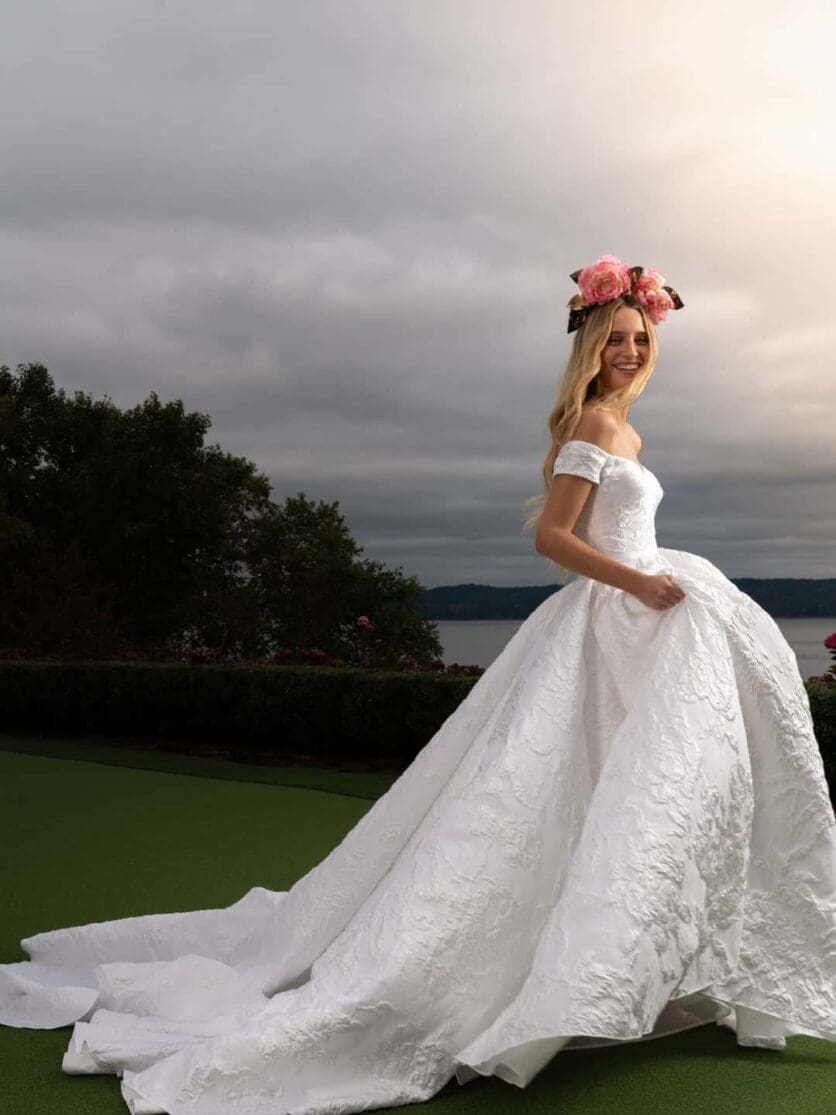 Popular Lebanese designer Reem Acra (who I must confess designed my own wedding dress several years ago) has favoured an off-the-shoulder number in bright white with a voluminous skirt, while British designer Halfpenny London balances a very simple high neckline with a fabulous, frothy ballerina-style tulle skirt. Jenny Packham also comes up trumps with the exquisite Angel Eyes gown – the stuff wedding dress dreams are made of.
Flare play
Practicality be damned; it's your wedding day! Flared sleeves may make things a tad trickier when it comes to eating but they are a '70s-style trend we particularly love for weddings in the cooler months – and they are a wedding dress element that's rather more unusual, if you prefer not to follow the crowd.
Bell sleeves can be quite subtle; Peter Langner's Poppy gown has barely-there sleeves with frilly lace wrist ruffles, giving a flared sleeve effect, while Jenny Packham's Faithful channels ethereal elven princesses. Halfpenny London, though, goes full throttle with Hula, part of her Courage collection, and we love it. The classic silk gown is given a twist thanks both to a low neck and back and because of its accordion-style, angelic sleeves.
Short and sweet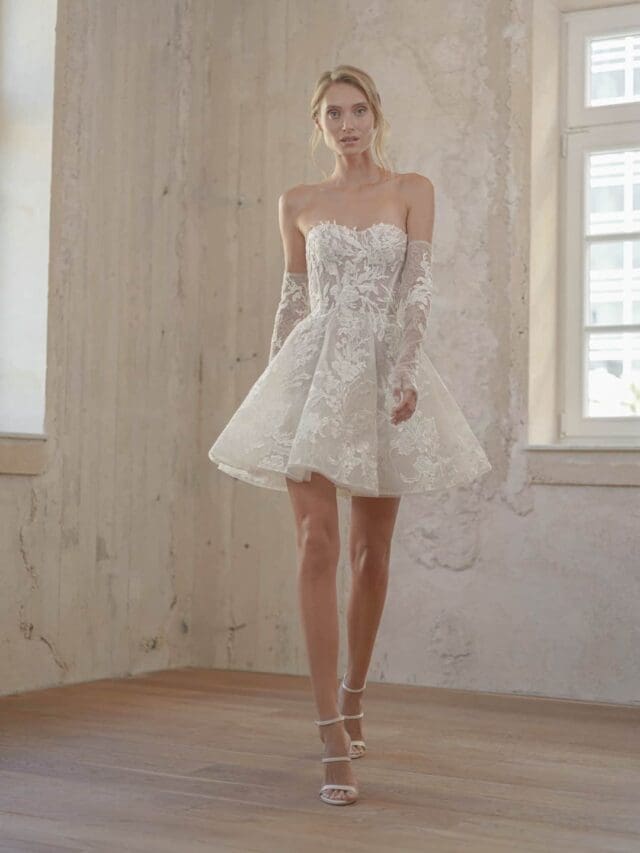 For those who want to rip up the wedding dress rulebook and show off their legs – and why not? – the mini-length style is the trend for you. Look to Lihi Hod's short and sweet strapless Milly for inspiration, especially if you like the idea of pairing it with a long cardigan-cape number for added interest – short from the front, long from the back. Mira Zwillinger's Mishi style, meanwhile, has strong prima ballerina energy, with its skater skirt and delicate detail.
Material girl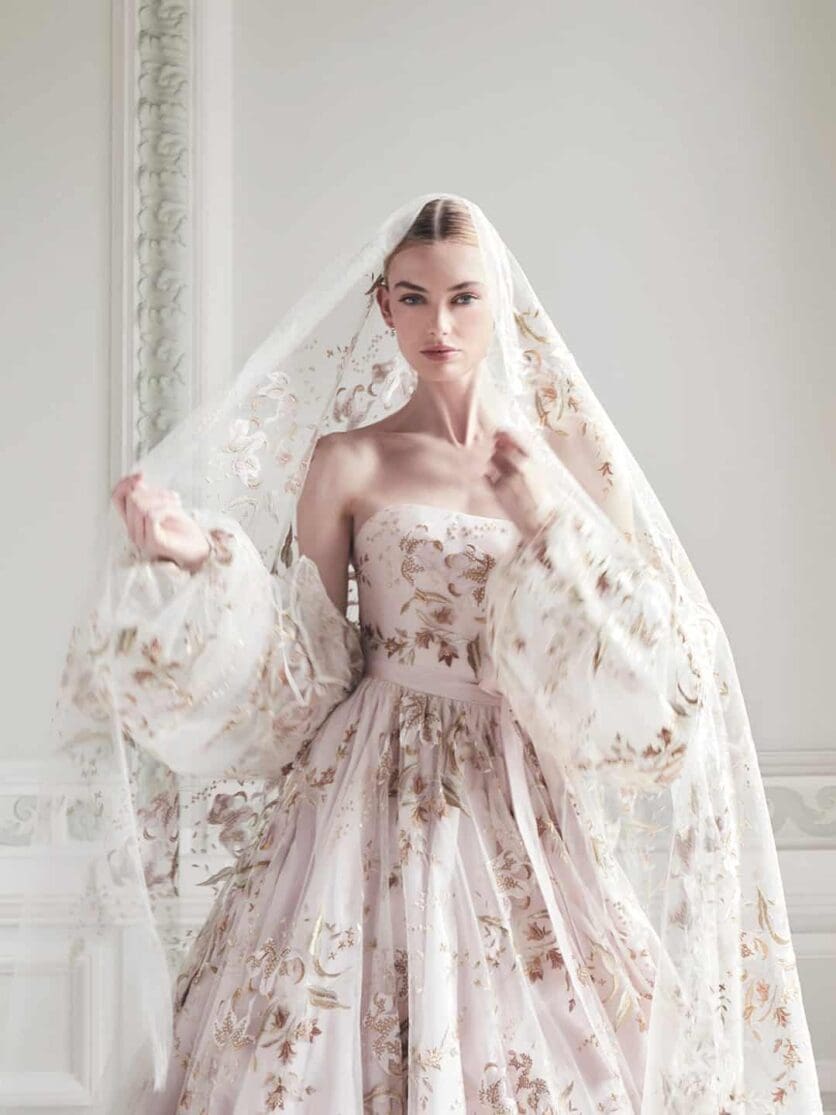 The American actor Sophia Bush got married in 2022 in a bespoke floral Monique Lhuillier dress, featuring peach Oklahoma tea roses, deep orange California poppies, warm green and deep inky Italian olives, and butterfly ranunculus. If you loved the look of that dress, and the idea of a more unusual fabric, enter Phillipa Lepley's Toulouse Stargazer, given such a great name thanks to Lepley's love for the city of Toulouse (often affectionately referred to as La Ville Rose – 'The Pink City' thanks to its blush terracotta bricks).
It is constructed from sugared almond taffeta fabric embellished with ornate gold and bronze tiger lilies which cascade over the skirt, torso and balloon sleeves. The unusual element in the Reem Acra dress above, on the other hand, is the feathering, which gives the dress its striking, whimsical texture.
It takes two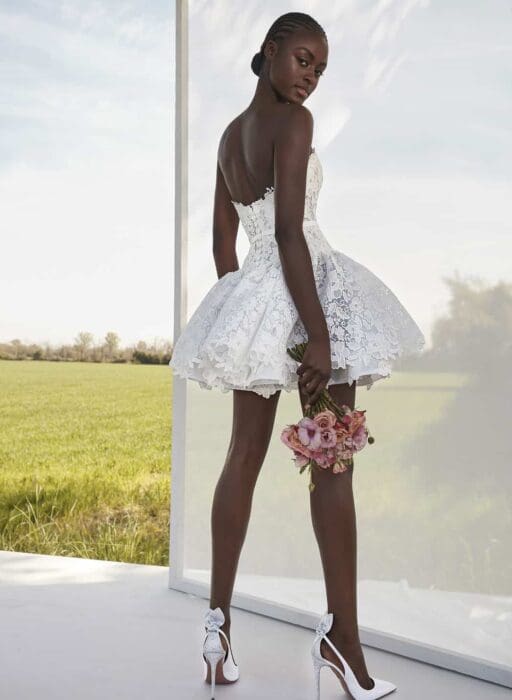 You just can't decide: you'd love a long dress for the ceremony and a short dress to dance the night away in. Where to turn? Bridal maestro Peter Langner, a designer with 30+ years in the industry and in particular, his 2023 Daphne (below) and Sophie (above) dresses.
The former is a sheath gown in flowing silk, with a high-necked tulle balloon blouse which can be worn by itself for the evening's festivities as a short-short wedding party dress. Sophie meanwhile is a strapless, low-rise ballgown in guipure lace with a detachable tulle underskirt. What could be better than the dress of your dreams? Two of them.
Never too much tulle
Tulle – named for a city in France that became very well-known for its lace and silk production in centuries past – is an enduringly brilliant fabric in the world of wedding dresses (and ballet costumes too). This very fine, lightweight netting is beloved by designers, both for underskirts and for veils too, and this season we're seeing as much of it as ever. Reema Acra makes the most of it for her most sweeping ballgowns while Jenny Packham uses it to understated effect in dresses like Rhapsody – clean lines and a classic silhouette. Beautiful. Whatever dress you choose, we hope you have the best day of your life wearing it.