9 Interior Highlights from Milan Design Week and Salone del Mobile 2019
A Gucci home of dreams, beautifully crafted basket bags and oak wood televisions – here are the best things we saw at Salone del Mobile in Milan
Milan Design Week is to interiors what Chelsea Flower Show is to horticulture, or Baselworld is to watches. Over the course of last week, hundreds of thousands of visitors – professionals, members of the public and press – descended on Milan for Salone del Mobile, the annual international furniture exhibition hosting 2,418 of the world's most interesting and creative companies, and Fuorisalone, comprising events that pop up across the city. The Salone refers to itself as 'an international platform… that shines a light on the state of the art of design' and this year the quality of work and designs on show was as high as ever. Visitors enjoyed presentations, installations, exhibitions and new collections that will shape the industry this year and in years to come, and these are seven of Luxury London's Milanese highlights.
Zanellato/Bortotto and Atelier Biagetti for Louis Vuitton Objets Nomades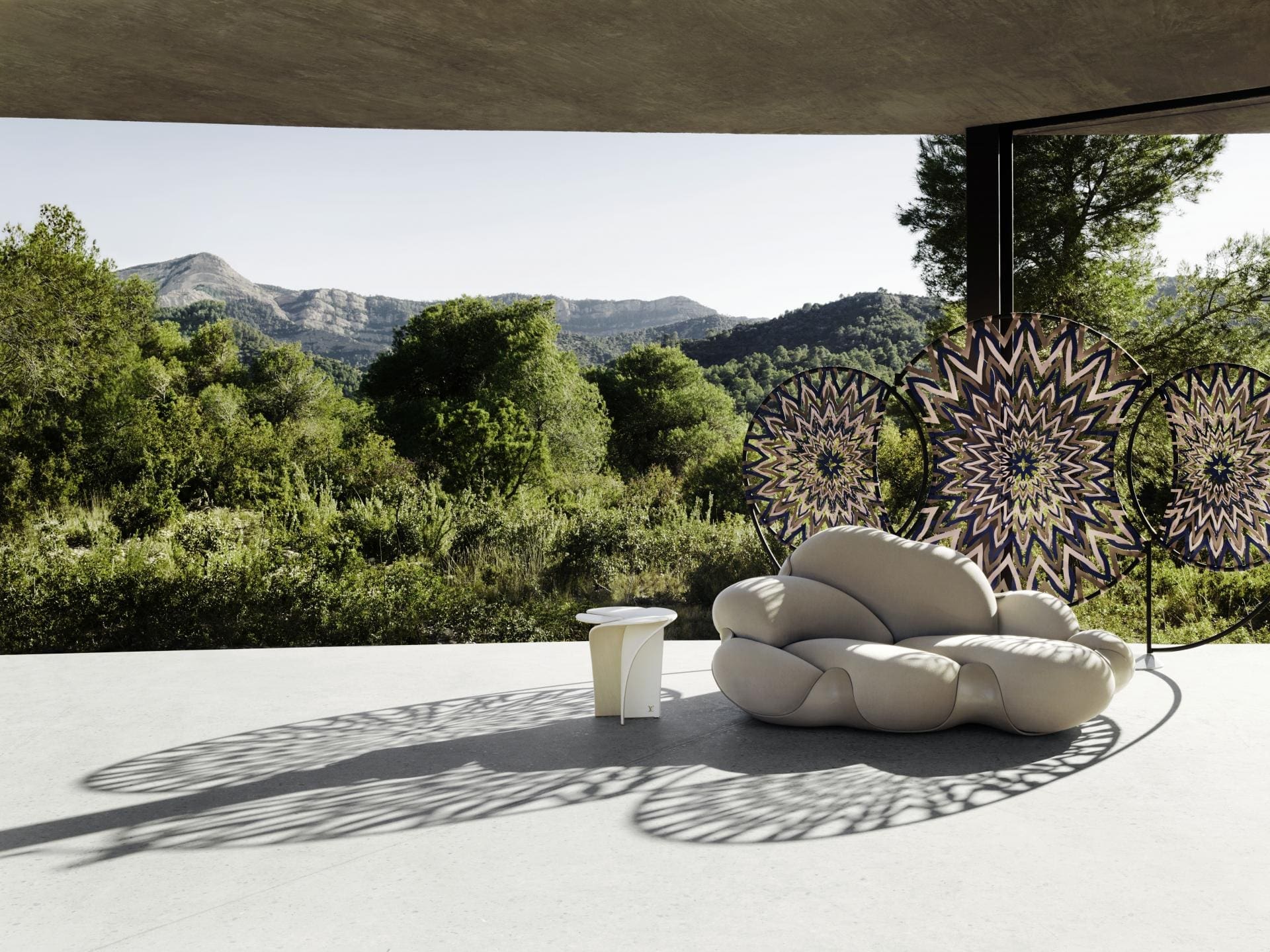 Mandala by Zanellato/Bortotto, Louis Vuitton Objets Nomades
Louis Vuitton Objets Nomades, a collection of travel-inspired objects, was created in 2012 with the aim of inviting renowned designers to "imagine creative, functional and innovative furniture and objects, which are then elegantly crafted using Louis Vuitton's savoir-faire". There are now 45 experimental objects and these pay homage to the House's design past – for example, the iconic Bed Trunk produced in 1874 for French explorer Pierre Savorgnan de Brazza. Designers who have worked with Louis Vuitton include the Campana Brothers, Marcel Wanders, India Mahdavi and Patricia Urquiola.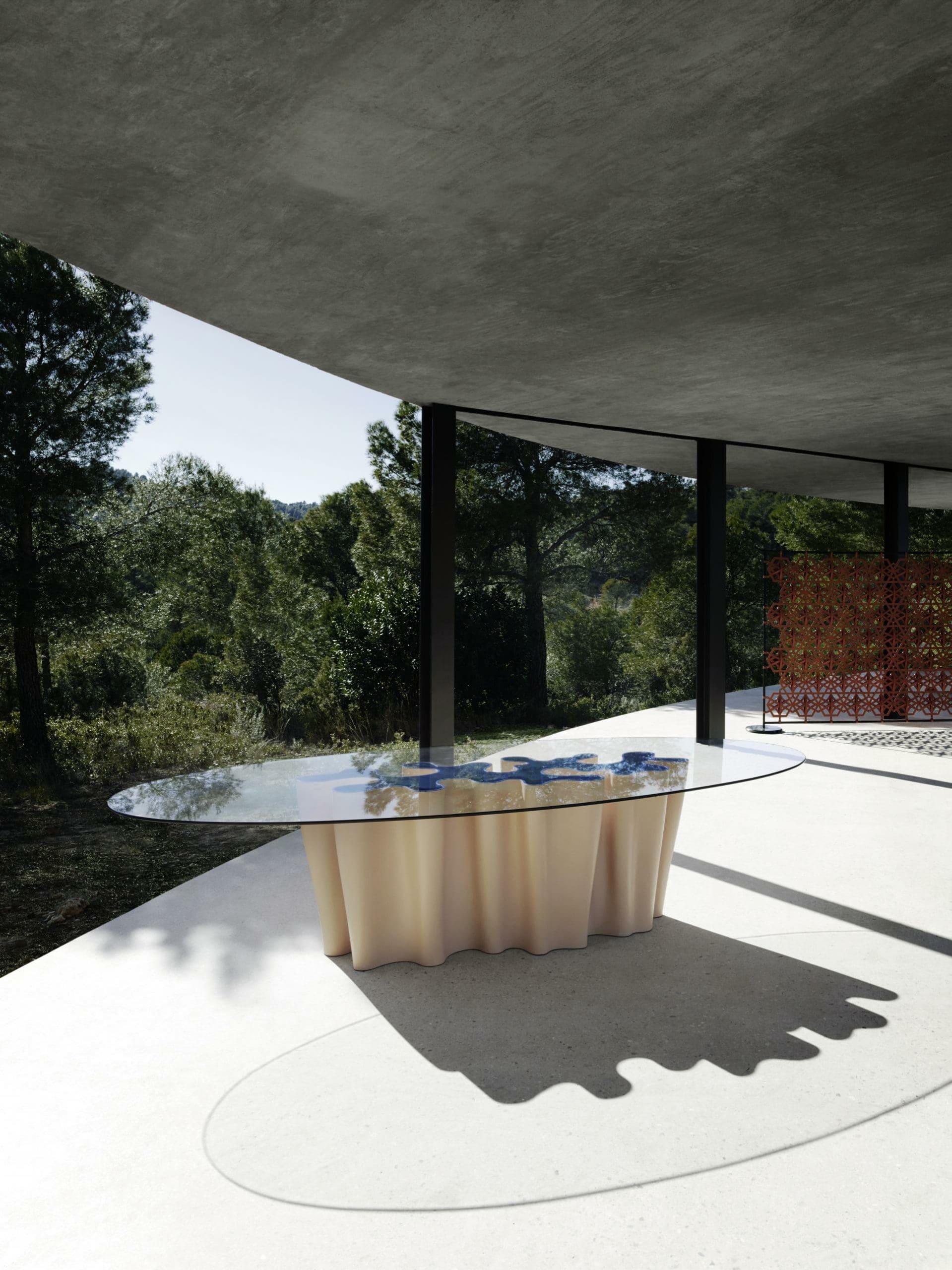 Anemona by Atelier Biagetti, Louis Vuitton Objets Nomades
The ten newest Objets were presented at the Palazzo Serbelloni, along with the news that two new design studios have been welcomed into the fold. Atelier Biagetti, based in Milan, showcased Anemona, a glass-topped dining table with an undulating base. This is covered in soft beige leather on the outside and deep-blue Louis Vuitton lacquer on the inside. The Italian duo Zanellato/Bortotto unveiled Mandala, a tripartite screen of woven leather inspired by nomadic craftsmanship and the classic shape of the Louis Vuitton Monogram flower. Its beautiful colours – soft grey, light pink and deep blue – are intended to be reminiscent of a Venetian lagoon at sunset.
Hermès Home
Hermès returned to La Pelota to showcase its 2019-2020 home collection in a labyrinth-like space devised by Charlotte Macaux Perelman. Energetic, bright textiles and ergonomic objects stood out against dark stone walls, from hanging fabrics and wallpapers, to beautiful vases and bowls.
On display were sculptural, monochrome Halo and Hécate lamps in granite and porcelain by British designers Barber & Osgerby and striking plaids, inspired by a collage by Nathalie Du Pasquier, a founding member of the Memphis Group. We love the beautiful, playful and meticulously-crafted leather marquetry boxes by Joséphine Ciaudo, inspired by the bright colours and contrasting patterns of the jackets worn by jockeys.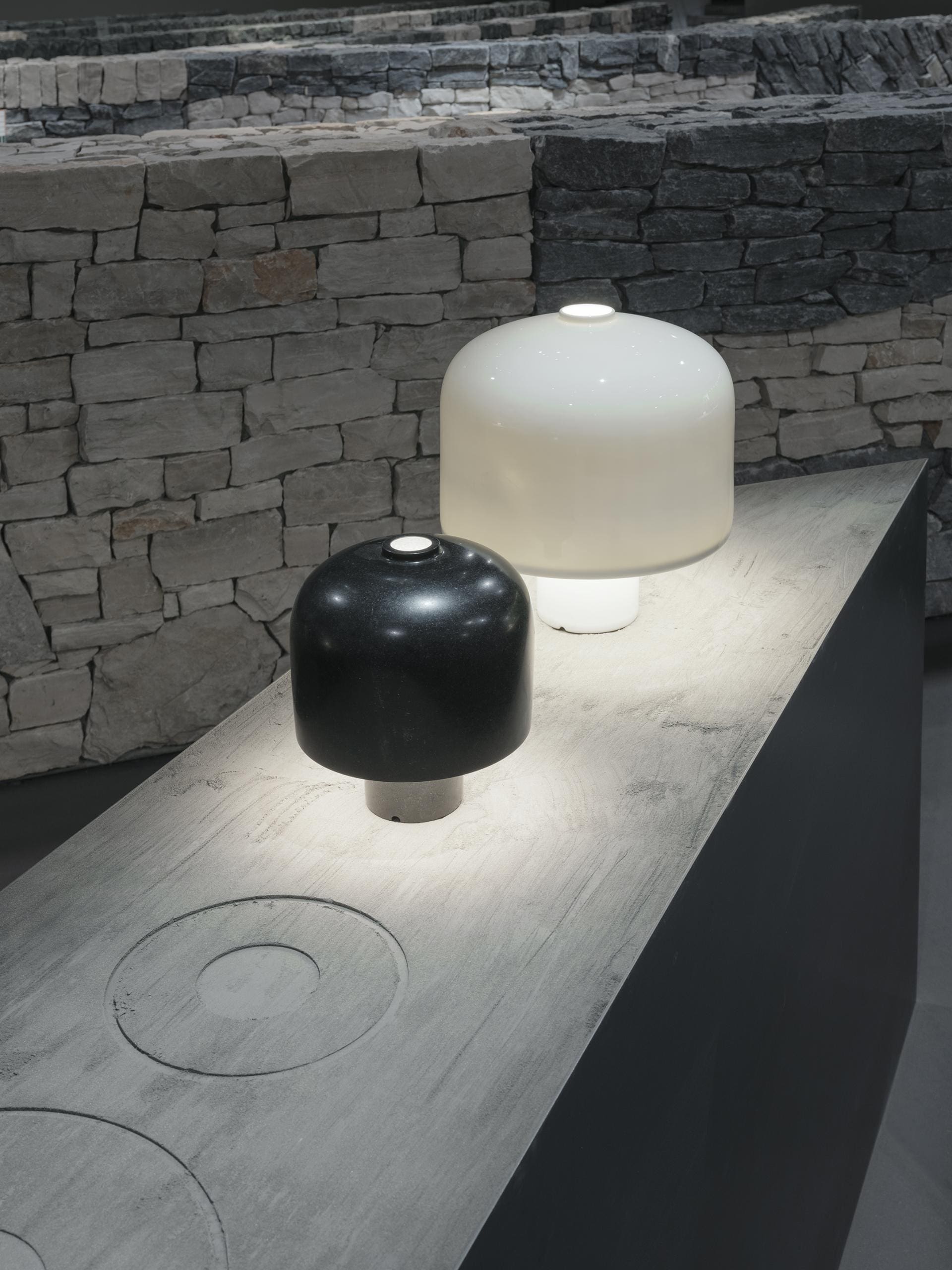 Barber & Osgerby
Joséphine Ciaudo
Baskets by Loewe

For Loewe's fifth Salone exhibition, it went back to baskets – that perennially useful vessel which can combine form and function in so many striking ways. Specifically in this instance, 11 ways, as Loewe demonstrates so creatively. For its exhibition of basketry, hand quilting and calligraphy, Loewe collaborated with 11 international artists – from Japan, the US, South Africa and Ireland – and invited each to interpret basketry using leather. The resulting one-off works are uniquely decorative and pleasingly practical in their application. Loewe also commissioned Spanish artisans to create a collection of woven leather goods and accessories that are also available to buy at selected stores and online.
Marni Moon Walk
Out of this world was the vibe Marni was going for, and its Moon Walk achieved just that, presenting "a space in which primitive allure blends seamlessly with imagination of the future". Quite. Industrial set design and moody blue lighting set the tone for Marni's Salone display, which unveiled products made by a community of Colombian artisans set against a rough landscape resembling the moon. Colourful glasses and blown glass bottles were especially striking in the extra-terrestrial setting.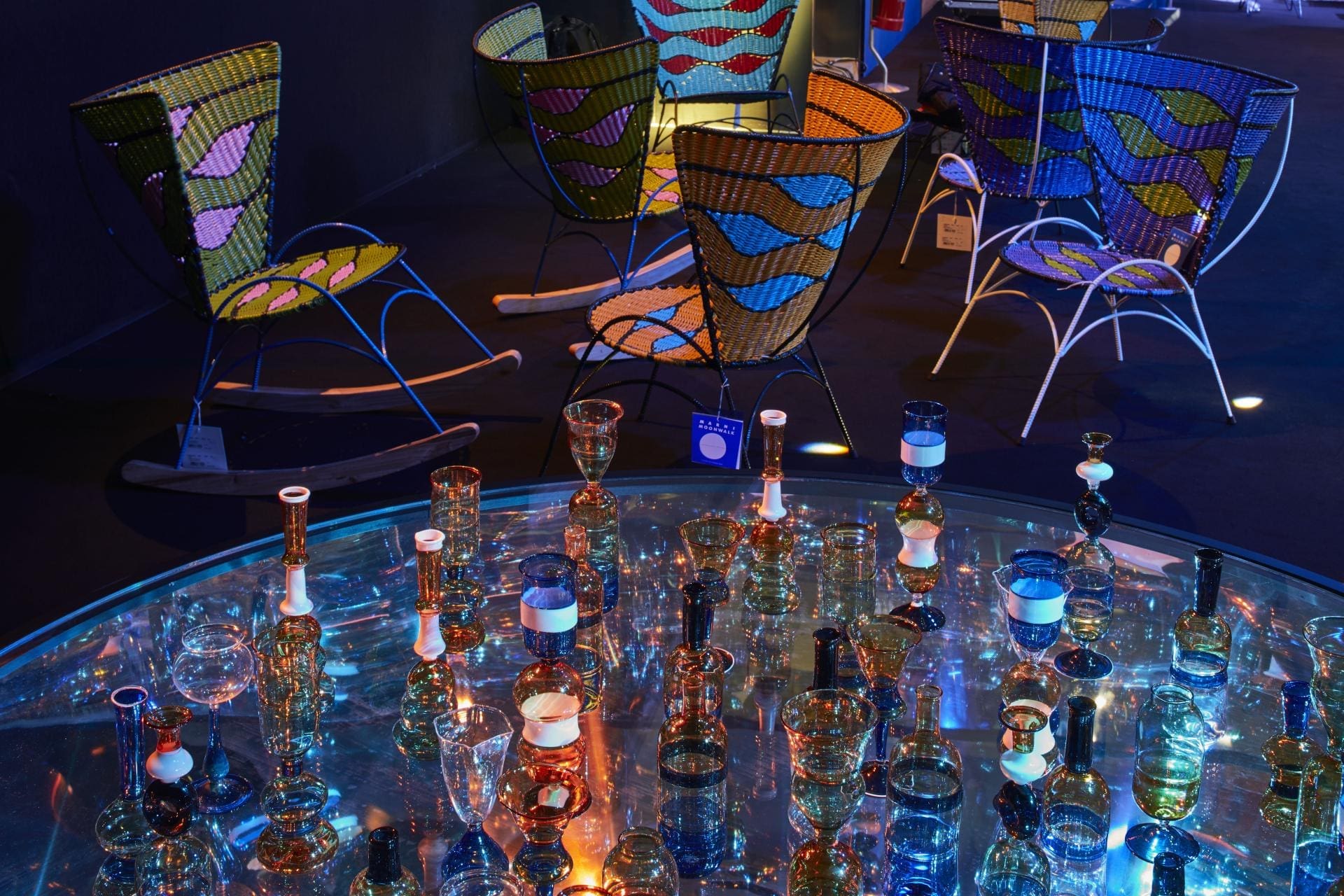 Round Formica-clad coffee tables and sculptural lamps designed to remind us of spaceships add a fun element to proceedings, as did tribal aliens and wooden stools in the shape of totem animals, made from metal sheet and hand painted. We predict the vibrant rocking chair and chaise longue selection will go down particularly well with Marniphiles and, even better, part of the proceeds from sales will go to a children's neuro-oncological clinic in Rome.
Beovision Harmony by Bang & Olufsen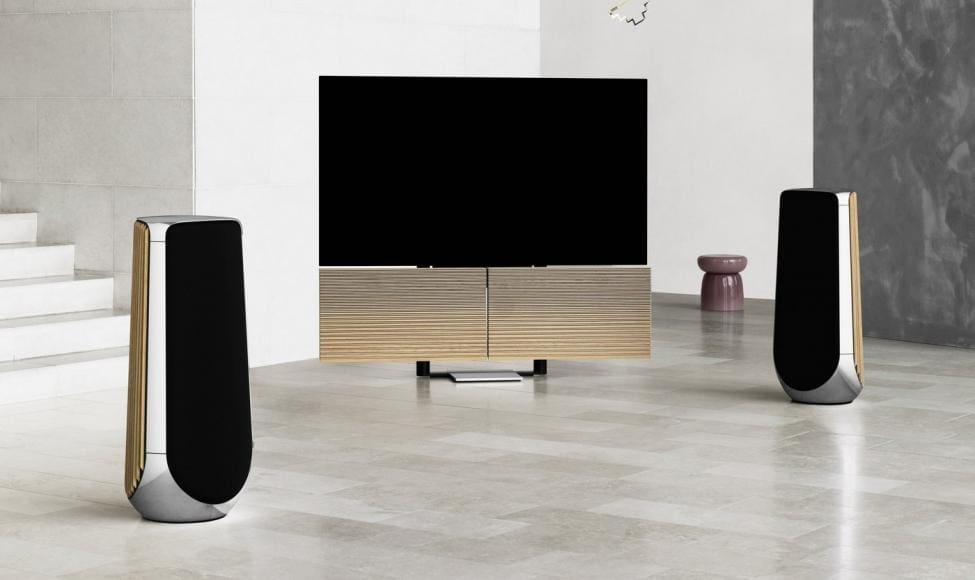 Most televisions are not aesthetically pleasing. However, as the majority of us can't be parted from them, these bulky, ugly black boxes – despite being unused most of the day – have become a key factor in determining the layout of our living spaces so that we can easily recline while catching up on the latest episode of Games of Thrones. Happily, several brands aimed to show us it doesn't have to be this way at Salone del Mobile this year and Bang & Olufsen has done so with a shape-shifting… bang.
The television-speaker hybrid, christened the Beovision Harmony, has a 77-inch OLED screen which sits behind two panels of oak and aluminium; these house a powerful speaker system. When it's time for TV, the panels open up at the touch of a button and the screen rises behind them. If you dream of a television solution like this, it can be yours this autumn for approx. £15,960.
Versace Home
If you know anything about Versace, you'll know that it doesn't do things by halves. Bright colours. Bold patterns. Animal print. Neon. And sometimes all at once. Versace Home installed itself inside the Versace Palazzo, of course, for Salone del Mobile this year and called upon Canadian artist Andy Dixon and American interior designer Sasha Bikoff to bring the new collections to life. And the pictures don't do it justice.
"Versace lives through colour and pattern, breaking rules and promoting a sense of confidence and glamour which is how I decorate," says Bikoff, who was inspired by Richard Avedon's A/W 1994 campaign for Versace. Imagine a fantastical, flamboyant home in tropical, candy-coloured hues, kitted out with acid bright lights, Dixon's huge, hand-painted shirt sculptures and Versace Home furnishings. The new lifestyle line includes skateboards and and kettle bells. And why ever not?
Gucci Décor
Photo by Simon 171, courtesy of Gucci
We didn't know where to look, and that was a good thing. Gucci Décor only launched a couple of years ago but already feels steeped in the 98-year-old eclecticism and romantic mystique of the House, as evidenced by its grand two-floor temporary store for Salone del Mobile (which will stay open until the end of June, if you happen to find yourself in Milan). Within walls bedecked in iconic Gucci wallpaper and hanging blankets masquerading as tapestries, browse porcelains, furniture and furnishings. Expect plenty of patterns and symbols from the House lexicon of motifs, which celebrate, among other things, the natural world.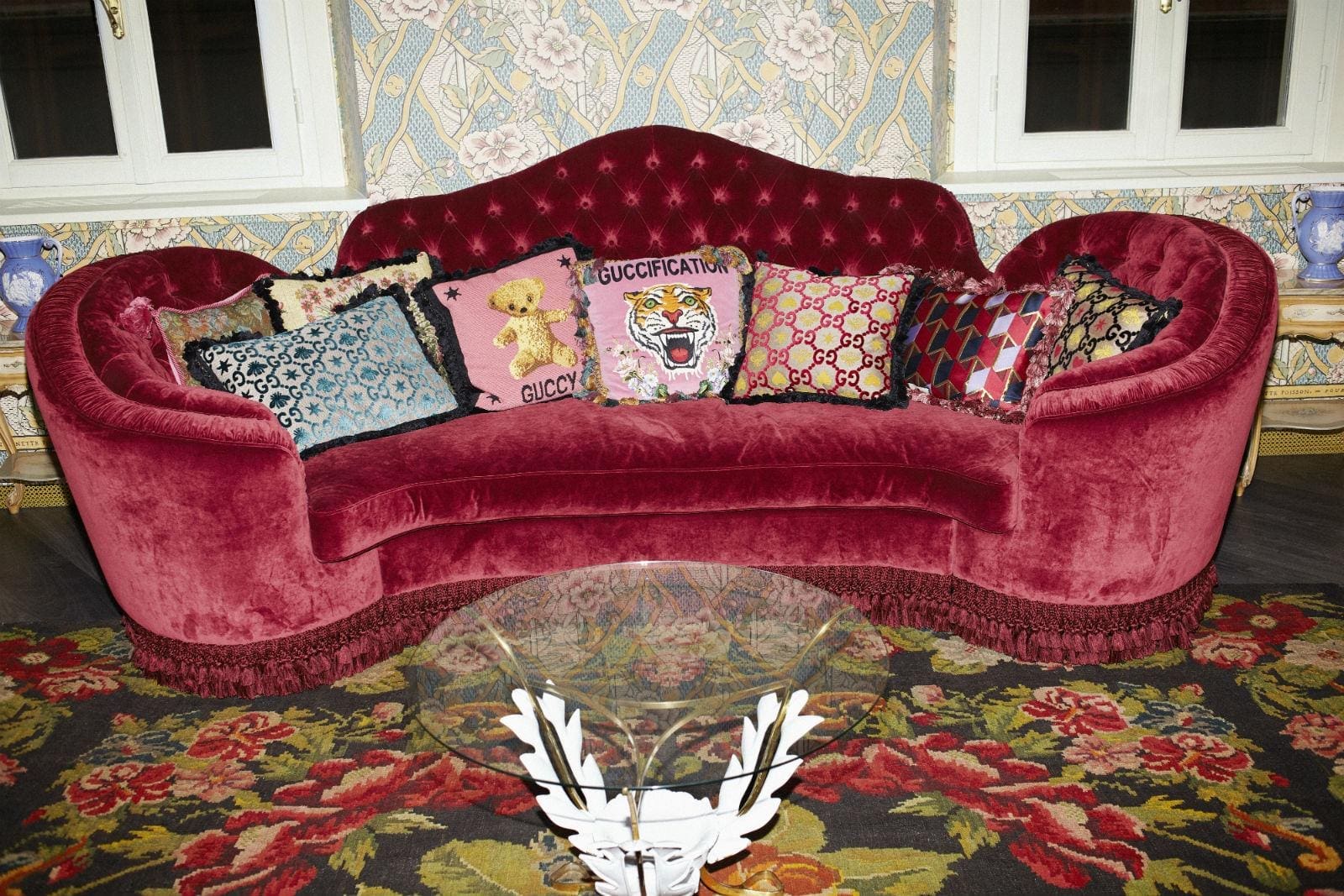 Photo by Simon 171, courtesy of Gucci
True to form, Gucci is on the front foot when it comes to weaving in tech. It has launched an immersive new function on its (Apple) app; a Gucci Décor product will appear as a virtual oversized sculpture on screen, together with information on the piece and that particular evocative, historic place in Milan. Plus the app's augmented reality tech means you no longer need to wonder if that embroidered, velvet, shell-shaped chair will fit perfectly into your London flat. You can 'see' for yourself.
Raf Simons for Kvadrat
Scandi textile temple Kvadrat and Belgian uber-designer Raf Simons reunite once again, launching their sixth collection alongside a major installation titled No Man's Land. A series of prefab buildings designed by Jean Prouvé features alongside a Mark Colle-curated wildflower garden and creative displays of the new Kvadrat textiles. Their uniting theme? Work-in-progress, inspired by nature and the city.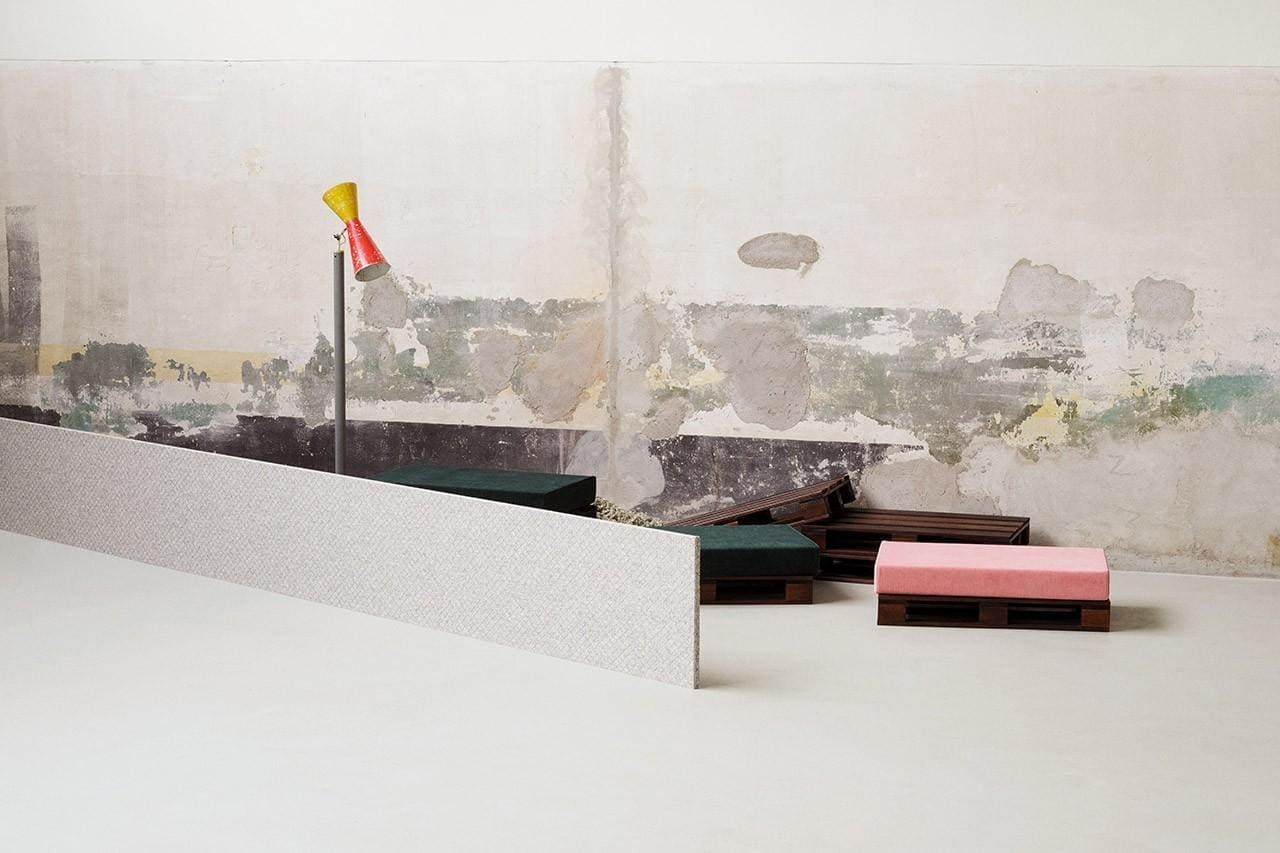 "I am quite obsessed with all the qualities that have an origin in fashion like bouclé, tweed and corduroy", explained Simons. "Because of the density that is needed for furniture in order to make it survive in the long run, it becomes even more interesting." Four new upholstery fabrics join the Danish brand's roster: Atom, a speckled bouclé yarn, the corduroy-inspired Phlox, the matte Novus 1 and Novus 2 – shimmering jacquard-woven bouclé knits.
Conifera by Arthur Mamou-Mani for COS
3D printing isn't new, but what COS unveiled at Salone del Mobile in Milan was unlike anything we'd seen before. Conifera was an immerisve, large-scale, 3D printed installation made from renewable resources by London-based French architect Arthur Mamou-Mani and his studio. 700 interlocking modular bio-bricks created a sculptural pathway of wood and bioplastic composite lattices. These were woven together to create a journey from the central courtyard of Palazzo Isimbardi, through its arched collonades and finishing in the garden, bedecked in translucent and white bioplastic.
The architectural creation reflected COS' thoughtful, clean-lined garments and the brand's focus on ethically-friendly and technical fabrics and processes. "Conifera is a dialogue between technology and craft, between the manmade and the natural and between monumentality and lightness," said Mamou-Mani of his creation. "I hope the visitors will appreciate the futuristic high-tech aspect of the installation but also that it is deeply poetic and human."