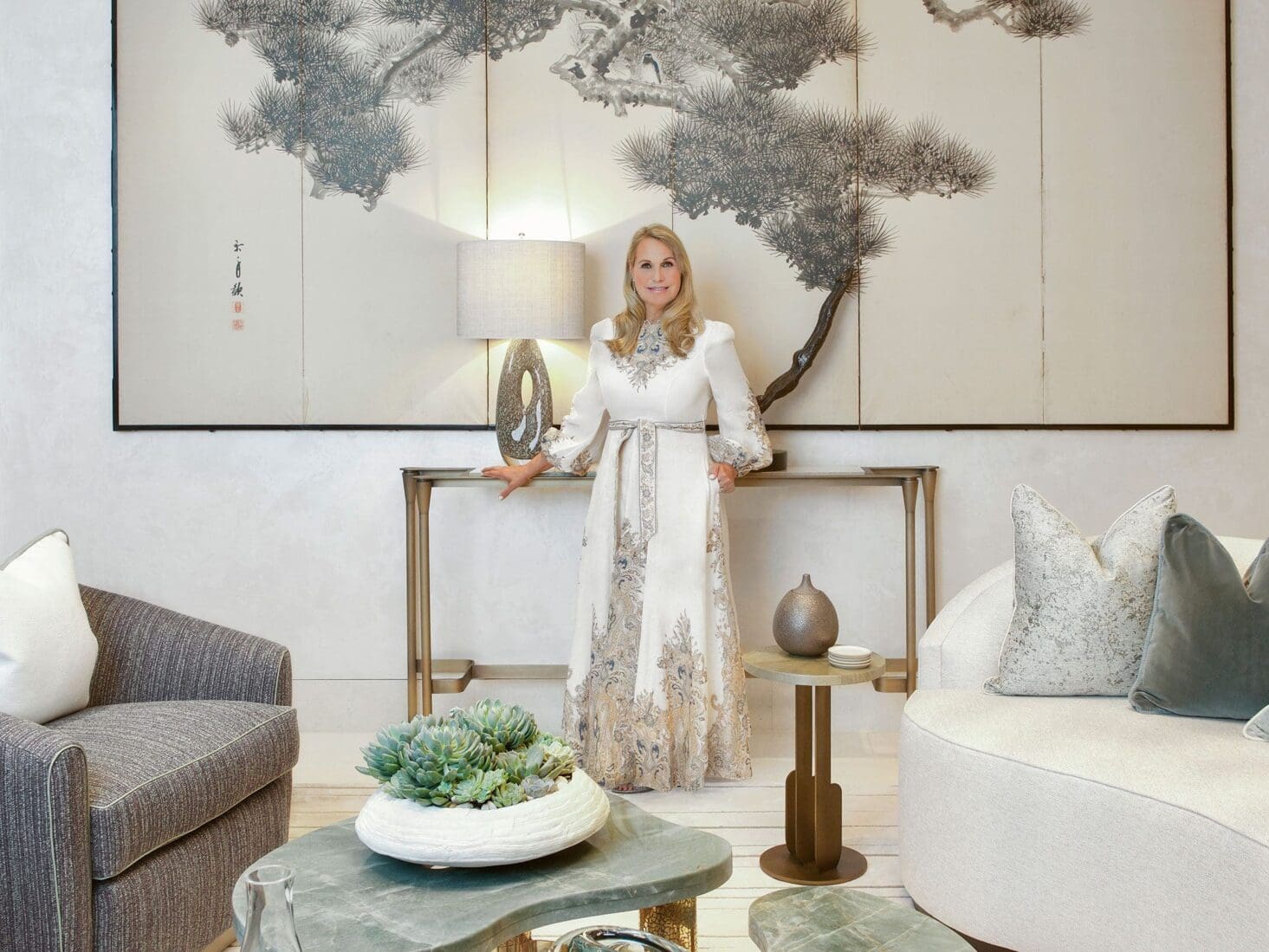 The Great: In conversation with award-winning interior designer Katharine Pooley
Interior designer Katharine Pooley is an industry star with a string of accolades to her name, including 'British interior designer of the decade' according to the International Design Awards Association. From country estates to contemporary homes,
Not many people can claim Mohamed Al-Fayed as their first client. But interior design globetrotter Katharine Pooley started as she meant to go on. "People would always come to my home and ask where I had bought certain things, wanting me to help them design their own homes. Interior design just landed on me, as opposed to the other way round," she muses over the phone, while quarantining in Kuwait at the time of this interview. "I started at the top, that's for sure. But it just felt totally natural."
Born in Hertfordshire, schooled in Oxfordshire and France, and then predominantly brought up in Bahrain (followed by 16 years in Asia), Pooley's projects range in scale and style from traditional country estates to contemporary homes to hotels to luxury spas to beach villas to palaces, castles, ski chalets, planes and yachts. Her eponymous Knightsbridge design studio was established more than 15 years ago on Walton Street, selling exquisite pieces from her extensive travels, including home décor that ranged from console tables and bedside lamps to sculptures, crystals and objets d'art.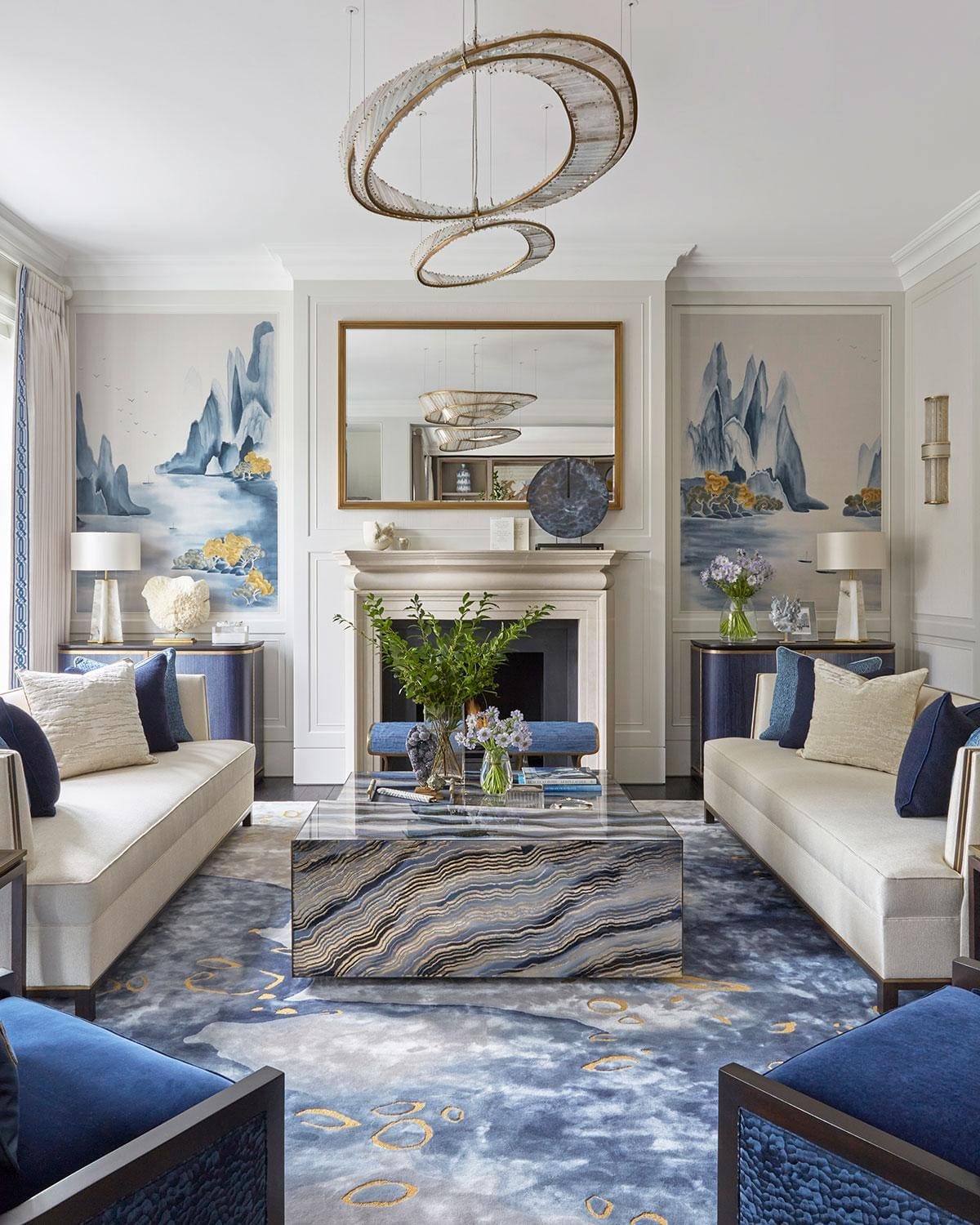 A scan through Pooley's online interior design portfolio and the weighty coffee-table tome she's just published with French luxury publishing house Assouline, Journey by Design, confirms that she's not just seized the family motto – 'try and you will succeed' – but grabbed it by the horns and run with it. "Like in any career, every project is a learning curve," says Pooley. "You build, you learn, you build, you learn. It doesn't matter whether you're a doctor or an interior designer, we all learn as we go along."
Pooley and her team recently completed a showstopper of a townhouse in Notting Hill, a double-fronted Victorian villa dating back to the 1850s which was extended to include three subterranean basements. Taking just five months to complete ("we signed the client on 21 March, the day Boris put us all in a lockdown"), it was largely coordinated over Zoom, followed by a very socially distanced installation. Quite rightly, Pooley is rather proud of what they managed to pull off. "It just goes to show that so much can be done from home. We just tried to remain positive and kept going no matter what."
Pooley worked closely with the client – an international, professional couple in their late 20s – to create a highly luxurious but contemporary interior that highlighted the classical architecture of the property. Brimming with large-scale artworks, alabaster chandeliers, and sculptural furniture throughout, the client's signature love of colour is clear. From the layers of cobalt and azure blue in the drawing room, to burnt orange and deep burgundy tones in the dining and living room, canary yellow, lapis, teal, emerald and dusky lilac hues span each of the seven bedrooms. Two sculpted acrobats are suspended in motion above the breathtaking basement swimming pool, while a 'living' green garden wall provides a serene backdrop to the home spa.
Pooley and her team have also just completed a pretty South Kensington mews house, transforming the once dark property into a light-filled, family home. Standout features include a wine cellar, an enclosed garden terrace and an orangery-style living room. Pretty fabrics, hand-painted wallpaper and mementos from the family's history and travels add layers of meaningful detail.
"For me, it's all about personalisation," says Pooley, from conceiving specific pieces to reflect the client's character and interests, to monogramming items you'd never consider. We discuss a recent installation, within a racing car-themed hotel in China (complete with a private racetrack), where she commissioned a coffee table carved out of a crashed racing car. "I very much do not have a signature style because my work is all about the client, not me. Personalisation is something we are seeing more and more of, and I imagine that will continue."
Having spent more time at home than ever in the past two years, you'd think Katharine would be all for a national home décor refresh. But quite the opposite. "Trends are like flares – they come in and then they go straight back out. Timelessness and quality are what it's all about." After a push, however, she does settle on one sure trend for 2022 – and no, it's not house plants – but sustainability. I'm surprised given that the nature of her job is to predominantly 'acquire more stuff', but Pooley assures me that this can still be done in a sustainable way, most of the time.
"I always try to dissuade my clients from just gutting a property immediately. Even if it's something small like the wooden carcass of a wardrobe, so many things can be re-used."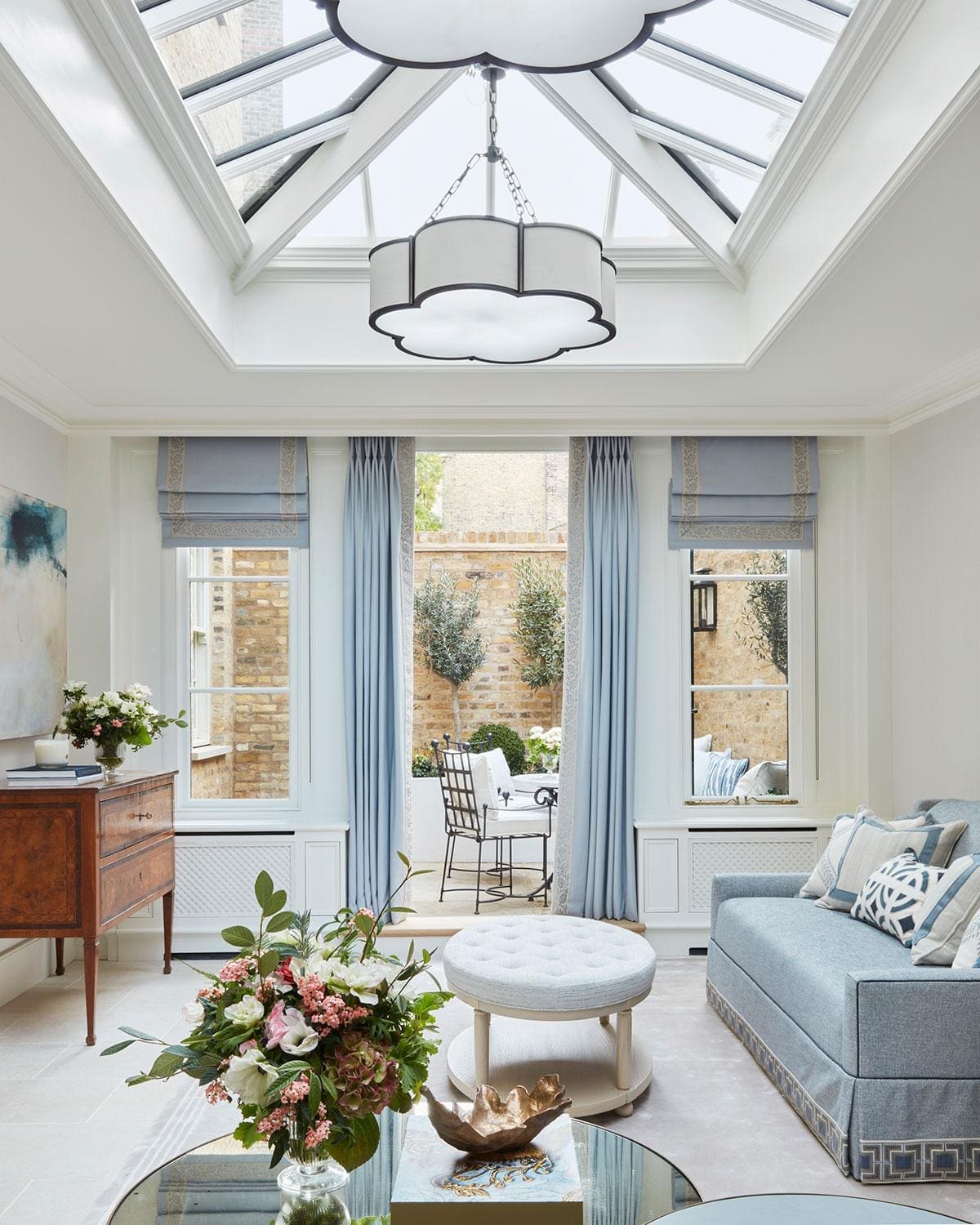 Other ways she endeavours to be as eco-conscious as possible include utilising local artisans – whether she's in Cape Town, Hong Kong or Dubai – and choosing chemical-free, sustainably-made paints, wallpapers and fabrics. "I certainly feel the trend is to try and just need less stuff in general. In 2021 we were all stuck at home, so people wanted to change things. I think in 2022 people are going to be holding onto the pennies much more, even at the very top. We should all need less."
Ironically, Pooley prefers her own home (her main property in Oxfordshire, at least) not to be "too interior designed". "That sounds terrible from an interior designer, doesn't it?!" she laughs, as we discuss the impossible task of keeping a home looking pristine with young children and messy husbands. "People say it's beautiful, but it certainly isn't perfect. My living room looks like a toy room, but I try not to get too stressed about it." Her holiday homes in Devon and the Lake District are, Pooley confesses, "designed to perfection" – before anyone arrives to mess them up, I presume.
"For me the design of these properties is very much based on their usage: one is a beach property, the other is for walking. I love cooking, so my kitchens especially are designed for me: I have a little drawer under the sink for all my cloths because I hate to have them out. I have a toaster drawer to butter my boys' toast. We are all becoming much more personalised in our thoughts on design."
Shortly before we spoke, Kuwait had just reopened its borders and Pooley was one of the first to land, eager to finish off a project she started almost two years ago. I ask her how she's finding her current mandatory quarantine? "I'm actually quite enjoying the peace and quiet," she says. That might be true, but you suspect it won't stay that way for long once Pooley's allowed out of her hotel room.
Read more: In conversation with interior designer Beata Heuman