Interior designer Beata Heuman on creating uplifting living spaces
Beata Heuman's colourful interior designs are the envy of Instagram, each one a reflection of her kaleidoscopic style. Now, through a new book, Heuman is inspiring others to inject some personality into living spaces of their
As a child growing up on a secluded farm in rural Sweden, Beata Heuman would seek escapism in books. Her world revolved around a tiny hamlet in Skåne, and she would go weeks without seeing anyone but her family. She grew to understand the importance of home and the power one's environment has to ground and shape them.
With pen and paper she would emulate this sense of place for her favourite fairytale characters, imagining where they would live and bringing their houses to life through illustration. Today, as an interior designer, she continues to create beautiful environments, this time for real-life characters whose visions of eclectic and colourful rooms are realised by Heuman's limitless imagination.
Her designs are charming and homely, never cluttered but far from minimalist, a mismatch of styles, colours and textures that should, in theory, never work together. But do. Walls are wrapped in raffia weaves, cushions upholstered in red-and-white seersucker stripes and lines curved and undulating. One powder room was inspired by Wes Anderson's The Royal Tenenbaums, with scarlet walls peppered with prancing zebras; while a predominately white bedroom is brought to life with colourful Matisse prints and a grassy green rug. They're not just homes to admire, but homes to be lived in – where a stray mug or newspaper won't upset the oeuvre, but rather enhance it.
"Mixing styles, mixing different types of furniture and mixing high and low makes a home much easier to be lived in," says Heuman, over Zoom. "It is going to be messy, we will want to add stuff to it, so if you have this singular look where everything is pristine – I just can't really see how you can live there in a relaxed way. You want to be able to add to it, and it needs to be able to take being messy because that's just the reality."
It's one of a number of tips Heuman shares in her new book, which details 10 of her favourite projects interwoven with discussions on her design philosophy, and the steps to take to apply it to your own home. She jokes that when publisher Rizzoli approached her she thought it "seemed quite early, actually", given her design studio is only eight years old, but her years in the industry stretch well beyond having her name on the door.
Heuman fell into interior design "by chance", landing a job with the eccentric designer Nicky Haslam through a friend and "realising quite quickly that it was the perfect thing for me to do". She stayed for nine years before founding her eponymous studio in 2013.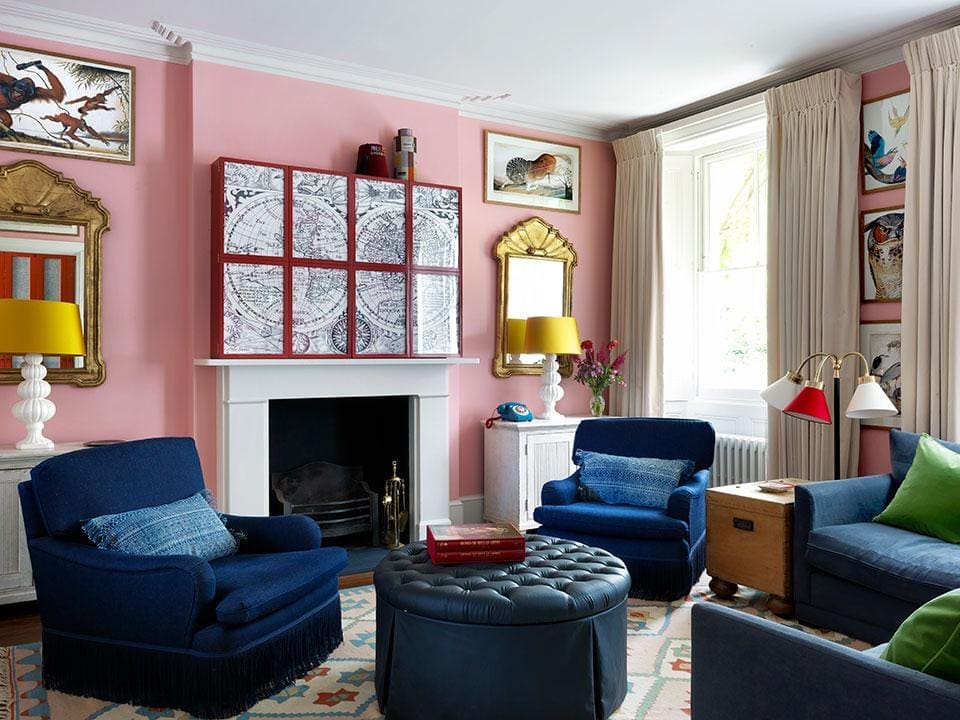 Now 37, and with a team of eight, she creates whimsical worlds from her studio in Hammersmith, designing private residences in London, New York and Rotterdam, as well as commercial sites for brands such as Chelsea's Farm Girl. Her influences are wide and varied, ranging from the Swedish artist Carl Larsson to the Austrian designer Josef Frank, from Italian palazzos (she studied fine art in Florence), to, of course, her mentor Haslam, and "the English tradition of decorating" that she has picked up during her years living in London.
Through the book, Heuman seeks to inspire others to be creative with their homes; she doesn't necessarily think they should copy her – "I'm by no means saying this is the right way to do it" – but simply encourages readers to inject their personality into a space. "I think if you spend time working out what's important to you, gathering images of things that you like and then combining it in a way that's personal, you will get a lot of joy and happiness from that," she says. "Of course, it's a luxury in a way, but we all have to live somewhere and it doesn't have to cost a lot; you just have to spend time working out what means something to you. I think it's very rewarding when you do, because it just makes you much happier at home."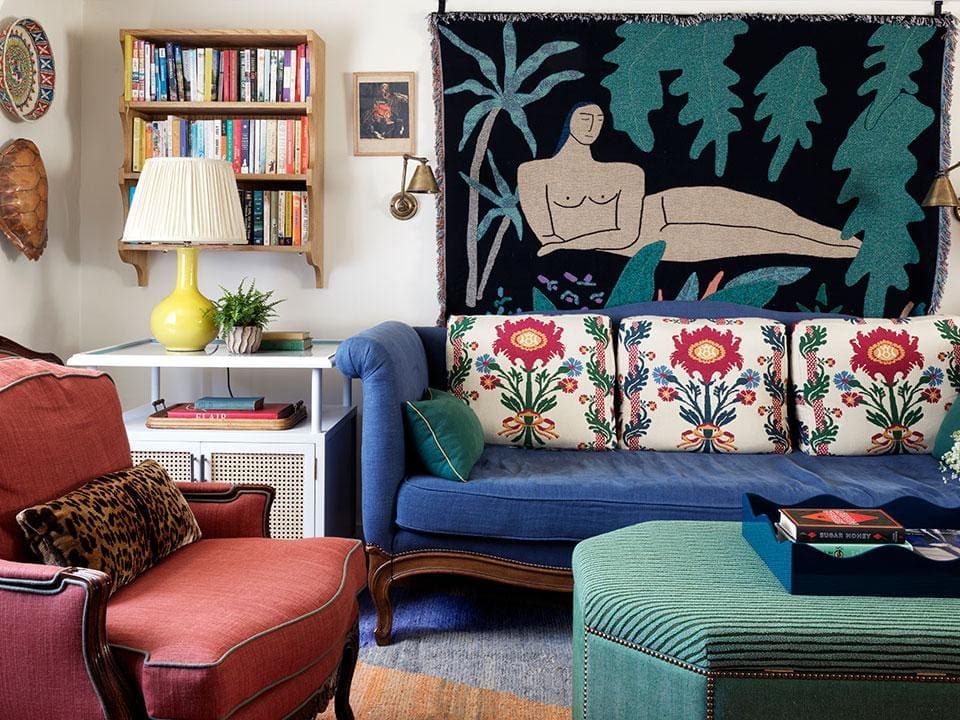 She recommends trawling eBay, Facebook Marketplace and antique markets for unique pieces that don't cost the earth; her pet peeve is when people buy everything from one shop, and she has a particular dislike for cookie-cutter property developments ("They're so flat").
Her own home, a stone's throw from Hammersmith Bridge, is a reflection of her signature aesthetic with the dials hiked up to the max. Here, she had no client to answer to ("except maybe my husband," she laughs) and she was able to let her imagination run wild. Antiques and bespoke furniture pieces are mixed in with her own designs, many of which are available to buy through her online boutique, Shoppa. Every detail is precise, considered and complementary: a curved chaise longue in the living room (one of her own, dubbed the Wave Longue) marks the start of an oscillating line that continues in the lyre detailing on a cabinet, across to the ornate fire guard and along the scalloped edge of a rattan chair. In the breakfast room, the pop of a pink picture frame is emulated in a terracotta plant pot; the sky blue radiator covers toned with a bespoke cabinet that conceals the fridge. The entire house perfectly encapsulates Heuman's design philosophy, and the name of the book: Every Room Should Sing.
"It's very personal what that means, but to me it's just when I feel like we got it right," she explains. "You walk into a room and all these different things create a sort of tension and it feels very inspiring, and you feel in the moment because of the environment you are in. My heart lifts and that's when I think it sings; this combination of colours, styles, movement and textures that can mean different things to different people. It's not just comfortable or beautiful but it actually feels invigorating. It doesn't happen with every room," she adds, with a laugh, "but we try."
The refreshing takeaway from Every Room Should Sing is that interior design doesn't have to be difficult or expensive, it just takes time. And, as Heuman writes in the book, putting in the effort to create an environment that reflects your personality and style will not only create a sense of "fulfilment and wellbeing" but will allow your home to become what she believes all interiors should be: "truly life-enhancing".
Read more: Designer Yinka Ilori on London, diversity and his uplifting new homeware collection
Beata Heuman: Every Room Should Sing by Beata Heuman is out now, £45, published by Rizzoli, rizzoliusa.com