Interior designer Achille Salvagni on his most extravagant creations
AchilleSalvagni is the interior designer obsessed with detail, a man who laboriously adds patinas to door handles and who once commissioned the person responsible for casting bronzes in the Vatican to make a single bathroom mirror.
It's a fair question, concedes Achille Salvagni. Just why does anyone need an interior designer? Don't people want to live in a home of their own making? "It's not really a question of capability," he says, "but of vision. It's why people go to restaurants rather than cook for themselves. Sure, I can evaluate a recipe or a dish myself, but I can't put it together properly like a chef.
"You know," he adds, "there are people who have, say, an incredible eye for art but then aren't sure how to put it together in their house. And then there are people who can't even pick an ashtray. Likewise, you can be well-educated and wealthy but still be very tacky, in the way you dress for example. And then you can be, say, an indigenous Australian in the middle of the outback and be extremely elegant. It's all a question of mindset."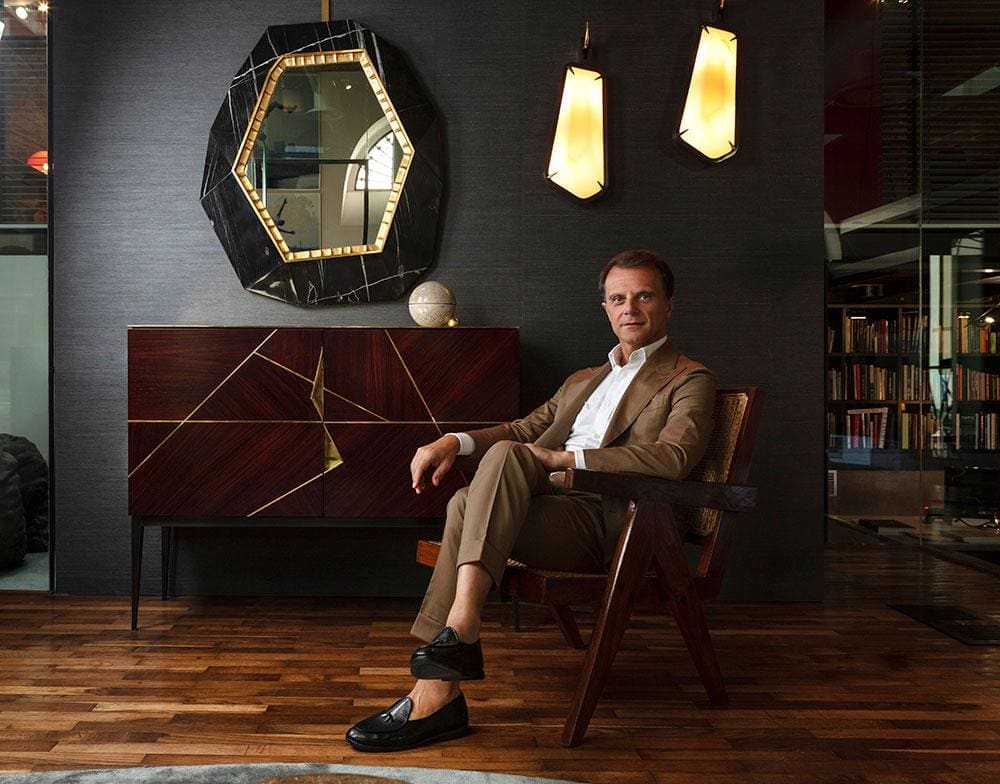 Salvagni's clients are not typically Aboriginal. But nor, indeed, do they tend to be the oligarch sort or the new rich. The latter, he says, tend to just want out-and-out opulence. But not, he stresses, his kind of opulence: "something simple can be opulent," he points out. "Opulence doesn't have to mean some shiny gold thing." He describes a lot of what he does as a kind of armchair psychology, sitting with the client to work out what it is they want "but that they're not actually saying – sometimes you end up more doctor than architect." Sometimes too, he admits, he has to back out of a project. "It's just respectful to recognise that working together isn't the right thing to do."
Of course, that's not to say the Italian architect and star interior designer isn't used to working to all tastes. Indeed, perhaps his greatest strength is his diversity. This is illustrated in the first monograph of his work, Achille Salvagni, to be published by Rizzoli. He describes himself as having more a method than a style: "I'm just not interested in developing some signature look and doing that over and over again for different people," he says. "There's already a big list of architects and designers who just do the same thing regardless of whether it's in uptown New York or the middle of the Egyptian desert. It's an easy, secure approach to have and it's successful for a lot of people. But that's not for me. One way of working is just to impose your ideas on someone. But another is to be a tailor who tries to adapt your own sensibility to the needs of the individual."
All the same, he has been described as a modernist, but this doesn't express the lushness or the exquisiteness of his designs. Salvagni's attention to details and materials is verging on obsessive: when he wanted a mirror frame made in bronze, he tracked down the craftsperson responsible for the bronzes in the Vatican and persuaded him to take on the commission. Rome is where Salvagni was born and where he lives with his family – a place where, as he puts it, you are living not just with 3,000 years of history but also with the artisans dedicated to its preservation.
Salvagni's unusual method is to find the artisan and then develop the potential locked up in their particular craft skill. He's recently started working with an expert in parchment, a material Salvagni hopes to use in an ongoing series of cabinets; and with the makers of glass in Murano, with whom he's explored the potential alpaca silver, a metal alloy that appears either gold or silver depending on the light.
"I couldn't have built my business in, say, New York, because the craftsmanship is here in Rome. I spend a lot of time meeting with people who really know the materials they work with. And that in turn determines how I work," Salvagni explains. "I start with their ability and then create an item around that, contrary to the usual way of designing a piece and then finding someone to make it. But I do need to educate the artisans I work with – just because you have the talent of being able to restore an ancient marble piece doesn't mean you know how to make a new one. I'm trying to convert their talents. Some artisans are reluctant, but others are excited to explore something new with me."
Certainly some of the furniture and other interior items Salvagni designs and has made for his clients are little short of stunning – sometimes they're in strictly short runs for those who want the piece but not the full home design service. Prices can be stunning, too. An armchair might set you back £18,000, a lamp or chandelier £25,000, a coffee table £30,000, a cabinet £90,000-plus. But the execution is superb: chaises longues in rich orange velvet; side tables with alloy surfaces extending from marble eggs; chandeliers that nod to space age designs of the 1950s and 60s but can't quite so easily be placed in a specific era; likewise, curvaceous walnut, bronze and marble cabinets that might belong to the 18th or 22nd centuries, in a chateau or a sci-fi setting.
Salvagni, it transpires, is a bit of a sci-fi fan, at least when it comes to visions of possible living environments. If he's still around once commercial space travel becomes a reality, he would like to create a suitably functional yet fantastic spacecraft interior. He's already applied the same sense of the unique one-off to floating interiors. In 2017, he designed the interior of the 164ft super-yacht Aurora, from the Italian Rossinavi shipyard. He's won various awards from the boat design world for developing a system that works as a shell within a yacht's interior, to which can be fixed pieces of furniture that look as though they're freestanding – not typically an option for rough seas, of course.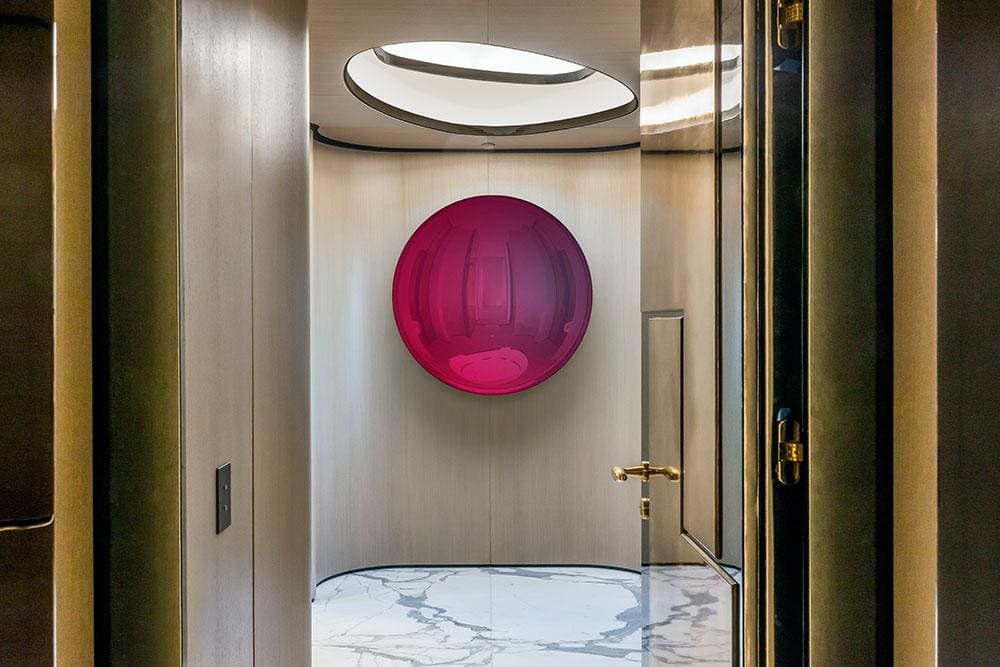 All of his designs come with a definite Italian aura, perhaps moderated by a touch of the clean and calm look that he sought during a month-long road trip around Scandinavia. It nods to the work of the nation's design greats, the likes of Gio Ponti, Tomaso Buzzi and Paolo Buffa. It's for this reason, no doubt, that Salvagni takes being called a modernist as a compliment.
"I think that means someone who doesn't let go of the roots, of heritage, while also trying to look to the future," he explains. "Designing with some sense of history means I'm then very much in my comfort zone as a Roman. For me every piece has to give the sense that it will last – not just in terms of construction quality but in its look. It's traditional craft given a new perspective. That for me is what modernism is about."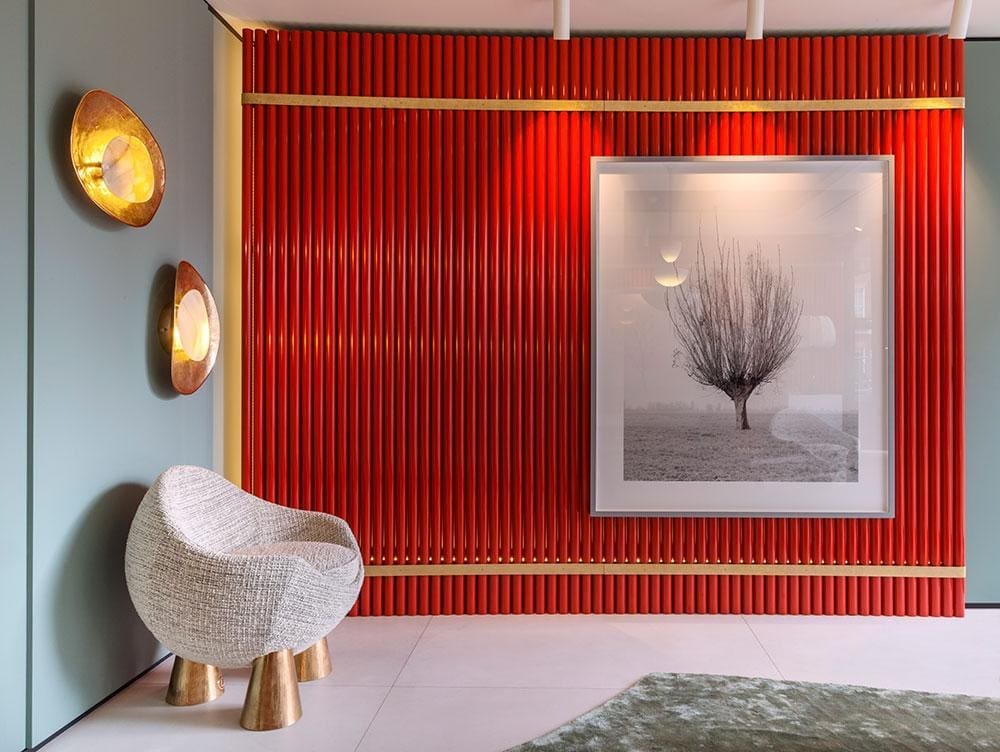 He has showrooms in New York and London, where you can also pick up pieces by Gio Ponti or perhaps a 2,200-year-old piece of Roman statuary, but Rome is Salvagni's creative heartlead. The Roman influence runs deep: Salvagni's Brancaleone onyx and bronze sconce borrows its shape and name from a helmet worn by the 13th-century Roman governor Brancaleone degli Andalo. The legs on a cabinet might be inspired by the papal tiara.
"Rome is best to create in, but London remains the best place to reach my calibre of clients – not just those with money but with the ability to distinguish between a good and a bad piece," he says. "What's great about interior design is the fact that people are much more educated about it now, in large part because of the internet."
Whether his two children know what they're talking about too – they're aged just 10 and seven – is something Salvagni is working on. Look at images of his family home in Rome and, while far from austere, there's a Spartan order to affairs. It must be a nightmare with two energised kids.
"They've always been educated to appreciate beauty. Besides," he adds with a chuckle, "they have an area of the apartment that's just theirs. I was always taught to appreciate things and not to destroy them as children sometimes do. And I try very hard to pass that on. They haven't done too much damage yet…"
Achille Salvagni will be exhibiting at PAD London, 30 September – 6 October 2019, www.achillesalvagni.com; Achille Salvagni, text by Pilar Viladas, foreword by Benoist F. Drut, Rizzoli New York, £50, release date: October 2019, www.rizzoliusa.com