Tahirah Sharif: "I need to be a little bit scared"
The rising star of Sky's A Town Called Malice on Brit School, the BBC and hitting the big time
For over a decade, Tahirah Sharif has steadily worked her way towards television stardom, paying her dues in the time-honoured tradition of aspiring British actors. After appearing in single episodes of Casualty and Doctors, she secured recurring roles in Waterloo Road and One Night. Casualty's producers were so impressed that she even returned for a longer stint at terrestrial TV's most famous A&E.
Then, three years ago, Netflix came calling and everything changed. A starring role in the hugely popular supernatural horror series The Haunting Of Bly Manor was followed by her turn as PC Lizzie Adama in ITV police procedural The Tower, a performance that earned her a Best Supporting Actress nomination at the 2022 BAFTA awards. To say Sharif's career has taken huge strides is something of an understatement.
This month Sharif returns to screens as the co-lead in Sky Max's 1980s crime thriller A Town Called Malice, which comes from the mind of The Football Factory and Outlaw's Nick Love, and revolves around a crime family fleeing England for the Costa del Sol.
"I'm just really trying to enjoy and be physically present for the release of the show," Sharif tells me over Zoom. "A lot of the time when something finally comes out, you don't actually get to enjoy it with your family and friends because you're already working again. I don't think that's healthy. You need to enjoy these moments."
This 'take it all in' attitude is perhaps the result of the fact that after graduating from the renowned Brit School – which also produced the likes of Tom Holland, Adele, and Amy Winehouse – Sharif was convinced she shouldn't be an actress.
"I didn't think I was competent enough," she explains. "I just remember thinking that the other students knew exactly what they wanted to do. They wanted to be famous and everyone was competing with each other for attention. That's not me. I didn't feel like I had the right personality."
So Sharif put her acting pursuits to one side, taking a post-production job at a firm in Soho thinking she might be better suited to being behind the camera. It didn't take long to realise this didn't fit, either. Eventually, it was an audition for a short film that yanked Sharif back in front of the camera.
"I really enjoyed it and I thought, 'OK, I do want to do this.' Then my auntie told me about an acting school for adults on weekends and evenings called Identity School Of Acting. I went along every Saturday."
Now around like-minded people who were more intent on honing their skills than focusing on being famous and appearing on television, Sharif's passion for the craft was reignited. The school also had an acting agency attached to it and she soon found herself with an agent. Before long, she was being cast in the aforementioned BBC dramas and soaps that can quickly propel a rising star to household name status.
Being on these sets was "integral" for Sharif, as she learned exactly how the industry works. "Things like Casualty and Doctors, they move along so quickly. You have to get on set and know exactly what you're doing. I was really lucky – there was such an amazing cast of people who were all willing to help and teach. It set me up for other jobs and roles down the line."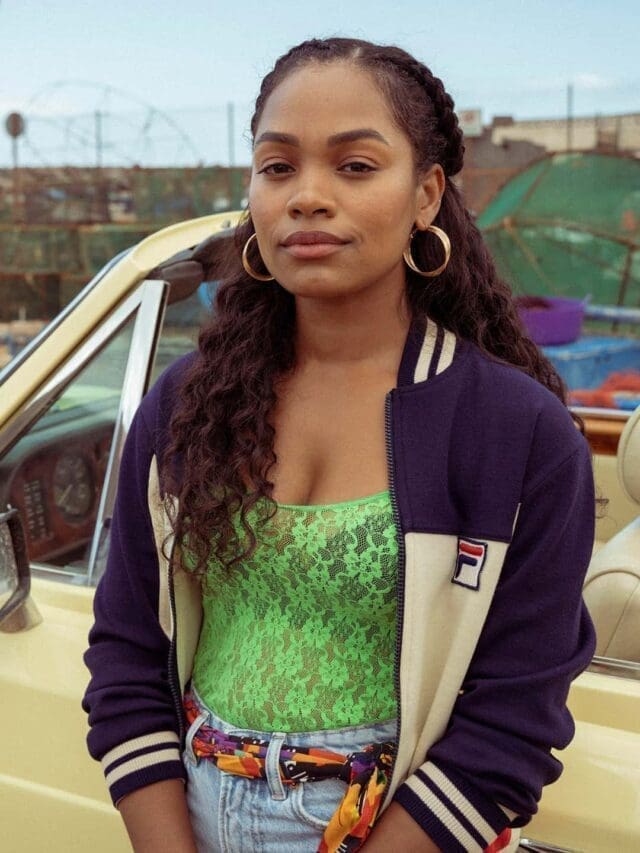 Which brings us to April 2023 and Cindy Carter in A Town Called Malice. The fiancée of Gene Lord, the youngest member of a fading gangland family nostalgic for their criminal heyday, Carter goes on the run with Lord after he narrowly survives a gangland battle. The show follows the couple, and eventually the rest of the Lord family, as they try to establish themselves as the top dogs of the Costa del Sol's shady underworld.
Initially attracted by just how "amazingly mad" Nick Love's scripts for the show were, Sharif actually found herself a little intimidated at the thought of taking on a character who is such a "force of nature." She saw this spontaneous reaction as proof that she really cared about Cindy and the show.
"I think I need to be a little bit scared each time I start a new project. It's a good thing and I tried to use it. You can't let that take over but being a little bit scared means that you work extra hard."
But while Sharif found exposing the vulnerabilities and damage of such a confident woman exhilarating, she also revelled in being a part of such a "flamboyant and stylised" crime thriller, which dabbles in a number of other genres, too. She credits Love for creating something that's unlike any other original British production she's ever read for.
"Hand on heart, Nick is unlike anyone I've never met in this industry," she says. "He's at such a high level. He's such a reputable creator, writer and executive producer but's he down to earth and relatable. He's a no-bullshit kind of a person, who just gives it to you straight, but is also super encouraging and supportive."
Together, along with co-lead Jack Rowan and co-stars Jason Flemyng, Martha Plimpton, and Dougray Scott, Sharif believes they've created a "colourful spectacle" that's both nostalgic for the '80s, while exploring the complex, toxic dynamic of a crime family.
Even though Sharif is intent on living in the moment, now that A Town Called Malice is out she's got her sights set on the future. "I've got season two of The Tower in a few months but I'm open to all kinds of genres. I'd love to do action and utilise different skills. I just want to carry on making projects with people I really like and respect and play multifaceted characters who have something to say."
One thing that will remain a constant in her process though? "I want to enjoy it and digest it all. You have to savour these moments."
A Town Called Malice is out now on Sky Max and Now TV.