Simu Liu and Issa Rae on why Barbie is a win for diversity
The actors on Barbie fever, on-screen representation and what it means to become the world's most famous doll
Barbie fever has struck the UK in all its hot pink fervour. The doll's eponymous new film sold out over 4,000 screenings across its opening weekend while its director, Greta Gerwig, has broken international box office records for a film by a female director, raking in over $155 million in North America.
Vastly outselling its biggest cinematic rival, Oppenheimer (which opened to a not-unimpressive $88 million), Barbie's magnetic pull appears to be as strong as ever, even if her latest iteration has rattled a few cages. But, fragile masculinity aside, why does Greta Gerwig's Barbie strike a chord with so many of us? Why is this Barbieland so fantastic?
For one, the work done by casting directors Lucy Bevan and Allison Jones is a masterclass in representation. The cast includes Hari Nef, Ritu Arya, Nicola Coughlan, Alexandra Shipp and Ncuti Gatwa, to name just a few of the bright lights in this stellar line-up. While stereotypical blonde Barbie, played by Margot Robbie, and Ken, played by Ryan Gosling, are without a doubt a satirical commentary on unrealistic patriarchal beauty standards, the other cast members offer a rich diversity of body types, gender identities, abilities and races. 
In a recent interview, Sharon Rooney, who plays Lawyer Barbie, told Glamour, "Growing up, I didn't look like Barbie. Well, I do now." And it isn't just Rooney who's experiencing the warm embrace of representation that Barbieland has to offer. Simu Liu, who plays one of the many Kens (and the main rival for Stereotypical Barbie's affections), tells Luxury London that for him, playing Ken meant being accepted into Western beauty ideals.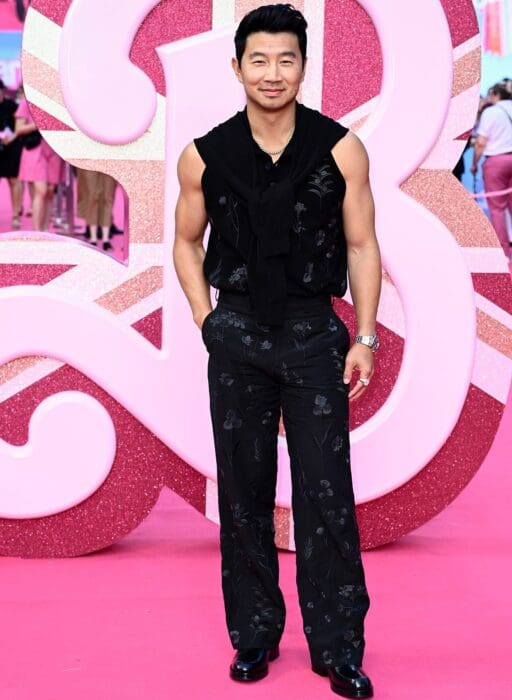 "Barbie to me represented an idea of America," Liu says. "I came over from China to Canada when I was four and a half years old and very much felt like an outsider to the culture and society. Barbie felt like this quintessentially American doll with a quintessentially American life, with the cabriolet, and an idealised version of what that life would be." 
For Liu, the idea of playing Ken was a farfetched notion. "I don't think I would have believed myself If I'd have told me ten years ago that I would play Ken," he continues. "I would say Ken does not look like me, you know? I think it really speaks to Greta and her vision for what the Kens of Barbieland looked like. Through her and this amazing world that she created, I got to embody this character and hopefully kids growing up will have a very diverse definition for what Ken and Barbie look like."
For Liu, the definitions of Barbie and Ken have expanded to mean that the American experience isn't just limited to just one type of person or a very rigid standard of beauty, but is now more inclusive and diverse. "It's really expanded to include people who look like me, and us," he says, gesturing to his co-star Issa Rae, who plays President Barbie. "Now, we are a part of that quintessential Western experience."
It's a sentiment that also rings true for Rae, who adds, "People want to see themselves reflected in the dolls that they play with, and I think Mattel has done a great job of addressing so many of the different types of people who exist in the world."
For Rae, part of the ongoing fascination with Barbie is nostalgic. "Whether you played with Barbie or not, you have an image of Barbie, you have an expectation of Barbie. And I think for so many people, Barbie is joy." If you were quick enough to secure a seat at your local cinema, one glance at your fellow audience will tell just how powerful that sense of nostalgia is. "People are going crazy for the fashions of Barbie," Rae says. "It means so much to so many people."
"Greta tackles a lot in the film," Rae continues. "The negative parts of Barbie, the positive parts of Barbie and takes you on an exquisite journey." It's a remarkable balancing act. Barbie takes on some of the greatest gender imbalances present in society today while remaining fun, joyful and silly. Funnily enough, all the things we, as women, are told to drop as we grow up and are expected to become sensible and motherly (among many other impossibly conflicting things). 
While Liu and Rae joke about a Barbieverse – Barbie 2, 3, 4 and an 'A-Ken-gers' spin-off – the two recognise that the future of Barbie is much bigger than just its potential for sequels. "It's about provoking conversation. There are so many themes in this movie that will naturally evoke people to want to talk about it," Rae says. 
"I hope that it really challenges gender norms and heteronormativity," adds Liu, who is optimistic that the movie will encourage and support the movement for a more fluid and equitable understanding of gender roles.
"People should express themselves in exactly the way they want, and we should celebrate each other for doing that rather than say, 'Well you're not doing it right, how dare you'."
It's an impressive feat for a film about a child's toy many once considered as one of the most repressive and traditional representations of womanhood. In Gerwig's reframing, Barbie has brought forward important discussions on gender roles, rights and representation and made sure no one is excluded from the conversation. Once reserved for the slim, white, able-bodied blondes of the world, Barbieland has opened its doors both figuratively and literally – and everyone's invited.
Barbie is in cinemas now.