Great Expectations: In conversation with Phoebe Fox
Currently starring in The Great and with a stellar stage-and-screen career under her belt, Londoner Phoebe Fox talks Bocca di Lupo, Harry Potter and working with Elle Fanning
I sometimes wonder, when I'm an octogenarian myself, which of today's actors will be playing the kind of roles recently dominated by the redoubtable Dames Helen, Judi, Maggie and Julie. Carey Mulligan, for sure. Possibly Gemma Arterton. Almost certainly Felicity Jones. I'd now add her Aeronauts co-star Phoebe Fox to that list, having thoroughly enjoyed her scene-stealing turn in the Golden Globe-nominated The Great – accomplished with "such a deftness", noted The Sunday Times, "you'll struggle to remember anyone else".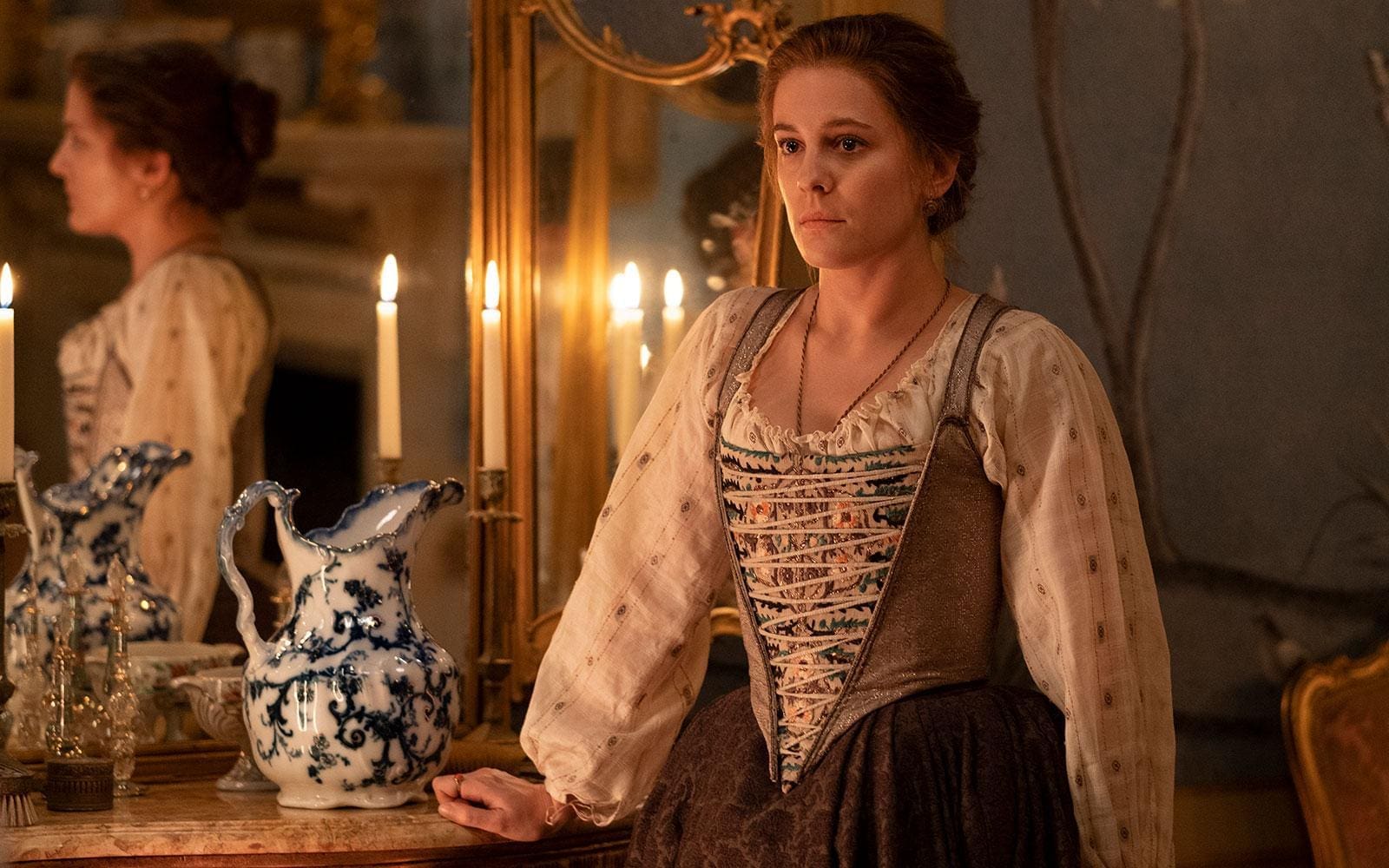 That said, you're certain to remember at least some of this comedic drama, which charts the rise of Catherine the Great (portrayed by young Hollywood royalty Elle Fanning), from outsider to longest reigning female ruler in Russian history. Foul-mouthed, lavish, satirical, bloody and brutish, it is 'occasionally true' and there are plenty of scenes you'll find hard to forget. Nicholas Hoult – of About a Boy, Skins, A Single Man and X-Men fame – plays Emperor Peter as a monstrous, mercurial sociopath who verbally brandishes his 'Huzzah!' catchphrase as an announcement, a question and a threat with equal gusto. Fox plays fictional character Marial, a disgraced aristocrat turned handmaiden, who has some of the best, and pithiest, lines. "Brief is often a relief," she states, after Catherine spends her first night with Peter.
When we speak, series one is drawing to a close and series two has just started filming. Fox is delighted to be back on set, "Like many other actors, I've been sitting on my bum since last February and gone slowly insane, so it's good to be back at work. Lots of people are in masks – that's the giveaway – but there's this energy of gratitude, because everyone is so pleased to be working, when many people are not. It's the first time people have worked since we wrapped season one. And there's also a beauty in returning to a group of friends. It's a real gift."
Thanks to social media, it's easy to tell there's genuine camaraderie off-set between the on-screen best friends. "There were very many reasons you might have thought we would not get on," Fox says. They are more than a decade apart in age but "actually Elle's wildly mature for her age and I guess I'm a bit… childish? We meet in the middle! We have a lot of fun together. She's really lovely to work with. Thank god!"
Fox, for her part, seems just as lovely; diligent, driven and hard-working, while also good fun, funny and relatable. She's a self-confessed "lockdown stereotype" in terms of bread-baking, box-set-binging – "I got majorly into Marvellous Mrs Maisel – it was incredible" – and Googling country houses, but will definitely remain in London, even though she and her husband are selling their flat in Crouch End. "We both do theatre in London regularly so practically it doesn't make sense to move out. Where in London is up in the air."
The play that made Fox a breakout star was Ivo van Hove's A View from the Bridge at the Young Vicin 2014, starring Mark Strong and Nicola Walker. The New York Times praised the entire cast for giving "full weight to every emotional nuance, until shades of familial love and hate burst into white-hot flame". Fox speaks emotively about Walker's enduring influence, "She left an indelible impression upon me… She taught me a lot about being a woman, let alone being an actor. We remain great mates. I feel grateful for her being in my life."
Fox's comedic talents, evident in The Great, have also been well exercised on stage. I saw her play Olivia in the National's 2017 production of Twelfth Night, starring Tamsin Greig as Malvolia. It was hilarious. "So was the cast!" she tells me. "It was great fun. A lot of actors dream about acting on the Olivier Stage and it's exhilarating because it's huge. I remember that first moment when I went on stage to do a scene which ends with a direct address to the audience. I stood there facing 1,500 people, alone. It's what I imagine taking crack would be like; a shot of adrenalin straight into your veins. But that kind of comedy on such a big stage is draining. We were all exhausted. It takes about five minutes to get on stage, let alone perform at a level that reaches the back of that theatre; it needs a lot of breath and energy. It was amazing."
Theatre is her true love and "totally addictive". "There's a tempo to filming I find slightly frustrating, as it's quite slow," she explains. "But the detail you have to go into on camera is something that interests me. So best of both worlds, I think. I really hope that we see people returning to the theatre [soon]." However, for Fox, it is the restaurants that will draw her back to central London as soon as restrictions are lifted. "Especially now we've had this insane period of lockdown, I just long to go into town. My husband and I are big foodies and we always find ourselves going into Soho. We love Duck Soup and our special occasion place is Bocca di Lupo."
If Fox hadn't won me over already by this point, our conversation about Harry Potter – which we both love – would have done it. I had read that Fox, aged 10, wrote to JK Rowling to ask if she could play Hermione (yes, that's how much time has passed since they cast the first film). It transpires that Fox has since – remarkably – read all the books aloud to her husband over a five-year period. "Dumbledore was a bit of a strain on my voice. The characters all had different accents. It was a tour de force. In a way it's a shame I never recorded it." I'm inclined to agree.
What will we see Fox in next? "Everything stalled at the beginning of last year, so… season one of The Great now, and if you wait long enough, season two of The Great!" What we won't see her on is SAS: Who Dares Wins, which she watched a lot during lockdown. "I found it oddly calming. I can say with absolute certainty that I wouldn't get in. I'd need about five years' notice to build up to it." We might, however, see her in a kitchen sink drama "looking rough". Why so keen to trade in the corsets? "We're all guilty of feeling the grass is greener – I read an interview with Helen Mirren where she talked about it. Helen Mirren, for god's sake! I'm in this amazing period drama with a lot of the best lines, and I want to do a kitchen sink drama!" We're looking forward to it.
The Great is available to watch now on All4, and on DVD and digital.
Read more: Snowpiercer's Annalise Basso on lockdown and Lord of the Rings