Jack Fox on Riviera Season 2 & the Enduring Lure of London
Home is Camberwell. "I love it. I'm a sucker for a picnic, a big dog walk and a pub lunch"
Photography: Joseph Sinclair
The lady who gets to spend most time with Jack Fox nowadays, featuring regularly in gushing Instagram posts – sample copy: "you sweet little soul" – is a tousle-haired blonde beauty. She is not his glamorous sister in the upcoming series of Riviera, who is played by the willowy model/actress Poppy Delevingne. She's not his cousin Emilia Fox, also an actor by trade. She's his shaggy-haired cavapoo (a cross between a poodle and a cavalier King Charles spaniel, if you were wondering). As soon as she is mentioned, I'm offered Fox's phone to take a look. Rosie is indeed adorable. "She's the best thing ever," he beams.
So Jack Fox wins this fellow dog-lover over immediately and the rest of our conversation does little to dispel the idea that he is indeed an all-round charming chap – unless it was an exceptionally accomplished performance, which I feel one can't discount in interviews with actors, whose very job it is to feign. However, I suspect Fox is genuine, and genuinely nice. He mentions "a big problem" with a sheepish look and I wonder if I'm going to get a major confession. The big problem concerns an addiction to – wait for it – pizza. "It has to be Pizza Express. I'm hoping that Pizza Express gives me a contract. A thank you. I should stop…"
Rosie the cavapoo
When he is not devouring cheese-laden carbs, Fox can be found on location around the world – currently, in Bristol and Somerset for the lavish ITV adaptation of Jane Austen's Sanditon and previously in France for season two of Riviera. So devoted is he to his dog that the production team made it possible for Rosie to accompany Fox on the six-month shoot – resulting, I would imagine, in a much happier actor.
Cast of Riviera
To make it in the Riviera, declares an emphatic trailer, 'you need need glamour. Connections. Thick skin. Money. Lots of it.'' Fox predicts that the show, which also stars Julia Stiles, Iwan Rheon (Game of Thrones), Adrian Lester and Igal Naor, will "kick off the summer in style. Everyone likes a feeling of holiday. It has that great ability to show you not all holidays are delightful. It's big. It's a show – a spectacle. Grand. Decadent. The tagline is 'a sunny place for shady people' and I think that's bang on the money. It's beautiful, corrupt." Noting that Scott Fitzgerald, who was no stranger to the corruption that can lie behind beauty, said he was never happier than when he was in the Riviera, Fox also posits the theory that wherever there are big yachts, there's also normally something you shouldn't be looking into. "Yachts are very strange-looking."
The French Riviera
And with that, we're back to a non-Riviera perspective on life with a thud. Fox may mingle with the acting elite when working but he seems pretty down-to-earth in his day-to-day life. "I can't do fuss. There's enough fuss in the world." He went to university at Leeds – philosophy and theology – and home is Camberwell. "I love it." He enjoys going to watch Chelsea play and recommends the Peckhamplex cinema because "it's always full and I like that". He's "a sucker for a picnic and a dog walk. I like Ruskin and Chiswick parks. A big walk and a pub lunch. The Camberwell Arms does amazing food, and lets dogs in." I ask what he misses most about London when he's away. "Family. I'm soft like that. I have nine nieces and nephews. We go swimming on a Saturday morning. I spend a lot of time with them."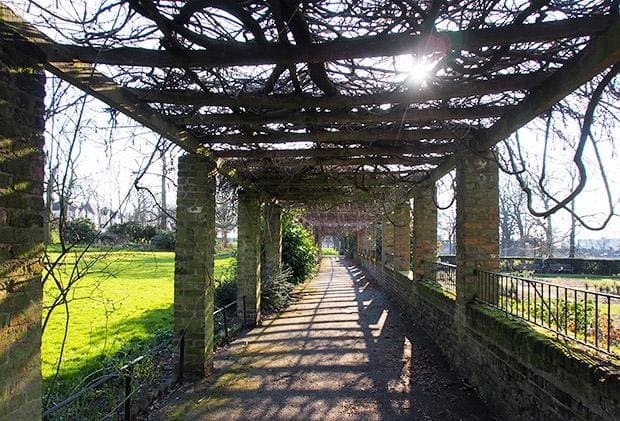 Ruskin Park
Drama, of the performing sort, runs in the family. Jack's father, James Fox, is an actor. As are two of his siblings, Laurence and Lydia, his uncle, Edward, and two of his cousins, Emilia and Freddie. A second uncle, Robert, is a theatre and film producer. If you've seen anything on the British stage or screen in the past few decades, you'll have watched at least one member of the Fox family masquerading as someone else. Nonetheless, this Fox has carved out his own path, known best for his roles in Fresh Meat, Dracula, Privates, Mr. Selfridge and for starring opposite his father in Dear Lupin.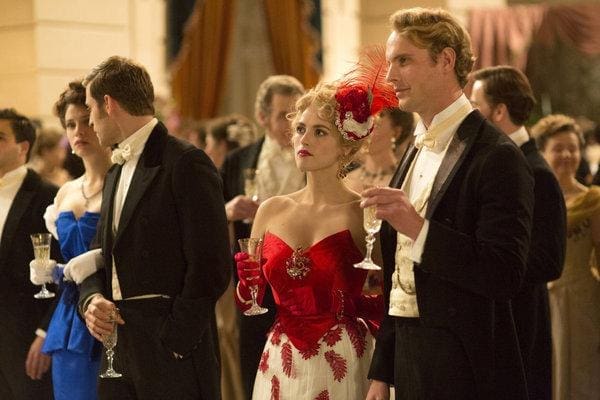 Fox in Dracula, 2013
Despite his thriving career, Fox doesn't gravitate towards the glamour of the industry. "I like LA as a place, and I really like American people; they're terrific. But it would be hard to live there for a long time – like that Baz Luhrmann song." He's referring to Everybody's Free To Wear Sunscreen and the line 'Live in New York City once, but leave before it makes you hard/live in Northern California once, but leave before it makes you soft.' "I guess it's a bit like that. Stay in London!"
Wherever he is in the world, he loves going to the theatre. "Hamilton blew me away. It's an amazing show. I have a friend in it and he's absolutely magic." I recommend Hadestown in return, and he notes it down on his phone. Conversation flows easily with Fox. We segue from brands he loves ("Breitling and Belstaff – tops. They have always looked after me. Johnstons of Elgin, and also Clements and Church, for suits") to the Radiolab podcasts ("I've listened to all of them").
Photography: Joseph Sinclair
Fox likes to challenge himself, that's for sure. What piece of advice has stuck with him? "Churchill once said the definition of success is going from failure to failure without lack of enthusiasm. I really like that." Whether he fails more than he succeeds seems doubtful, and Fox certainly does not lack enthusiasm. "Also: trust yourself. Have confidence, not arrogance. It's an elusive elixir of everything that can be possible. It's got to stem from you and then people endorse it."
With that, our time is up and Fox will soon return to the set of his "quite gothic" costume drama. The director provided Fox with a thorough 13-book reading list in preparation for Sanditon. "I didn't know about meeting etiquette – things like tipping your hat. The way costume dramas are, any excuse to not f**k it up! Once you have the backstory to your guy – it's always going to make it better."
Riviera season two will air on 23 May on Sky Atlantic and NOW TV