Come From Away atPhoenix Theatre: an uplifting true story
If you're going to immerse yourself in any crowds this weekend, make sure it's the one at the Phoenix Theatre, where Come From Away conjures up an antidote to the sickness of modern society
A few things happened this week that restored my faith in the universe: Harvey Weinstein was sentenced to 23 years in jail, this butterfly photobombed a koala's on-screen moment, and, finally, I saw Come From Away.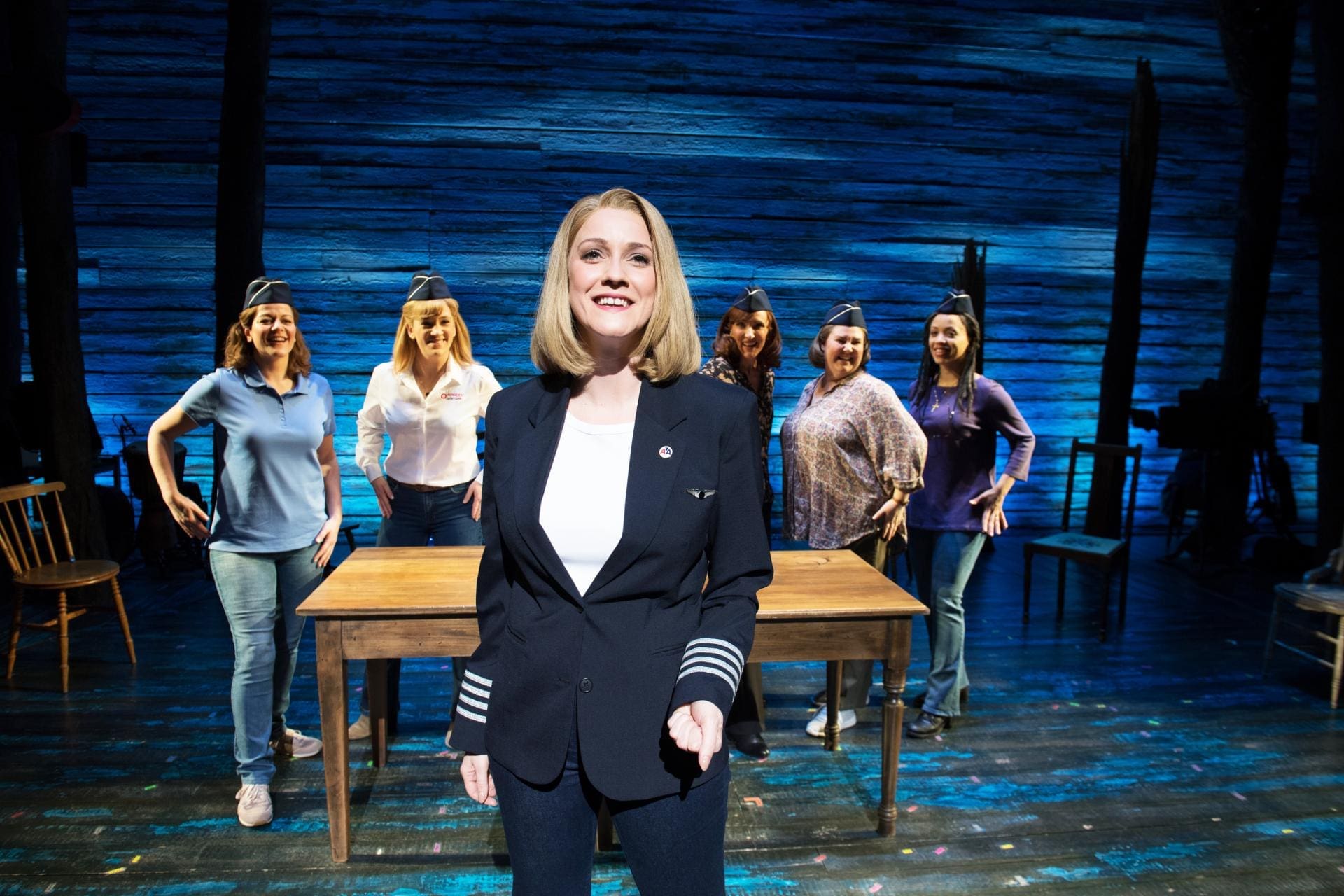 Originally, when I was told it was a musical about 9/11, my instant reaction was resistance – how can an audience be entertained by such a tragic event? But Come From Away is a true story about Gander, a small town in Newfoundland, Canada. When the Twin Towers were hit in 2011, hundreds of planes were grounded or rerouted, 38 of them landing in Gander and depositing around 7,000 people, some of whom didn't speak English, to a town of just 9,000. The town community rallied – schools became shelters, the ice rink became a giant refrigerator as townspeople cooked casseroles to feed the crowds – and for five days, a story of hope and humanity emerged from the wreckage of an event that divided our global history into 'before' and 'after'.
A diverse cast of 12 actors tells the story of those five days, with words and lyrics co-written by wife and husband team Irene Sankoff and David Hein. The couple spent the 10th anniversary of the attacks in Gander, where a reunion between islanders and the 'plane people' was not only the perfect opportunity to interview them both, but a moving reminder of the relationships forged and memories made during those fraught few days.
The actors, a troupe of 12, switch seamlessly between roles, playing locals and 'come from aways' simultaneously – so seamlessly at first that you don't even notice, and when you do, it comes with the bittersweet realisation that not a lot separates Newfoundland's 'us' from the plane people's 'them'. Jonathan Andrew Hume plays Ali, a Muslim man who is discriminated against and humiliated during a strip search, putting a lump in the throat of anyone who remembers a time before Islamaphobia became so devastatingly normalised. Then, moments later, Hume flits into the role of a gay man afraid to be outed in a small-town community. We're all human, it says. All that separates us is external perceptions.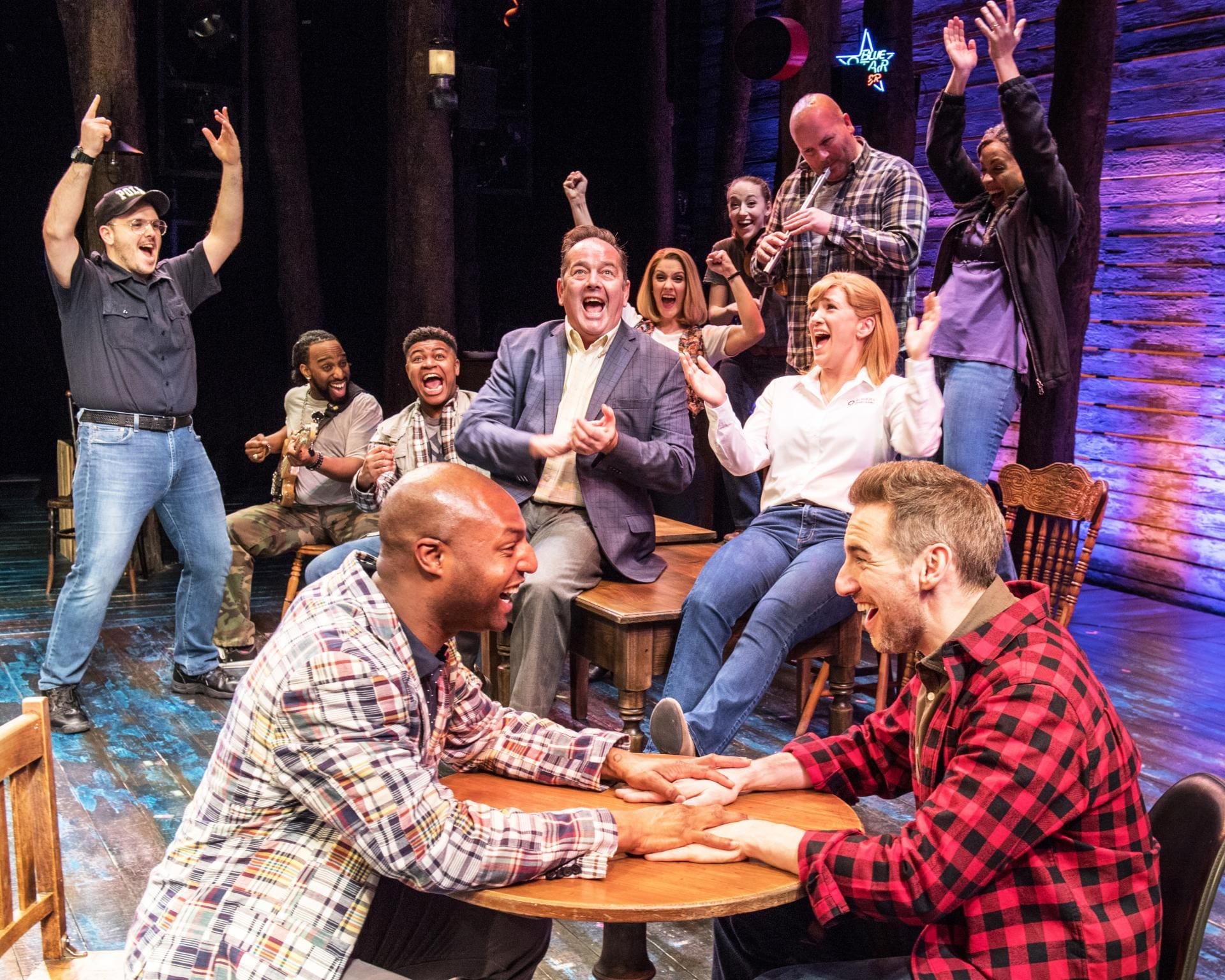 Within the characters – flawed, nuanced – it's impossible not to find a fundamental truth of human nature: that kindness is key. It might not sound particularly groundbreaking, but when you witness supermarkets refusing to accept payment for supplies, veterinarians working around the clock to rescue animals in the plane's hold, locals holding cookouts to boost morale and a tear-jerker moment where an elderly resident meets a rabbi for the first time, it's impossible not to feel comforted and uplifted – even joyful.
The chorus sparks joy with it's foot-stomping, Celtic-influenced music, the catchy, rousing songs belted out with an irresistible rhotic rhythm and accompanied by a live accordion, an Irish flute, a bodhrán and a fiddle. Cat Simmons, who plays Hannah, a mother with a son in New York's firefighting service, has a voice that froze everyone in their seats, and Tarinn Callender's stage presence is punctuated by his physicality, delivered in clever choreography by Kelly Devine. A stripped-back set with a rotating stage and chairs that are moved constantly to become everything from claustrophobic plane aisles to packed-out schools, are brought to life with lighting by Howell Binkley.
The production, which hit Broadway in 2019 and came to London earlier this year (celebrating its first birthday on Wednesday 11 March, with appearances by real-life islanders), has struck a chord. Its message of community and kindness is laced with laugh-out-loud humour as well as raw emotion, which stops it from becoming too earnest or sickly-sweet with its delivery. It's even a little inspiring, reminding us how lucky we are, how easy it is to offer a hand up and how hope can be found in the most unexpected places. During a global pandemic in which we're being told to self-isolate and avoid crowds, it's a timely reminder of the power of people – and the power of theatre – to bring us together again when we need it most.