The expert's guide to starting an art collection
"Anyone can start their own collection, at any price tag."
Art can be intimidating for newcomers. From the white-walled galleries of Mayfair to the vast and bustling tents of Frieze, without an insider to guide you, buying your first piece of fine art can feel like a daunting process. After all, if you're buying for investment, wouldn't it just be simpler to download the stock trading app Robinhood? Or head down to Bond Street and pick up a Chanel 2.55 handbag (proven to appreciate in value at auction)?
Except stocks aren't very exciting (and, as recent events have shown, can be extremely volatile) and a Chanel 2.55 must be kept pristine to fetch a decent price – and who has that kind of willpower? Choose wisely, however, and art can be displayed and enjoyed while growing in value, with recent research suggesting investors can expect compound growth of an average of four per cent per year.
Plus, argues Harriet Mathias, founder of Notting Hill gallery Modern Muse, getting your foot in the art collecting door doesn't have to be a giant hurdle. Having built her business with the aim of creating a greater connection between artist and buyer, she and her team also focus on offering a curation of approachable and affordable art that doesn't alienate first-time buyers. Here are her top tips for starting your art collection.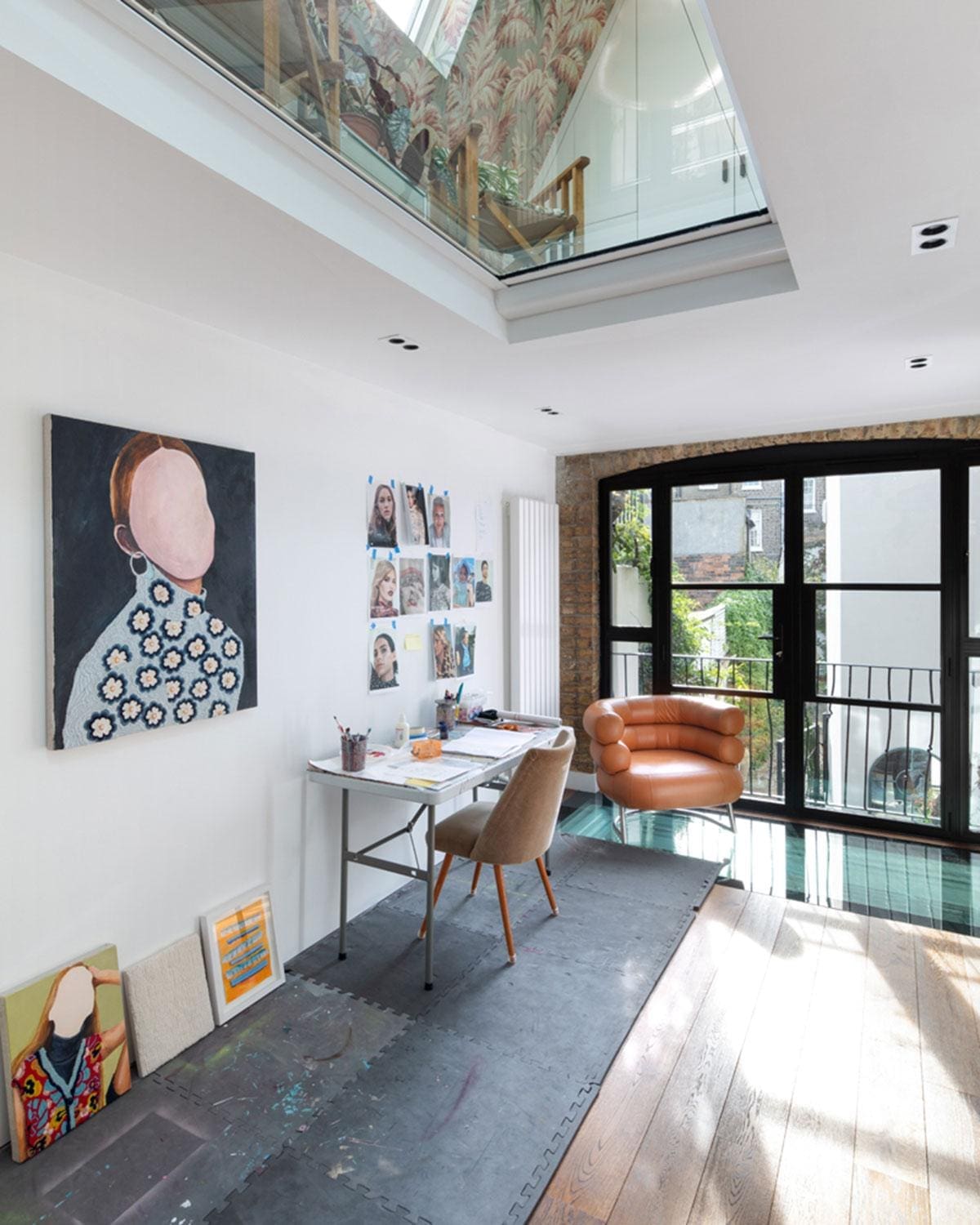 What are some important things to consider when buying art as an investment?First and foremost, trust your gut but support it with research. Research is imperative when it comes to understanding the artist and their works. Once an artist or an artwork has captured your eye, it's important to remember that the chosen piece of art should be representative of the artist.
Look for details and characteristics which really expose the personality and traits of the artist. If in doubt compare the artist's works collectively. It's easy to be impulsive but it is important to take your time, research and explore your options in order to make an informed decision.
How big a role should personal taste play when buying for investment?At Modern Muse we advise our clients to consider the aesthetic pleasure first and the financial benefits second. It's an interesting observation that most art investors start out as collectors. Successful investors have trained their eye, surrounded themselves with works they find pleasing and have built their knowledge over time – it's this practice we encourage.
Where are some good places to start looking for your first piece of art?Ideally a museum but the internet is, particularly during the pandemic, a great tool as well. In London we are privileged to have so many museums and galleries available at our fingertips, for free!
When building an art collection, familiarise yourself with different periods, genres and styles to find out what you like. The more knowledge and awareness you have, the better the collection will be. Once you know what you like, there are a wealth of galleries and platforms, which can help find the perfect piece, at a fitting budget, to add to your collection.
As a gallerist, how do you go about identifying promising artists?Research and word of mouth. It's our aim at Modern Muse to create not just a platform to elevate artists' profiles but create a community of artists and like-minded collectors to build a stimulative, forward-thinking environment, where both artist and collector can gain information and be inspired. As a result, we carefully select the artists who have the same vision and values we do.
| | |
| --- | --- |
| Watermelon Memories by Natasha Briefel | Moon Magic by Jessica Bird |
Galleries or auction houses?It really depends on the character of the collector and the artwork one would like to purchase. Generally, galleries are great options as they provide a more one-to-one service. Auction houses, where one bids on an artwork, can be an intense environment for a new collector. There can be more opportunities to find a lucky masterpiece at auction. However, it's important to know that auction houses can charge a buyer's premium on top of the final hammer price.
How much should you expect to pay for your first piece of art?Anyone can start their own collection, at any price tag. There are many wonderful platforms and galleries which provide advice and access to emerging artists, like Modern Muse. The process starts by deciding how much money one is prepared to spend. Supporting emerging artists can be incredibly rewarding without breaking the bank!
Can original prints and editions be as good an investment as one-off pieces?Generally, original artwork will give a greater return. Prints are a good option and tend to be more affordable. When buying a print, purchase a good quality giclée. As a rule, the rarer the prints, from a small number of limited editions, the more valuable. Reproductions are also an option for first time buyers, they are mass-produced prints without a limited run. These tend to be the most affordable works available, but longer term are less of an investment.
Would you recommend curating a cohesive collection or following the whims of the market/your own changing tastes?A collector's taste changes over time, however, there does seem to be an intrinsic common thread that runs through an evolved collection. The art world is broad, so we suggest narrowing down the search. Pick a genre, style or period that interests you, evokes an emotion and perhaps discussion. Then seek support from an advisor to help source the perfect piece to add to your collection.
How should an artwork be framed to preserve it for the future?Don't disregard the importance of framing. Skimping on a quality frame is never worth it – it's a tool to showcase the art. Factor the frame into the budget of your whole purchase, so that you don't end up buying a piece that you can't then do justice.
Visit modernmuseart.com
Read more: Influential black artists that confront race and systemic oppression within their work