The most stylish workout equipment for your at-home gym
Marrying form with function, our edit of perfectly-sculpted luxury gym equipment is so beautiful, they'll take pride of place in whichever room you put them
All products are chosen independently by our editors. Luxury London may earn commission on items purchased.
A home gym. Probably not something you thought you'd ever need given the plethora of luxury gyms and health clubs in London – but then lockdown struck and the doors to your favourite exercise spot were closed. While you may have managed with the help of the many at-home workouts now streaming online, isn't it time you upgraded with elegant gym equipment that will keep you fit be chic enough to put on display at home? After all, you never really liked going to the gym anyway…
Ciclotte Bike
Great for: Gazing at and deliberately placing in the living room; oh, and working out your legs Price: £10,000
Whether it's cars, desks or coffee machines, the Italians have a penchant for beautiful design. Made from ultra-light and super-strong carbon fibre, the resistance is obtained with a sophisticated electromagnetic system remotely controlled via Bluetooth. Best of all, the carbon outer wheel turns as you pedal, which supposedly replicates the sensation of cycling on the road – but, above all, it just looks scorchingly cool. Winner of numerous design awards and found on many a super-yacht, Tony Stark would definitely approve.
WaterRower
Great for: Cardio, core-strength and conditioning; low-impact, full-body workout Price: From £1,049
As if sculpted by the hands of Zeus himself, Olympic rowers are blessed with Adonis-like proportions thanks to their workout regimes. If we were forced to live with one bit of gym equipment for the rest of our lives, a rowing machine would probably top the list. Treadmills are great, but not so easy on your joints; cycling machines are good too, but they mainly work out your legs. Unlike the mechanical feeling of fan and magnetic rowing machines, the WaterRower harnesses the power of H2O to provide a smooth and even resistance, replicating not only the physiological dynamics of rowing but also the aesthetic pleasure of swishing water. With a selection of frame materials and electronic monitoring displays, the model above is handcrafted from sustainably-sourced ash.
Technogym Bench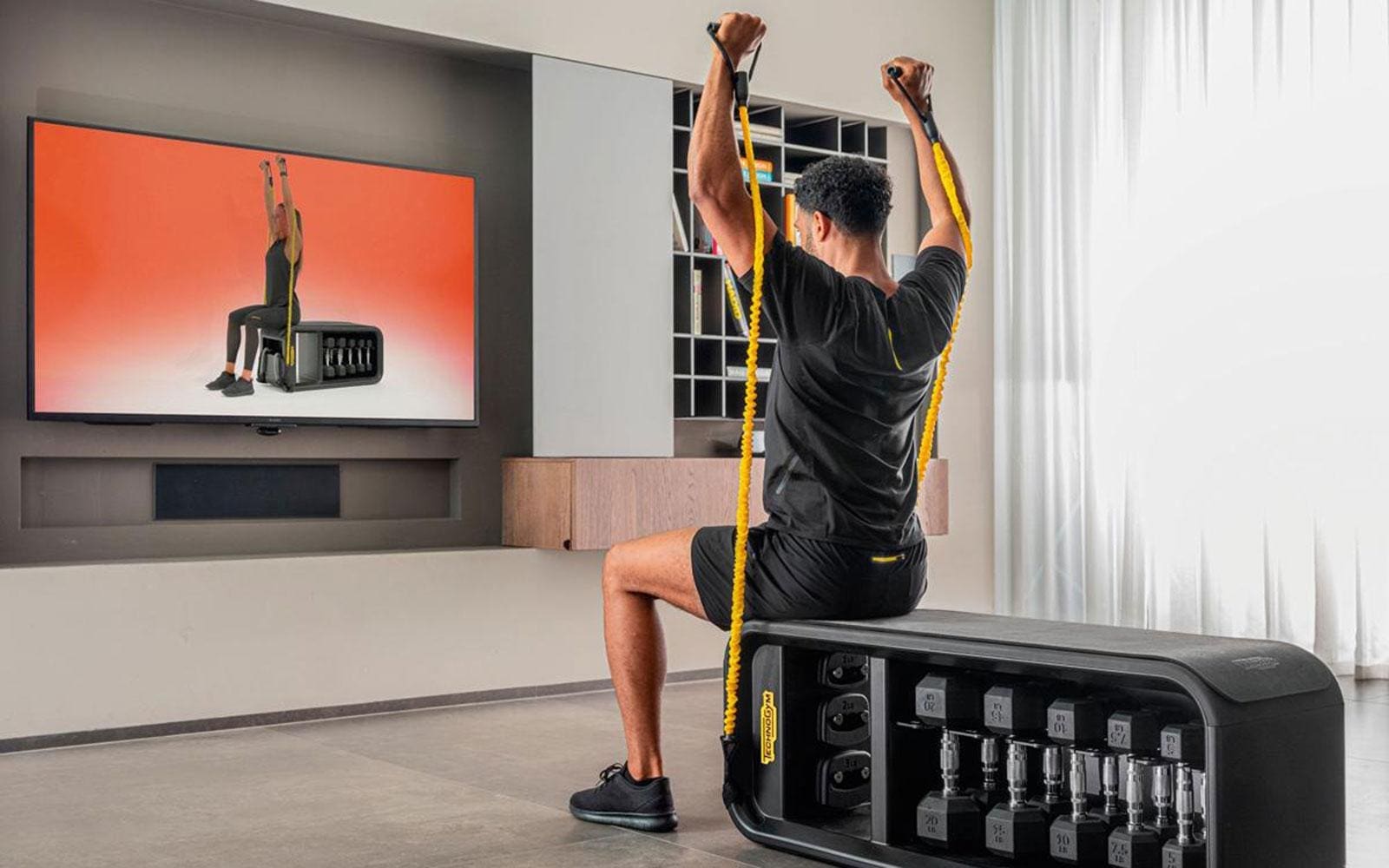 Great for: Full-body workouts that don't take up too much spacePrice: £1,450
If you're short on space, opting for something compact, versatile and multi-functional is key. The clever designers over at Technogym have packed almost an entire gym into this minimal exercise bench, which offers hexagon dumbbells, a training mat, weighted knuckles and three varied resistance bands which can be combined for a range of targetted and full-body workouts. If you're not sure where to start, the Technogym App has an array of workouts devised specifically for the capabilities of the bench and, once you're done, throw some scatter pillows on it and no one will ever know your fitness secret.
Sprintbok Treadmill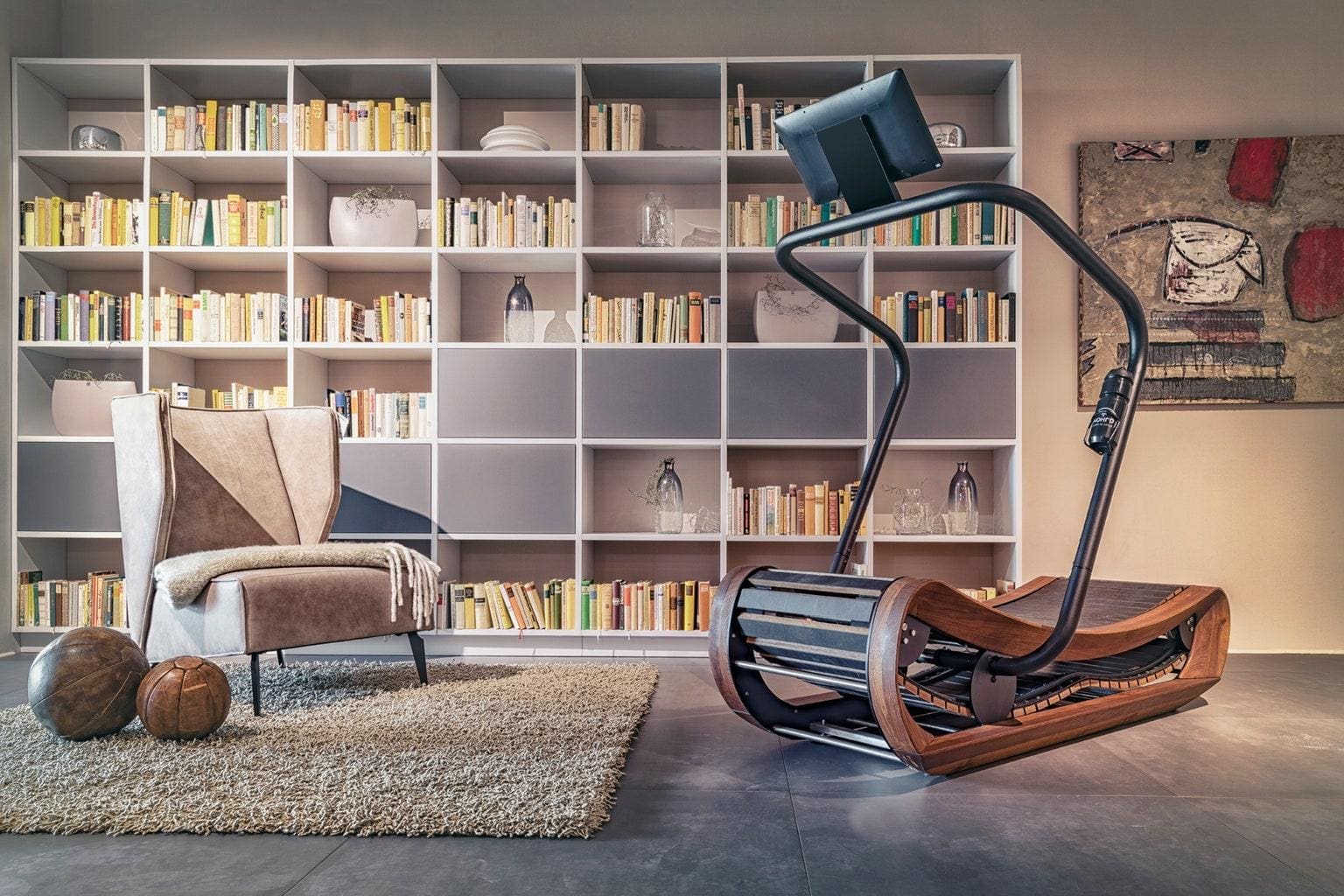 Great for: The environment (it's 100% powered by you); flexibility – it adapts to your running style and speed; flexible slats ensure minimum strain on jointsPrice: From £5,295
You only need look at it to see why the French-made Sprintbok is a true game-changer. Requiring zero electricity (unlike the majority of treadmills), the Sprintbok is powered solely by you with flexible wooden slats and precision ball bearings ensuring smooth transmission. The curved manual treadmill offers users all the advantages of a self-determined running workout, with no speed limits or settings. Infinitely variable from a comfortable walk to an all-out sprint, runners can fully determine their pace according to their personal running capacity – meaning a casual stroll with negroni in hand for us.
WaterGrinder
Great for: Upper-body workout (especially arms and shoulders); keen boxers; summer-bod hopefuls Price: From £1,599
Upon first glance, it's hard to know what to make of the WaterGrinder. Positively alien-looking, the WaterGrinder comes from the same French manufacturer as the Sprintbok above. Similar in concept to water-based rowing machines, this bit of kit uses the resistance of water to target all of your upper body muscles, banishing buffalo wings and stubborn fat. You can also sit or stand while exercising, depending on your personal goals. For a killer HIIT (high-intensity interval training) workout, we recommend a short but intense burst on the Watergrinder paired with 20-second sprints on the treadmill. That six-pack will be revealed in no time.
Hock Dumbbells
Great for: Tony Montana, Floyd Mayweather Jr; individuals with egos as large as their gunsPrice: From €1,086 per pair, from €7,521 for dumbbell rack set
Dumbbells are an essential ingredient to any good gym but most don't exactly scream tasteful design. Banish ugly plastic and chrome with the help of German brand Hock. Its expansive range of gym equipment is made with form, as well as function in mind, and the standout piece is undoubtedly its Diskus dumbells. Available as single pairs or in rack sets, each one features an oiled American walnut grip and stainless steel weights that are both hygienic and beautiful.
Peloton Bike
Best for: Those who thrive in group workouts and need the motivation of a professional instructor Price: From £1,350 plus £35/mo subscription for access to services
We couldn't write a home-gym roundup and not include Peloton, such is its popularity among cosmopolitan, matcha-latte slurping types – even post-And Just Like That scandal. The premise of Peloton is simple: to create a spinning workout with the energy of instructor-led studio rides at home. With a variety of membership options, feel the energy of the studio with daily live classes and thousands more on-demand tutorials with a thoroughly engaging interface on the bike. Men's Health went so far as to say it's the 'best cardio machine on the planet'. High praise indeed.
CAROL Bike
Best for: Those who want the benefits of 40 minutes of exercise in less than 10 minutesPrice: £2,195
Yes, you read that correctly – this machine requires less than 10 minutes of use and promises to double your fitness in eight weeks. CAROL works on the "minimum effective dose" principle of exercise, which the researchers who developed the protocol believe to be two 20-second sprints at a high intensity. The idea is that CAROL guides you through a short workout uniquely tailored to your needs. Using your biometrics and performance data, CAROL's algorithms instantly create and apply personalised resistance to achieve supramaximal power – in every ride. With more time spent on the bike, the bike's intuitive AI ramps up the difficulty meaning no two sessions are alike.