Face forward: The beauty tech and tools bringing the spa home
Step into spring fresh-faced and glowing with the beauty gadgets that can rival any professional facial
Facials – remember those? Been a while hasn't it. Whether you indulged as an occasional treat or a frequent beauty ritual, chances are months away from the facialist's chair has left your skin dull, deflated and dry. Add to that the always-unflattering light of a laptop screen and the prospect of staring at yourself on endless Zoom meetings becomes quite unpleasant.
Spas and salons are set to reopen in the UK on 12 April – which is great news for your hair but does anyone really feel comfortable getting up close and personal with someone else's face right now? Not really. Which means it's time to take matters into your own hands. The pandemic has accelerated a boom in at-home beauty gadgets and tech that offer tailored skincare and spa-level pampering from your bathroom. Here are some of our favourites.
Flexi Cleanser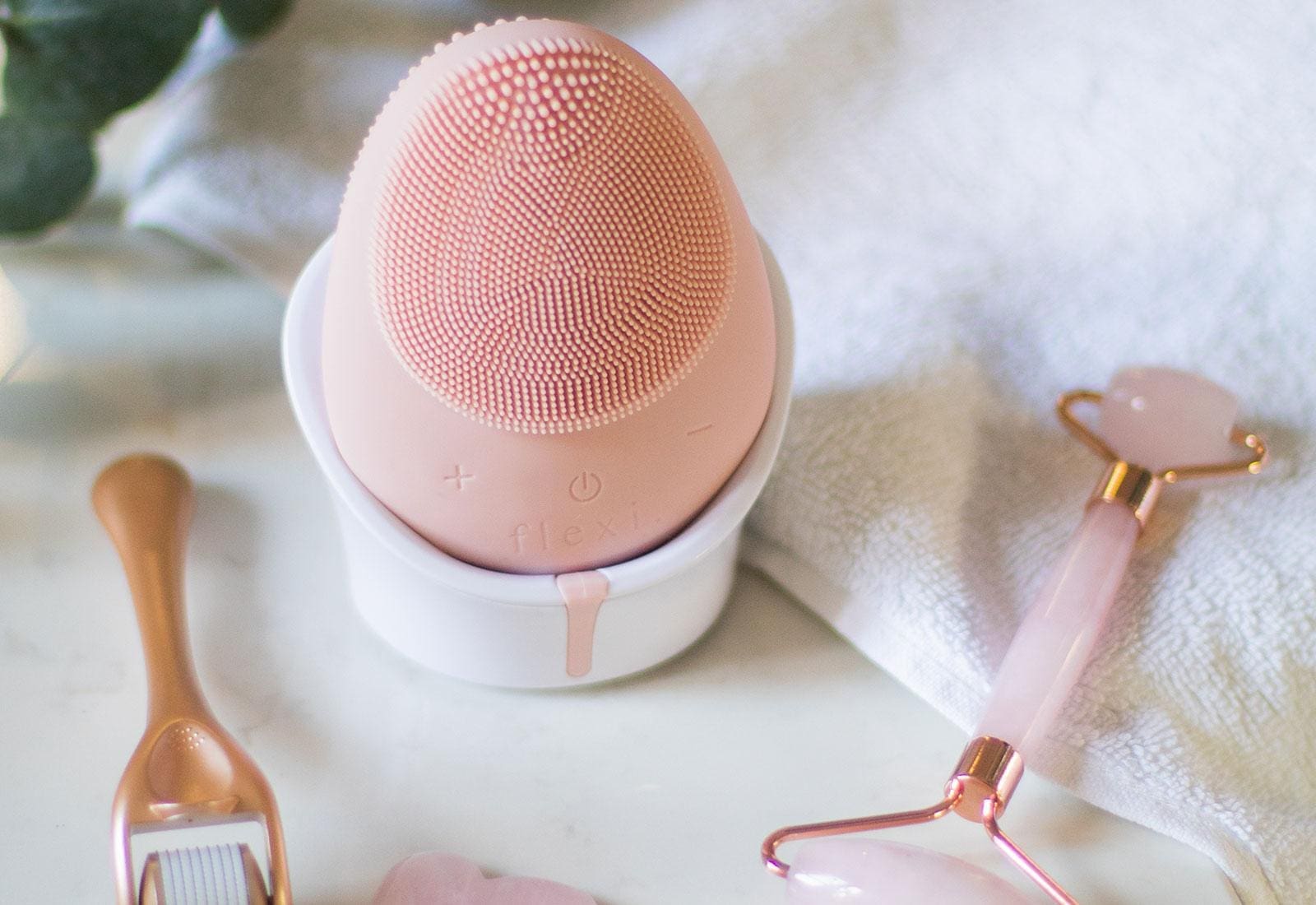 Flexi's range of professional-grade skincare tools is so extensive it's enough to give your facialist cause for concern. The London-based brand offers everything from a brightening and de-puffing rose quartz roller to crystal facial sculptor and an intense looking microneedler designed to stimulate collagen production. Best results do require some technique, however, and while Flexi's website hosts a series of 'how to' videos, if you're looking to ease yourself in, opt for its vibrating cleanser instead.
Double sided for use on face and body, this egg-shaped silicone device features 1,600 bristles that vibrate at five different speeds to achieve the kind of clean you previously only thought possible post-peel. Use with your usual cleanser and apply your favourite moisturiser immediately after for radiant skin every day.
Flexi Cleanser, £60, flexiskinlondon.co.uk
Sepai
La Mer is good and The Ordinary gets the job done but, when it comes to supercharging your skincare, it's all about customisation. Founded in 2009, Spanish beauty brand Sepai makes its UK debut this year with a range of 'boosters' which allow you to tailor your skincare regime to your specific concerns. Skin lost its youthful plumpness? Pop a drop or two of Sepai's Redensify Pro booster in your night cream and wake to a magically-defined visage. Winter left your complexion pale and lifeless? Add a little Glow Pro to your daily serum to restore your skin's natural radiance.
The full range of eight boosters target everything from lack of elasticity to the classic signs of ageing and even cellulite. Formulated with powerful ingredients, as well as being vegan and cruelty-free, the boosters are also designed to be mixed and matched so you can tackle specific concerns as and when needed. One size fits all is officially a thing of the past.
Sepai boosters, from £45.60 each, lookfantastic.com
Chanel Lipscanner
In an era where face masks and anti-bacterial hand gels are the norm, the idea of beauty counter testers is frankly absurd. It's likely the pandemic may have put paid to this practice once and for all – a development the tech whizzes over at Chanel clearly saw coming. In February 2021 the brand debuted Lipscanner, an augmented reality iOS app which allows you to virtually 'try on' Chanel's extensive range of lip colours (there's more than 400 in total).
If you're not sure where to start, the app's technology also allows users to scan any colour – be that from a magazine, a favourite item of clothing or a celebrity image – and you will be matched to the closest shade in the Chanel lip colour family. Be warned: it's quite addictive.
Chanel Lipscanner is available free from the Apple App Store.
Réduit
Ever invested in a pricey face cream only to realise your scraping the bottom of the tub just a few weeks later? This wastage is the exact issue Réduit's line of hair and skincare devices was designed to tackle. Using a system of ultrasonic diffusion, product is dispersed via a superfine mist which creates a light film on the face and hair that is absorbed without leaving residue or using extraneous serum, with Réduit estimating its system results in 20x less product waste.
While converting to Réduit will mean having to give up your usual moisturiser or hair masque, the brand's range of skin and hair 'pods' is vast enough to cater to practically every need. Formulated using high quality ingredients and cutting-edge technologies, its skincare line includes serums targeted at anti-ageing, hydration, blemish-prone skin and protection from UV rays and pollution, while some pods also contain a built in yellow LED light to combat redness and inflammation. Haircare, meanwhile, comes in the form of strengthening serums that fight environmental aggressors, volumising solutions and cleansing shampoos and conditioners for use on dry hair.
Réduit applicators, from £179, pods from £18.90, lookfantastic.com
Dermalux Flex
You know that point in every facial when you're left to relax, face generally slathered with numerous serums and masks, while coloured lights twinkle overhead? Well those lights are, in fact, therapeutic LEDs that are clinically proven to treat acne, pigmentation, reduce redness and boost collagen production. Powerful stuff.
Now, thanks to high-end health club KX, you can get all this at home with the Dermalux Flex. The industry's most powerful portable LED treatment device, the Dermalux Flex comes pre-programmed with 30 minute sessions for face and body and uses a mix of blue, red and near infrared LED light to tackle a full span of dermatological issues. Available to buy, as well as rent by the week or month, this is closest you're going to come to a professional-level facial at home.
Dermalux Flex, available to rent from £75/week or buy for £1,950, kxlife.co.uk
Read more: The best SPF moisturisers fro spring, summer and beyond