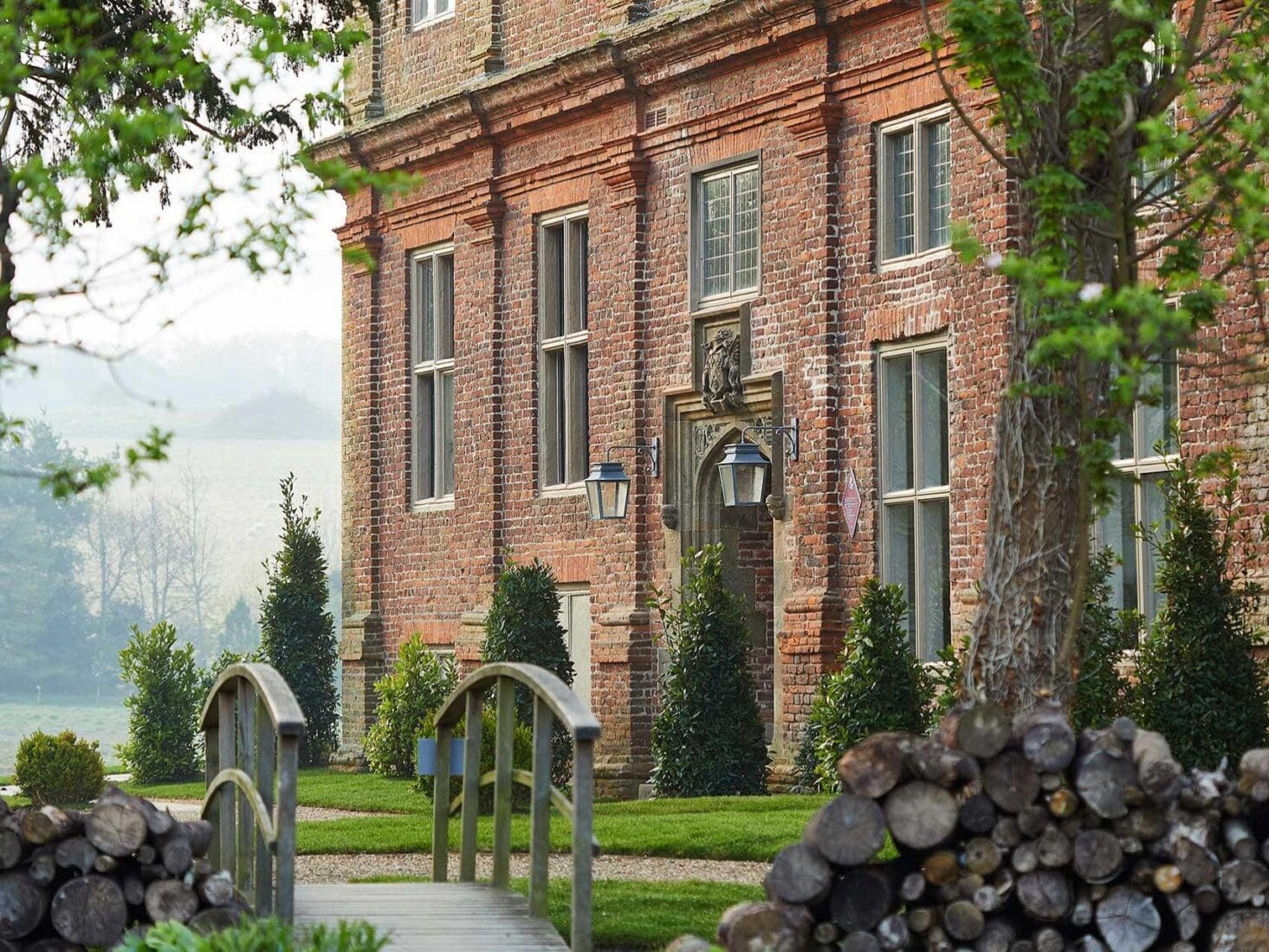 The Pig at Bridge Place, Canterbury
Racking up air miles is more outdated than the Yellow Pages. Now is the time to become a tourist on your own island
'For ice, please dial 0'. Hand-written on a label looped around the neck of a pocket-sized bottle, I felt like Alice making a discovery better than Wonderland. And it – a shake-to-make espresso martini bottled by Bournemouth-based startup Tail Feather – may as well have said 'Drink Me'. This is just a flavour of what greets guests at The Pig at Bridge Place in Canterbury, the latest in the six-strong litter of Pig Hotels scattered across the UK.
While my stay started with a caffeinated cocktail, for owners Robin and Judy Hutson, it all began with coffee. Robin launched Hotel du Vin in 1994, offering fresh milk and quality ground coffee in the minibar – a move considered radical. The pair have since been involved with projects like Lime Wood and Soho House. Robin's dislike of rules and restrictions means that guests aren't obliged to be on their best behaviour, and Judy has become a go-to name for uplifting interiors that fill old English country houses with light.
There's nothing shabby about The Pig's personal brand of chic, although each hotel has an unaffected charm; at Bridge Place, sunlight is filtered through mismatched glasses stacked in front of the bar window; bespoke patchwork parasols by Sunbeam Jackie provide pools of shade in the courtyard; wildflowers froth at the edge of the entrance path; light fixtures rescued from Battersea Power Station hang in the restaurant. There are rather lovely signs of the building's age too: undulating walls, smuggler-sized doors, the Gothic portcullis at the entrance with 'Oliver Malkin' carved into it. Oliver is the son of previous owner Peter Malkin, an eccentric who kidnapped his own child – twice – and held The Kinks concerts in Bridge Place's basement. Nowadays, you're more likely to hear a cool-crowd-pleasing playlist of Phoenix and Simon & Garfunkel streaming through the Sonos, but a low-key sense of hedonism lingers.
Any faint notions I had of getting any work done here soon disappear down the drain of a clawfoot bathtub – there are simply too many ways to relax and corners in which to do so. Snooze fireside in the snug or sip a Bridge G&T (practically medicinal, with a wedge of lemon and ginger) in the meadow – then book in for a Bamford treatment at the spa. Soak in a Bramley bubble bath before supper at your peril – you're at risk of not wanting to get out, and mealtimes are the main event here.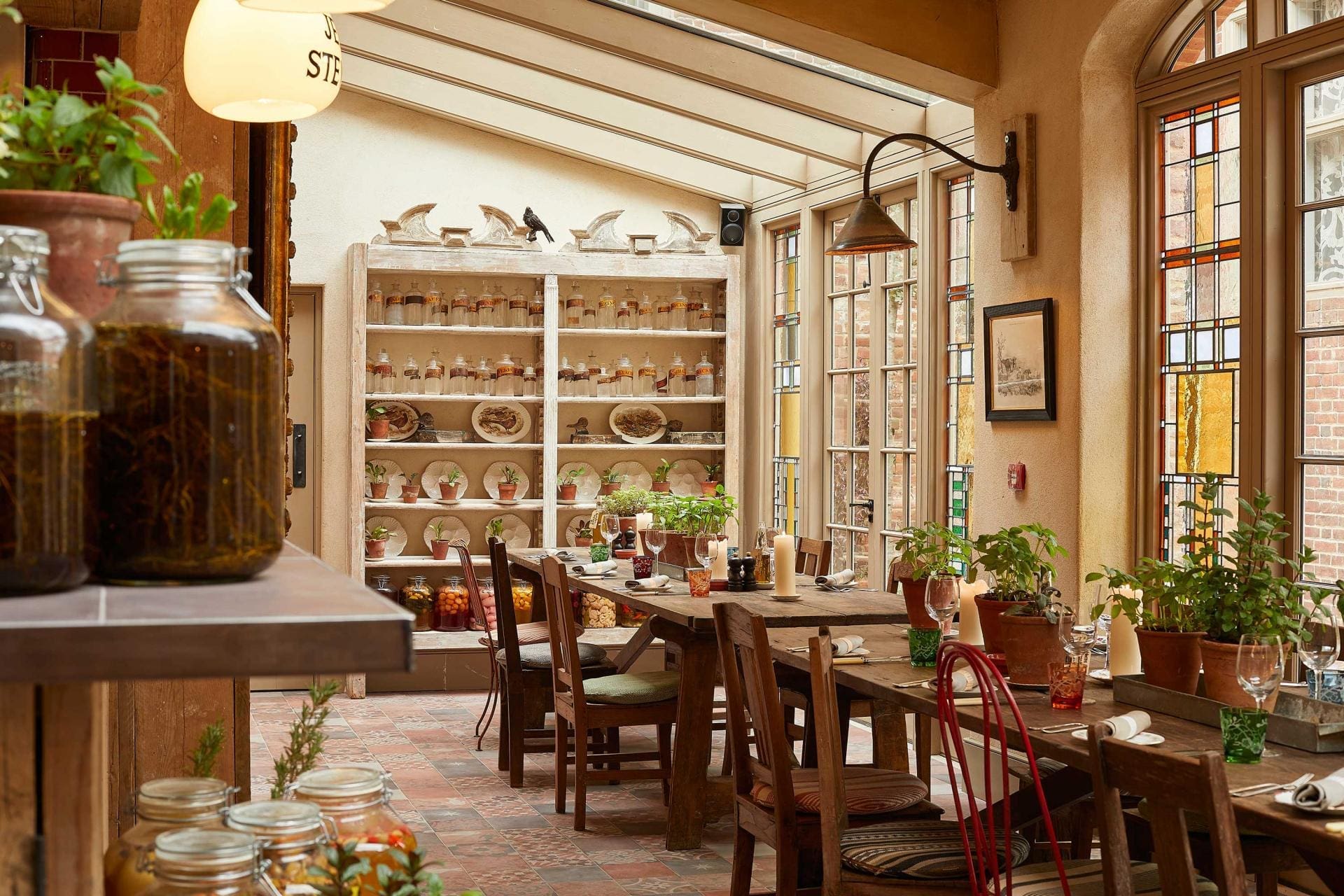 And eating at The Pig… this is what food is meant to taste like. The kitchen garden is manned by three gardeners and two scarecrows, and the air is filled with bees and the smell of lime basil. Sixty different types of herbs flourish in the garden, where you can amble among six-foot sunflowers and peer into pots of chilli peppers. The chefs work in sync, not just with the seasons but with the days, and the result is an ever-changing menu of flavours fresh enough to elicit squeals of pleasure not unlike those of the hotel's namesake. Aubergine that melts on the fork; heritage tomatoes plump with juice; garlicky green sauce you smell before you see. Folkestone sourdough so soft you want to use it as a pillow (although you needn't, the bedding is superb), mushrooms grown on-site lightly fried in crispy shells of batter. No 'Eat Me' label necessary here. Giant jars of pickles – banana shallots, salted orange, boldor beets – line the walls ('we're experimenting', one chef tells me), and potted plants bring the outdoors in. The drinks list, too, gives away the secret of England's south – that this is wine country, the UK's answer to Bordeaux. 'I'm thinking Kentish,' says the sommelier, producing a Simpson's Chardonnay made less than four miles away. It's divine.
From each bedroom you can spot the cast of Beatrix Potter snuffling through the undergrowth, flashes of white tail giving rabbits called Peter (probably) away; there are Rugby Devon cows to coo at and Romney sheep with fluffy bottoms – for children, it's enchanting. Their sticky fingers and curiosity are welcome here. And for adults, it's pretty enchanting too – a nourishing balm for the noise and non-stop pace of the city. This is one rabbit hole I didn't mind falling down.
How to get here: the fast train from St Pancras International to Canterbury takes 59 minutes.
What to bring: an empty belly. Leave the Hunters at home, The Pig has a boot rack.
What to wear: Mara Hoffman maxi dresses, vintage tailoring.
Where to go: Walk through the woodlands to St Peter's Church in Bridge, where Judy and Robin married. Between Tuesday and Sunday, head to the Goods Shed farmers' market in Canterbury.
From £145 per night (exc. breakfast), thepighotel.com