Cooking up a storm at The Wild Rabbit Inn, Kingham
The Wild Rabbit's culinary credentials keep on growing. With its first Michelin star in the bag, Luxury London heads to the charming village inn to see what else is on the menu
The drive from London to the Cotswolds takes forever and a day. Not a great start for a quick weekend sojourn. A heavy cold that has been stewing for days has finally simmered to the surface, making every consecutive traffic jam and wrong turn down narrow country lanes that appear to lead nowhere, all the more frustrating. I turn up the volume of Classic FM full blast in an attempt to assuage my road rage as the sat-nav, seemingly set to sabotage-the-route mode, keeps urging us to 'turn around, immediately'.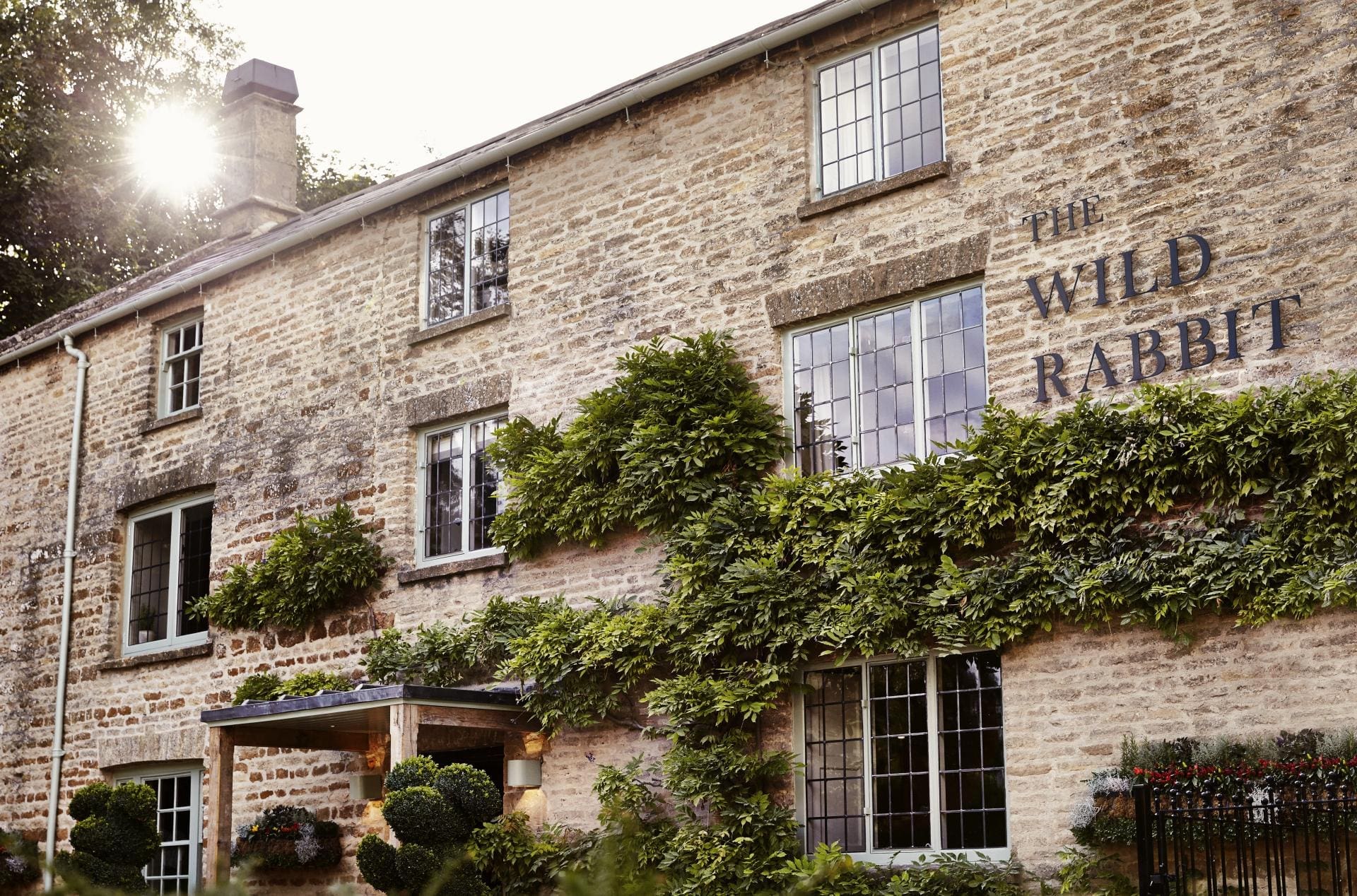 But just when I despair that a village will never materialise from the rolling harlequin green landscape, we round a corner as the orchestra strikes up with Vivaldi's Four Seasons and arrive in tiny, tranquil Kingham – home to The Wild Rabbit. Modelled on the traditional English inns of yore, the charming bolthole, complete with restaurant, pub and rooms has all that a weary, city-fatigued traveller could need – blonde flagstones, breathtaking views, duck egg blue bed linen and all.
The Wild Rabbit has also just been awarded its first Michelin star with executive chef Tim Allen (previously chef patron at Launceston Place in Kensington) manning the stoves. Situated at the heart of the Daylesford Estate, Allen is rather spoilt for choice when it comes to locally reared and grown produce, of which more later.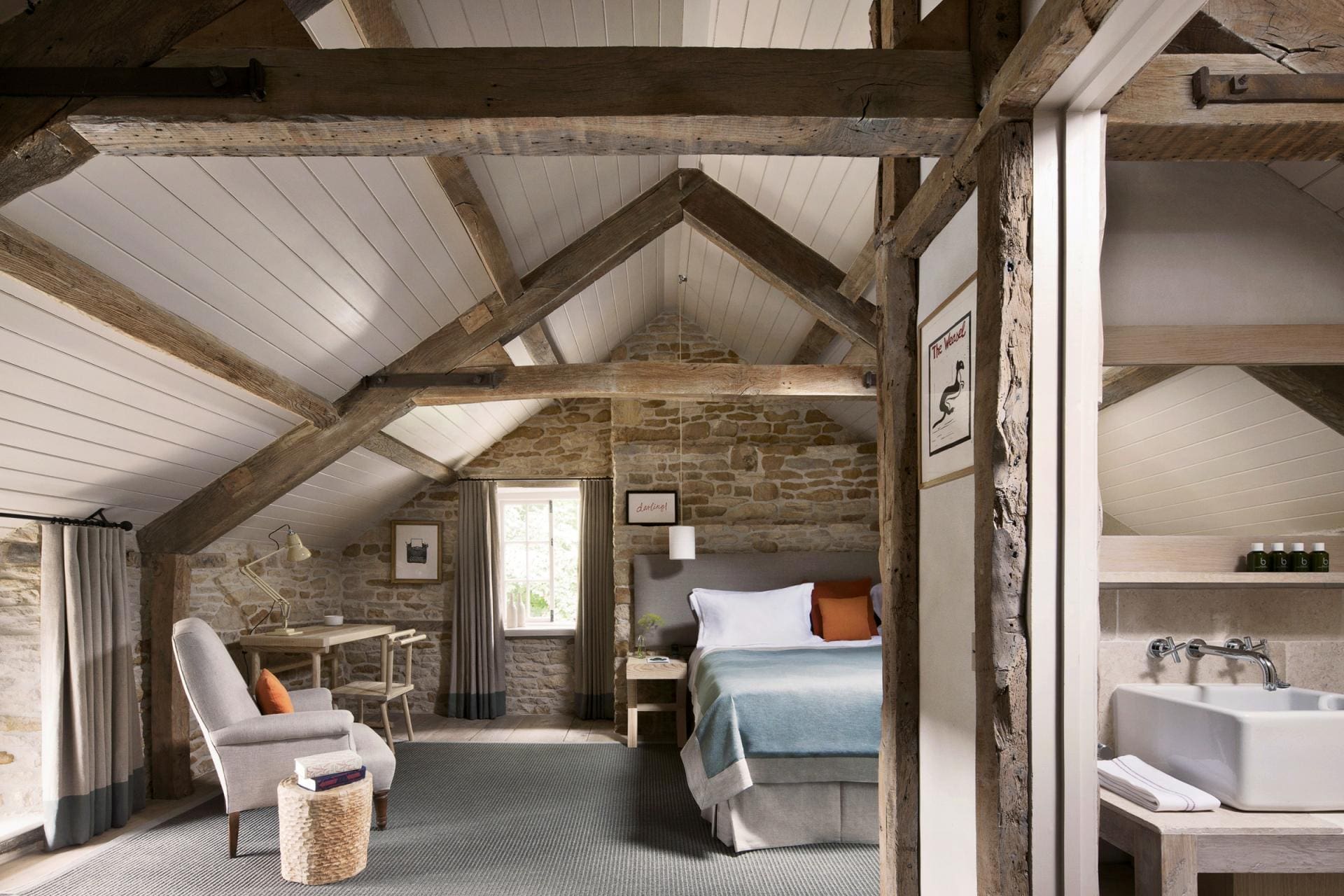 For now, I only have time to greedily scoff the buttery homemade cookies left out in my room as I have an appointment down the road at the Bamford Haybarn Spa. It transpires that 'down the road', in countryside terms, involves donning wellies and walking through a field for a mile, but being up against the clock and with an ominous inky cloud looming overhead, we decide to drive. The nearby Daylesford Estate has a café, a farm shop that makes Whole Foods look frankly pedestrian, and a spa tucked away in a peaceful courtyard.
Inside, the divine scent of geranium, peppermint and lavender assails the senses and I'm taken to the waiting area – a wide, bright space with generous windows looking out onto the vast orchard beyond – to relax. Gnarled tree bark sculptures, sumptuous white textiles and rattan lamps add to the at-one-with-nature vibe. It's impossible not to feel instantly soothed here.
The room where I'm having my full body massage is filled with natural light too, which fades gradually as the afternoon melts away and the masseuse attempts to tackle the tension in my shoulders, working in essential oils to pep me up. It does the trick, and 40 minutes later I emerge sinuses unblocked and knots untied.
It's still light enough outside to explore the surrounding chocolate-box villages after my spa session, but we refrain from changing into our waterproofs in favour of retreating to the nearby Kingham Plough for a late ploughman's platter lunch. The deliciously addictive locally churned butter alone makes it a worthy pitstop on any gastronomic crawl of the area.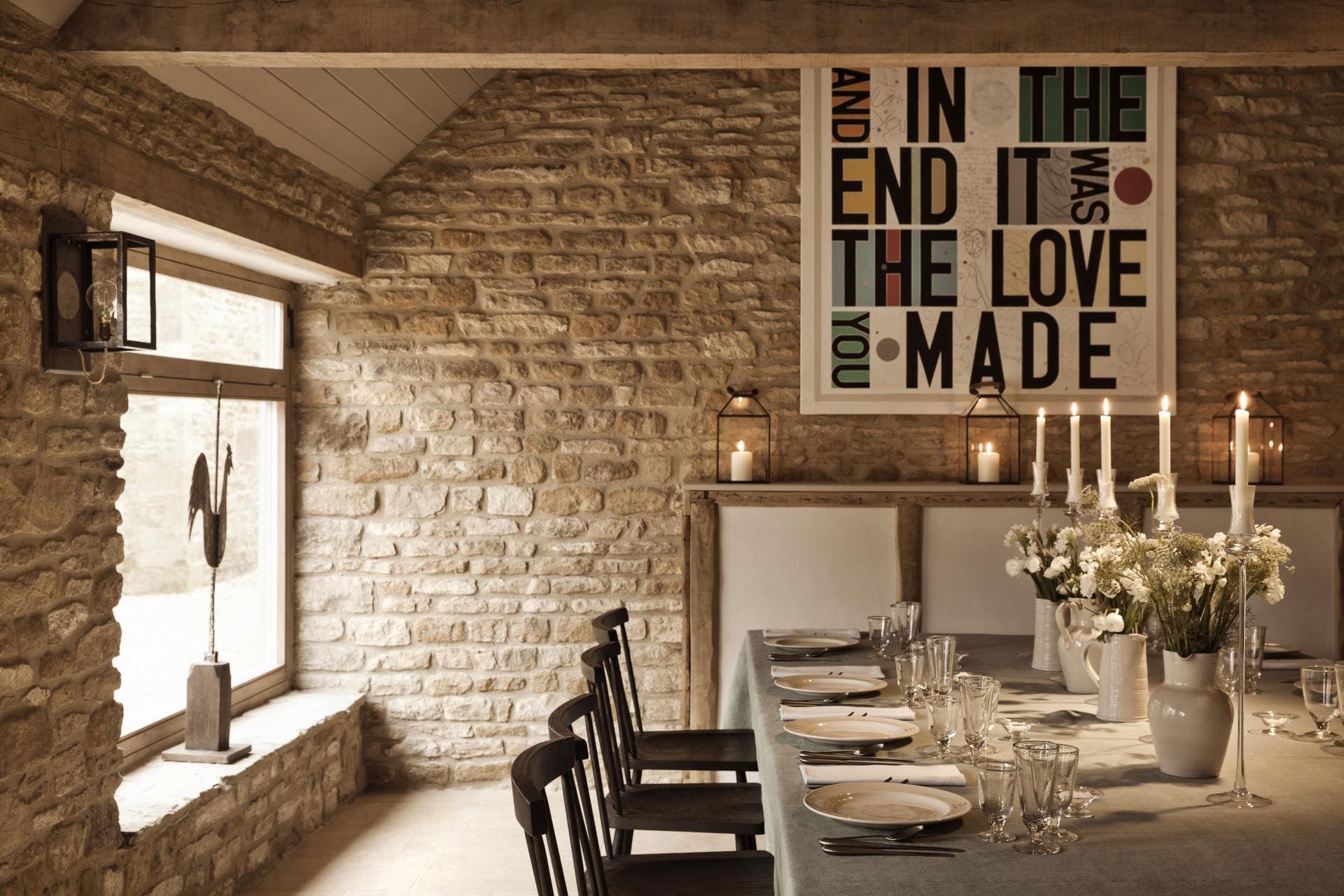 Back at the hotel I peruse the selection of paperbacks on the shelves, from Ian McEwan to Sebastian Faulks, and take a nap on the comfiest, most generously proportioned of beds (not too firm, nor too soft).
The Wild Rabbit has 12 rooms and cottages, all named after woodland creatures. Our warren for the night is the Squirrel, which is definitely on the cosy side, but it's no matter, as what it lacks in space it makes up for in charm, with light stone work, a window seat, quaint illustrations of rabbits and moles, cashmere-soft blankets and a serene colour scheme of biscuit beiges and light greys. The bijoux bathroom comes stocked with a plentiful supply of heavenly scented Bamford bath products, so I continue the pampering until it's time to turn our attention to Tim Allen's star quality in the kitchen.
The dining room itself is a thing of beauty: walls of roughly-hewn stone with spindly chairs and tables dotted here and there. An old, distressed looking dresser dominates one wall, stacked with pewter plates and mottled earthenware, and a roaring fire is the focal point of the other, while a long banqueting table running almost the length of the room acts as an elaborate plinth for an extravagant, oversized floral arrangement.
The combined effects of (the briefest blast of) country air, a fireside seat and a single glass of superb Pinot Noir is enough to leave me with the ruddy chops I usually associate with rural dwelling folks used to the good life. I take the opportunity to speculate on what brings my fellow diners here. Have they had to come far for the hand-dived scallops with Agen prune and apple vinegar caramel, or are they lucky enough to call The Wild Rabbit their local? The place certainly has a familiar feel, and everyone looks so content and at ease, it's hard to distinguish the regulars from the foodie pilgrims.
In an age of ambiguous menus, it's refreshing to see that The Wild Rabbit denotes its dishes with simple, straightforward names: Wild Duck; Quail; Mackerel, etc. We opt for the latter two dishes and things get off to a promising start. The roasted quail arrives as an artfully arranged ensemble of components – Morteau sausage, smoked shallots, crispy leg and verjus reduction – that tastes as good as it looks. The mackerel meanwhile unites a more difficult kettle of flavours, but the sharp tang of gooseberry, borage, pickled cucumber and frozen buttermilk adds extra oomph to the fish.
I get automatic food envy when my guest's Wootton organic lamb with courgette and basil arrives, accompanied by a parmesan bonbon so delicious it makes me wonder why I haven't eaten one before. The dish is however a little on the rich side and my rump of English veal pips it to the post. Served with confit onion, truffle purée and baby capers, the mélange of caramelised flavours is irresistible.
The only dessert I can make room for by this point is a scoop or two of sorbet, and I'm glad I do. The homemade bitter chocolate, served alongside a white peach variety is yet another taste sensation, and a refreshing palate cleanser, too.
After dinner, it's thankfully only a short amble upstairs back to the comfiest cloud-like bed where I nod off counting bon bons. When I wake the next morning, I'm greeted by the aroma of croissants wafting through the open door. Downstairs, the banqueting table has been covered in a delightful breakfast spread. There's a smorgasbord of locally-grown berries, bowls of bircher muesli, seeded loaves fresh from the oven and jams and marmalades of every description. I fill my boots and leave a very happy bunny indeed – until I hit the motorway.
Treatments at the Bamford Haybarn Spa from £50; rooms from £150 a night for a small double for two; starters in the restaurant from £13, main courses from £20, thewildrabbit.co.uk