Take a hike: London's best park walks
It's your only form of outside entertainment right now, so grab your coat and discover the wonderful strolls London has to offer
Walks. We know you've done more than a few recently. In fact, you probably know the paths of your local park better than you remember the layout of your office by now. It's a good job, then, that London happens to be the greenest major city in Europe, teeming with beautiful places to take your daily stroll. And, while exercising in your local area may be convenient we're willing to bet if you look a little closer at Google Maps you'll find a whole host of green spaces near your home you never knew existed. Here are some of our favourite London walks to get you started.
Hyde Park/Kensington Gardens, London
London's equivalent of New York's Central Park, but obviously better (we're slightly biased). We recommend starting by Kensington Palace – home to Kate and Wills – and making your way towards the Lido Cafe and Bar by the Serpentine. In non-pandemic times, more active folks can venture onto the lake and rent one of the park's various pedal and rowing boats or even brave the chilly waters of the Serpentine for a swim. For now, those with children can keep them occupied with some good old fashioned duck and swan feeding. Fun fact: the Queen owns all unmarked mute swans in open water in the UK and exercises her right of ownership over swans on certain parts of the River Thames.
Opening Times: 5am-12am
Closest Station: Hyde Park Corner
Hampstead Heath, Camden
This beautiful park, best known for inspiring C.S.Lewis' The Chronicle of Narnia, is a nature lover's paradise. The sprawling 800 acres of ancient and new woodlands, ponds, rambling paths, wildlife and hilly landscape are practicakly unheard of in any other major city. Best of all (or worst depedning on your orienteering skills), there are hardly any signs in the park, so you're sure to feel off-grid even if you can't resist a sneaky Instagram shot. Head to Parliament Hill for one of the best views in London.
Opening Times: Open 24 hours
Closest Station: Hampstead Heath Rail
Greenwich Park, Greenwich
Overlooking the River Thames, this park is filled with picture-perfect scenery and has a rich history dating back to Roman times. Visit the Royal Observatory, stand on the Meridian line and explore London's Planetarium (again, pandemic allowing). The park also holds regular outdoor events for children, with the aim of helping them discover the park's local flora and fauna. These are currently on hold due to coronvirus retrictions but there are plenty of signs allowing families to conduct their own nature trails.
Opening Times: 6am-6pm
Closest Station: Maze Hill or Cutty Sark
Isabella Plantation in Richmond Park, Kingston Upon Thames
Richmond Park is hailed as one of capital's most beautiful year-round and, even in winter, it offers spectacular scenery. We recommend taking a bicycle and exploring the vast sweeping hills of the park. Have a break at the Isabella Plantation, a woodland garden spanning 40 acres, situated within a Victorian woodland plantation created in the 1830s. Thomson's Pond is a popular spot for spying the park's wildlife while it's well worth mentioning the wild deer that roam the grounds of Richmond Park.
Opening Times: 7.30am-8pm
Closest Station: Richmond
Kyoto Garden in Holland Park, Kensington
This Japanese-inspired garden within Holland Park is a relatively undiscovered gem, and perhaps the most reflective. An appreciation for passing beauty is essential to fully experiencing the wonders of a Japanese garden in all four seasons; the concept of impermanence is a key part of Buddhist teachings. The aesthetic result is that Japanese gardens are temporal in nature, unlike Western gardens, which emphasize long-lasting color and extended bloom times. You may even spot one of the park's unique peacocks too.
Opening Times: 10am-8pm
Closest Station: Holland Park
Phoenix Gardens, Covent Garden
This community garden is managed by volunteers to provide London's West End with a green area in the centre of theatreland's hustle and bustle. The site was bombed during WW2, after which it became an unloved car park. Over the years, it has been transformed into a wild garden and a welcome refuge for humans and animals alike and the occasional fox has been spotted there. One to bookmark as a post-Covid lunch spot if you can't make it there now.
Opening Times: 10am-4.30pm, closed on weekends
Closest Station: Tottenham Court Road
Green Park, Westminster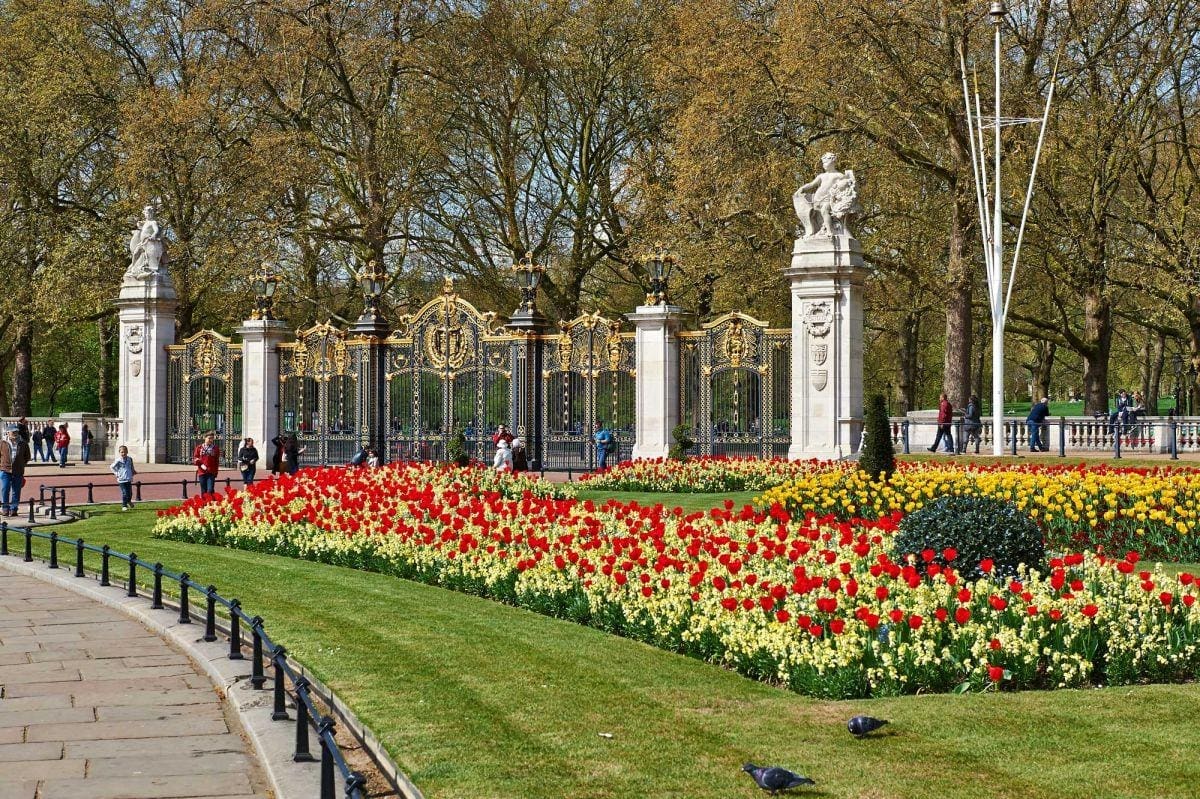 The closest park to the Queen (apart from her back garden obviously), Green Park is unique among London's parks for having no lakes and few buildings and monuments. Most popular in summer, when tourists loll in the park's signature deck chairs, it's arguably more enchanting in spring and autumn when the crowds have disapated and the huge lime and plane trees come into their own.
Opening Times: 5am-12am
Closest Station: Green Park
Kew Gardens, Richmond
Why not take your walk to the sky? The Treetop Walkway at Kew Gardens gives you views of the landscape from 18 metres above the ground. While many of Kew Gardens' building are closed due to pandemic, its elegant gardens remain open to be enjoyed (but visitors must books a time slot). Once life returns to normality be sure to return to check out Temperate House; the world's largest Victorian glasshouse and Rock Garden – a sensational combination of sandstone peaks and cascading waterfalls.
Opening Times: 10am-4pm
Closest Station: Kew Gardens
Waterlow Park, Highgate
This 20-acre green space – neighbouring Highgate Cemetery (also worth a visit) – is one of the capital's hidden gems and, even in normal times, free from the throng of tourists. There are three ponds in the park and paved walkways winding through the space making it a great accessible option. Plan your route to take in the historic Lauderdale House, home to an art gallery and host to exhibitions, concerts and performances throughout the year, but worth admiring from the outside too.
Opening Times: 7.30am-4.30pm
Closest Station: Highgate
Primrose Hill in Regents Park, London
Regents Park has a marvellous combination of character, open spaces, tree-lined avenues and breathtaking views. The highest point of the park, Primrose Hill, is a tourist attraction in its own right, and, in normal times, welcomes visitors from across the world. With the summit being over 60 metres above sea level it also offers one fo the most spectacular views in the city. A stone's throw away from the park are Queen Mary's Garden, the Jubilee Gates and London Zoo.
Opening Times: 5am-5pm
Closest Station: Regent's Park