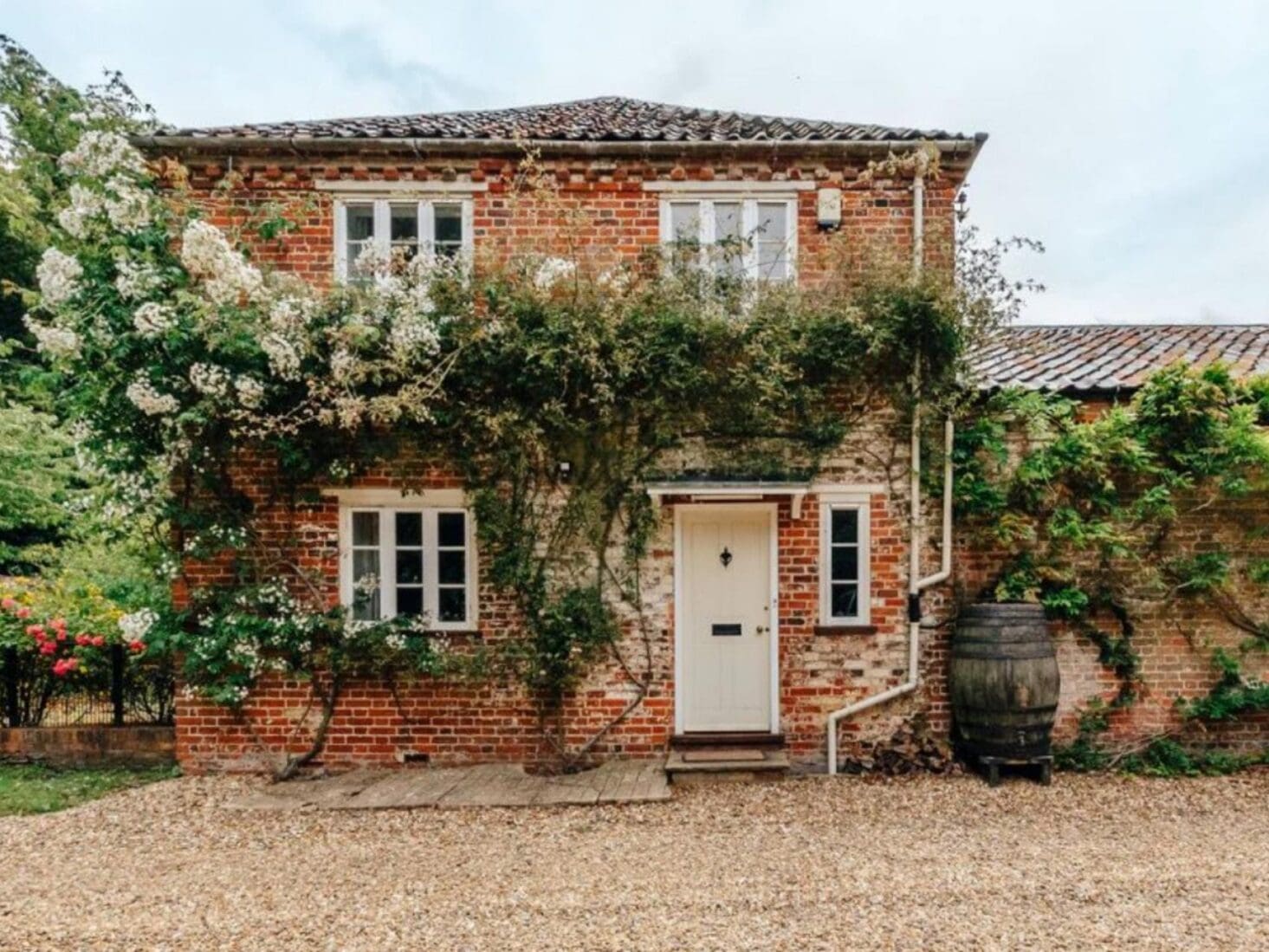 The finest holiday homes to rent in the UK for a splendid staycation
Flexibility, stringent safety measures, hand-picked homes and a full refund guarantee if you can't travel due to Covid-19 are just some of the benefits of booking your 2021 experience with The Plum Guide
Founded in 2015 by entrepreneur Doron Meyassed, The Plum Guide curates exceptional homestays across the UK, Europe and America.
Properties wishing to join The Plum Guide's esteemed rankings are meticulously assessed on details including mattress softness, WiFi strength, natural light and shower pressure. In order to create his stringent vetting process, Meyassed sought the advice of architects, interior designers and psychologists to determine what makes a property conducive to the perfect weekend away. Only 3% of homes pass The Plum Guide test, and the website currently lists 600 luxury properties in London and 900 homes across the UK.
The Plum Guide allows flexibility to move or cancel your booking up to 24 hours before your stay and the Plum concierge team is on hand seven days a week to assist with bookings and enquiries. Remember, the best homes get booked first – so don't delay. If you can't travel due to Covid-19 restrictions, The Plum Guide will always refund you in full. Plus, book before 28 February 2021 and receive 10% off bookings over £400 using code PLUMTRAVEL10.
The Cotswolds
Rolling hills, cosy pubs, hedgerows and honey-coloured houses, the Cotswolds is spread across six of England's finest counties.
Thyme & Sage, Cheltenham
Guests: 12 Bedrooms: 6
Stunning trails, charming limestones villages and bucolic boltholes are all within walking distance – if you can summon the desire to step outside the heavy wooden doors of this traditional Cotswold home. With six bedrooms, a swimming pool, tennis court, sprawling garden and courtyard, this is the perfect country pad for a family gathering full of outdoor pursuits. Also, any home that has a double-oven Aga and a wood-burning stove is an immediate winner in our eyes.
From £1,594 per night
The Little House, Stroud, Gloucestershire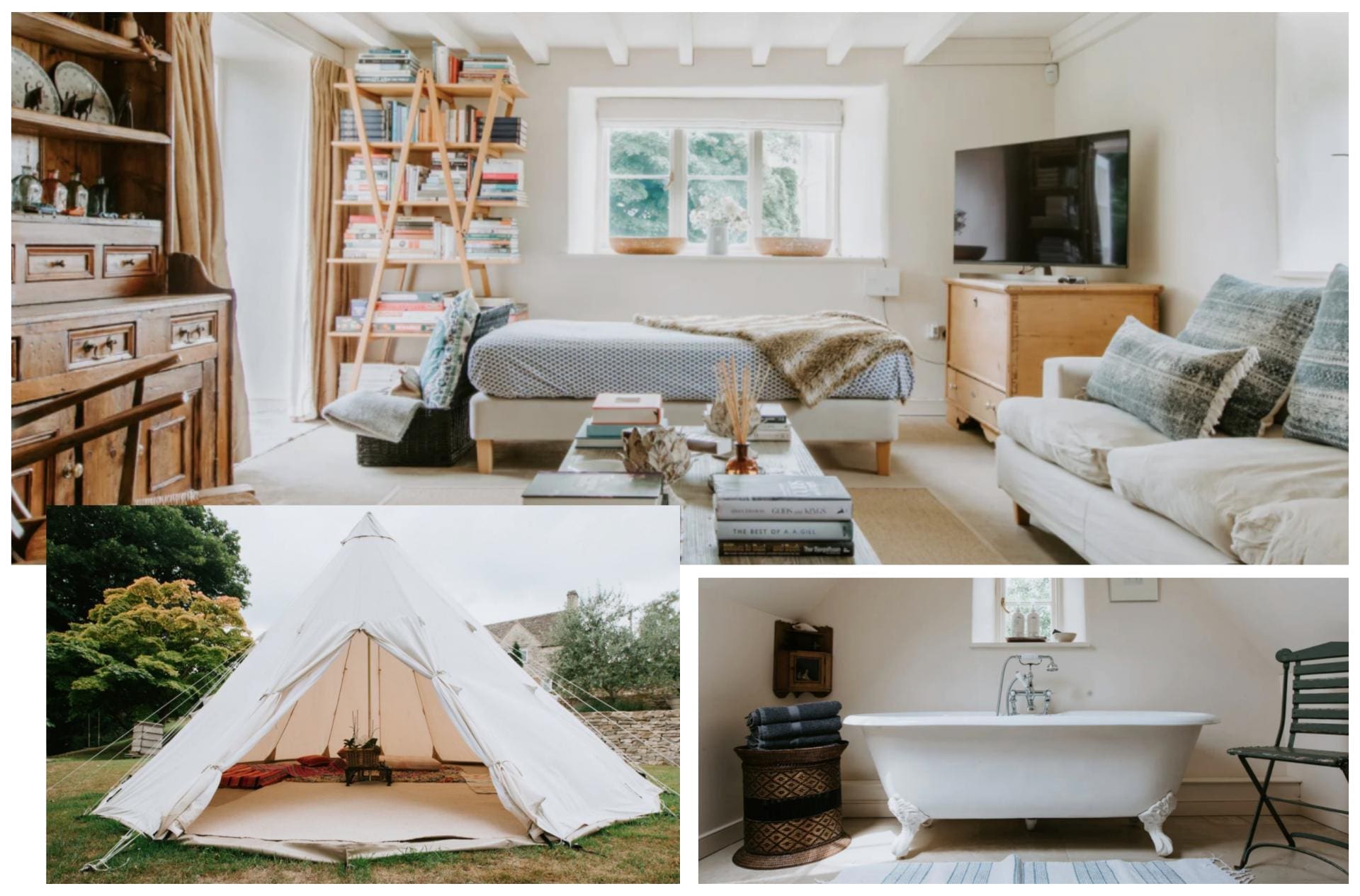 Guests: 2 Bedrooms: 1
Yes, that is a tipi in the picture above. What you can't see is the wood-fired outdoor hot tub, with space for at least three people. The Little House is a light-filled, cosy property nestled in the rolling hills of Gloucestershire, which mixes mid-century modern furniture with rustic, farmhouse charm. From the sumptuous bed to the roll-top bath, the underfloor heating to the sprawling magical garden, the cottage has warmth and spirit in abundance. It is a fantastic option for couples.
From £319 per night
Devon
The Devon coast boasts some of England's best beaches, ranging from long golden stretches of sand to rocky inlets. Think quiet coves, quaint harbours and green countryside all rolled into one; that's Devon in a nutshell.
A Royal Banquet, Tiverton
Guests: 18 Bedrooms: 9
Located in the heart of mid-Devon's pastoral hills, Tiverton offers the perfect rural ramble, as well as boasting a 12th-century castle, two historic churches and the peaceful Grand Western Canal. This majestic house, a short drive away from the town, is one of the grandest properties we have seen on The Plum Guide. The perfect location to entertain family and friends (there's a self-contained three-bed in the East Wing), it boasts sprawling gardens and a glorious alfresco dining area. Inside, rooms are a blend of modern and traditional English country house style and the regency dining table sits up to 18 guests.
From £886 per night
Cornwall
Boasting wild moorland, unspoilt landscapes and arguably the finest sandy beaches in England, the 'Cornish Riviera' is ideal for surfing and enjoying fresh seafood at sunset.
Withy Croft, Penzance
Guests: 4 Bedrooms: 2
There's much to love about this quintessentially Cornish cottage, which has been lovingly restored and renovated inside with modern touches. Aside from the private courtyard teeming with plants, other highlights of the cottage include its fantastic location. A short drive will take you to St Michael's Mount, The Tate and the Barbara Hepworth museum. It is a short walk to the coast and Prussia Cove is a half-hour walk away. You'll return to the city with freshly filled lungs and a spring in your step.
From £128 per night
Wild Furze, Holsworthy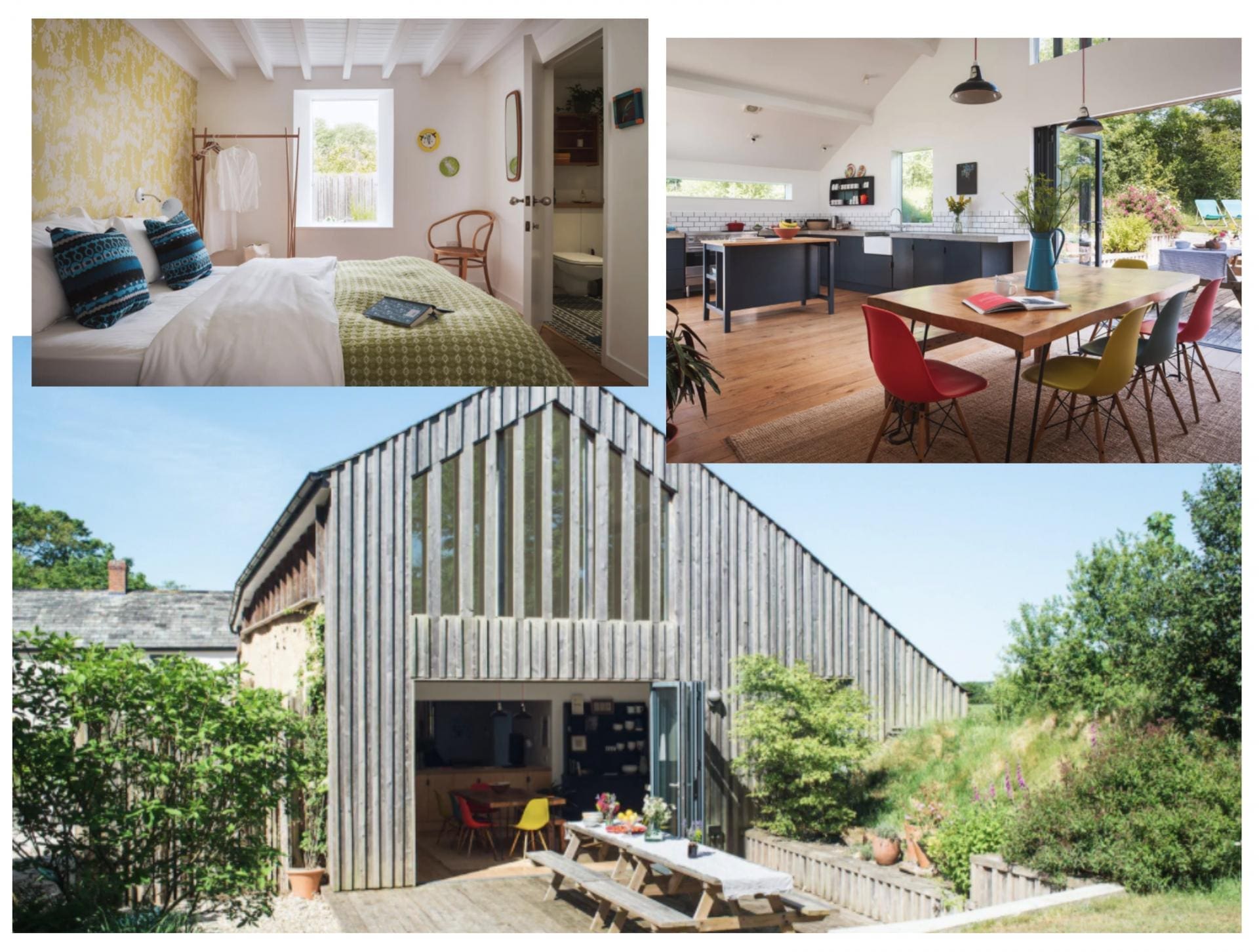 Guests: 8 Bedrooms: 4
This unique property in Holsworthy, which borders Devon and Cornwall, is sheltered inland from the beach while providing the perfect base for ambling country walks. The modern kitchen unfolds into a communal outdoor space, while a wood-burning stove fire in the living room makes for an ambient setting in the evening.
From £331 per night
New Forest
Once a royal hunting ground for William the Conquerer, the area was made a national park in 2005. Glorious heather, sweeping vistas, ancient trees and ponies provide the setting for spectacular walks.
Hare & Hound, Brockenhurst
Guests: 8 Bedrooms: 5
With its peaceful setting by the banks of the Beaulieu River right in the thick of The New Forest, this large house can accommodate up to eight guests with ease. The house opens up onto a picturesque courtyard and alfresco dining area, but our favourite highlight has to be the vibrant garden tent, housing a double bed. Decor is both sumptuous and comfortable and the property is also peppered with historic artworks.
From £307 per night
Riverside Chronicles, Fordingbridge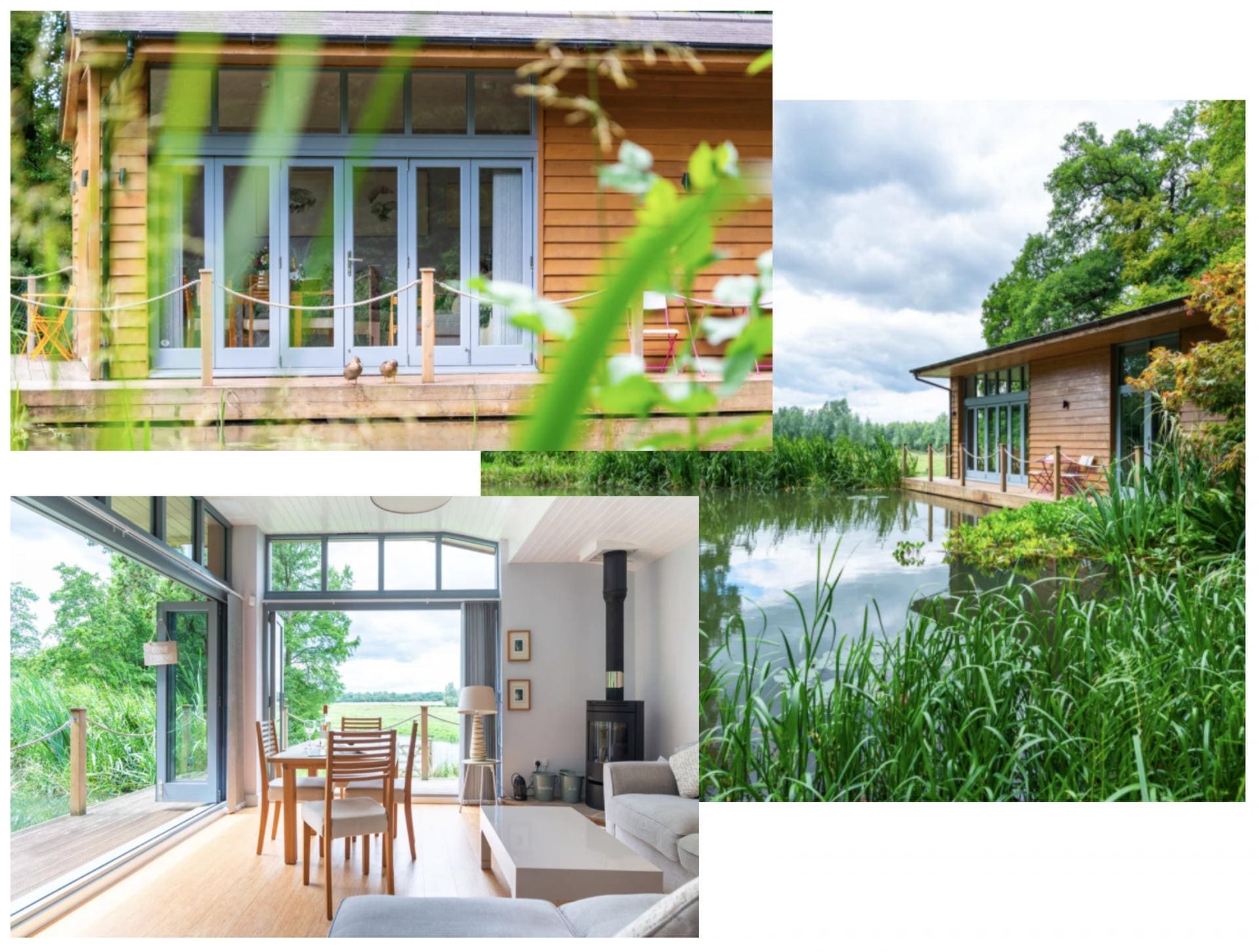 Guests: 4 Bedrooms: 2
Riverside Chronicles is a secluded, unique property on the very edge of a small lake close to the River Avon, enveloped in greenery. Highlights of this forest retreat include the outdoor deck, where you can sit and enjoy a sundowner, the tranquil glamping pod and the cosy wood-burning stove. Light, neutral interiors balance perfectly against the property's natural setting, which encourages you to fully switch off and touch base with nature.
From £279 per night
Norfolk
The Queen's country retreat, Sandringham, is located near the Norfolk coast. And if it's good enough for the Queen…
The Hobart Spring, Norfolk
Guests: 14 Bedrooms: 7
Oozing character from every timber frame, The Hobart Spring received a Plum Guide award, only awarded to the top 3% of homes. Many of the buildings on the estate date back to the 1470s, when Sir James Hobart (later attorney general to the king) built his family home. Set on tranquil grounds, the extraordinary home, which comfortably sleeps 14, is within driving distance from Norwich, which is gaining a reputation as a UK cultural hub. Traditional Tudor architecture makes for a picture-perfect experience, whilst the gardens have raised beds for herbs (a chef can be arranged by Plum). With priceless works of art dotted around the house, chic bathrooms and large, opulent bedrooms, it'll soon be evident why this home won a Plum Guide award.
From £1,317 per night
The Steward's Hideaway, Norfolk
Guests: 6 Bedrooms: 3
The Steward's Hideaway is located on one half of the entrance arch to Wolterton Hall. A charming arrangement of rooms overlooks a private, lantern-lit courtyard. Inside, the cottage channels contemporary Scandinavian design, in a palette of wood, marble and neutral tones. Set on a grand private estate with 150 acres of parkland and a lake, it is a walker's paradise – the grounds are abundant in natural flora and fauna. For those who want to make the most of country living, Wolterton Park offers canoeing on the lake, horse riding, archery and clay pigeon shooting.
From £795 per night
Suffolk
Suffolk's sandy beaches, dramatic cliffs and low rolling hills have all you need for a British staycation. Travel back in time with a visit to one of many historic villages or discover the genteel charm of the county's picturesque seaside resorts.
Flora & Fauna, Worlingham
Guests: 9 Bedrooms: 5
With the village of Worlingham and the quaint seaside towns of Aldeburgh and Southwold just a short drive away, this charming country estate is ideal for those looking to explore Suffolk's natural beauty — but there's plenty to discover closer to home, too. Set on no less than 448 acres of land, Flora & Fauna is surrounded by historical woodlands and meadows which make for the perfect spots in which to while away an afternoon. Oozing understated British charm, the five-bedroom house has space for nine guests, with three bathrooms and mod-cons such as Amazon Prime and Netflix. Antique furniture of Chinese and Tibetan influence adds all the more charm to this bucolic bolthole.
From £1,272 per night