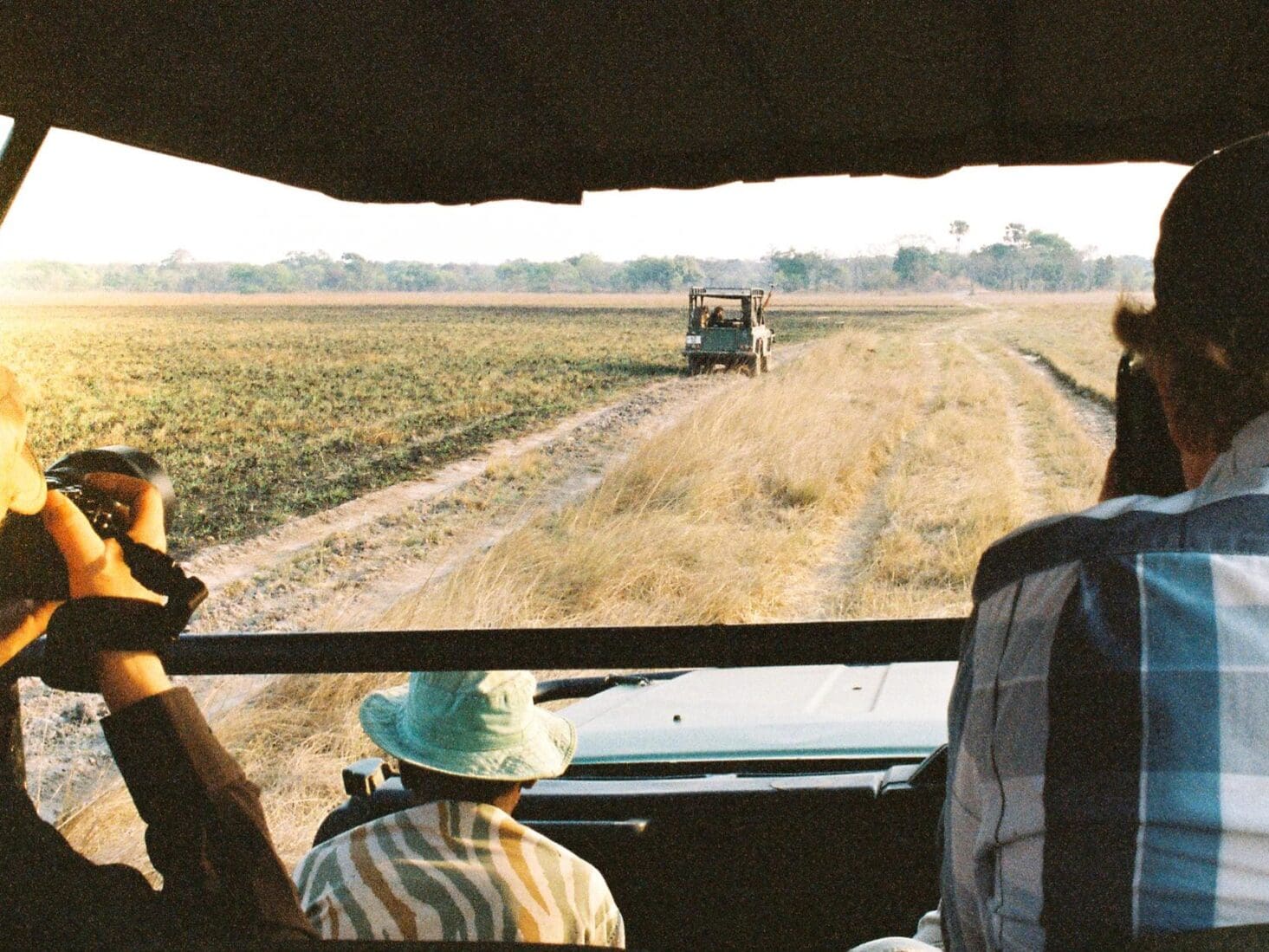 Singita Pamushana: The Zimbabwean Safari Putting Conservation First
After years of political instability, Zimbabwe's tourism industry is being reinvigorated, with conservation and education at its core. A safari experience in the south offers the chance not only to see Africa's wildlife in its natural
"Look – they're snorkelling!" calls our guide Jephat, pointing out three colossal bull elephants. It's probably the last thing you would expect to hear on safari, but then we're bucking the traditional game drive trend, on a riverboat with soft white leather sofas and a cool box brimming with wine. Jephat motors off at speed, swilling waves over grumbling hippos and sending malachite kingfishers into the breeze. At the river mouth, the elephants are barely visible except for the tips of their trunks curling skyward. All at once, they emerge from the muddy depths and thunder up the bank into the riverine forest. And then there's nothing but silent trees flushed peridot green – more like jungle than bush – and a full moon blazing brighter than the sun.
Set in the south-eastern reaches of Zimbabwe, Singita Pamushana is an exclusive safari lodge that underwent a sensitive design transformation in 2018, directed by Cape Town-based design team Cécile & Boyd. Set on a stately hilltop overlooking Malilangwe Dam, the lodge comprises eight suites, including two new two-bedroom options, and a private five-bedroom villa nudged between sandstone boulders. Winding paths lead past ancient baobabs to the striking main lounge, which features a huge stone hearth inspired by the ruined city of Great Zimbabwe. Adjacent is an open-air dining zone, where four pillars with intricately handset mosaics recall the days before this unique lodge was managed by the Singita group.
More mosaics lead the eye to an infinity pool at the edge of a plunging gorge. It's surrounded by tables and chairs angled to take in the view, and behind them the thatched lounge is partly open to the elements. Meals are focused on local flavours and served in different parts of the lodge; we dine under swaying oil lamps in the boma (a traditional enclosure) and on the brink of the deck. As for Singita Pamushana's suites, gone are the minimalist tents of old-world safaris; my accommodation has a playful kaleidoscope of vivid colours reflecting local Shangaan heritage, with curved walls decorated in vibrant patterns. The bed looks out over a terrace and private plunge pool with jaw-dropping views over the gorge. The staff set up a starlit slumber bed on my deck one night, and I sleep soundly at eye-level with fish eagles.
It isn't just remarkable design and boundless luxuries that make Singita Pamushana special; this is the only lodge in the sprawling 130,000-acre Malilangwe Wildlife Reserve. Once used as a cattle ranch, the land was procured by the Malilangwe Trust in 1994, which began restoring it as a protected wilderness area. Pamushana plays an important part in generating revenue to support the trust's conservation and community projects. Today Malilangwe's rhino programme is so successful that some of these animals have been relocated to other reserves. The work of the trust and the remoteness of the reserve offer a twofold boon to Singita's guests – I'm treated to countless white and black rhino sightings, not to mention lion, leopard, giraffe and elephant, and there are no other carloads of people craning for a glimpse.
It's encouraging to see such flourishing wildlife, given this country's complicated history. Before independence, Zimbabwe was a staple on the safari circuit, but political instability and violence nearly destroyed its tourism, poaching swelled, and guides left for more stable lands. However, Zimbabwe's tourism industry is now redeveloping with vigour and optimism, and I see this in the positive attitudes of the guides and managers at Singita Pamushana. The desire to promote conservation and encourage inbound travel, along with long-standing conservation efforts such as those at Malilangwe, offer much promise for the future – and up in the north of the country, there's a flurry of safari lodge openings, managed by the likes of AndBeyond and Wilderness Safaris.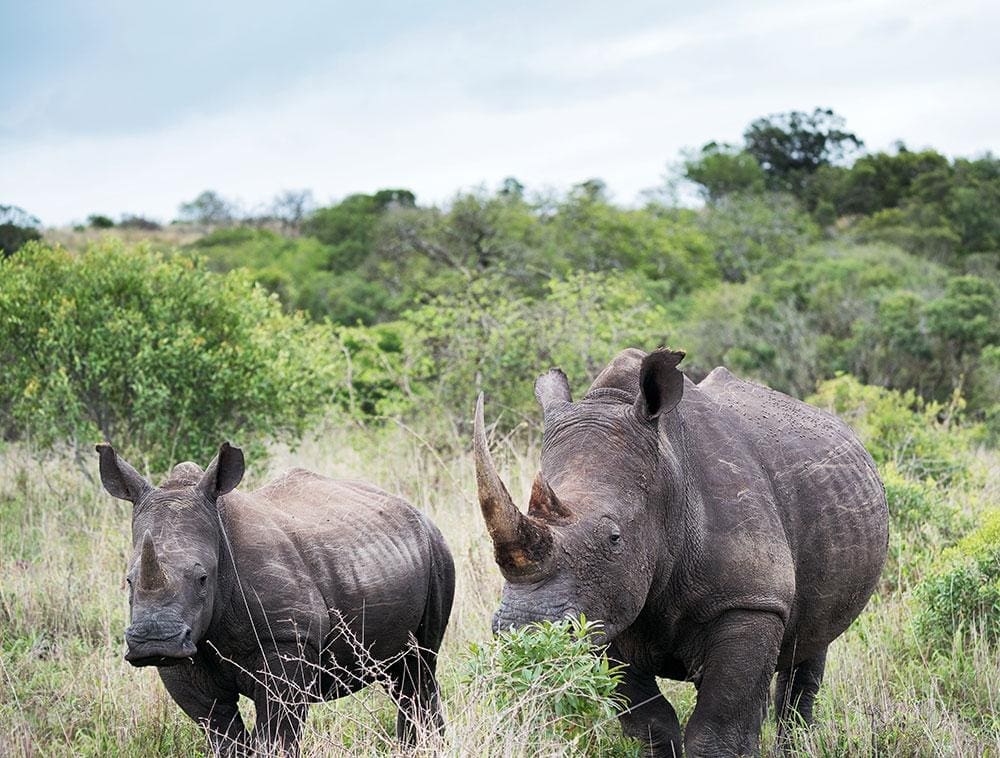 Zimbabwe was always known for setting guiding standards across Africa, and indeed Singita Pamushana delivers a safari experience that broadens the mind. One such pursuit is a walking safari to seek out rock art paintings dating back 2,000 years. Along the way, Jephat teaches me about the symbiotic relationships of the bush; inyala antelope graze alongside baboons, profiting from their excellent eyesight and ability to spot predators; an oxpecker bird cleans parasites from a rhino's skin, and its cry alerts the rhino to danger. There's also time to get a taste of local culture at Kambako village – a living museum run by village leader Julius. The traditions of his childhood may be waning, but he seeks to preserve his heritage by sharing the secrets of the bush, such as how to make fire, forge iron for arrows and weave resilient rope from palm leaves. There are more intuitive acts too, like dowsing for groundwater with freshly cut branches and identifying plants that have deadly poisonous tubers but edible fruit.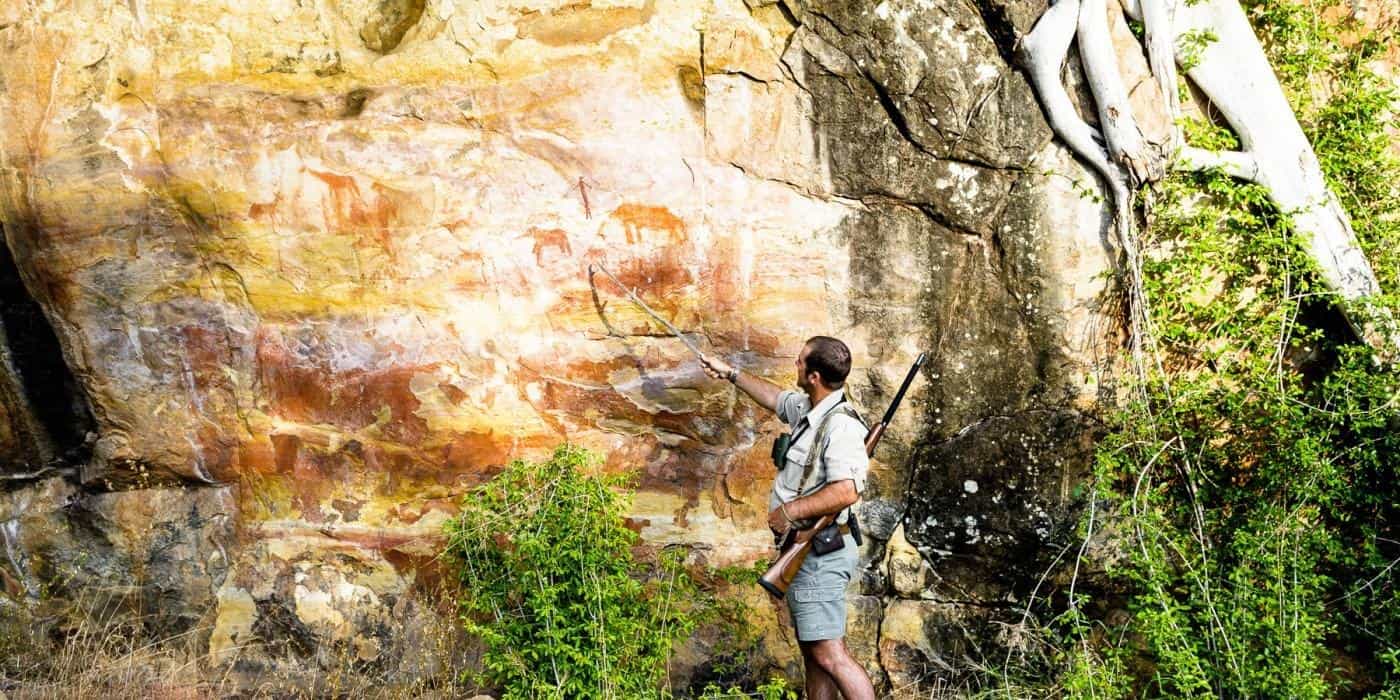 Gaining an understanding of local custom might be key to the Singita Pamushana experience, but there's no substitute for soaking up Malilangwe's bewitching landscapes. After early spring rains, the mopane woodlands glow luminous green as we cross the park for a final sundowner, spotting buffalo calves hiding in the shadow of parents, tiny impalas and dinky elephants. Thick vegetation gives way to open plains and a watering hole, where a flock of starlings swirls in the air like a ribbon and four white rhinos stand poised at the water's edge. "This," gestures Jephat with a smile as he pours gin into a tumbler, "is one of my favourite spots." As the sweet, delicate scent of blossoming flowers fills the air and the low drill of a cicada's song signals the onset of dusk, I decide it might just be mine too.
Rates at Singita Pamushana Lodge start from US$1,795 per person per night, including full-board basis, twice-daily Land Rover safaris, walking safaris, boat cruises, excursions to ancient rock art sites, tennis and return road transfers between Buffalo Range International Airport and the lodge