Six Senses Thimphu, Bhutan: Slow luxury in the heart of the Himalayas
Six Senses' latest Himalayan hotel invites you to clock off and zone out
Daily life at the Six Senses Bhutan (and the country at large) is measured in rituals. Time does not determine the tempo, but merely ticks by to the rhythm of Buddhist prayers and meditations. Naturally, the country's interpretation of time is a little more relaxed than elsewhere; our guide for the week, the indispensable Dorji Bidha, jokes that Bhutan should have its own time zone – BST, for 'Bhutanese Stretched Time'.
Land-locked between India and China, the country's mountainous terrain, dramatic elevation and ever-changing weather no doubt contribute to this unhurried attitude (try driving fast down a road with nine hair-pin bends and no barriers). But the kingdom has also fiercely – and intentionally – worked to preserve its traditional ways and maintain a peaceful pace of life.
A decade ago, Bhutan introduced a Sustainable Development Fee, or tourist tax, used to fund programmes that offset the carbon footprint of tourism and upskill those in the tourism industry. In 2022, the SDF was increased to $200 (USD) a night in a post-Covid effort to convalesce the tourism industry: around 50,000 jobs were lost during the pandemic. And whilst 315,600 tourists visited in 2019, that number is predicted to drop by some 80 per cent in 2023, which means that the fortunate few that do make the trip really are being handed the keys to the kingdom. Travellers virtually have the place to themselves.
With the full lifting of restrictions in September 2022, the ribbon was cut on a handful of new hotels and hiking trails, including the Trans Bhutan Trail and Six Senses' fifth Himalayan lodge in Thimphu, the capital. At 9,000 feet, it's a peaceful, private place to drop into to scratch the surface of Bhutan's deeply spiritual, go-slow way of life.
Mornings at the hotel are for resting, but I set an alarm to catch the sunrise. My lodge suite looks out over the zigs and zags of the Thimphu valley, so I take coffee and thick yak-wool blankets onto my balcony to watch as rare arcus clouds roll over the mountains in slow motion, peeling back shadows from the peaks as they go. Sunlight streams through the thalweg and hits the Buddha Dordenma before it reaches anything else, making the enormous hilltop statue's golden exterior glow.
I'm so engrossed meditating on the mountain views, that I miss an actual meditation led by a local lama in the Prayer Pavilion, which itself appears to levitate above the stillness of the lodge's reflection pool. By the time I've sat down for a breakfast of buckwheat pancakes and fresh juice, I realise the quiet here has been punctuated only once by the gentle, happy bark of a dog. Later, I learn of the friendly Bhutanese mastiff that roams the grounds.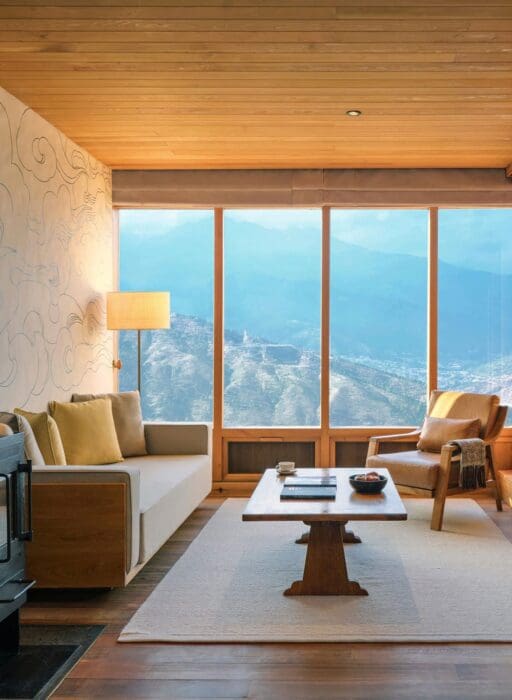 I'm here off-season, during which cold, crisp nights (-5°C) and bright, sunny days (up to 25°C) sharpen the senses like a camera coming into focus. I'm in a small group of five, and we don't see a single other guest staying at the property. Not great for business, admittedly, but the silence and stillness is liberating. 
"Seasons mean nothing here," the hotel's executive chef Isa Raku tells me. "It's a year-round destination, reflected in the ingredients we have access to." He works closely with local farmers, importing seeds and advising them on what to grow. His focus is hyperlocal, sourcing regional ingredients that have been traditionally overlooked by the upscale food scene here.
"Pure air, rich soil and Himalayan sunlight bring out the flavours of our fruit and vegetables. Our fish comes from the clear waters of our rushing rivers; honey and butter from Bumthang, potatoes and the buckwheat in your breakfast from our own fields in Gangtey." 
For someone who developed his own style at Melbourne's prolific vegan restaurant, Lona Misa, Raku is well versed in Bhutan's produce, but his background comes in useful, too – the Bhutanese don't kill animals as it goes against their Buddhist beliefs. "They'd rather slaughter a cow than a chicken – one life feeds more people. Instead, I actively seek out the distinctive taste of fermented yak cheese from the far north and sapphire berry oil from the south – they help us showcase flavours not found outside this beautiful country."
This year, Raku has plans to launch a foraging experience for guests. "We've lost connection with what we eat," he explains. "I want them to have the opportunity to collect turnip greens and fiddle head ferns, sea buckthorn berries and chillies and then make a meal with what they find. Before I came here, I didn't even know what it meant to cook with chillies," he laughs – here, they're treated like a vegetable in their own right, rather than a spice.
Raku champions a brand of sustainability embedded in Bhutan's Buddhist culture, but given the challenge of maintaining authenticity while catering to a five-star crowd, he's finessed a flair for extracting flavour from simple products and taken his restaurant to the next level. An unassuming charred carrot is one of the most deliciously memorable moments from the trip, perhaps in no small part due to the traditional cham dance and drangyen performance that accompanies it, moving one guest to tears at the table.
In a place where minutes are measured in meditations and seasons don't correlate to the calendar, it's important that a fundamental reverence for time-honoured traditions is echoed throughout Six Senses Thimphu. From the hand-carved wooden yaks outside each suite (whose heads retreat to signal 'do not disturb') to the centuries-old food practices being revived, the lodge celebrates skills cultivated over years, and crops harvested over generations. By honouring these rituals, the Bhutanese way of life has, so far, evaded the tight grip of time. Things might move slowly here, but it's clear why no one is in a rush to change that. 
Carrier offers seven nights from £7,880 per person, including flights and transfers, carrier.co.uk

Where (else) to stay in Bhutan
Six Senses Thimphu is the fairest of them all, but there are four other Six Senses properties dotted along the eastern regions of the Trans Bhutan Trail (Paro, Punakha, Bumthang and Gangtey). They have all adopted the same artisanal approach when it comes to design: a local craftsman travelled to Switzerland to train as a blacksmith before returning to teach his son, who now makes the log burners for the Bumthang property. Artist Tashi Gyeltshen once served drinks in the Gangtey hotel and now provides personalised greetings cards that welcome guests to their suite. Known as the Flying Farmhouse, the Punakha outpost features a spectacular reading room suspended over an infinity pool, while the Paro property is built around ancient stone ruins.
Recent openings by big-hitters Como and Amankora have also sprung up along the trail, but independent hotels such as Zhiwa Ling Heritage (the country's only entirely Bhutanese-owned four-star hotel) in Paro and Terma Linca in Thimphu are vanguards of a burgeoning boutique scene. Bringing the best of both, Gangtey Lodge is a truly special one-off where the sharp edges of cold mornings can be softened with a wake-up call that involves a discreet member of staff lighting your fire and bringing fresh coffee to your bedside.
For those that don't need five-star amenities every night but still want to experience stellar hospitality, ask your tour operator to book you into a homestay to experience life with a Bhutanese family, where you'll likely meet several generations under one roof after being welcomed with hot butter tea and popcorn. In Punakha, we stayed with the lovely Lala and Karma, who swooped in to fix our driver's flat tyre and toasted us with shots of ara – Bhutan is that kind of place.