Five enchanting places to visit in Vietnam
From ancient ruins and river cruises to paradise beaches, add these must-visit destinations to your Vietnam bucket list
Vietnam is undoubtedly one of the most beguiling, beautiful and peaceful places in the world, with coconut milk-white beaches, sparkling emerald-green waters and wild, unspoiled landscapes, not to mention a wealth of luxury resorts, perfect for honeymooners and families alike.
Planning a trip to paradise, however, can be complicated. Holidaymakers need to consider visas and vaccinations. Scroll on for the visa requirements for all UK citizens travelling to Vietnam, as well as five of the best places to visit, from historic coastal towns and ancient temples to immersive, tropical jungles.
Do you need a visa to travel to Vietnam?
Whether travelling for business or pleasure, UK residents require a visa for all visits longer than 15 days. Additionally, if you plan to enter Vietnam more than once and the duration between each visit is longer than 15 days, you also need a visa. The visa must be secured in advance of any trip and cannot be obtained on arrival. British citizens do not require a visa if their stay is less than 15 days and they have proof of forwarding travels.
How to apply for a Vietnam visa
The easiest way to apply for a visa is online, prior to your trip. Simplified by online agent eVisa Vietnam, the streamlined application process takes mere minutes to complete and is typically approved within 24-72 hours. British passport holders must apply for a visa at least seven days before their arrival date in Vietnam. The passport must be valid for at least six months and have two blank pages. Once the Vietnam tourist visa is processed and approved, it will be sent as a PDF to the email address provided in the application form. This needs to then be printed and presented along with your passport at the airport.
5 places to visit in Vietnam
Spanning sparkling, palm tree-fringed beaches, tropical, misty jungles, street markets and intoxicating cuisine, there is plenty to enchant travellers in Vietnam. Fly into the main cities of Hanoi, Ho Chi Minh City or Saigon and let your adventure begin.
Hội An
Accessible by train from Ho Chi Minh City, the ancient town of Hội An is a Unesco World Heritage Site. This small coastal city is renowned for its incense-filled Buddhist temples, golden beaches and mustard yellow merchant houses. At night, dine on the banks of the Thu Bồn River, beautifully lit up by glowing lanterns.
My Son
From Hội An, travel to the ancient Hindu temples of My Son. Another Unesco World Heritage Site, these entrancing stone sculptures, framed by lush greenery, are a Vietnamese must-visit.
Da Nang
Da Nang sits equidistant between Hanoi and Ho Chi Minh City. It offers both beautiful beaches and the thrill of a fast-paced Vietnamese city. Walk the golden bridge, lifted by two giant stone hand sculptures.
Halong Bay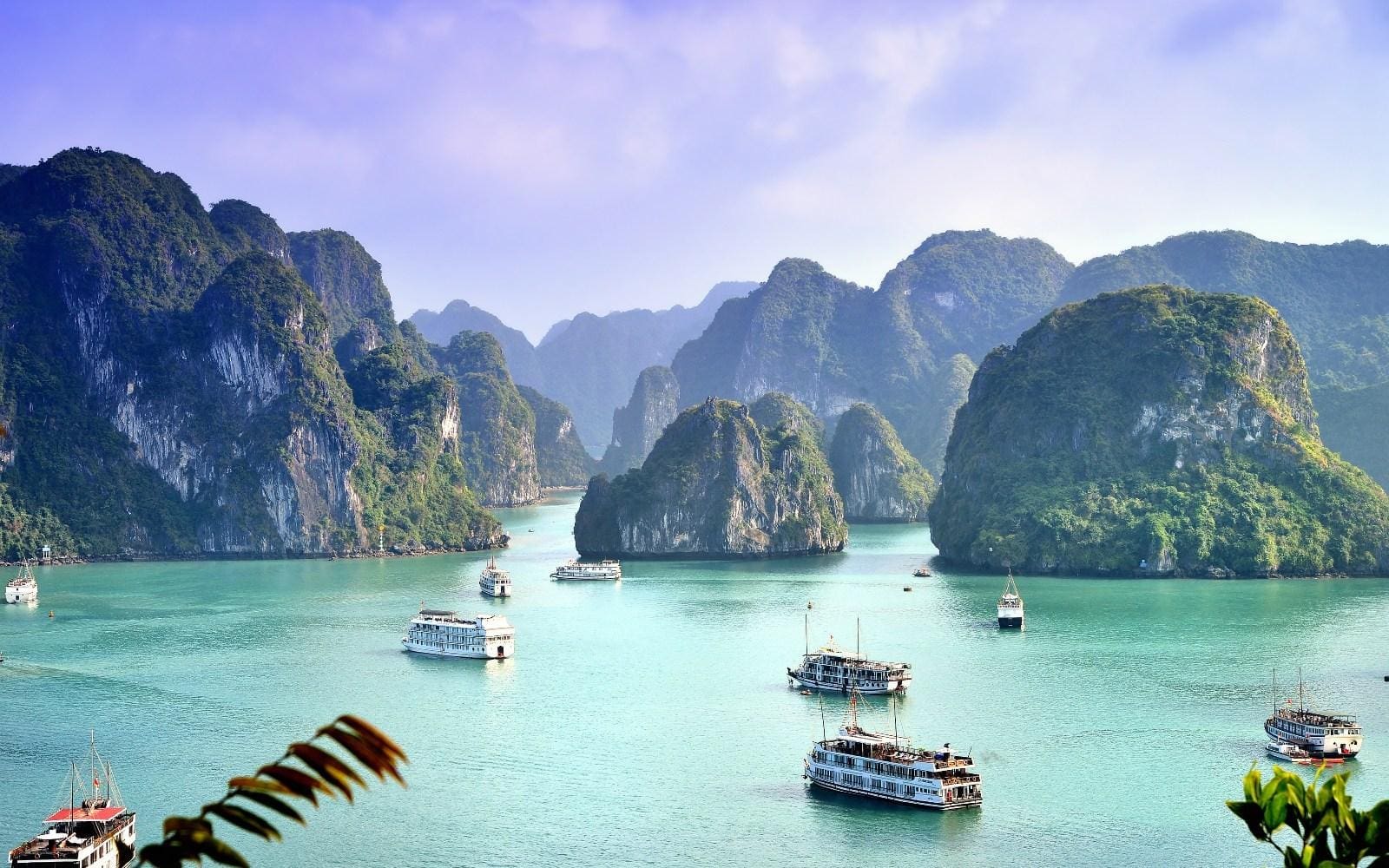 Halong Bay is undoubtedly one of Vietnam's top tourist attractions, and with good reason. Also a Unesco World Heritage Site, visitors sail through emerald-green waters, gliding by towering limestone islands and exploring ancient caves.
Phu Quoc
This paradise island is famed for its sweeping, milky white beaches, fresh seafood restaurants and spellbinding sunset views. Located one hour from Saigon by plane, it is the perfect place to slow down and reset.