Sleepy in Seattle: a guide to Washington's laid-back yet thriving metropolis
Home of Hendrix and Cobain, and coffee capital of the world, Seattle has plenty to boast about. But this laid-back city doesn't play on its bragging rights
The garden is full of pigs. Ceramic, life size pigs, to be precise. The porcine creations look more than content with their position, looking out over the cerulean waters of Puget Sound. They don't even seem to mind the fact that there are tubs of flowers perched on their backs.
They've found the most relaxing spot in Seattle, perched on the rooftop Pike Place Market Urban Garden, which only the savviest visitors can find. A multi-layered market which, incredibly, is considered by some estimates to be in the top 40 most visited attractions on the planet, Pike Place is the biggest draw in Seattle but it still manages to have a civilised air about it.
From the DeLaurenti wine store offering flights of small-batch vinos from Washington State to the subterranean bookstores which, with impeccable literary taste, display tomes from Bukowski, Kerouac and Roth in their windows, this is a market that has long since surpassed its original purpose as an open space for farmers to sell vegetables from their wagons in the early years of the 20th century. Sipping my coffee on the roof next to the pigs, looking out over the Sound, I wonder just how it is that Seattle came to feel so different.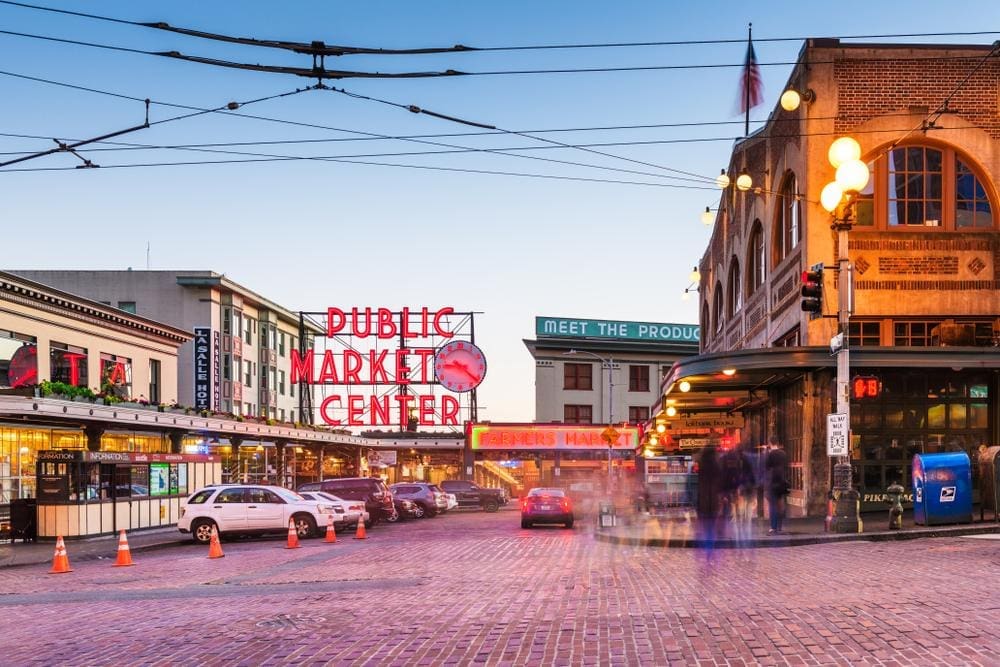 Famous for coffee, plaid shirts, grunge and a propensity for rain, this is a city that, both geographically and psychologically, feels far removed from the rest of mainland America. Tucked into the north-west corner of the country, Seattle has liberal, progressive attitudes and remarkably low (by domestic standards at least) gun crime statistics, which seem almost defiantly counter-poised against the prevailing Stateside political trends.
"I think it's true to say that this isn't your typical US city", says James Grindle, a tour guide from tour company Show Me Seattle, who has agreed to spend the day taking me off the beaten tracks of what is already a fairly off-the-beaten-track kind of city.
"Don't be too fooled; people are in a hurry here. Amazon is based here and there's a lot of money floating around. But you wouldn't notice a lot of the time. There's humility to people from Seattle – bling isn't really the way things are done here."
Grindle is right. Seattle doesn't brag about its cultural heritage like other cities do. For a perfect example, I head to the Museum of Pop Culture, a Frank Gehry-designed creation of shimmering steel, 140,000 sq ft in size, which is supposed to resemble a smashed electric guitar but is more commonly referred to as locals as 'the blob'.
Vast as the building is, complete with 'sound labs' where visitors can try their hand at DJing, singing and jamming with full kit in professional studio conditions, only a small room on the ground floor is devoted to the city's two most famous musical sons.
The grunge exhibition neatly showcases the story of the local Sub Pop label that signed Nirvana (Kurt Cobain's cardigan plus one of his school art pieces are on display here) while the Jimi Hendrix exhibition is even smaller.
Born in Seattle in 1942, Hendrix returned to the city to play only a handful of times after global success arrived, yet the minutiae of his life is expertly captured here, from his TWA travel bag to his passport to one of the mixing desks from the Electric Ladyland Studios, which he founded in New York but recorded in for only a few weeks after it opened in the summer of 1970 – Hendrix died shortly afterwards, aged just 27.
It feels incongruous that such loud, radical music comes from such a harmonious city. Seattle's parks, and there are plenty of them, are rich in cedar, larch and sequoia. In Ballard Locks, salmon swim through an ingenious fish ladder that enables them to travel from Alaskan saltwater back to fresh water to breed. Huge glass screens in tunnels underneath the lock enable me to view huge coho and sockeye gracefully navigate the deep navy depths.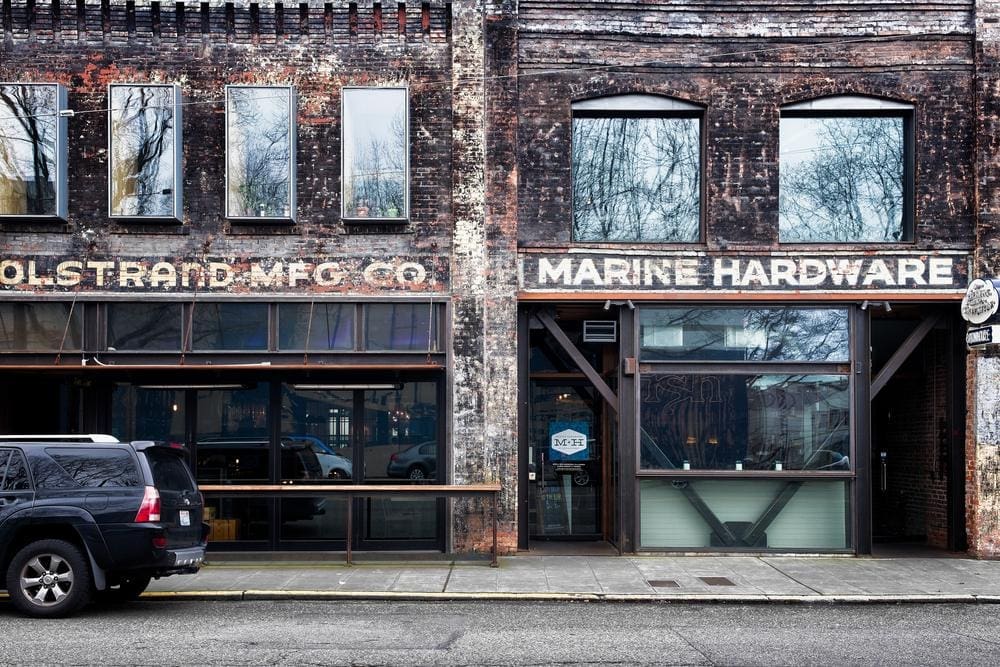 Over in the Olympic Sculpture Park, an immense installation by Alexander Calder of a giant, red, sheet-steel eagle stands alongside benches chiselled to resemble huge eyes. This all combines to lend a surreal air to what was once nothing more than a brownfield industrial site crisscrossed by disused railway tracks.
Though let's not kid ourselves about Seattle's number one contribution to western society. More than Hendrix and Cobain, its coffee, chiefly that produced by Starbucks, which was founded here here almost half a century ago, is likely to remain the city's number one export for decades to come.
Down at Pike Place, the very first branch, complete with original, rather lo-fi signage, is besieged by tourists wanting to pick up commemorative mugs along with their mochas and lattes.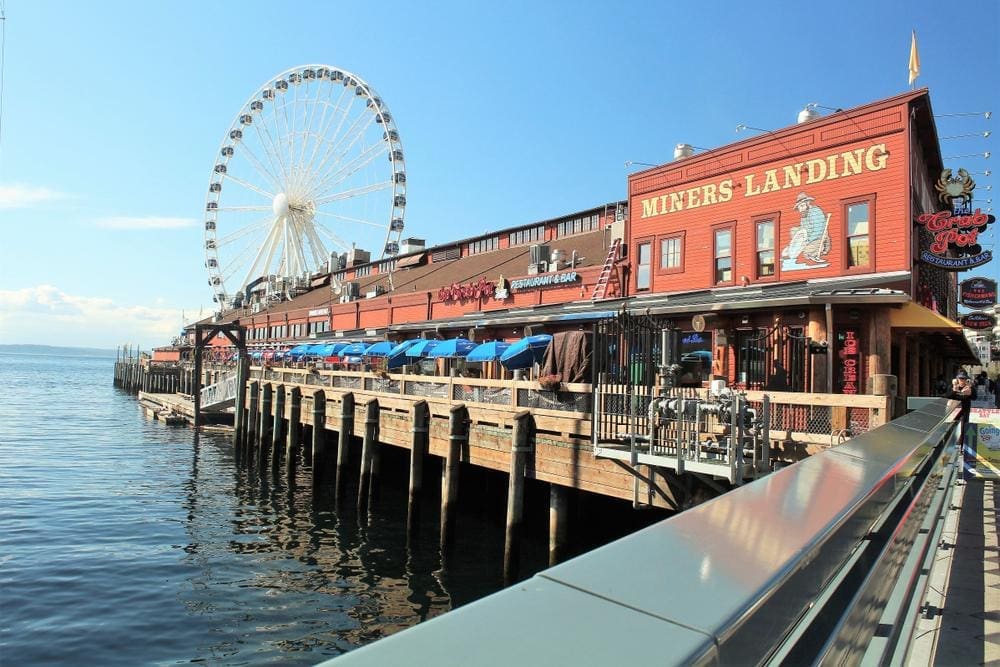 Except it's all so much froth, as this isn't the original Starbucks at all. The first store, opened in 1971, was a few blocks away on Western Avenue. But it shut up shop four years later, making the mobbed Pike Place branch certainly the oldest Starbucks, but not the first.
Far more interesting is the Starbucks Reserve Roastery in the Capitol Hill district. This is the 'test kitchen' for the chain and, wonderfully, it looks nothing like the cookie-cutter interiors seen the world over. With burlap sacks of coffee piled up against the walls, copper casks and a marble and teak bar counter, the Roastery feels more like an inner sanctum of caffeine appreciation than a mere coffee shop.
To experience Seattle at its finest, looking through the window with a coffee in hand doesn't quite cut it. With breezes stiff enough to make you realise why Cobain and co were so fond of wearing thick plaid shirts, Seattle looks at its most beautiful when you've wrapped up warm and are walking along its surprisingly lengthy sandy beaches.
I head by ferry over to West Seattle where the beachfront is lined with condos and, thankfully, a few remaining vintage wooden beach shacks looking directly out over the, dark sand beach. Considered by some to be Seattle's answer to Coney Island, the beachfront here has a family-friendly feel, complete with ice cream kiosks, playgrounds and sun loungers. But, as with all of Seattle, there's a quietude here too, alongside the knowledge that, beneath these waters, lurk the city's most fearsome residents.
The venemous giant Pacific octopus can grow up to 100 pounds in weight, can squirt ink and can withstand a pull of 1,000 times its own weight. Companies such as Seattle Dive Tours organise group dives where you just might spot one of these monstrous creatures, close at hand.
Terrified at the prospect, I decide to find someone who has lived to tell the tale of encountering these beasts of the Sound. I don't have to look far: "It's been proven that an octopus can recognise individual humans, even make friends with them," says Ryan, a local amateur diver who I speak to on the beach as the sun begins to bleach the waters of the Sound a light orange and gold.
"Octopuses seem to know how much strength they have," he continued. "As long as you're not posing a threat, they'll give you a hug and a squeeze. But never too tightly. They're pretty chilled deep down, I think." In Seattle, it seems even some the mightiest monsters of the deep have learnt how to relax.
Where to Stay
Inspired by the city that it calls home, Kimpton Alexis Hotel is housed in a 1901 Italian Renaissance Revival building that was reconstructed after the Great Seattle Fire of 1889. Today, it's home to 121 rooms decorated with Surrealist art, Rococo mirrors and, in a nod to the city's largest private employer, Amazon Echos. Hole up in the resident Bookstore Bar & Cafe with the latest bestseller – via Kindle, perhaps? – and a glass of one of its many rare whiskies.