Skiing in the United States: Is it worth the flight time?
The famously vast ski resorts of Colorado average more than 300 days of sunshine a year, offer top-notch accommodation and a diverse après-ski scene. But, with the Alps on our doorstep, is it worth the 10-hour
Threading through pine trees, I close my eyes and convince myself I'm James Bond. My snowmobile is roaring like a sports car as I grow ever more comfortable with the accelerator. The air is crisp and fresh, an ethereal fog is descending over the Alpine scenery.
I'm on a snowmobile tour with Nova Guides and the transformative Colorado mountain air is working its magic. I feel invincible, James Bond or not, as we reach Machine Gun Ridge in Historic Camp Hale, a former US Army training facility, a landmark at 12,500 feet.
The blizzard might be obscuring the panoramic view of the White River National Forest and Colorado's highest peaks – as well as the sheer cliff drops just metres away – but it still feels like we're on top of the world.
I've come to Vail not just to get a taste of the 300 days of blue skies and 5,200 acres of ski and snowboard terrain, but to immerse myself in the many other delights mountain life has to offer. As a lifelong ski obsessive, spending a whole day in a mountain resort doing anything other than skiing initially seems like treason, but as my skidoo hurtles through powder snow, zigzags in between trees and absorbs the bumps and curves of the terrain without a hitch, I realise that I might be falling in love with the mountains in a whole new way.
That said, my first love will always be the pure, unadulterated joy that skiing brings. It has been years since I skied in Vail, and the first chairlift ride instantly reminds me what a special place this is to ski: the sheer amount of terrain, as well as the wide runs and views in its seven back bowls, means that no matter what level of skier you are, you're guaranteed staggering variety, stunning panoramas and plenty of space to let your skis run free – a commodity that's not so easily found in European ski resorts.
The sun is shining as our ski instructor, Andy, tells us about history both old and new: from Colorado's surprising military connection with the 10th Mountain Division, which trained for the Second World War in the mountains surrounding Vail, to tales of his more infamous clients, including OJ Simpson and Bernie Madoff.
I visited during prime ski season but it still felt like I had most of the wide, open slopes to myself all day, an experience rare for someone used to skiing in the crammed pistes of Europe. The luxury of having one of the USA's largest ski resorts seemingly all to yourself makes the longer flight totally worth it.
Speaking of luxury, there's no better place to rest your aching legs at the end of a hard day's ski (or snowmobile) than the Four Seasons Resort and Residences Vail. Impeccably designed, with local stone and wood adding an Alpine charm, the hotel is ideally situated for exploring Vail's chic boutiques, bars and restaurants. It's also only a stone's throw from the slopes.
The après-ski scene too, is as varied as the slopes: have a drink at the Four Season's own Remedy Bar, followed by dinner at indulgent American steakhouse, Flame. Outside of the hotel, enjoy fine dining and great people-watching at The 10th (a nod to the veterans of the aforementioned 10th Mountain Division, who were instrumental in the development of skiing in the United States). In the evening, sample a cocktail with locally-sourced ingredients at 10th Mountain Whiskey & Spirits before indulging in world-class Japanese at Matsuhisa.
Vail is just one of the 37 resorts in 15 states and three countries operated by Vail Resorts, the world's largest mountain operator, with the Vail Resorts Epic Pass offering holders unlimited access to its worldwide portfolio of mountain destinations. With this in mind, I was keen to check out one of its nearby resorts: Breckenridge.
Whisked above the treetops in a chairlift (following a 45-minute drive), I see that Breckenridge, just like Vail, is blessed with wide, open spaces, incredible vistas and a huge variety of terrains. It's also home to the highest chairlift in North America, the Imperial Express, at a whopping 3,914 metres (Europe's highest chairlift, between Zermatt and Breuil-Cervinia, reaches 3,899 m).
Not just a skier's paradise – with five huge peaks and 1,200 hectares of skiable terrain – the resort also offers small-town charm, with more than 200 restaurants, bars and shops to explore. Breckenridge's 350 historic structures make it the largest historical district in Colorado. One particular favourite was the chophouse Briar Rose, where, in a warm, traditional setting, far too many dishes were ordered – and swiftly consumed (you simply can't overindulge on a ski trip).
Getting to Vail and Breckenridge might entail a longer flight than getting to the Alps, but after even a few days there, I knew the journey was more than worth it. Not just for those wide, open, sunny slopes, with the whole place to yourself. Not just for the chance to skidoo in the morning, learn secrets about Bernie Madoff in the afternoon, and tuck into world-renowned black cod in the evening. But for a listless number of other magical moments, like speeding through trees in a mysterious fog on a skimobile while pretending to be 007.
Before heading to the mountains…
To acclimatise to the elevation before heading to the mountains, and to combine a ski trip with a city break, enjoy a short stop in Denver.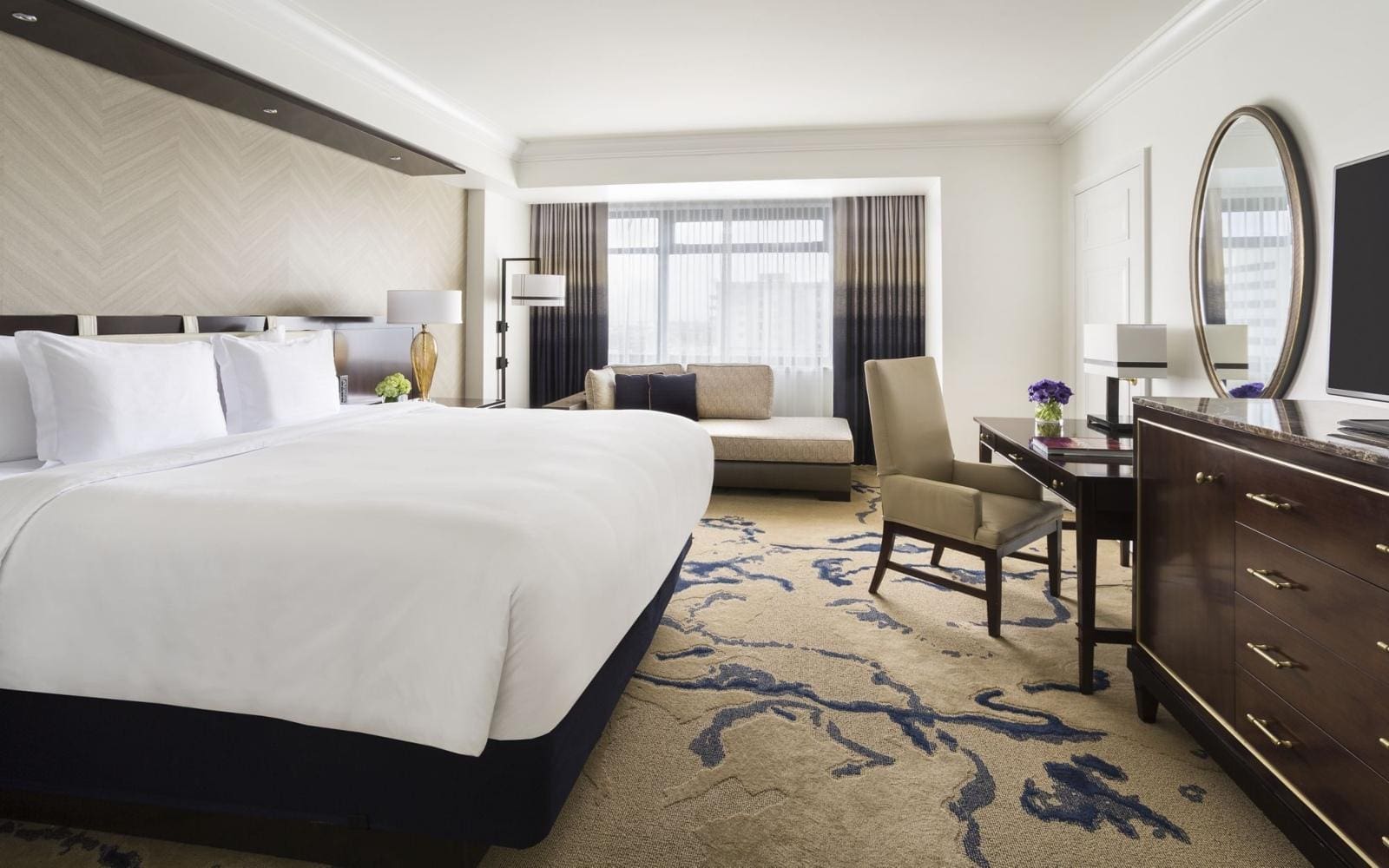 Stay at: There's no feeling like having a bath and sinking into a huge bed after a long flight, so choose your recuperating location wisely. The Ritz-Carlton Denver is ideally located in the centre of town, making it the perfect base if you love to explore on foot. When, however, you're ready to order room service and crash, the Ritz-Carlton also offers a sense of calm, enormous, elegant guest rooms, great city views, and utterly dreamy beds.
From approx. £390, ritzcarlton.com
Eat at: Wander down to TAG Continental Social Food, located in buzzy Larimer Square, Denver's oldest block, full of shops, restaurants and bars. TAG's menu epitomises fusion, drawing inspiration from cuisines around the world. The food is unusual – but delicious.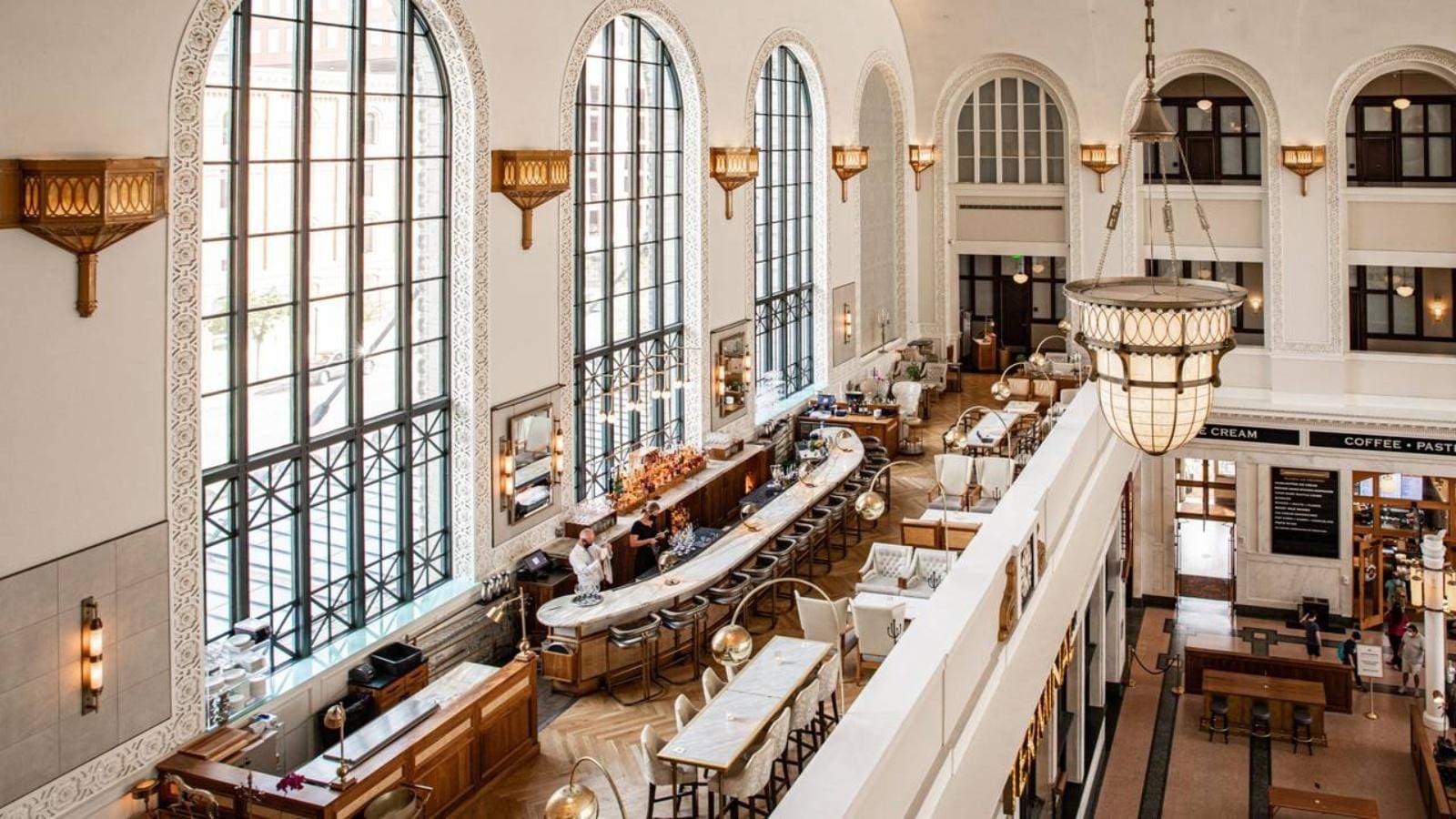 Drink at: The Cooper Lounge at Denver Union Station is one of the city's most glamorous spots. Serving creative cocktails and tasty bites, as well as offering an extensive wine list, the Cooper Lounge is set in the mezzanine of the grand station, with soaring ceilings, stunning architectural features and enormous cast-iron windows.
What to do: To get to know Denver better during a short stay, hop on an eTuk Tour of Denver. In two-and-a-half hours, you'll be whisked around the Mile High City in an electric tuk-tuk built locally in Denver. From the tuk-tuk, you'll see everything from the Golden Triangle (Denver's main arts district) to the achingly-hip RiNo neighbourhood, with its graffiti murals and other street art.
The Vail Resorts Epic Pass provides unrestricted, unlimited slope access to the entire Vail Resorts portfolio of 37 owned and operated resorts all season long, plus 3-7 days each at 46 partner resorts worldwide, epicpass.com; rates start at Four Seasons Vail start from $550 for the winter season, fourseasons.com