Monaci delle Terre Nere: A wine-focused eco-resort in the shadows of Mount Etna
A handful of the estate's 27 rooms and suites are located within the main villa. The rest are scattered between fruit orchards and fig trees in repurposed mills and former animal shelters
Mount Etna, Europe's largest active volcano, in Sicily's green and wealthier north-east, has a microclimate all of its own. Here, the weather can flip as quick as a coin. Yesterday, on a beach near Sciacca, 125 miles to the west, we'd been sunbathing under a bottomless sky in 36-degree heat. Today, as the clock approached 4pm, the afternoon was drawing in like a grey autumn day in the New Forest. Rain clouds had been chasing us since Syracuse and now they mingled with the misty halo above Sicily's mother mountain until the clouds and the volcano's vapour crown became one.
By the time we pulled up to Monaci delle Terre Nere, an ancient-farmstead-turned-wine-led-eco-estate, the grass was steaming and the air heavy with damp.
Some 500 metres above sea level, between Hephaestus and Poseidon, fire and water, Monaci delle Terre Nere is a good place to stay if you plan on hitting Sicily's most famous attractions. Movie-set Taormina is just 40-minutes by car; the late-baroque, World Heritage towns of Modica, Ragusa and Noto are all reachable within an hour-and-a-half. True, Monaci's 62 acres of stepped vineyards and ancient olive gardens might be three hours from the 12th-century Norman cathedrals of Palermo and Cefalù, but you've got to stay somewhere, and when it comes to exploring the Mediterranean's largest island, it pays to stay in the east. The towns are prettier here. So are the beaches.
Guido Coffa grew up in the neighbouring village of Trecastagni. He studied in Milan and Turin before work took him to the United States. The land now occupied by Monaci delle Terre Nere was donated to an order of barefoot monks by the Archbishop of Catania sometime in the 17th century. Coffa stumbled across the estate's drystone walls in 2007 while looking for somewhere to call home.
"I remember it as if it were yesterday," says the former automotive engineer. "It was a beautiful day in November. During the first day of my research, I came across this piece of land with a ruin on it. I did nothing but think about it – and in the end I bought it."
Back then, Monaci was a bramble-strangled smallholding of neglected orchards, a grand-but-dilapidated 18th-century villa and a smattering of ramshackle outbuildings. Coffa fell in love.
"I decided to devote my life to the resurrection of this place. My wish was to create more than a boutique hotel in Sicily. I wanted to preserve the historic identity of the territory – to create a home that I hope retains an intimacy."
A decade-and-a-half after Coffa acquired it, that dilapidated villa is now the magenta-purple heart of a delicately-designed, rustically-modern eco-resort. It's where trendy-looking people with expensive-looking luggage, some of them driving electric cars, check-in and check-out; where they order trendy dishes of zero-km, farm-to-fork food from Monaci's charming, stripped-back restaurant; where they drink trendy cocktails, and ask for advice on what's more worthy of a day trip, the Valley of the Temples or the Archaeological Park of Selinunte (we preferred the latter).
A handful of Monaci's 27 rooms and suites are located within its main villa. The rest are scattered between fruit orchards and fig trees in repurposed mills and former animal shelters. Ours had a floating bed and lava-stone walls, an antique writing desk and Bose WiFi speakers. Good taste and a meticulous attention to detail. All cleaning products are handmade on site. We dropped our bags and bunkered down.
By morning the sun had burnt through the clouds. We forced ourselves out of bed early(ish), and walked a path through soggy orchards to an old stone building which, centuries ago, was used as a wine press. It now looks like the sort of place you see in interior design magazines. Old, lime-mortar walls and modern microcement flooring. The first meal of the day is served buffet-style, from a long oak table laden with homemade biscuits, pastries, breads and jams. There are local cheeses, nuts and honey. Bowls of fruit and vegetables invite you to make your own smoothies. At 9am we were the only ones there. Trendy people with expensive-looking luggage are not the type of people to set an alarm, we surmised.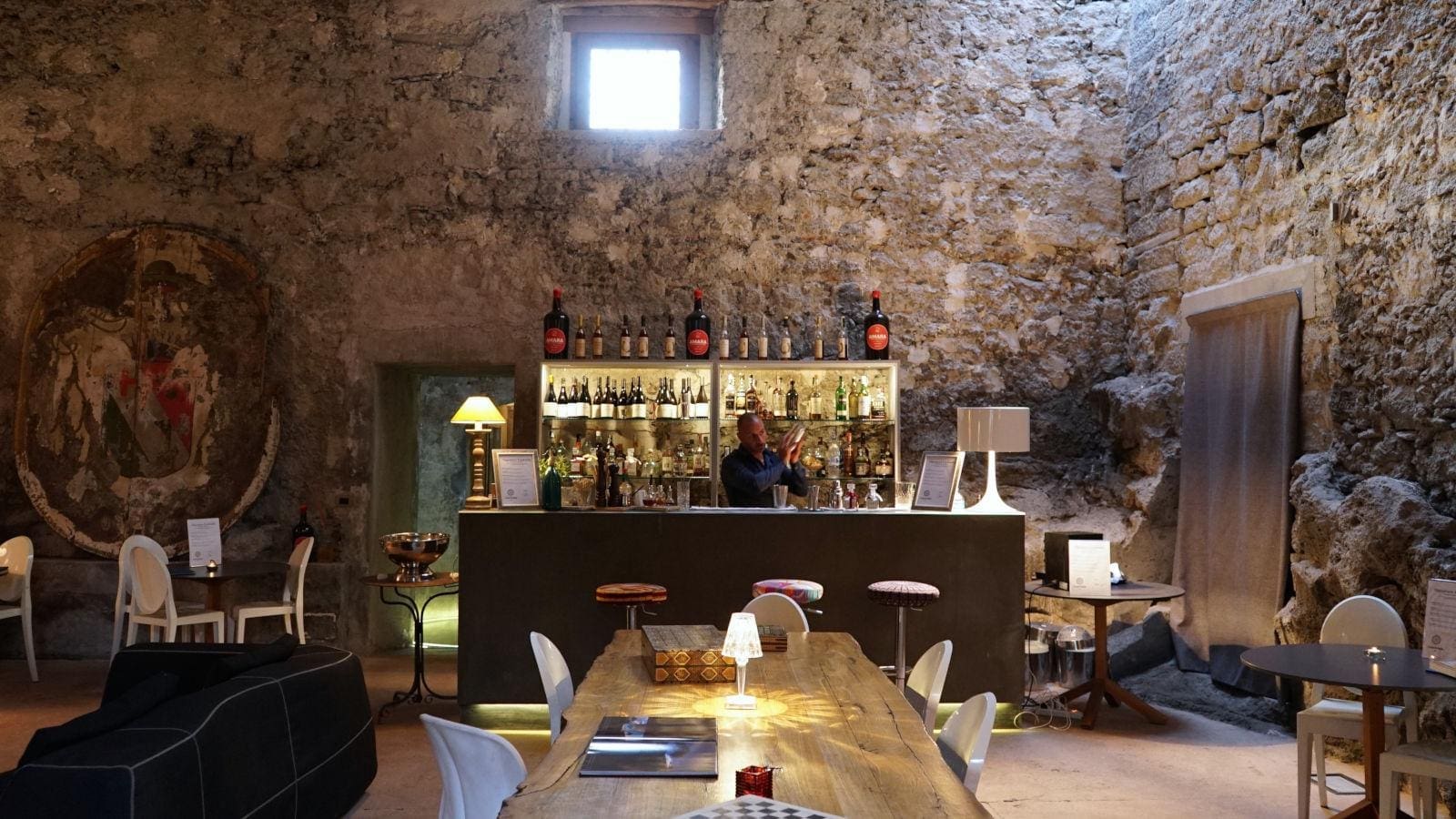 As well as turning his hand to farming and labouring and digger-driving and architecture and construction and interior design, Coffa enrolled on a course to become a wine sommelier. The foothills of Mount Etna, along with Piedmont in the far north, account for Italy's two most naturally-suited wine-producing regions. Coffa is now one of Sicily's leading crusaders for organic plonk. Vino vidi vici.
"I believe winemaking is one of the noblest human arts," he says. "When I was a teenager, my friends always teased me because I came to parties with two bottles of local wine – but then they would take turns asking me to taste them. I still remember my first experiments in the garage at home!"
The Monaci estate currently produces five of its own labels, each bearing Coffa's name. "We use different varieties of grape native to the Etna region," says Coffa. "Such as Nerello Mascalese and Carricante, a wine grape variety which can be found only in Etna." We ordered a bottle of the Nerello Mascalese at the hotel's restaurant, Locanda Nerello. It's a bold, tannic wine that smells like a Burgundy and makes your tongue feel dry.
After lunch – a very good courgette parmigiana and a brilliant wild fennel risotto – we took the bottle of Nerello to the hotel's strategically-positioned outdoor infinity pool. We counted the container ships in the sea and marvelled at the enchanting place that Coffa and his team have created.