Holiday in Japan: Tokyo, Kyoto & Kyūshū
Neon-clad skyscrapers and bullet trains straight out of a sci-fi film set – Japan's metropolises are every bit as futuristic as you'd expect, but scratch beneath the high-tech surface and you'll discover the time-honoured traditions at
Japan is a country of disorientating contrasts. Just 24 hours in to my two-week visit and I've encountered chanting monks and singing public conveniences; sipped sake while watching a folk-art performance; and queued for matcha frappucinos with cosplaying millennials dressed as anime characters.
With its fleeting fashions, soaring skylines and arsenal of high-tech gadgetry, Japan offers a fascinating glimpse into the future, without losing sight of its history. Its sprawling megalopolises are assault courses of the old and new – for every robot hotel or conveyor-belt restaurant, you'll still find match-box-sized, Jenga-stacked apartments decorated with woven tatami mats on the floors and futon beds; or traditional pubs, known as izakaya, where it's custom to take your shoes off before entering.
Outside the city limits, the landscape is just as diverse – a patchwork of ancient forests, lofty peaks and tropical beaches, pockmarked with bubbling onsen (natural hot springs). Not even the supersonic speed of the shinkansen is fast enough to cover all this ground in a fortnight, but for a taste of what the country has to offer, arm yourself with a Japan Rail Pass to whisk you between high-octane Tokyo and the historic Imperial capital of Kyoto, before heading off the beaten track to Kyūshū, home of smoking volcanoes and jaw-dropping scenery.
TOKYO
Japan might have one of the most punctual train networks on the planet – being on time is counted down to the centisecond – but its stations are up there with some of the most chaotic and confusing. After being spat out of a heaving subway train at Shinjuku, Tokyo's answer to Piccadilly Circus on steroids, I spend half an hour trying to decide which of the 200 available exits I should take, as a steady stream of commuters (3.5million pass through here daily) weave with ninja-like precision around me. I end up picking the wrong one but getting lost here is inevitable – and part of the fun.
Once outside, the power cable-festooned streets are similarly overwhelming. One minute you could be walking past restaurants adorned with gargantuan plastic crab claws and rows of vending machines filled with anything from cans of steaming hot coffee to bags of carrots, and the next you might stumble upon an ancient Shinto shrine, an ornamental garden, or a sumo stable where loin-clothed wrestlers slap and charge around the ring.
Fortunately, Tokyo is a place where traditional sightseeing can take a backseat. Instead, slurp steaming bowls of ramen at a stand-up noodle joint in Ginza; have your photo taken in a purikura booth (photo kiosks that make you look all doe-eyed) in Akihabara; get swept up in the crowds at the Shibuya Crossing; or slow the pace in the old quarters of Yanesen and Asakusa.
Escape the Crowds
Walking around Shinjuku, I feel as though I've been planted in a video game, not least because a convoy of tourists dressed as Super Mario characters is circuiting the neon-lit roads in go-karts. Everywhere you look there are flashing billboards stacked in mile-high towers. On ground level, deafeningly-loud gaming arcades line the pavements, acting as pilgrimage sites for fixated teenagers and besuited city workers who sit glued to simulator screens. The fast and furious vibe revs up a gear further east in Akihabara, which is littered with manga megastores, disturbing maid cafés and shops selling every kind of techy gizmo imaginable. Don't leave without doing karaoke – no trip to Tokyo is complete until you've belted out Destiny's Child hits from the privacy of your own disco ball-lit, supposedly sound-proofed booth.
Take a stroll
Gamers are replaced by gong-playing monks and a bubbling incense cauldron over in Asakusa, where you can trace the old vestiges of the city at the bustling Buddhist temple complex of Sensō-ji. Follow the wispy scented smoke (and the swarms of people) to nearby Nakamise-dōri shopping parade to splurge on jade jewellery, silk kimonos and a weird and wonderful array of street food. If the crowds prove too much, however, head south-west to the Meiji-jingū shrine in Harajuku. An imposing 12-metre-high torii gate leads to a peaceful, tree-lined promenade that feels a million miles away from the tartan and tutu adorned army of teenagers congregating next door in Yoyogi-kōen Park.
Eat and drink like locals
Raid Tokyo's larder on a food pilgrimage to the famous Tsukiji Outer Market. Here you'll find animated vendors engaged in the peculiar spectator sport of tuna carving, alongside stalls selling all manner of carbuncular sea urchins, gnarly wasabi roots and bowls of silky, miso-drenched udon noodles.
If it's sushi you're after, seek out Sushi Katsura, hidden within the market, which offers a set lunchtime menu of melt-in-the-mouth nigiri. For a more casual option, try Katsu Seibu Shibuyaten, a conveyor belt restaurant on the top floor of a department store in Shibuya, where you place your order via touchscreen and the arrival of each dish is announced by a musical fanfare. It pays to step out of your salmon sashimi comfort zone – the eel rolls topped with radioactive-looking tobiko eggs are an unexpected taste sensation.
After dark, let your hair down with the locals in Golden Gai, a ramshackle network of bars in Shinjuku. The narrow, two-storey tenement buildings, one tinier than the next, sprouted up as a black market following World War II, and there's still something charmingly raffish about the atmosphere here. Many of the bars are themed – we pass one with medical décor and another dedicated to death metal before settling on Kenzo's, a place dressed entirely in leopard print.
A home from home
You wouldn't expect to find a ryokan (a traditional Japanese inn) in a 17-storey skyscraper among the office blocks of the Otemachi business district, but HOSHINOYA Tokyo is full of surprises. As soon as we arrive we're asked to slip off our shoes since every floor surface – from the lobby to the lifts – is covered in tatami mats.
Our corner room, or Kiku, is spacious by Tokyo standards, with a pared-back living area featuring Japanese crafts, sliding shoji screens and cloud-like futon beds. Most guests order from the room service menu, but we decide to change into the kimonos left out for us and go in search of the basement restaurant to sample chef Noriyuki Hamada's trademark Nippon cuisine – think wafer-thin skeins of seabream, and morsels of whelk and escargot butter perched on heated resin stones.
The real showstopper, however, is found on the 17th floor at the cathedral-like onsen baths, where hot spring water flows from 1,500m below the hotel.
From £480 per room per night, hoshinoya.com/tokyo
KYOTO
Having taken advantage of the luggage forwarding service offered at HOSHINOYA Tokyo to send our suitcases directly to our next hotel, we board the shinkansen and head to Kyoto, where temples, palaces and shrines await at every turn. Kyoto was Japan's capital for more than 1,000 years, and it remains a regal, refined and culturally-rich region – less brash and more bucolic than Tokyo.
On first sighting, the skyscrapers and shabby urban sprawl seem uninviting, but make a beeline for historic Gion and its grid of low-slung wooden machiya houses and shōtengai street markets found along the eastern bank of the kamo-gawa river, where you might just catch a geisha surreptitiously scurrying behind the awnings of a tea house. Many of these exclusive establishments don't let westerners in – so if it's a cup of frothy matcha you're after, head to Camellia near the Ryoan-ji temple for a crash course in the ancient art of the tea ceremony.
The enclave comes alive in the evening when a stroll along Hanamikōji-dōri to the artisan pottery and washi paper shops of Shijo Avenue is a must. For a longer peruse, cross the river in the direction of Ponto-chō, a narrow pedestrian street illuminated by the soft glow of red lanterns, for a shabu-shabu dinner. The traditional hotpot consists of strips of marbled wagyu beef and assorted vegetables that are submerged in a pot of boiling water at the table and then dipped in a sesame sauce – the perfect way to refuel after a long day of temple trawling.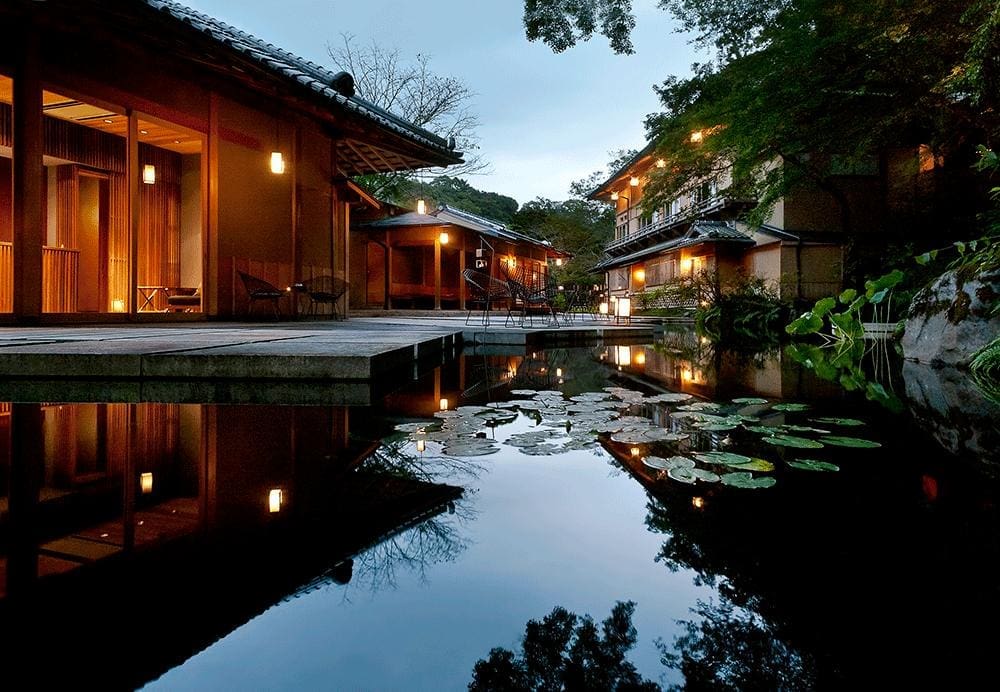 Temple time
There are more than 1,000 Buddhists temples, 400 Shinto shrines and countless gardens and pagodas in Kyoto, so narrowing down which to visit can be slightly overwhelming. We start in the north-west corner of the city, where a short stroll through a scenic cedar wood takes us from the mesmerising Golden Pavilion, Kinkaku-ji, to the stark rock garden of Ryōan-ji and then out further still to Ninna-ji – a sprawling and secluded complex of more than 60 structures set in cherry tree groves. Further south get the blood pumping at Fushimi Inari-Taisha, where a tunnel of torii shrine gates in bright vermillion winds up 4km of thickly wooded slopes. The crowds congregate near the entrance for snaps, but few make it all the way to the top, meaning the summit is relatively deserted, and eerily creepy come dusk.
The scenic route
For a brush with nature, spend a night in Arashiyama, an area carpeted in Jurassic looking forest that flushes russet in the autumn's maple foliage season. If you're thinking of paying a visit to the famous bamboo grove and want to avoid the crush of camera crews (there are photo shoots in full swing when we arrive at 7am) it's a good idea to base yourself nearby at the Suiran, a Luxury Collection Hotel, found on the banks of the Hozu-gawa river. The panoramic and peaceful views add to the sense of seclusion (there are just 39 rooms). Expect attentive staff, and a room service menu that features one of the most delicious cheeseburgers you'll ever taste (after a couple of weeks of eating mainly rice and raw fish, you'll appreciate the carb-fest).
Rooms from approx. £500 per night, suirankyoto.com
Rooms with a view
There are a scattering of traditional ryokan across Gion, but the smarter ones tend to get booked up months in advance and can be strict about set meal times. A more convenient option is The Celestine Kyoto Gion, which opened last year, and offers the best of Western amenities fused with Eastern flavour. Rooms are arranged around a central bamboo courtyard and decked out in elegant blonde wood, with open bathrooms that can be made more private with a sliding wall. It's also in an enviable location, within walking distance of several temples, including Kennin-ji, situated just opposite.
From £140 per night for a superior double room, celestinehotels.jp
For a taste of utter seclusion, check into HOSHINOYA Kyoto, a woodland retreat of just 25 pavilion-style chalets nestled in the Arashi Gorge, reached by a scenic river cruise from the Togetsu-kyō bridge. An oasis of gardens and greenery, the location of the former nobles' retreat is magical, especially come evening, when we follow the lantern-lit pathway to the restaurant to watch executive chef Ichiro Kubota and his silent team use tiny tweezers to place wasabi sprouts on shrimp. We eat our way through a banquet of precise, artfully presented dishes, including dainty amuse bouche of simmered broad bean in syrup and octopus in soy sauce, before turning our attention to the impressive selection of Japanese whiskies. An outdoor stretching class helps to blow away the cobwebs the next morning, followed by a reviving incense ceremony.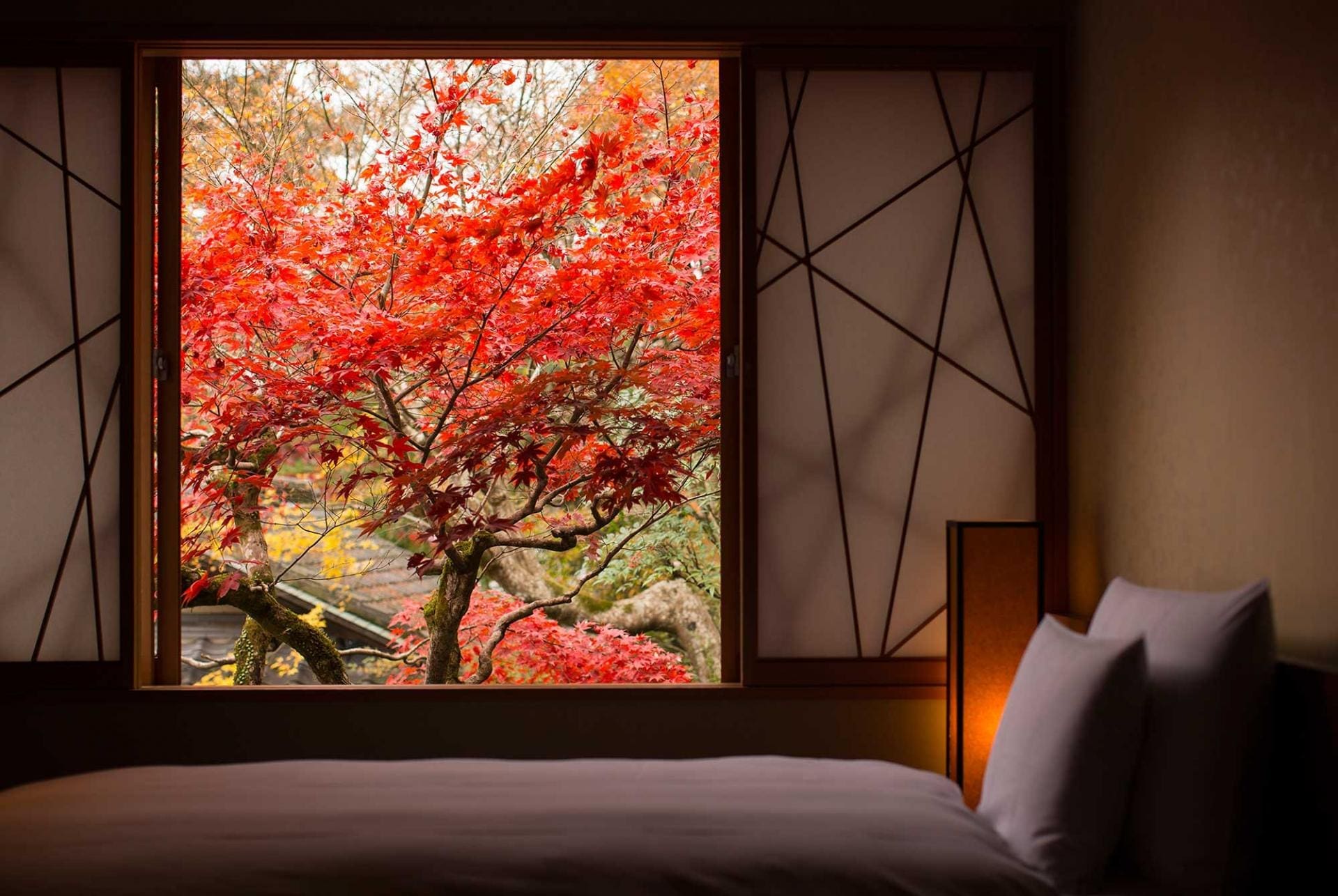 From £534 per room per night, hoshinoya.com/kyoto
KYŪSHŪ
While most first-timers to Japan tend to stick to Honshu Island, Kyūshū, the country's southernmost main island, offers a more relaxed introduction to the local way of life. The volatile landscape is peppered with volcanoes, moss-encrusted cedar forests and natural onsen. There are cosmopolitan cities aplenty, from Fukuoka to Nagasaki, but to experience Kyūshū at its most enchanting, head for the highlands of smouldering Mount Aso, the country's largest active volcano.
Take a soak
Swap your walking boots for a yukata gown and a pair of geta sandals to enjoy the popular Japanese pastime of hot spring bathing. Kurokawa Onsen, situated in a gorge about an hour away from Aso town, is among the country's most unspoilt, not to mention picturesque, hot spring resorts. Don't let the fact that you have to bathe completely naked with strangers put you off – the scenic backdrop and soothing thermal waters will assuage first time nerves.
Daytrippers can purchase an onsen passport (nyūtō tegata) that gives access to three of the village's 24 baths. Our favourite pitstops include Hozantei, a riverside rotemburo surrounded by forest, and the atmospheric cave pool, Sato no yu Waraku.
Unwind under the stars
KAI Aso, a hot spring ryokan set in the stunning Aso Kujū National Park, feels like a world away from everything. Its 12 villas each come with an outdoor deck and private hot spring bath, meaning there isn't any need to leave the privacy of your room. If you do want to explore, however, the staff can organise a horseback tour of the volcano's grassy slopes.
We watch the sun set over Mount Aso from the ryokan's glass-fronted restaurant while picking our way through beautifully presented sashimi and wagyu beef flambéed on a searing hot lava plate. But for the best views in the house, head to the observation deck for a spot of stargazing in the velvet darkness – the neon-bright lights of Tokyo will seem like a distant dream.
From £260 per room per night, kai-ryokan.jp/en