Come Dine in Copenhagen: Denmark's Foodie Capital
This foodie scene in Copenhagen is thriving
It's a city known for Michelin stars and New Nordic cuisine, but innovative chefs are ensuring you can eat well cheaply too, from exciting street fairs to organic beer. This foodie scene in Copenhagen is thriving, writes Karen Bowerman
"Your table's ready," our waitress says as we arrive at Marchal, one of Copenhagen's finest restaurants, "but first, how about Champagne?"
She directs us to the bar. We go down a marble staircase, along a corridor, past a gloriously blue pool, through a waft of neroli oil (coming from the spa) to a door. I hesitate; my husband pushes it open. I feel as if we've discovered a speakeasy but it's actually the well-known and lavish Balthazar, the first Champagne bar in Copenhagen, housed in the prestigious Hotel d'Angleterre where we're staying.
There's a display of Krug, signed by the man himself, mirrors, chandeliers and a sculpture of the winged Spirit of Victory towering over small tables.
John, the barman, hands us his "bible" – the Champagne list. The size of a large photo album, among the 160 bottles is a 1970s Dom Perignon for the equivalent of £5,300 and a 1907 Heidsieck Diamant Bleu for nearly £6,000 – the price of an overnight stay in the hotel's Royal Suite. I wonder what Mariah Carey chose when the bar hosted her birthday last year.
My husband and I stick with a glass but indulge in six Gillardeau oysters topped with slithers of Danish radish. They slip down easily: a glorious and fresh taste of the sea.
Denmark, a country of islands, is known for its New Nordic cuisine. It's a style of cooking defined by seasonality, locality and sustainability. It was pioneered more than a decade ago by the capital's most famous restaurant, Noma, which has been voted best in the world four times.
Recently, however, the cuisine has been evolving with a new wave of chefs combining their country's produce with foreign ingredients.
Hotel d'Angleterre's Andreas Bagh is among them. At his restaurant, Marchal, he still champions regional seafood, pork, root vegetables and berries, but does so with a French twist. The approach has just earned him his first Michelin star, although it's the fourth consecutive award for Marchal.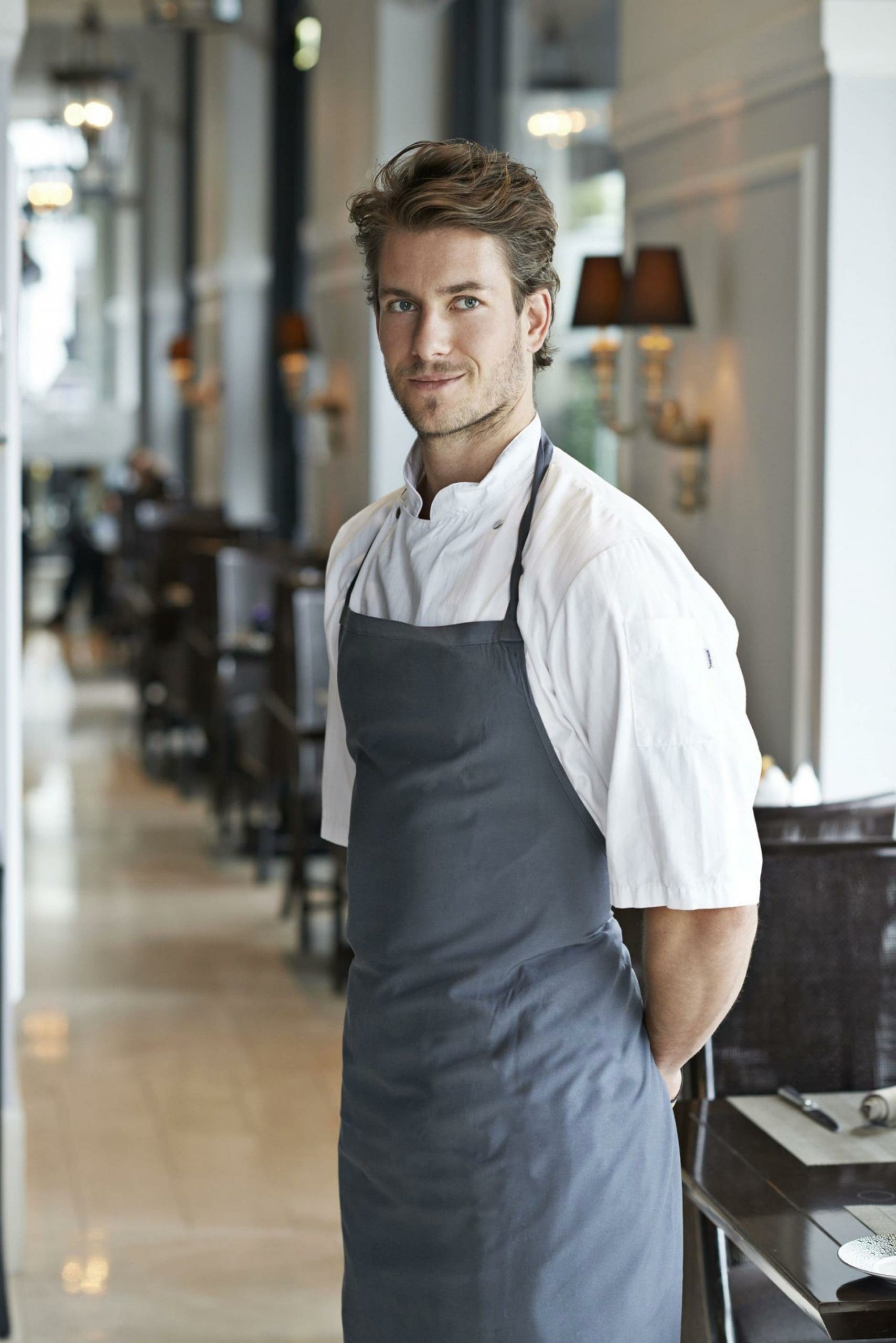 Bagh's signature dish is Danish squid ("they're huge here") served in pasta-like strips with oyster and Champagne butter. The offering is crowned with caviar while tiny pieces of cucumber, hidden in the foam, provide an unexpected but delicate crunch. His Iberico ham with palm cabbage (part soft, part charred) is another simple success."I don't put ten things on a plate," he says. "I just focus on a few flavours."
Main courses include lobster in two servings: the tail, slow-cooked in thyme leaves, then the claw, sliced and served in a bouillon, with raw Jerusalem artichokes.
Desserts include a crisp tarte tartin and a 'gold bar': chocolate covered in folds of gold leaf with creamy calvados ice cream.
Copenhagen is known for its flourishing food scene and boasts 15 Michelin-star restaurants. But tasty dishes, served at a reasonable price, can be found almost everywhere.
One morning, we wander along Nyhavn canal with its colourful gabled houses and cross the footbridge to Papirøen, or Paper Island. Crammed into waterfront warehouses, once used to store paper for the city's printing presses, are stalls selling international street food.
Glitter balls hang from the roof; chalk boards offer tacos and tiramisu; families tuck into frikadeller (Danish pork meatballs) and monstrous surf and turf burgers with beef and king prawns barely held together by the bun.
Later, we explore Nørrebro (the northern district) on Copenhagen's Beer Walk, a self-guided tour that highlights specialist breweries.
"It's not a pub crawl," Henriette Jacobsen, one of its creators, insists (I note our pack of tokens includes tumblers rather than pint glasses). "It's just a nice way to experience the neighbourhood." Our favourite bar is Kølsters Tolv Haner, with its airy interior, long tables and wooden floor. It has a bohemian feel, chilled music and an owner, Esben Kølster, who's happy to chat.
He explains that all his beer is organic with hops grown on an estate in the eastern region of Humlebaek. We try Fiskol ("fresh beer") with a hint of honey and elderflower, Norland flavoured with meadowsweet, and Original Porter, a malty stout based on a British recipe from the 1700s.
For a light lunch we head to Tårnet, a restaurant in the historic tower above the Danish parliament. Owner Pernille Lützhøft shows us the royal stables below.
The space used to be a storage room. Now, tables nestle in alcoves, surrounded by exposed brickwork. Head chef Rene Hansen showcases traditional fare: herring, potatoes and beef. "Have all three and you're in paradise," Lützhøft says with a smile.
We try marinaded herring washed down with akvavit (schnapps) flavoured with sea buckthorn, and an elaborate smørrebrød (Danish open sandwich) of beef tartar, pickled mushrooms and shavings of beetroot, piled elegantly on a slice of fresh, round rye bread. It's our own mini tower; a burst of colour on the plate.
Our final dinner is at Restaurant Rebel, a so-called Bib Gourmand restaurant, recognised by Michelin for exceptional food in informal surroundings. Run by chef Martin Hylleborg, it's small and rustic, with (a little rebellious) graffiti brightening the toilets.
We try Rebelsk Aften, the seven-course taster menu. Sommelier Natthee Thungnoi's wine pairing is safe, meeting customers's expectations, but hits the mark completely.
There's scallops and Baerii caviar, presented almost like ying and yang; a semi-circle of black joined to one of white, with finely ground almonds covering a ceviche of scallops.
Another favourite is the beef tartar with pickled red currants, horseradish, cress and tiny croutons. Thungnoi pours us a glass of Cuvee Goiânia, a French rosé, explaining he doesn't want "to kill the tartar with a red".
Later, Casper, "the cheese guy", talks us through his selection. I enjoy an aged Camembert from the island of Møn; it's an acquired taste with salt, liquorice and a waft of ammonia.
At the end of service, Hylleborg shares his plans for Rebel. He wants to keep the atmosphere "relaxed" and the food "flavoursome". "I'm not going to change anything to get a Michelin star," he says, and you believe him.
In a city known for experimentation and culinary creativity, it's good to hear that its chefs still focus on taste.
Marchal at Hotel d'Angleterre, mains from DKK 500 (approx. £59). A night in a deluxe guestroom at the five-star Hotel d'Angleterre with free WiFi and access to the spa and fitness centre, including breakfast, costs around DKK 4,535 (approx. £529). Hotel d'Angleterre, dangleterre.com.
Restaurant Rebel, seven-course taster menu DKK 1,475 (approx. £173), restaurantrebel.dk
Tårnet, set lunch DKK 325 (approx. £38), taarnet.dk
Copenhagen Beer Walk, DKK 199 (approx. £23), copenhagenbeerwalk.com