The best luxury hotels in Rome
An exceptional city with extraordinary history: Rome's luxury hotels blend art, culture, contemporary design and ancient detail
The charms of Rome are layered centuries-deep, from ancient masterpieces as magnificent as the Pantheon and the Colosseum, and details as curious as S.P.Q.R., stamped everywhere from manhole covers to the Arch of Titus. If you've never been to Rome, you must and, if you have, don't hesitate to go again; wear your most comfortable footwear to soak up the delights of the must-see sites, and so much more. Punctuate your exploration with indulgent meals and pitstops in a city teeming with first-class restaurants and lively bars. Of course, you'll also need somewhere suitably decadent to rest your weary head – here are the best hotels in Rome fit for an emperor.
Portrait Roma, Campo Marzio
Portrait Roma is moments from both the Spanish Steps and the Ara Pacis Museum, the latter of which is one of our favourite sites in Rome – declared by the Turismo Roma website to be "one of the greatest of all artistic works of the Ancients". Find it on foot or make the most of a private tour in Portrait Roma's very own electric golf cart; one of its butlers will navigate you through Rome's narrow alleys and secret streets, sharing local lore and pointing out curiosities that may otherwise have gone unnoticed.
Portrait Roma, owned by the Ferragamo family and part of the Lungarno Collection, is a grand townhouse on Rome's exclusive Via Condotti and its 14 rooms (which include three suites) are Ferragamo-standard stylish. The Penthouse has its own L-shaped terrace overlooking the beautiful Trinità dei Monti church but the magnificent rooftop lounge, open to all guests, offers breathtaking views too. On one side, the Villa Medici and Spanish Steps, on another, an uninterrupted view of the huge (and divisive) Vittoriano monument, and to the southeast, the soaring domes of St Peter and the Vatican.
Rooms from €700 per night, visit lungarnocollection.com.
J.K. Place Roma, Campo Marzio
Also in the heart of the Eternal City is J.K. Place Roma, as immaculately stylish and luxuriously discreet as we hoped it would be (having had the best peach bellini of our lives at its beautiful sister property J.K. Place Capri). Its 27 rooms and suites are housed in a 17th Century townhouse within walking distance of more iconic (in the truest sense of the word) Roman sites, from the gasp-inducing Pantheon to the must-pass Trevi Fountain.
Design is courtesy of Italian architect and interior designer Michele Bonan: think canopy beds in rosewood, emerald-toned wood-panelled walls, fine Carrara marble bathrooms and seriously cool art. We note that the menu in the J.K. Café caters very enticingly to carnivores and pescatarians alike and that the hotel can arrange not only e-bike tours but also archeorunning. We've never heard of it but we can't think of anything much better than an invigorating run with Rome's magnificent ancient ruins as the backdrop (ideally followed by a bowl of carbonara and a large glass of Italian wine).
Rooms from €700 per night, visit jkroma.com.
Soho House Rome, Quartiere San Lorenzo
Unsurprisingly, Soho House Rome ticks a lot of boxes. Its enviable tenth-floor rooftop pool comes complete with 360-degree views of the city and the Cecconi's Terrazza outdoor dining space, dotted with lemon trees, serves genuinely authentic Venetian specialities, handmade pasta and sunset cocktails. There's a Cowshed spa, cryo chambers for your Wim Hof fix and rooms ranging from Tiny (an honest and laudable moniker) to one-, two- or three-bed apartments. The hotel is found in the San Lorenzo quarter which the experts at Mr & Mrs Smith say is best known for "converted industrial buildings, splattering of street art and having real Romans live there".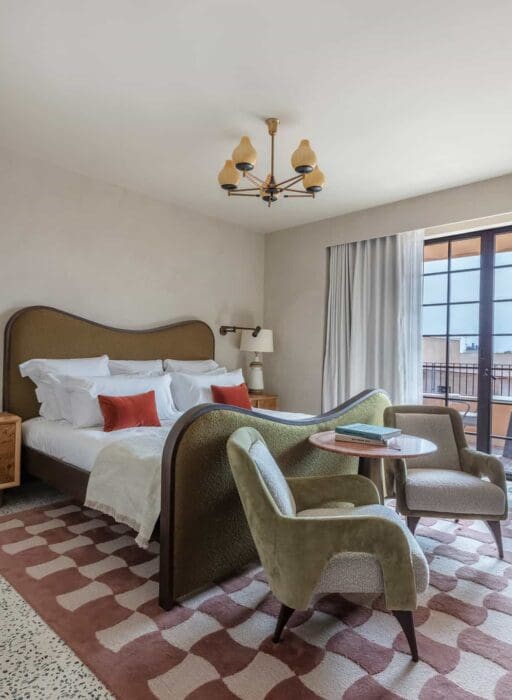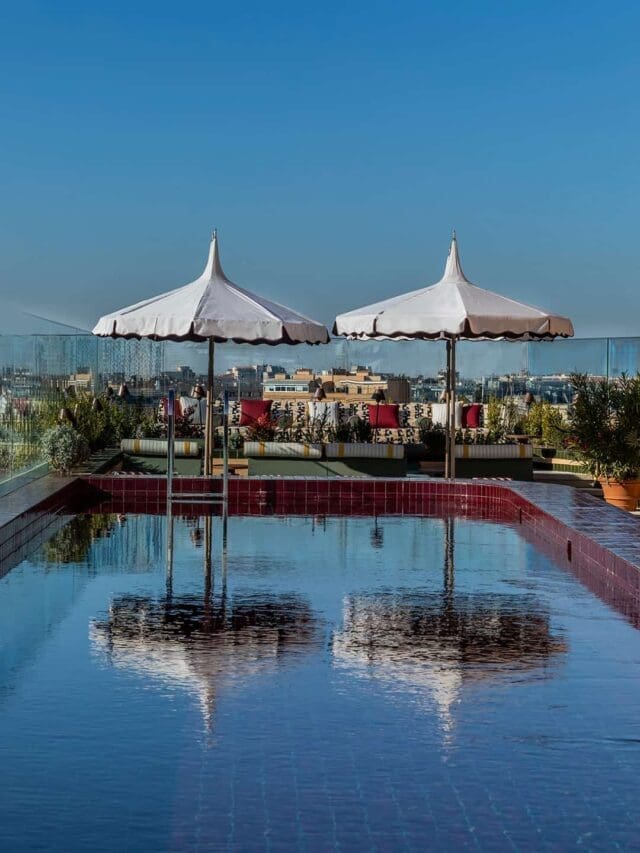 Of particular note is the Soho House Rome art collection, which consists primarily of works created by artists who live and practice in Italy, with an emphasis on those based in the Lazio region. The main club space is dedicated to the theme of Saints and Sinners, interpreted in inventive ways – from football ultra-fans to Mary Magdalene – while in the ground floor Studio, there is a collection of work by international artists who responded to the 2020 lockdown. The rooftop has a site-specific mural by Roman artist Gio Pistone and each bedroom includes new works by emerging artists who studied or are based in Italy: Josip Grgic, Azadeh Ardalan and Nicolò Bruno.
Rooms from €160 per night (for Soho House members), visit sohohouse.com.
Hotel Chapter Roma, Regola
Where to start? On the Mexican-themed Hey Guey rooftop terrace, with its subtropical garden vibe, incredible view, and cocktails and tacos on tap? Or in the Hey Baby bar, perched on one of its high stools or nestled into a velvet sofa as you order your potion of choice? That's if you've even managed to leave your aesthetically pleasing bedroom, with its polished wooden floors, statement furnishings by Tom Dixon, Seletti, Diesel and Moroso, and bathrooms that combine cement, granite and brass to excellent effect. We recommend the corner rooms, which have amazing views and a huge orange velvet sofa.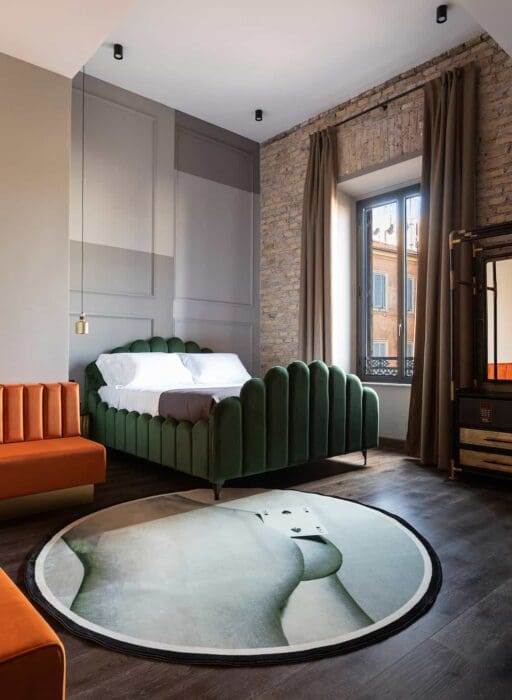 Chapter Roma is surrounded by Regola's narrow cobbled streets, lined with old houses and workshops, and is within strolling distance of Europe's oldest Jewish Quarter and several Renaissance palazzos. Art reigns supreme at this hotel too – Rome's luxury hotels take it seriously – and the sultry Hey Baby bar is decked out with work by some of the city's best street artists. The otherwise straight-laced bedrooms feature artworks that demand attention and a rooftop sign cheekily declares Life's Better On Top! At Chapter Roma, chilled drink in hand as the sun sets over the domes of Rome, it is.
Rooms from €156 per night, visit chapter-roma.com.
Elizabeth Unique Hotel, Campo Marzio
Moments from the distinctive Mausoleo di Augusto, the Elizabeth Unique Hotel can be found in a palazzo that is centuries old, brought emphatically into the 21st Century thanks to modern art, indulgent fabrics and interesting lines. The artworks you'll spot in the lobby, library and bedrooms were all commissioned by the owner of the nearby Gallery Russo so do pay it a visit if you love them.
The 33 bedrooms in general are light, bright and serene and the hotel's Elizabeth Mansion is just a few steps from the main entrance. Housing six rooms, it can be booked for exclusive use, sleeping a maximum of 12 adults and four children. We're particularly tempted by the Spa Suites with their private sauna and whirlpool bathtub, and by the hotel bistro's suitably Italian cuisine and fine wine. Step outside and stroll for a mere 10 minutes to explore the famed Villa Medici, with its remarkable art and gardens.
Rooms from €483 per night, visit ehrome.com.
Hotel Vilon, Campo Marzio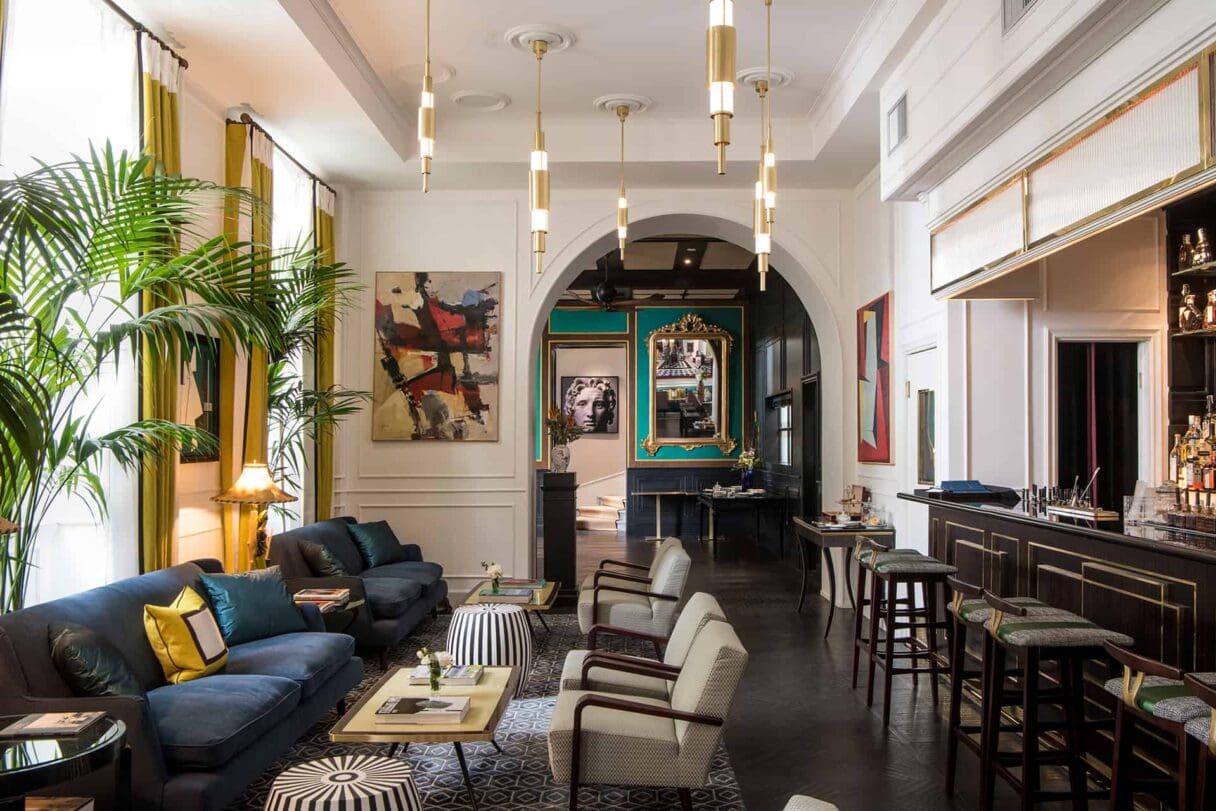 And breathe…. Hotel Vilon has a calming, ancient Roman charm about it, found near the River Tiber on Via dell'Arancio. Its 16th Century mansion building, annexed to Palazzo Borghese, was once a boarding school for girls. We doubt they'd recognise it now, with elegant public spaces designed by Milanese design guru Giampiero Panepinto, bedrooms created by Roman scenographer Paolo Bonfini and artwork curated by Florentine photographer Massimo Listri.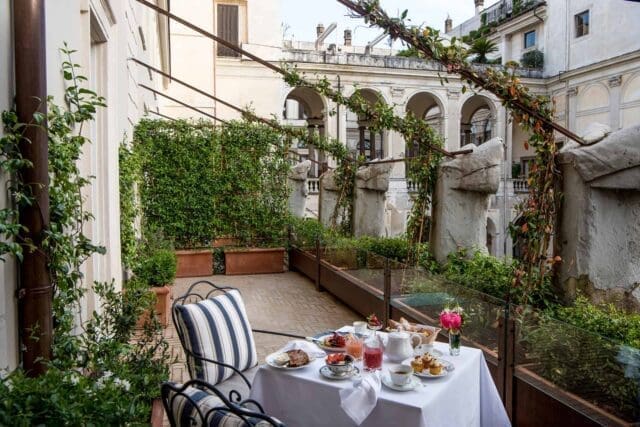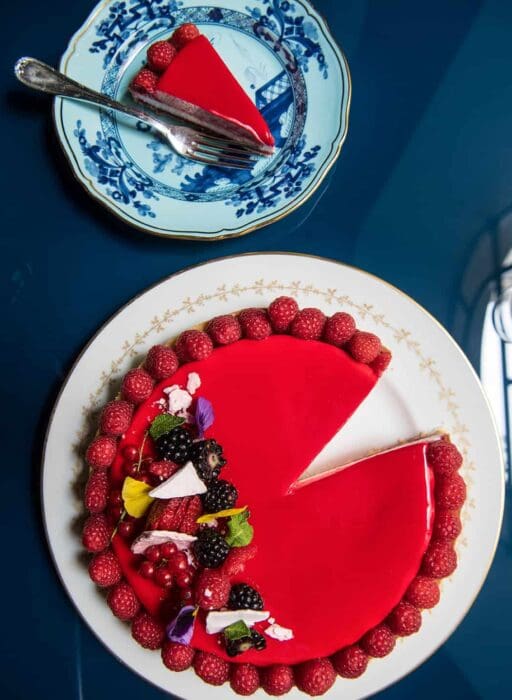 There are just 18 rooms – if you want one with a beautiful terrace overlooking the palazzo's private gardens, choose the Melangolo Suite, the Borghese Suite or the Vilòn Charming Terrace. The all-day bar opens out into the courtyard in good weather and relaxation is on the cards; first orders are taken at 10.30am. The Adelaide restaurant, meanwhile, serves seasonal Mediterranean cuisine; expect traditional dishes with modern (and very pretty) twists.
Rooms from €860 per night, visit hotelvilon.com.
Piazza di Spagna 9, Campo Marzio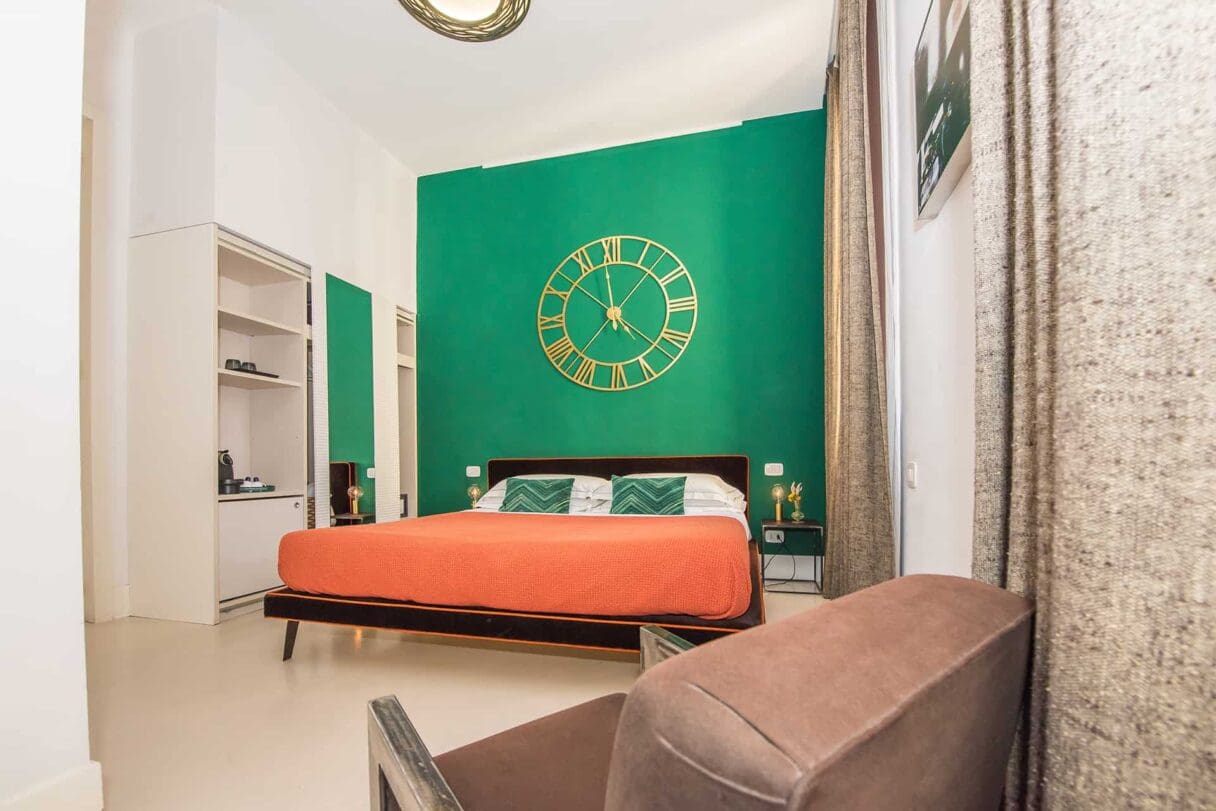 The Spanish Steps are a popular and busy tourist spot in Rome but at the far end of the Piazza di Spagna, near the Versace and Dolce & Gabbana boutiques, is a historic building containing the opposite; a very laid-back, hidden-away and bustle-free 400 square metre enclave. Welcome to Piazza di Spagna 9 and its unique offering: a contemporary hotel and art gallery – where every piece is available to purchase – with six luxury suites, a communal living room and wellness centre. It can be rented out for exclusive use too, if you're bringing all the family or celebrating a special occasion with a group of friends.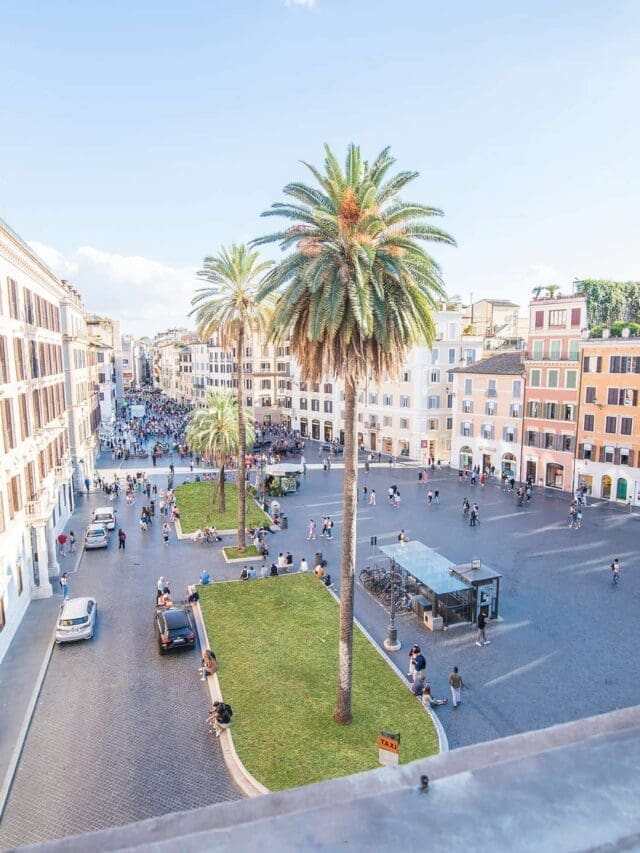 During the day, staff are on-site, offering recommendations, serving hot drinks and arranging spa treatments. In the evenings, guests have free range of the space and can help themselves to an honesty bar. The hotel doesn't have a dedicated restaurant but a continental breakfast is available each morning in the Spagna lounge or next door in La Buvette café. Living la dolce vita indeed.
Rooms from €455 per night, visit piazzadispagna9.it.