It's not very often that a 27-year-old finds themselves at the helm of a Michelin-starred kitchen. But that is the reality of chef Craig Johnston. 
Now head chef at one of Belgravia's finest restaurants, Marcus at The Berkeley, Johnston rose through the culinary ranks after winning Masterchef: The Professionals in 2017. It was during this process that he caught the attention of Michelin-starred chef, Marcus Wareing, who has been a judge on the show since 2014. At 22, Johnston became the programme's youngest-ever winner and the only contestant Wareing has ever employed. Certainly an accolade worth shouting about. 
Last year saw the celebrated chef add another trophy to his shelf when he took home the Acorn Award — a prestigious prize also known as the culinary world's 30 under 30. To give you an indication of what this means about Johnston's talent, previous winners have included Wareing, Marco Pierre White and Jamie Oliver.
All of which has left him in good stead for the role of head chef. Day-to-day Johnston is charged with managing a team of 19, nurturing the progression of junior members, and taking responsibility for the overall success of the restaurant. Unarguably a lot for a pair of young shoulders. 
Then, of course, there's the serious business of feeding people really well. Working closely with Wareing to devise new dishes, Johnston's menus comprise modern takes on British fare, with popular plates including Cornish sea bass with courgette, prawns and basil and Devonshire duck with beetroot, cherries and almonds.
It's safe to say Johnston has achieved a lot in a short space of time, having held positions some chefs only dream of. So what are his ambitions for the future? We sit down with him to find out.
How did you start your career as a chef?
I grew up in Maidenhead, just outside of London. My mum's a great baker so I remember standing up with her at the bench and helping make sweet treats. I started my career at 16, within a week after leaving secondary school. At school, I took food technology as a subject and realised I had a passion for cooking. The high praise from my teacher really encouraged me to take on hospitality as a career choice. I did an apprenticeship at two-rosette restaurant, Boulters, in Maidenhead and quickly progressed through my Level 2 and 3 in Professional Cookery.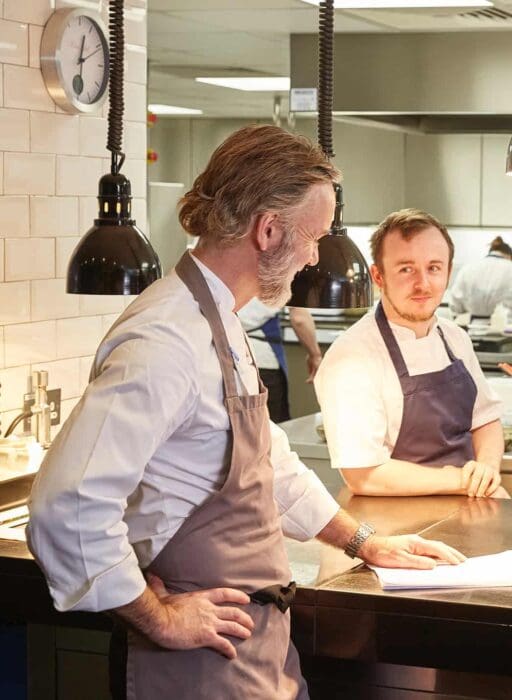 Where did you train as a young chef?
After starting as an apprentice, I worked my way up to sous chef over four years, before making the move to London to work at Pollen Street Social in the pastry section. I then moved back to Maidenhead to join the team at Michelin-starred gastropub, The Royal Oak, as a sous chef before entering Masterchef: The Professionals in 2017.
Tell us a bit more about Masterchef: The Professionals.
I was looking for a challenge! My job was great, but I felt like I wasn't pushing myself enough — I was in my comfort zone. I completed the long application form late one night after work and the rest is history.
The pieces to camera were definitely the hardest parts. I'm not really an extrovert so talking about myself or the dishes doesn't come naturally. My favourite memory was travelling to the south of France and spending three days at Restaurant Mirazur, one of the world's best restaurants. It was an amazing experience that enabled me to gather inspiration for the competition's final.
It saw the Royal Oak triple its daily bookings — it was so bad that on the night of the final the restaurant's website crashed!

Craig Johnston
How did it feel to be the youngest winner and land a job with Marcus Wareing?
I'm a big believer in age being just a number. Each [Masterchef] series has amazing chefs of different ages but, at the end of the day, all that matters is what's on the plate. The six months after the show aired were crazy. It saw the Royal Oak triple its daily bookings — it was so bad that on the night of the final the restaurant's website crashed! When Marcus came calling, I wasn't going to let the opportunity pass me by.
Marcus and I have a great working relationship. We're always in touch: I'll share ideas for upcoming menu development, he'll give me hints and tips along the way, or make suggestions for how to tweak dishes. He's been in kitchens for 35 years so he's seen it all. He's a good sounding board when I need it, not just about food, but management, leadership and anything else really.
You're only 27 and already running one of the top Michelin-starred restaurants in the country. What's your next career goal?
Not sure yet! I'm really enjoying where I am at the moment. The main focus is to continue building a team around me that can develop and progress so that we can keep creating amazing food and give our guests the very best experience.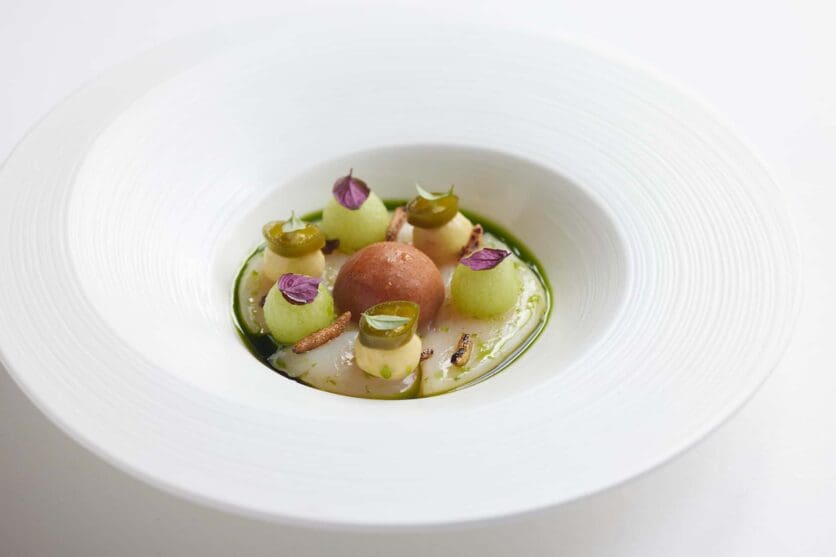 What inspires your menus?
When I was younger, I did a big trip through Asia and Australia so there's definitely a little of that [cuisine] in my menus. I love taking classic techniques and adding something you wouldn't expect. For example, we have a dish on the menu at the moment that's a raw scallop from Orkney in Scotland with a set lobster bisque, pickled green chilli and compressed apple. We serve it with a curry and ponzu emulsion, apple, lime and shiso dressing, shiso and Thai basil cress and, to finish, Thai basil oil. The freshness of the Japanese flavours works really well with the meatiness of the scallop.
What are your favourite London restaurants?
Dishoom is a favourite go to when I'm able to take time out of the kitchen. Another at the top of my list is The Dorchester Grill by Tom Booton. The [team] there are doing great things. They never fail to impress.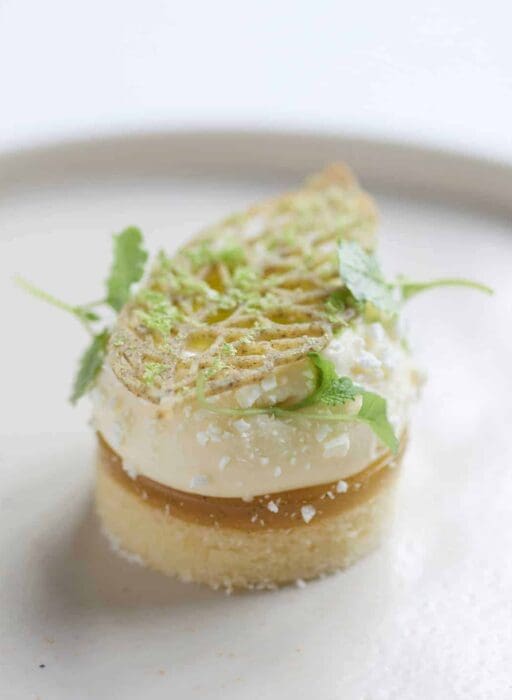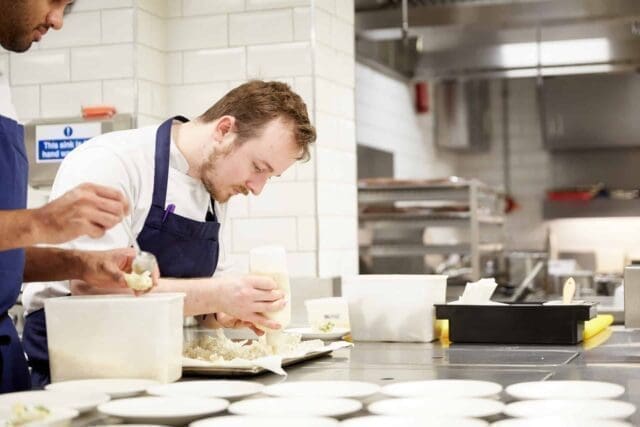 How do you spend your time away from the restaurant?
I try to get out to try other restaurants in London. There seems to be a new one popping up every week so I'm never going to run out. Otherwise, I might see my family or just relax. My week can be quite busy so the weekends are all about taking it slow.
What's your favourite dish on the menu and why?
At the moment, it has to be our Galloway beef, served alongside a few variations of winter root vegetables, consisting of Jerusalem artichokes, salsify and parsnips. All of these are tied together with beef sauce flavoured with winter truffle and roasted bresaola.
I also have a soft spot for the pre-dessert [on our tasting menu]: bergamot, basil, olive oil. I used very similar flavours for my dessert in the final of MasterChef so it has good memories!
Read more: The most sustainable restaurants in London to book now