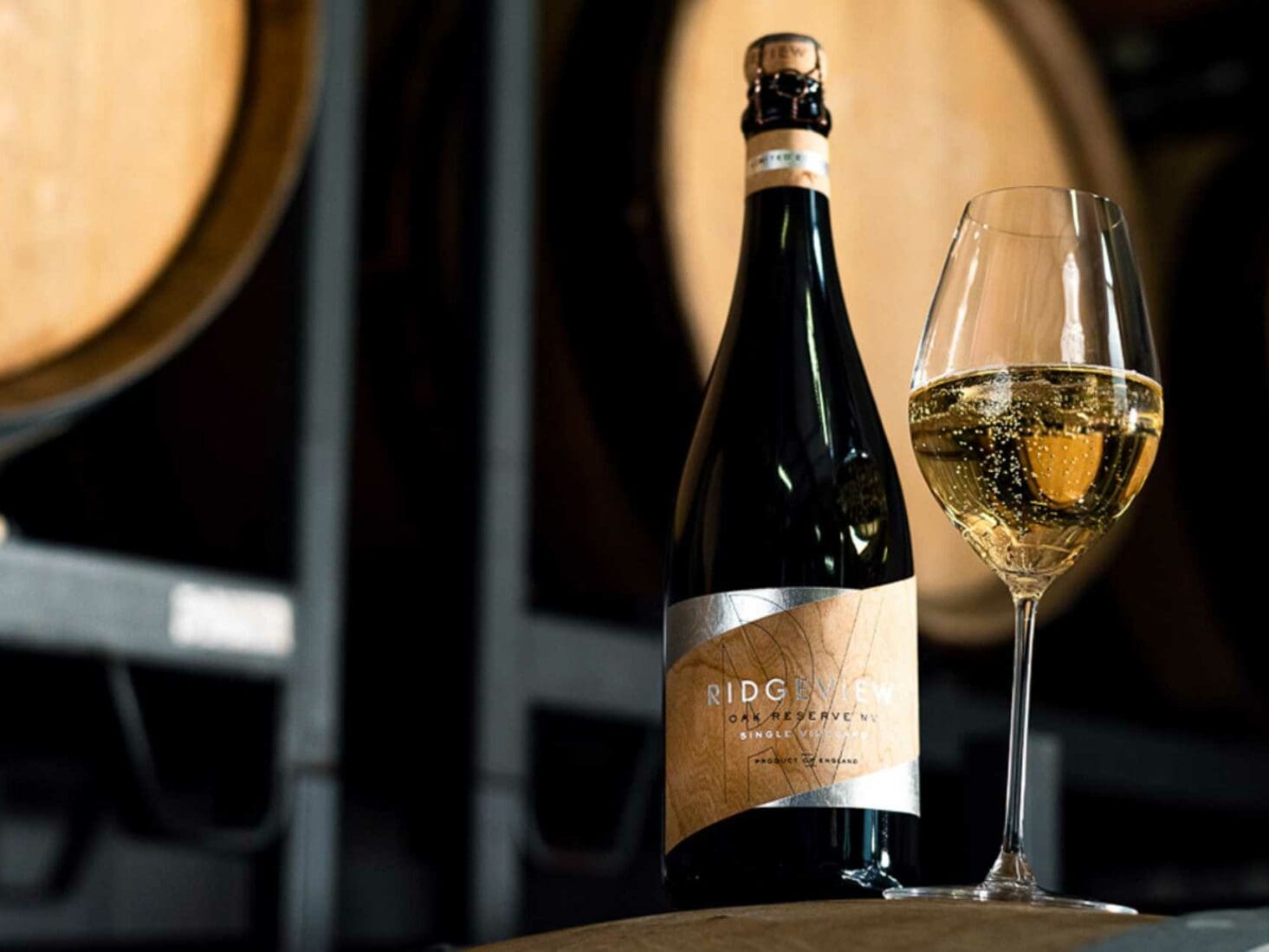 Good libations: the drinks to lift your spirits this Christmas
From novel, festive-themed rums to ready-made cocktails delivered direct to your door, these are the wines, spirits and recommended bottles to add to your drinks cabinet this Christmas
East London Liquor Co. Gin
In a spirits world where seemingly every launch is legally compelled to come with a hogwash backstory that claims inspiration from a mythical sea creature from the Azores who turned seawater into alcohol, hats doffed to the East London Liquor Company for keeping things simple with its new range. The labelling, with its bright yellow screw top and bold print lettering is an outstanding tonic (excuse the pun) in the current climate of florid, Baroque branding and the gin itself genuinely belies the low price tag, being as crisp, supple and tangy as a Peter Hook bassline. An antidote to craft gin snobbery, twenty quid or so won't buy you a better gin than this right now.
£21.50, eastlondonliquorcompany.co.uk
Nania's Vineyard Rose
Ah Glastonbury, how we missed you this year. Three days of live music, vegan hot dogs and highly questionable hygiene from fellow campers. The closest I've come to visiting that fabled corner of the West Country in 2020 is drinking the Glastonbury spring water contained in this new winery launch from a Bristol allotment. It's a brave move putting rose in cans and hoping to win over any male drinkers whatsoever. And the label, which shows a cute cartoon squirrel peering out from behind a vine suggests that the makers know exactly who their target market is. But the end product is a belter; the fruity notes and concomitant fizz (plus a notable lack of overly sugary nausea) made me nostalgic for the truncated summer we had this year. One to drink with the central heating on full, an Ibizan chill playlist on loud and a sarong around your waist while shouting "winter is just a state of mind" to anyone who hasn't yet fled from your living room.
£24 for six cans, naniasvineyard.co.uk
Don Papa Rum
Have you ever eaten the Filipino national dish? It's called adobo and is, in my humble opinion, the one Asian dish that the Western world needs for this grim and endless Covid-19 winter. Get some white vinegar, soy sauce, garlic, peppercorns and bay leaves, throw a slab of pork or chicken in the resulting marinade overnight, then cook through. It's the culinary equivalent of being spooned in bed while watching a new season of Ozark. And, afterwards, sip on a Don Papa rum. This Filipino rum (yes, you read that right) is supposedly inspired by Papa Isio, a charismatic leader who fought for independence in the Philippine Revolution of the late 19th century. It's a sprightly number; perhaps overly rich, but packed to the gills with raisin and toffee notes and a punchy cinnamon twist.
£32, donpaparum.com
LOUIS XIII The Expert Set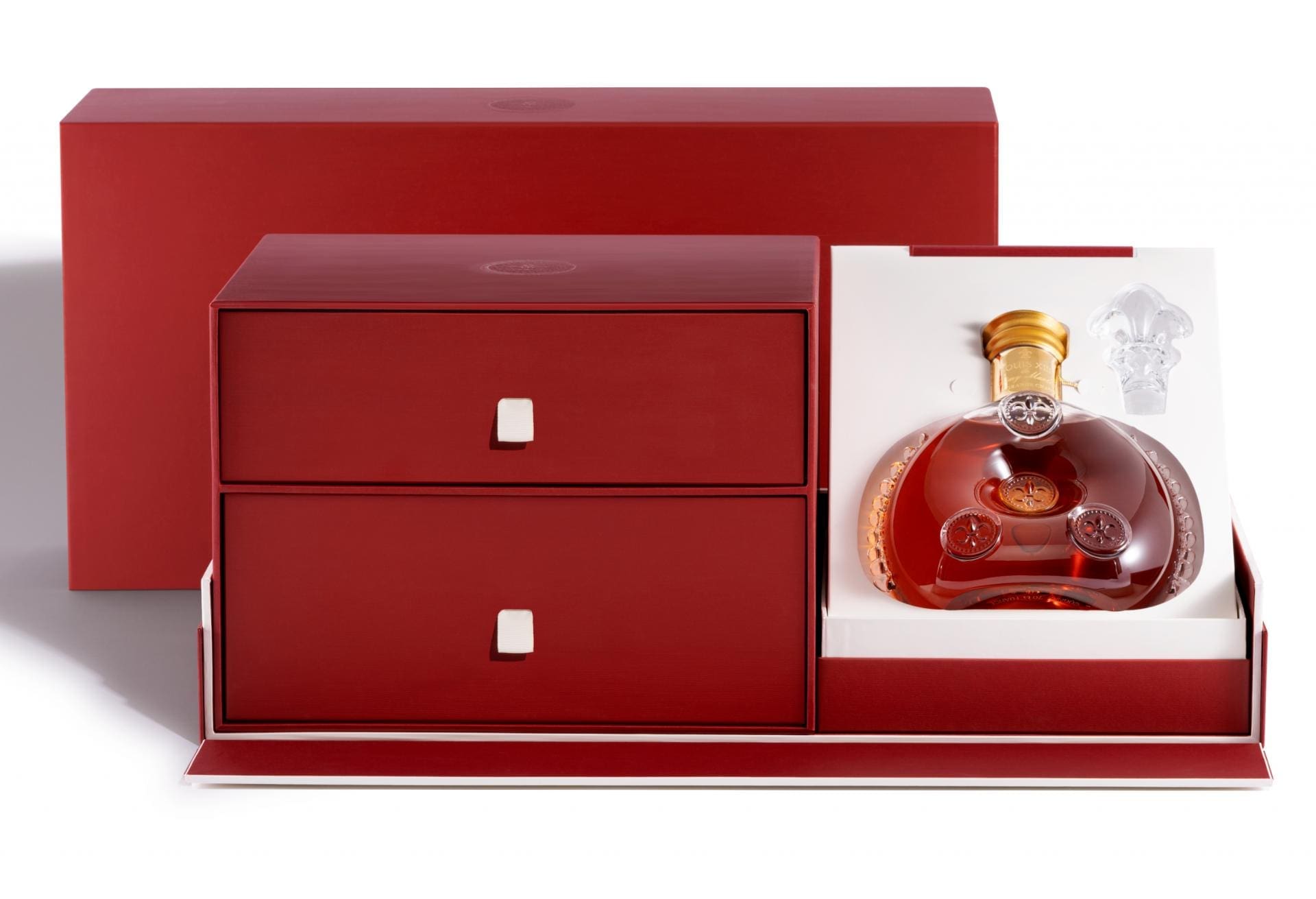 Questionable cash-only establishments aside, you've been able to pay your bar tab at most of London's watering holes with your smartphone for some time now, thanks to the wonders of NFC technology. This year, premium French cognac house LOUIS XIII makes its own use of the contactless communication tech. Customers who connect their phones to the cork stopper in their decanter will be let into the LOUIS XIII Society – a private members club through which you can access 'exclusive content, unique experiences and personalised services' (though the press release fails to specify what those services might be). LOUIS XIII has also made its cognacs available to purchase online for the very first time. For the brandy lover who has everything this Christmas, how about a LOUIS XIII gift coffret? Inside the 'Expert Set' is a handcrafted Classic decanter, two engraved cognac glasses, a pipette, a pair of white gloves and a quiz set featuring 10 LOUIS XIII secrets. Clue up while you quaff.
£3,500, louisxiii-cognac.com
17 Trees Chardonnay
Look, I'm as surprised as you are that any Australian chardonnay has found its way into this column. Rancid memories of cheap Antipodean plonk that tasted of butter, petrol and sunflower oil ruined my early wine tasting experiences and gave me hangovers that would have rocked even a young Richard Burton onto his heels. But this launch not only caused me to reassess my prejudices, it also comes with the added bonus of sticking two green fingers up at the eco-ravaging polices of Aussie PM Scott Morrison. Because for every six bottles of the label's shiraz, pinot grigio or chardonnay sold, a native tree is planted through a collaboration with the Trillion Trees organisation. As for the chardonnay, the colour is notably light and the taste is gently creamy with a hint of peach. OK, I got a hangover because I drank a whole bottle to myself but I will say, for extra planet saving credentials, that it goes very well with indeed with a vintage Attenborough documentary on endangered pandas.
£9.99, available at Waitrose, debortoli.com.au/17trees
Ridgeview Oak Reserve NV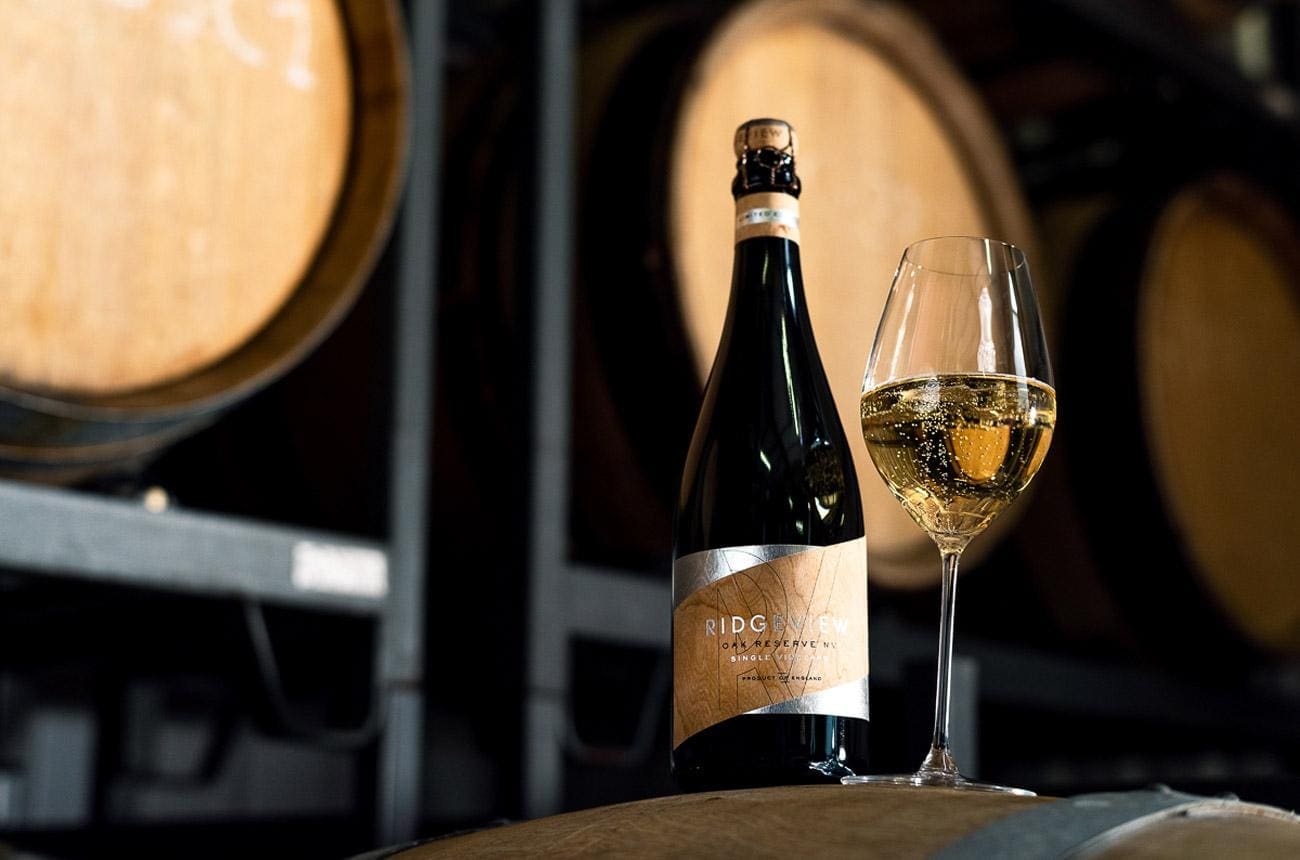 Did you know that more than two thirds of the UK's wine production is now sparkling? Cool, brisk and occasionally soggy, our climate suits pinot noir, chardonnay and pinot meunier grapes to the point that even two French champagne houses (Pommery and Tattinger if you're asking) have already bought land here to grow their vines once climate change renders the Champagne region useless. Ridgeview in Sussex was in the vanguard of all this; planting its first vines back in 1995. It was the first brand in the UK to export its wine and it has just released its first new wine in a decade. For an oaked wine, the taste is daringly (and almost bafflingly) subtle with something vaguely smoky and symphonic in the crackling bounce of the fizz on the tongue. The company has only released 1,000 bottles of this for the time being. Move fast — this could be the fizz that lifts your Covid Christmas.
£75, ridgeview.co.uk
Hepple Martini
It may be a decade now since we all swooned over Don Draper and Roger Sterling in Mad Men (proponents of the most suave devotees to alcoholism the small screen has ever seen) but the allure of the old school martini hasn't really waned. The problem is that making a really good one at home can be problematic due, in the main, to realising you don't have any vermouth or that the cocktail shaker still smells of bourbon from that failed Old Fashioned experiment. Hepple has the answer with this juniper aged martini which requires no effort from you other than to wash the martini glass and chill it, along with the bottle, in the fridge. The result is an extremely snappy gin martini with just enough of a juniper kick to give it some woody authenticity. Sadly, guaranteed employment at a Madison Avenue ad agency in 1965 does not come with every purchase.
£32, hepplespirits.com
Bowsaw Straight Bourbon Whisky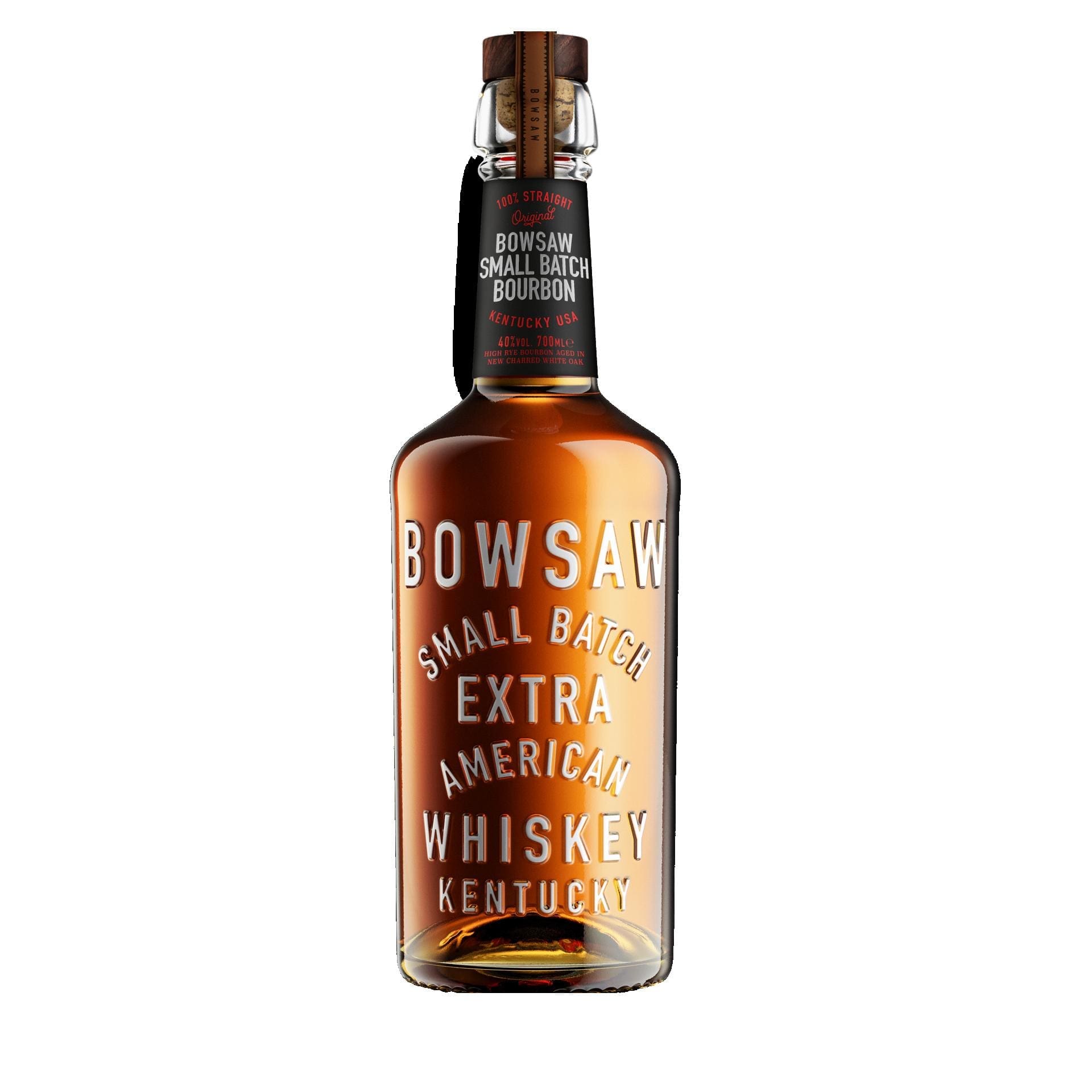 Distilled in the far north of Kentucky, near the Ohio River, this is one of those American whiskies that, from the aroma alone, makes you want to swap your Victorian terrace for a clapboard shotgun house with a stoop, rocking chair and a soundtrack of George Jones and Johnny Cash. And, for once, if you take this journey of the mind, you're not being duped by corporate advertising of the pseudo 'old timey' variety. Bowsaw is the real deal — small batch whisky produced by third generation distillers, aged in American oaked barrels and with every bottle screen-printed by hand. There's a real rye spiced backbone to this number; uncompromising but blissfully redolent of the kind of American mythology that is part Truman Capote, part Ford Maddox Ford, part long afternoon nap in a hammock on the veranda.
£35.95, bowsawwhiskey.com
Spirit Of Christmas Pudding Rum
My earliest memories of Christmas pudding are not good; my father setting fire to a laminated place mat in his attempt to ignite one in the 1980s was followed not long after by a choking fit as my Grandma almost swallowed the 20p piece hidden inside it. A liquid Christmas pudding seems a safer bet all round, and this oak-aged rum spiced with cinnamon, orange and muscovado does a fair impression of the real thing. Most impressively, it isn't overly cloying on the sweetness and has a rather velvety finish. Ideal for the Christmas afternoon lull, just after Only Fools And Horses and just before the first 18 dozen turkey sandwiches emerge from the kitchen.
£25, finders-spirits.com
Thienot Magnum by Speedy Graphito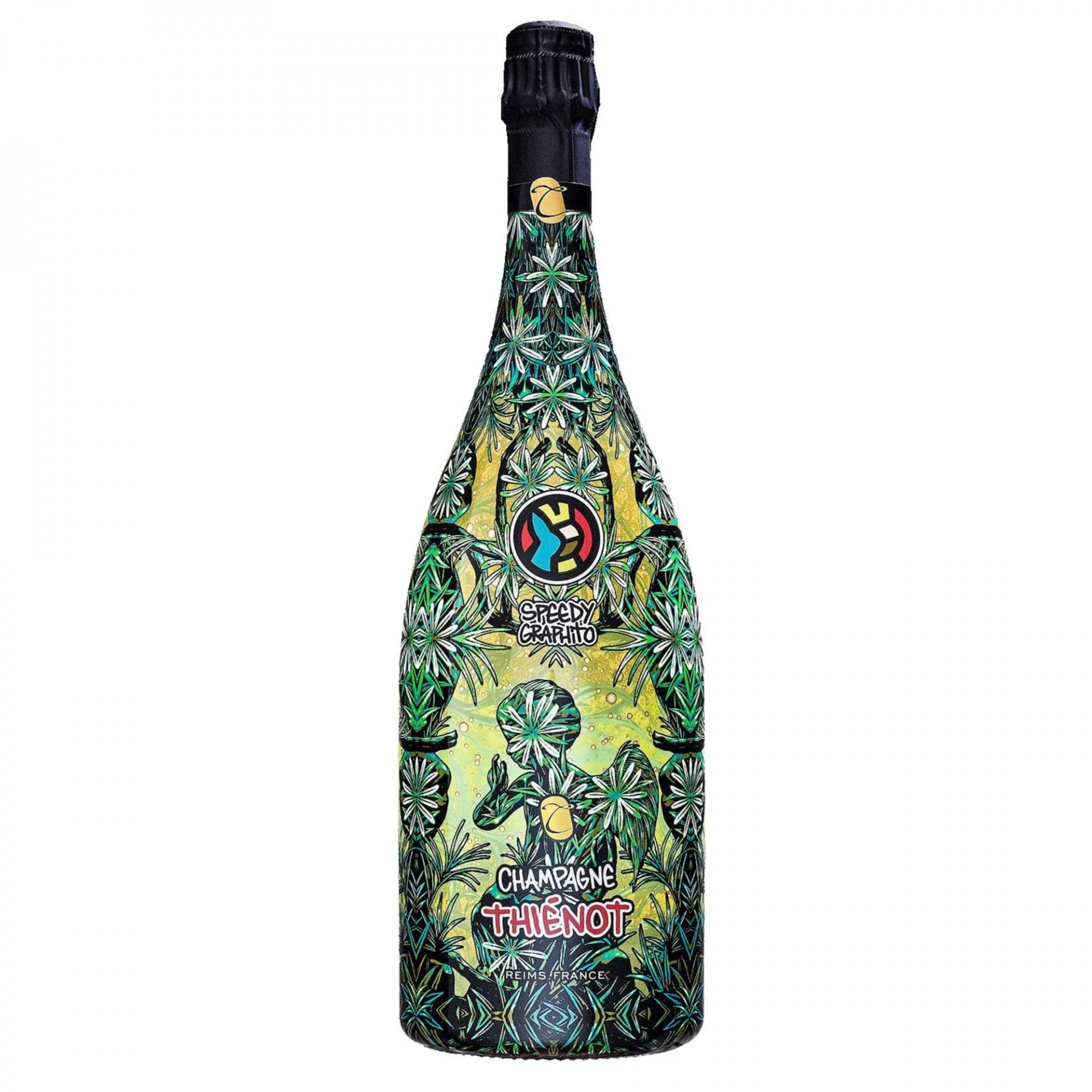 Spend a weekend visiting the champagne houses of Epernay and you'd be forgiven (with cause) for thinking that the main marketing tool for promotion is dust and cellars with broken brickwork. For some reason, unless you can be seen to be blowing cobwebs off a bottle with a label which looks like it came off Gutenberg's original printing press, then you may as well be drinking warm Vimto. Wonderfully, Thienot has done something rather brave; getting street artist Speedy Graphito to design the new release of the limited-edition Champagne Thiénot & Speedy No3 from Champagnes & Chateaux. Speedy is not some frustrated bedroom graphic designer from Hackney either; he is recognised internationally as one of the pioneers of the French Street Art movement with a career now in its fifth decade. The bottle's design centres around the triumphant and full of life nature represented by the colour green and looks something akin to a Day Of The Dead mural. Trippy, intoxicating and genuinely beautiful, just for once, Thienot's gloriously and consistently crisp and shimmering champagne is almost (and I did say almost…) upstaged by this — a bottle which you will never, ever recycle.
£84.99, champagnesandchateaux.co.uk
Lockdown Liquor Co. Espresso Martini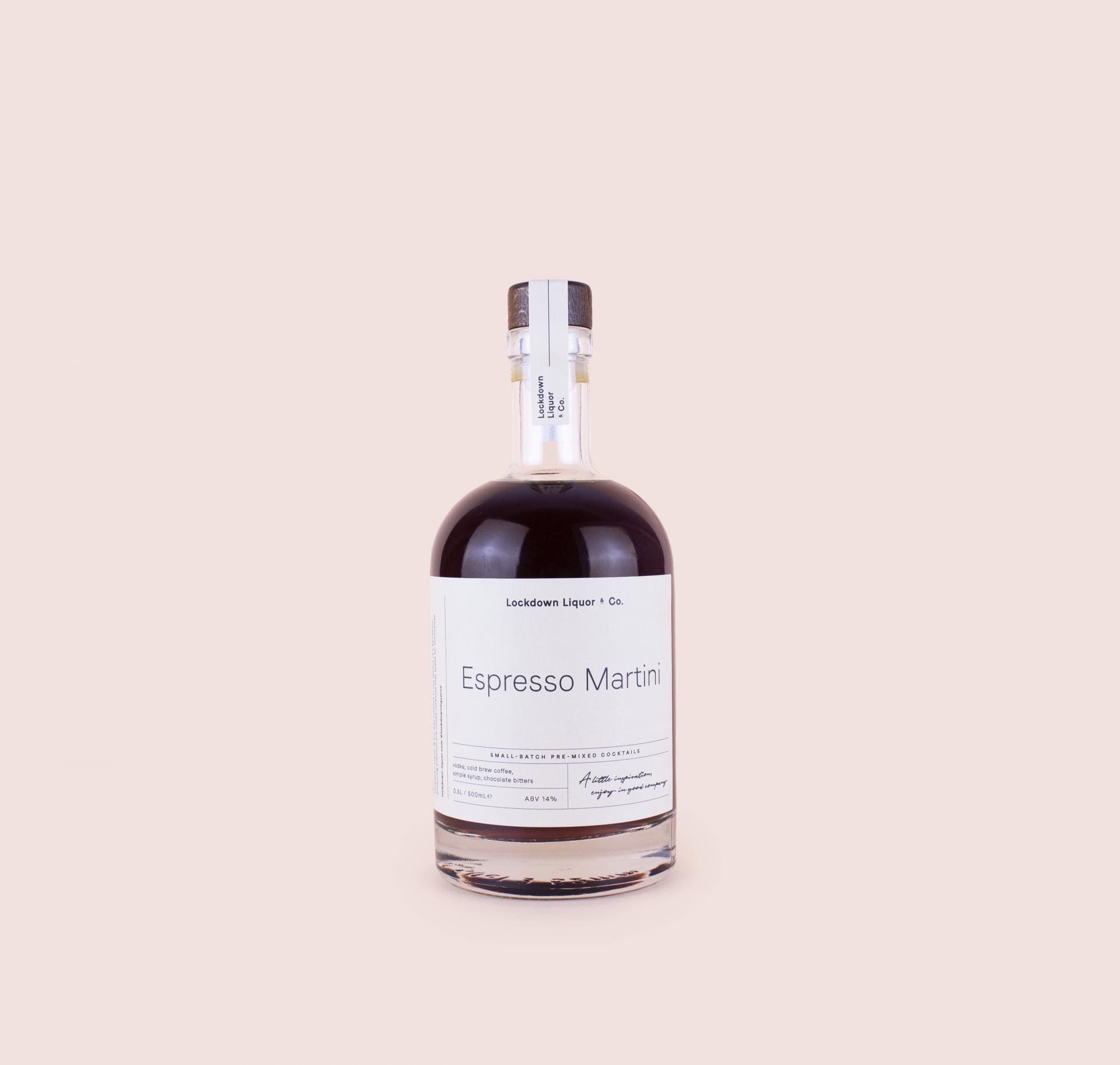 Covid-19 success stories are few and far between (unless you count your ability to stay in your bathrobe for four consecutive days) but Jack and Natasha Durling have done rather well out of the pandemic by selling more than 10,000 of their small batch, premium blended cocktails, which are delivered to your door. Not bad considering they only set up the business in April this year. Cast your green-eyed monster to one side and simply enjoy the product. Their espresso martini is one that I'm fairly sure the original creator of the drink, the late and very great Dick Bradsell, would say was commendable. The bottle comes with a packet of coffee beans for you to artfully place on top of the drink, which actually does taste of cold brew coffee rather than the cold Nesquik-esque filth that many bars serve up these days. This is a very, very decent stab at replicating a drink that, as urban legend goes, was created by Bradsell when he was asked by a customer back in the early 1980s to create a drink that would 'wake me up and f**k me up'.
From £25, lockdown-liquor.com
Hocus Bar in a Bottle
This brand calls itself a 'bar in a bottle'. It doesn't specify which bar exactly, but I'm presuming it isn't one of my old locals in south London, where such a concept would have to include the smell of donor meat from the Lebanese joint next door or the odour of roll up's being furtively smoked by bar staff next to the fire exit. With Hocus, you get a bottle containing a neutral blended spirit base alongside a presentation sleeve of 20 ampoules containing a range of spirit essences including London Gin, White Rum, Diamond vodka and Golden Tequila. Not all the ampoules hit the mark (the tequila is truly dreadful) but the concept does work rather well; giving the chance to feel a bit like a kid with a 'My First Scientist' set where the result is a very decent drink rather than a smell of burnt plastic and a one week grounding by your parents.
£59, hocus.uk