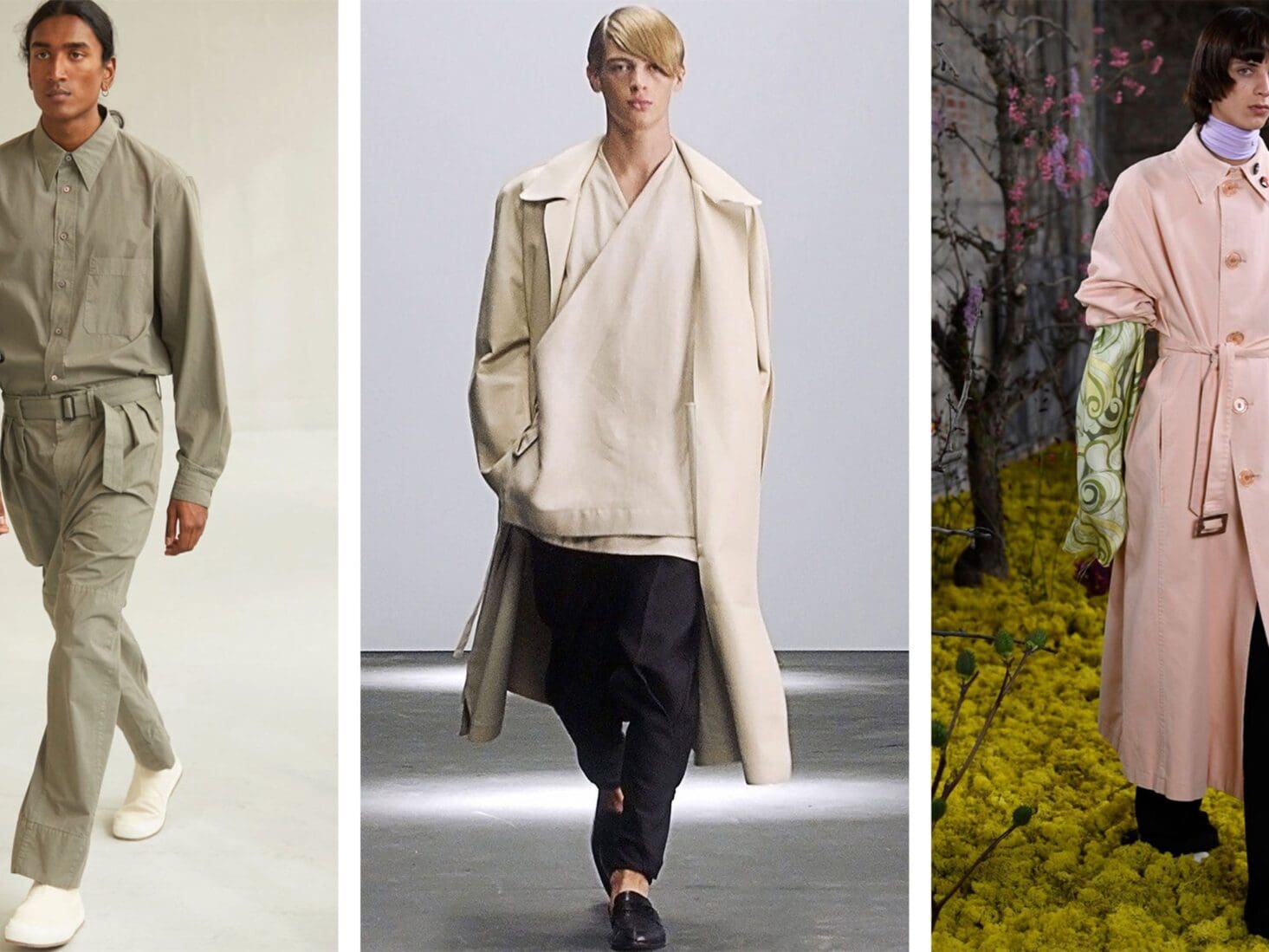 The menswear trends to embrace for Spring/Summer '21
Upgrade your wardrobe with the best in SS21 menswear and step out of lockdown a new man
Fashion shows aren't usually humble affairs, and the clothes paraded down the catwalk aren't usually known for being wearable. This hardly changed in the spring shows, which debuted at the tail end of 2020. There were headpieces at Craig Green that looked like baby mobiles, and shell-suits at Balenciaga that were worn at least five sizes too big. There were, however, some takeaways that can be applied to those who like clothes, but don't necessarily like wearing bin bags on their heads.
Oh yes, however you like to dress, there's a spring trend for you. New clothes may not be the highest priority on your to-do list at the moment, but should you want to update your wardrobe for when the world opens back up again, there is inspiration to be found here. These are the best spring menswear trends for 2021.
Elevated workwear
| | |
| --- | --- |
| Christophe Lemaire | A Cold Wall |
Workwear isn't going anywhere. It's been a firm fixture for both independent brands and the high street over the past few years, and it's easy to see why. Workwear is rooted in function. Originally created for factory workers, miners and old school men with real, manual jobs, workwear garments tend to feature an array of pockets and are made from hard-wearing fabrics such as denim, cotton canvas or moleskin. A number of brands have sought to upgrade utility clothing however, reimagining the style in bold new colours and fabrics. Lemaire has taken things up a notch for its spring/summer collection, with classic workwear garments – work shirts, overalls and lightweight jackets – all crafted from luxe cotton-linen fabrics. Elsewhere, A Cold Wall has adopted a workwear stance, with belted field jackets and cargo trousers featuring prominently in its SS collections.
Get the look
You can't go wrong with the classics when it comes to workwear. Carhartt is one of the founding fathers of utility clothing, as is its Michigan jacket, which has been worn by everyone from factory workers to Tupac Shakur. Layer it over a hoodie, such as Asket's heavy-duty cotton example, and slim dark denim from APC and you've got a functional look that will serve you well.
Wide legged trousers
| | |
| --- | --- |
| Emporio Armani | Emporio Armani |
It's taken a while for wide-legged trousers to become the default choice for designer brands, but if the spring/summer shows were anything to go by, it's fair to say they're here to stay. A large percentage of brands exclusively went wide for their collections and we're all for it. Wide-legged trousers have it all – they're comfortable, easy to wear and, if high-waisted, can elongate the wearer's silhouette, making you look longer and leaner. A long-time purveyor of excess fabric, Emporio Armani's trousers were flowing at its SS21 show, and were styled with similarly loose tailored jackets. Elsewhere, Gucci's '70s-inspired trousers were pleated and sat high on the waist, with wide, straight legs that bottomed out over sandals and buckled loafers, whereas AMI turned to denim, producing wide jeans which flared over slick leather shoes.
Get the look
For the full wide-legged look, you'll want to go high-waisted and pleated, too. Saman Amel specialises in exactly this style, producing its trousers in an array of fabrics that cover both spring but also the colder months as well. Allow the trousers to do the talking and pair them with a simple tucked in T-shirt and chunky Dr Martens.
Oversized outerwear
| | |
| --- | --- |
| Dunhill | Berluti |
Continuing the wide theme, oversized outerwear is another trend worth jumping on to for spring, summer and beyond. From bomber jackets, chore coats, lightweight trenches and parkas, oversized cuts are big news if the SS21 shows were anything to go by. It might seem counterintuitive at first, but an oversized jacket looks more contemporary than its slimmer cousin, and is infinitely more comfortable and easier to style. Plus, you can layer them, which is perfect for unpredicatable spring days. For inspiration, turn to Loewe, which has an oversized fishtail parka in its latest collection. Clearly inspired by the classic M-51 military parka, it features a drawstring waist, angled flap pockets and gold hardware. Elsewhere, Berluti has a panelled, drop-shouldered waterproof, and Dunhill turned to the duster coat, finished in a stone colour that's perfect for combining with navy, black or green.
Get the look
One of the easier roots into the oversized outerwear game is through the bomber jacket. Another military staple, it's gone through a number of guises over the years and can be worn in a variety of ways. Try layering it over a hoodie or sweatshirt. Wear with a pair of washed jeans and Converse and you'll have a go-to, effortless weekend look.
Pastels
| | |
| --- | --- |
| Raf Simons | Versace |
Colour can be a tricky thing to get into. Why, after all, would you deviate from the tried and tested navy, black, grey combination you know and love? Well, colour is interesting and gives a look more personality than dark neutrals. Plus, it can be fun to experiment. A good place to start, especially for spring, is with pastels. A big feature of the SS21 shows, pastel colours such as lilac and pale pink were seen in abundance, offering an ideal solution for those a bit afraid of anything too jazzy. Raf Simons and Versace are good places to start for pastel inspiration, with everything from simple T-shirts to tailoring offered up in a multitude of soft pastel shades.
Get the look
Pastel colours have always worked on polo shirts. A simple pastel pink is a fail safe entry point and borrows equally from '80s football casuals and off-duty stock brokers. For a warm weather combo, wear one with drawstring shorts (you'll never go back to buttoned) and simple vintage-inspired running shoes.
Double-breasted tailoring
| | |
| --- | --- |
| Lanvin | Brunello Cucinelli |
Not many people need to wear suits at the moment. Chances are, not many people will need to wear them a year from now, when offices return and the commute once again becomes a drag. Increasingly, wearing a suit is a choice, something that you actually want to do. And brands are recognising this. Double-breasted tailoring was once the reserve of Wall Street high-flyers, but a number of brands showcased the style as part of their SS21 shows, demonstrating how it can be worn in more youthful, casual ways. Brunello Cucinelli styled its with cricket jumpers and polos; Lanvin went tonal, pairing double breasted jackets with lightweight overcoats of the same shade, and E. Tautz went oversized, giving the style an '80s-inspired edge.
Get the look
If you want to get in on the double-breasted action, take a leaf out of the Ivy League notebook and opt for a classic fabric like houndstooth or Prince of Wales check. Noah produces one in the former, replete with a boxy cut and patch pockets which makes it easier to dress down. Pair it with pleated chinos and some tonal New Balance for a sportswear-inflected look, or penny loafers for a more authentic collegiate take.
Read more: The best short-sleeve statement shirts for spring