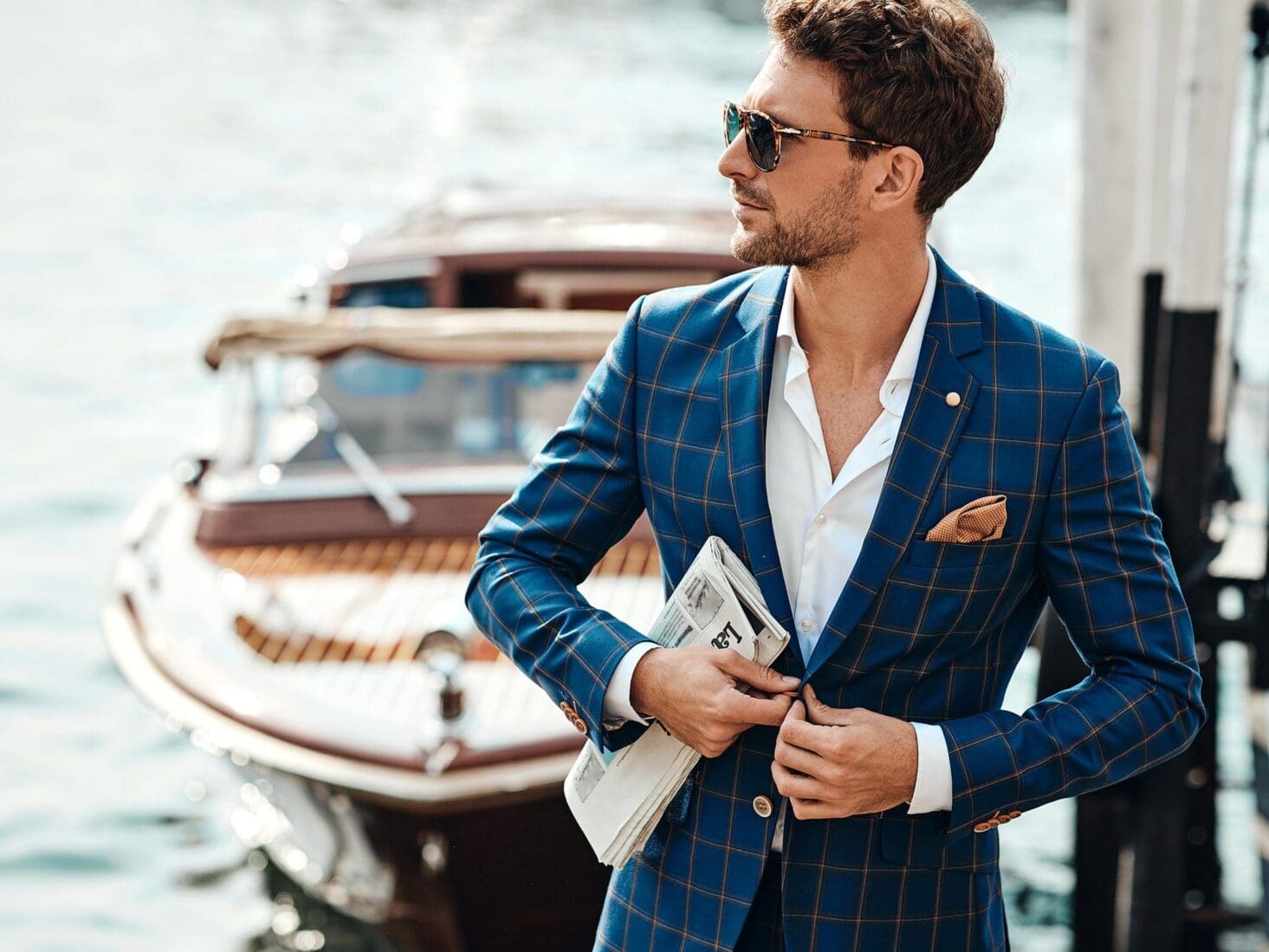 5 new ways to wear a suit in 2022
Throw out your three-piece and loosen your tie. Post-pandemic, tailoring is taking on a whole new vibe
All products are chosen independently by our editors. Luxury London may earn commission on items purchased.
There hasn't been much need for suits in the past few years. Traditionally, tailoring is synonymous with work and, as more people do their day jobs from their sofa, there's been little need to button up. But as we transition back into a world that represents some form of normality, will the suit return as a staple of the modern wardrobe? The planet's most respected designers certainly seem to think so, parading models in tailoring throughout their 2022 shows and lookbooks.
This doesn't, however, mean we're going back to the way things were. The suit is different now; it's worn more through choice than necessity, meaning there's plenty of room for creativity if you want to mix things up. How do you go about that exactly? We've dug out five new ways to wear a suit this spring, from going tonal to ditching your shirts. And there's not a tie in sight.
Go tonal
| | |
| --- | --- |
| Lemaire | |
Prada Prince of Wales wool-blend suit jacket, £1,950, mrporter.com; Prada wide-leg Prince of Wales wool-blend suit trousers, £1,205, mrporter.com; Falke wool-blend T-shirt, £85, matchesfashion.com
Traditionally, tailoring is about contrasts. For many, a white or light blue shirt has been the go-to, while a tie would add a pop of colour against a typically dark blue or grey suit. But an interesting new way to wear a suit, and one that is surprisingly easy to pull off, is by adopting a tonal look. That means going for a mid-layer in the same or a similar tone to the suit itself. This is best done when trying to dress the suit down. Start by investing in unstructured tailoring with a relaxed fit, which instantly gives the suit a more laid-back feel. Then pick your shade, whether it's navy, grey or deep bottle green, and pair it with an equally relaxed fit T-shirt in a similar colour.
Wear with knitwear
| | |
| --- | --- |
| Tommy Hilfiger | |
Barba double-breasted suit, £888, farfetch.com; Helmut Lang cotton-blend sweater, £375, brownsfashion.com
It's not particularly easy to wear tailoring with knitwear. For the most part, this is because knitwear is too chunky and ruins the line of the suit, making it bunch out in places it shouldn't. Suits are typically cut with the idea that you'll wear a very slim layer underneath – most commonly a shirt – which is why it's difficult to layer blazers over anything warm. This is a shame though, because wearing knitwear with tailoring can be a stylish way to dress it down, adding a contemporary edge to an otherwise classic jacket and trouser combination. The trick is to find a middle-to-lightweight knit, made from merino wool or a cotton blend; and go for a double-breasted jacket, which will generally better accommodate a girthier middle. You could again go tonal with this, or alternatively opt for a pop of colour in the form of a crew neck jumper.
With loud shirting
| | |
| --- | --- |
| Noah | |
Richard James unstructured suit jacket, £745, mrporter.com; Richard James drawstring suit trousers, £345, mrporter.com; Jacquemus Le Chemise Moisson linen shirt, £265, harveynichols.com
Admittedly, this isn't the easiest way to wear a suit, and its success depends heavily on the right setting and context. But, wearing the right suit with the right loud suit can be the tailoring statement you didn't know you needed. How do you get it right then? First of all, you should consider where you might wear such a get-up. A beach wedding, summer rooftop drinks, or out for dinner on holiday in the south of France; we think it could work. A rainy Tuesday in the office? Not so much. Next up, consider the suit. A lightweight, unstructured number is perfect – the shoulders should be soft and the trousers relaxed and perhaps pleated, while the fabric should be breathable, like a linen or cotton blend. And then the shirt – a design with a black base and subtle colouring works especially well with a navy or light brown suit. If in doubt, go with shades that complement the suit i.e. greens with brown, or deep burgundy with navy.
The short suit
| | |
| --- | --- |
| Engineered Garments | |
Givenchy hook blazer, £1,810, brownsfashion.com; Givenchy wool shorts, £660, mytheresa.com; Orlebar Brown Ob Hibbert stripe shirt, £195, selfridges.com
The short suit briefly became a thing in the 2010s, during the height of the #menswear movement and the Pitti Peacock, when men thought it looked good to wear brightly coloured, Skittle-like suits that clung to the skin like cheap perfume. Alas, it was not a good look, prompting one to wonder if the short suit can ever actually work? It will always look a little strange to pair a long sleeve top with shorts, but if the cut is right and it's worn in a way that's inherently casual, it can flatter. The trick is to aim for a workwear-style cotton blazer, with large flap pockets, unstructured shoulders and a boxy cut, which hangs more like a chore jacket. Then, the shorts should be equally relaxed, with single or double pleats and a mid-length finish that sits on the knee. A tan helps too.
Don't make it a suit
| | |
| --- | --- |
| Margaret Howell | |
The Makers jacket, £495, privatewhitevc.com; The Maker's trousers, £350, privatewhitevc.com; Jil Sander cotton shirt, £410, brownsfashion.com
It's a contradictory point, sure, but one way to wear a suit differently is by not wearing a suit at all. Rather, go for a coordinating top and bottom half in the same fabric, which gives your look a suit-like feel without any of the stuffiness. A number of brands are making their own coordinating sets, consisting of chore jackets, cardigan jackets, coach jackets or even bombers, paired up with matching tailored trousers. This can make for a relatively sharp take on casual dressing, and looks effortlessly cool when paired up with a T-shirt and trainers.