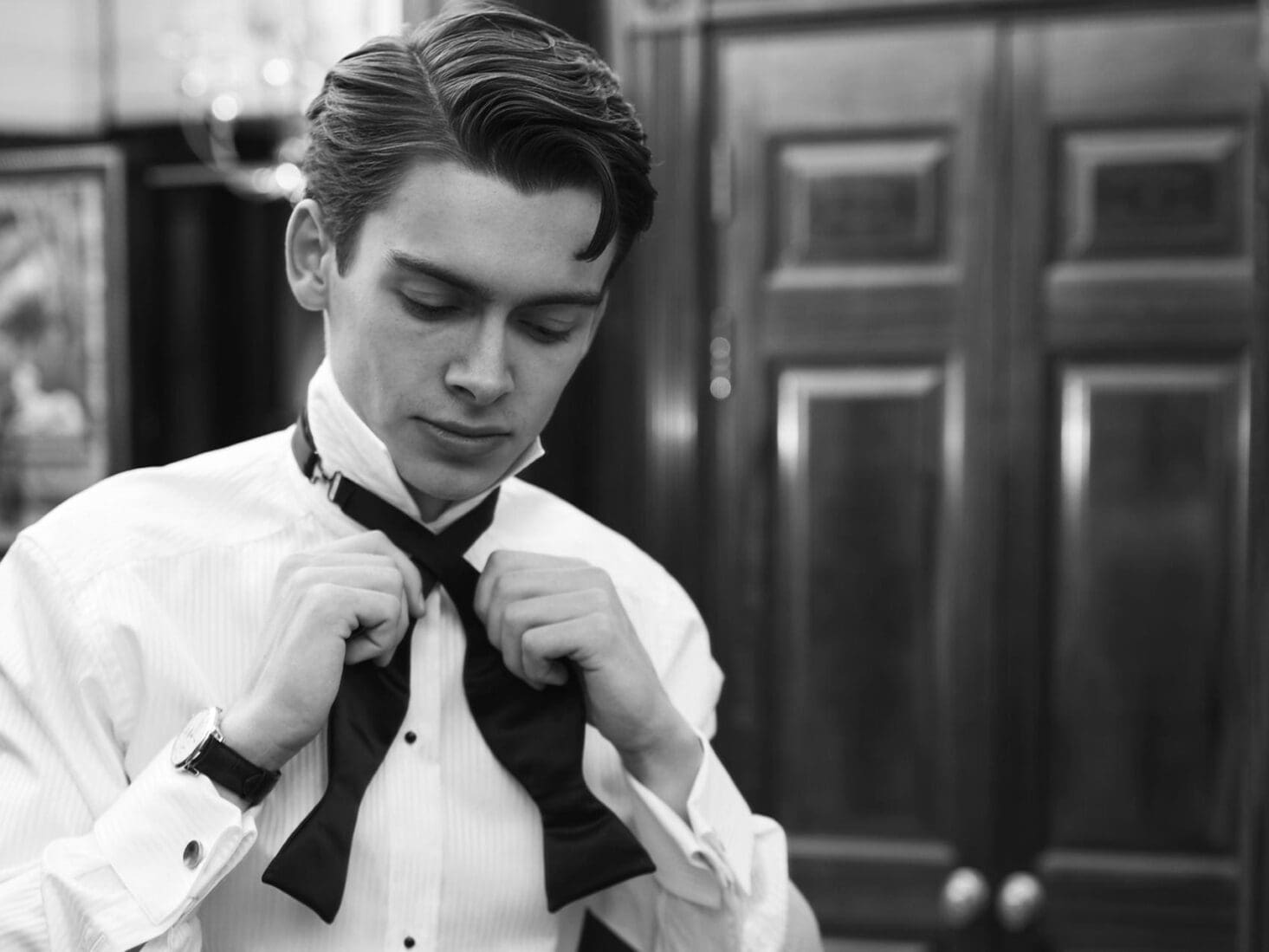 Mathias le Fèvre on Evening Wear Etiquette and How to Dress for the Occasion
Christmas festivities are looming and that can only mean one thing - dinner jackets and evening wear. We teamed up with Mathias le Fèvre, menswear influencer, for a night out on the town.
Mathias le Fèvre is a London-based style influencer and model, running his own creative agency alongside. Ushering in a new age of social media influencers, he is known as one of the top faces on the menswear style scene, along with the likes of Richard Biedul and Alistair Guy. With 150k followers on Instagram, he has manoeuvred himself into an enviable position. Le Fèvre is an ambassador to a handful of carefully selected heritage brands and has worked on campaigns including Rolls Royce, Ralph Lauren and Vacheron Constantin. His longest and most notable alliance to date is with the Savile Row based tailoring house, Gieves & Hawkes. I caught up with Mathias in the popular Chelsea haunt to discuss evening wear and the future of menswear.
How has Instagram affected the way men dress?
Social media has hugely increased the access we have to inspiration across the globe. No matter how specific your style might be, chances are you will be able to find someone with a shared perspective and aesthetic taste on social media.
My style journey was heavily influenced by social media. I grew up in Denmark and while studying innovation and marketing in college I set up my first business at the age of 15. I naturally wanted to look "sharp" for my meetings, but I had absolutely no sartorial savoir faire. Danes are not known to have a particularly formal wardrobe; the dress code is more relaxed and school uniforms are not a thing either. I found myself online looking for tailoring inspiration and guides on 'how to buy your first suit'. A few weeks later I found myself in a made-to-measure fitting and so my obsession began…
Now, almost 10 years later, Instagram is probably the go-to platform for style inspiration. The tailoring industry has always been split into various camps. Do the French, Italians or British make the finest suits? How should a suit be cut? With consumers being heavily influenced by this international medium, I see these borders slowly fading. For example at Pitti Uomo, we can see the relaxed-cut tailoring trends, and its big appeal on social media.
Who are your style icons?
I would have to say Edward VIII, the Duke of Windsor. Whilst his reputation and role as King was somewhat inconsistent, he was renowned for his impeccable sartorial wardrobe. He had a habit of breaking the rules with big and bold checks, a cravat under a polo shirt, large cufflinks and a peacock pocket square.
Where are your favourite places to shop in London?
It might sound clichéd from a London-based satorialist, but my favourite concentration of tailors is of course on Savile Row. For everyday power suits I go to Gieves & Hawkes, for a more relaxed silhouette Anderson & Sheppard is my choice and Yuri & Yuri in No. 13 are specialists within knitwear.
Jermyn Street is the iconic address of London's best shirtmakers. I had my first bespoke shirts made at Turnbull & Asser, which is known for clientele such as Prince Charles, Sir Winston Churchill and fictional MI6 agent, James Bond. Another favourite bespoke shirt of mine is from Emma Willis and when I am after something different with a retro dash of colour you will find me at Pink Shirtmaker.
You're invited to a black tie event to meet the Queen. What do you wear?
Henry Poole & Co is known for being the bespoke tailor that made the first modern-style dinner jacket, so that is really the ultimate choice for a black tie event at Buckingham Palace. I would opt for something classic but with a retro flair; a classic black dinner jacket with matching trousers, a cream silk ruffle front evening shirt and of course, a self-tied bow tie.
What are the essential rules for dressing well in evening wear?
Always opt for a self-tied bow tie over a pre-tied. There is something truly beautiful and unique about imperfections. If you insist on pre-tied, then find one that's not too perfect.
Your shoes: Don't make the mistake of wearing your sloppy office Oxfords to the ball – footwear often makes or breaks a great look. Your evening shoes should have a high polish and a finer silhouette than a standard Oxford or lace-up.
The shirt: It should also be double-cuffed and secured by cufflinks, not buttons. You're getting dressed for a special occasion so, you can't get away with your ordinary white shirt. In my opinion, it should have a pleated front and be fastened with studs.
Match your metals: Your black tie-appropriate timepiece isn't the only hardware that will require synchronisation. The trick is to marry your studs, watch and cufflinks.
The key is not to stand out for wearing something garish, but to be noticed for being impeccably dressed.
What would we never see you wear?
A pre-tied bowtie and loafers without socks – they send shivers down my spine.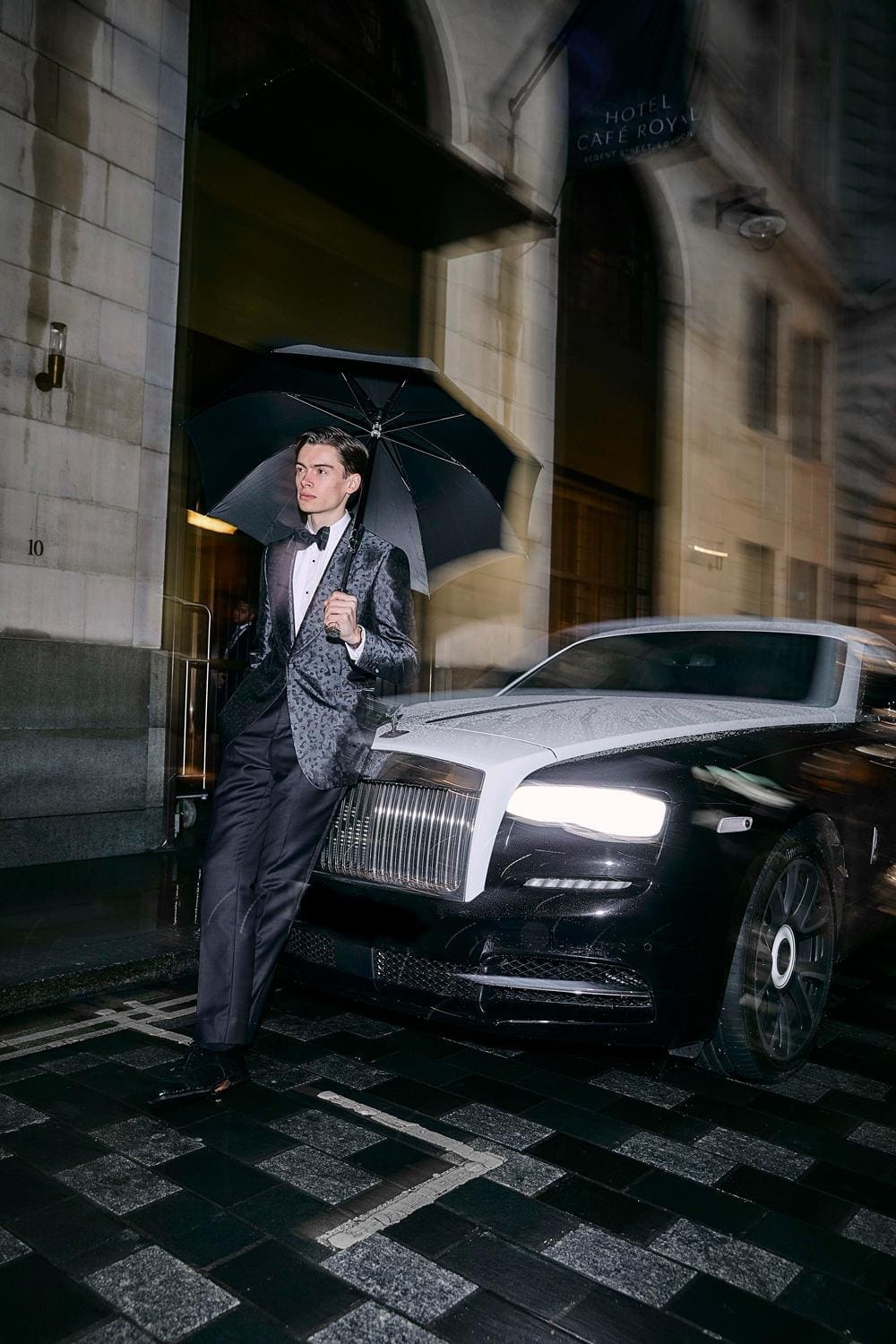 Where do you see social media heading in the next decade for influencers and brands?
Social media is to me a brilliant and instant way to communicate with fellow menswear enthusiasts. It is a place for me to share my creative work and get inspired. I see a lot of brands realising that there is more to 'influencer marketing' than just a one-off promotion to an unknown audience. The success lies within relationship building and picking authentic personalities with a relevant audience that in the long run become brand ambassadors and add value in a more comprehensive way.
For more style inspiration, follow @mathiaslefevre
Matthias Le Fèvre shot by Nick Tydeman