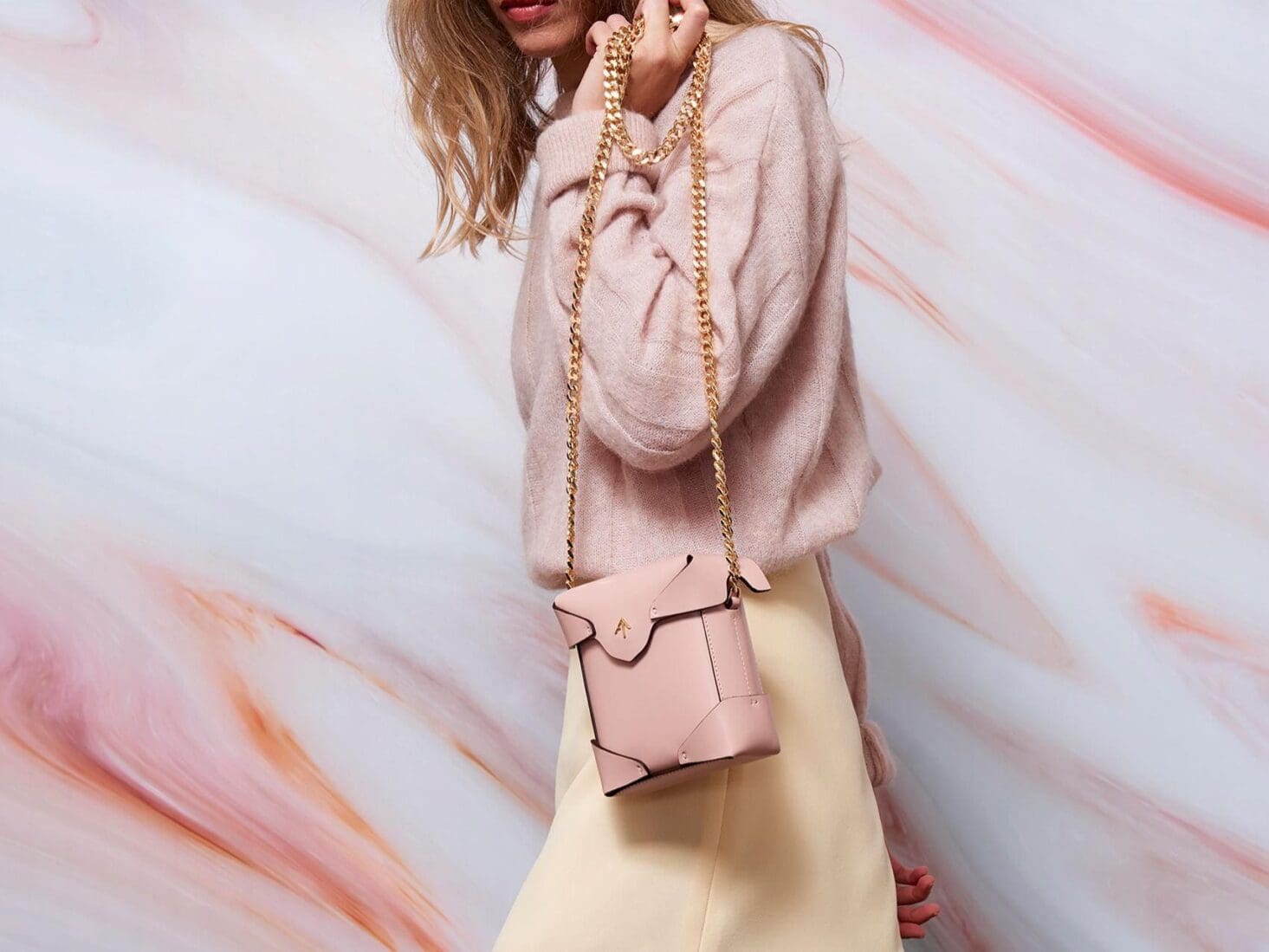 7 Turkish Fashion Designers In London You Need To Know
Grand Bazaar: Young Turkish fashion talents are finding fresh appetite for their craftsmanship and designs in London
A new generation of Turkish designers and labels are starting to make waves, the like of which hasn't been seen since Rifat Ozbek was named British designer of the year back in the 1980s.
In February, Dilara Findikoglu, a Turkish-born Central Saint Martins graduate hosted a catwalk show in London. Dora Teymur, who attended Cordwainers, made his debut at London Fashion Week. What's more, Turkish fashion designers based in Istanbul – whose highly distinctive, luxurious bags, dresses and shoes are now available in London – are just as sought-after as any gem uncovered in Istanbul's Grand Bazaar.
No wonder then that Turkey's rich heritage of elaborate embroidery techniques, skilled craftspeople, tailoring expertise and role as a producer of fabrics is now being discussed beyond the confines of the fashion business.
An unassuming building on Brook Street might seem like an unlikely place to uncover Turkey's sartorial credentials, but it's quite the opposite. Since last March, the Claridge's-owned building at number 43, which also houses private banks and art galleries, has been home to the showroom of womenswear label Safiyaa, the brainchild of German-born Daniela Karnuts.
"I'm very open and tell people all the time that our garments are made in Istanbul, although I do think my set-up is very unusual in Turkey," she says. Karnuts is referring to her Istanbul-based atelier located in the Levent district of the city where she employs 25 "amazing craftspeople", including patternmakers, embroiderers, cutters and tailors aged from 45 to 80 years old. Aside from her designs, which include evening dresses that have frequently graced the red carpet on A-listers including Gwyneth Paltrow and Padma Lakshmi, it is her atelier that has helped make her "demi-couture" business so unique. Here in Brook Street, the room is lined with a series of floor-sweeping gowns, many with embellished shoulders and décolletage.
Since opening as appointment-only (Safiyaa also sells off-the-peg in Harvey Nichols), word has spread through personal recommendation. The ability to personalise fit and colour, with the promise they will be delivered swiftly within two weeks, is all achievable thanks to the Istanbul atelier.
Bora Aksu moved to London more than 20 years ago to study at Central Saint Martins. Although a fixture on the London Fashion Week calendar since 2003, he typically heads to Turkey to source and manufacture traditional handcrafted laces, needlework and crochets.
"In Turkey, every household will have someone with amazing handcraft skills," the designer says. "It could be crochet, needlework, knitting or weaving, but these skills never disappoint. I always take these craft elements and turn them into something different."
"Turkey has the most amazing layers of different cultural and historical backgrounds. It's always been an inspirational source for creative people." – Bora Aksu
He continues. "Turkey has the most amazing layers of different cultural and historical backgrounds. It's always been an inspirational source for creative people. In recent years, the fashion scene has grown vastly; there is a growing number of fashion designers, and Istanbul Fashion Week is finally finding its balance."
Dorateymur and Manu Atelier are both emerging fashion labels available at Browns. Dora Teymur grew up between Istanbul and Gaziantep in south east Turkey. His collection launched in 2012, when he was studying at the London College of Fashion. Browns was his first stockist. His shoes are easily identifiable thanks to the patent uppers and shiny metal hardware on the loafers and mules. "It's so rare these days to come across a collection that has a unique point of view, while maintaining both an excellent price point and a high quality," says Ida Petersson, accessories buying manager for womenswear at Browns. "Dora Teymur succeeded on all three counts. Our customers can't seem to get enough of his loafers or his Sybil Leek ankle boots."
"Manu Atelier is another stand-out brand," she continues. "Although it has a contemporary price point, it falls under this new category of bags that aren't defined as designer or contemporary. I'm obsessed with their suede hobo backpack hybrid."
With a studio located on Istanbul's Istiklal Avenue, Manu Atelier was founded by sisters Beste and Merve Manastir. Although neither studied design, the pair credit their father, a leather craftsman, as their teacher.
"There has always been something about the smell of leather that has captivated us," say the sisters. The Pristine was their first signature bag, using one of their father's designs as its blueprint, in much the same way as they've turned the mini backpacks and waist bags they were given as children into modern, miniature handbags.
Over the last couple of seasons, Sanayi 313, which specialises in mules and other shoe silhouettes with a rich Byzantine aesthetic, has become the shoe brand to covet. "We loved the artisanal feel of the collection, executed in a very luxurious way," explains Cassie Smart, footwear and bags buying manager at Matchesfashion.com, the first international retailer to buy Sanayi 313. "We felt it was a time when customers were really engaging with unusual pieces and understanding the provenance of more artisanal techniques. We work very closely with the brand on special exclusive styles, as the collection itself is vast."
Sanayi 313 is a spin-off of the Istanbul multi-discipline lifestyle store launched in 2015 by brothers Amir and Enis Karavil. They turned to long-time friend Serena Uziyel, a Parsons School of Design graduate who honed her shoemaking talent in Florence and Milan, to create this shoe and bag collection.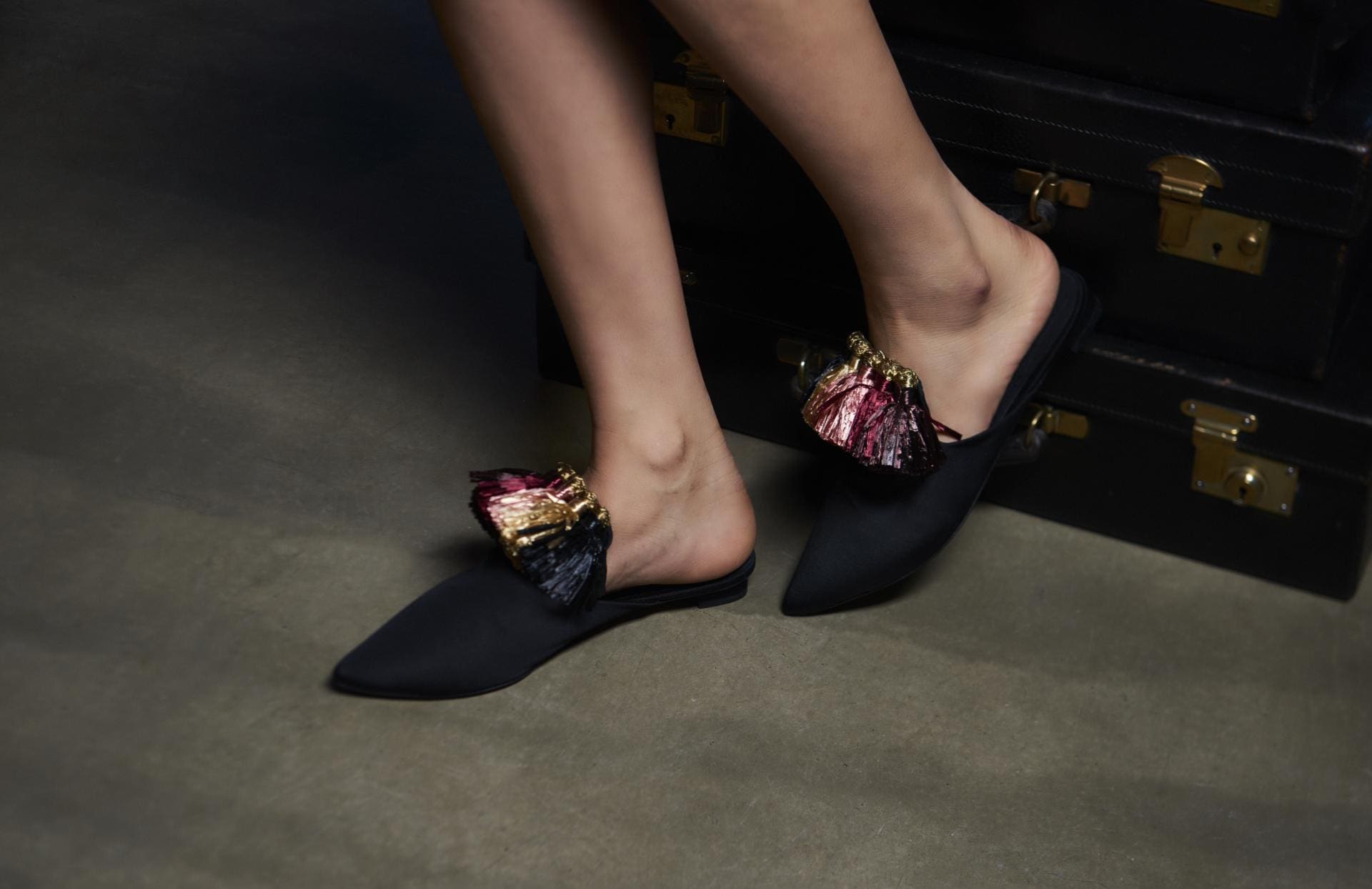 Uziyel says she begins experimenting with materials and techniques more than with drawings. The result is a highly desirable collection of mostly handcrafted mules, festooned in tassels or with eye-catching embroidery and tasteful, crafty embellishment.
"You can see lots of delicate metallic weaving and textures on the kaftans of the Ottoman Empire. We gave this traditional craftsmanship a modern twist" – Serena Uziyel
"You can see lots of delicate metallic weaving and textures on the kaftans of the Ottoman Empire. We gave this traditional craftsmanship a modern twist," explains Uziyel, whose experience includes working with Devi Kroell and on projects for Judith Leiber and Escada. "In Turkey, this tradition of weaving is starting to disappear," she says. Sanayi 313 revives elements of these traditional techniques in its artisanal workshops.
Matchesfashion.com was also quick to snap up demure dress label Gül Hürgel. "Her ruffle, off-the-shoulder floral embroidered dress really tapped into the trend of last summer in a feminine way," notes buying director Natalie Kingham.
Whether it's for flounce cuffs or her off-the-shoulder Blue Belle, dresses typically use up to five metres of fabric. Most have nipped in waists, wide skirts and a nostalgic air that the designer says channels "Lee Radziwill with her sister Jackie Kennedy in Capri".
Indeed, there's always a maverick in every fashion movement. From celebrating heroic women to splicing vintage heavy metal T-shirts together and re-working them, Dilara Findikoglu is finding fame for her beautifully-executed but somewhat rebellious pieces.
"Dilara is one of the new designers I'm most excited about," says Selfridges' buyer Ruth Hickman. "More than a designer, she's an artist, able to bring together the unexpected and the commercial. I would describe her technical approach as demi-couture, but she teams this level of craftsmanship with a savvy understanding of the current market."
In the weeks leading up to Findikoglu's second London Fashion Week show, this designer – who is championed by Lady Gaga – was busy with her team working on beautiful corsets, dresses and carefully tailored embellished suits in her Islington studio.
The answer to why Turkish designers are enjoying their day in the sun is, to Findikoglu, patently obvious. "When minimalism was the trend, no designers came out of Turkey, because the aesthetic isn't a Turkish one," the creative says.
Indeed, as fashion tastes have evolved (now shifting towards embellishment and detailed creations), so elaborate artisanal mules, summery linen dresses or rock star-worthy pieces are antidotes to fashion's extravagant, more individualistic aesthetic.