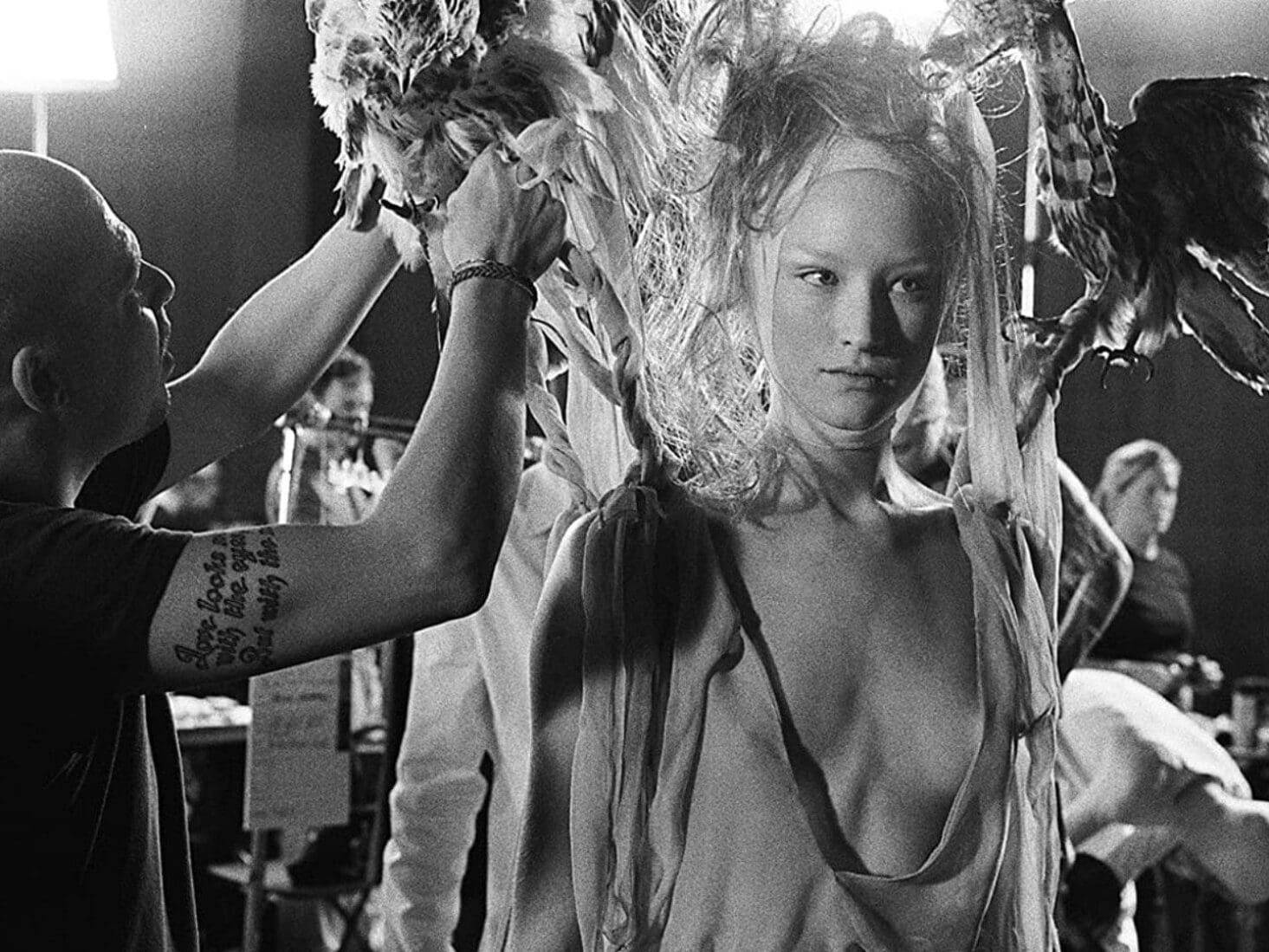 The best fashion documentaries to stream now, starring McQueen, Margiela, Mizrahi and Yamamoto
Drama, suspense, intrigue and, of course, fabulous clothes
On rainy days like today, all we want to do is curl up on the sofa with a warm cup of tea and settle in for a movie marathon. These insightful, stylish documentaries touch on far more than just fashion, exploring themes of addiction, consumerism and class, while capturing the pop culture zeitgeist of the era in which they were filmed. From New York and London, to Paris and Milan, fashion is full of wonderful, heartbreaking and inspiring stories that make the industry so unique. Here's our pick of the best.
Alexander McQueen (2018)
Lee Mcqueen was the working-class boy from London's East End who became one of the world's most revered fashion designers. Ian Bonhôte and Peter Ettedgui's acclaimed documentary explores the complex personality behind the dramatic runway shows through rare archival footage, alongside interviews with McQueen's inner circle, including his sister Janet, assistant designer Sebastian Pons, and models Kate Moss and Jodie Kidd. This powerful tribute pays homage to McQueen's extraordinary accomplishments, while bravely delving into the darkness of a troubled mind – his mercurial temper, drug use and how he cast aside his peers, including influential tastemaker Isabella Blow.
Stream on: Amazon Prime Video, Apple TV
Bill Cunningham New York (2010)
We defy anybody not to be uplifted by this heartwarming documentary about the famed but incredibly humble New York Times photographer Bill Cunningham. A pioneer of street style photography, Cunningham was a fixture at fashion shows but got his real kicks from the streets, capturing the city's eclectic aesthetic for his weekly column. Recognisable by his trademark blue French worker's jacket and bicycle, he was famously disinterested in money, choosing instead to live a frugal life in a studio apartment with a fold-up bed. This documentary celebrates one of New York's true eccentrics, who passed away in 2016 at the age of 87. Iris Apfel, Tom Wolfe and Anna Wintour all cameo.
Stream on: Amazon Prime Video
Catwalk (1995)
Filmed during the Spring/Summer 1994 season, Catwalk follows supermodel Christy Turlington as she flits between cover shoots, parties and shows at the New York, Milan and Paris fashion weeks. Intimate, black and white interviews with Turlington are spliced with frantic, behind-the-scenes footage of the supermodel at fittings and backstage at fashion shows, including at John Galliano's iconic Princess Lucretia show. Cameos include fellow 'supers' Naomi Campbell, Kate Moss and Carla Bruni, as well as designers Jean Paul Gaultier, Gianni Versace and Azzedine Alaïa.
Stream on: YouTube
Diana Vreeland: The Eye Has to Travel (2011)
Let Diana Vreeland inspire you with her zest for vivid colour and glamour. "Style – all who have it share one thing: originality," she famously said. Vreeland was the highly quotable, often outrageous socialite-editor at the helm of Harper's Bazaar from 1937 to 1962, followed by Vogue until 1971. This joyful documentary traces Vreeland's childhood in Paris, and charts her influential reign in publishing, where she discovered Lauren Bacall and pioneered the Sixties youthquake movement. It includes interviews with the Vreeland family, as well as peers including Manolo Blahnik, Ali MacGraw and Calvin Klein.
Stream on: Amazon Prime Video
Dior and I (2012)
In 2012, Raf Simons was appointed artistic director at Christian Dior, a position he held until 2015. The Belgian designer later cited the fast pace of the Parisian fashion house as a contributing factor in his refusal to renew his contract. Dior and I follows Simons' frenzied first season, as he prepares for his inaugural show. Follow the tears, suspense, laughter and relief as Simons grapples with the formalities of couture and the pressure that comes with living up to the legacy of Dior.
Stream on: Apple TV, YouTube
Franca: Chaos and Creation (2016)
Franca: Chaos and Creation takes an intimate look at the life of the inimitable editor-in-chief of Vogue Italia, Franca Sozzani, and the lasting legacy of her often controversial, boundary-breaking work in the world of fashion. Directed by the fashion editor's son, Francesco Carrozzini, shortly before her untimely passing, this insightful documentary reflects on Sozanni's creative process, which brought us blockbuster issues and editorials including the 2008 'Black Issue' and 2010's 'Water & Oil', starring Kristen McNemay as a wild bird struck down by an oil spill. Featuring appearances from Karl Lagerfeld, Courtney Love and Marina Abramovic – to name a few – this is a tender, moving portrait of a trailblazing creative who shifted the scope of fashion editorial as we know it.
Stream on: Netflix
Fresh Dressed (2015)
Through archival materials and in-depth interviews with those who shaped an aesthetic movement and those who looked on from the sidelines, Sacha Jenkins' directorial debut unpicks the rich history of hip-hop and urban fashion, from its beginnings in the cotton plantations of America's Antebellum south, through the gangs of the 1970s South Bronx, to the runways at New York fashion week and beyond. Talking heads include rapper and designer Kanye West, Pharrell Williams, Dapper Dan and Andre Leon Talley, all of whom share their own tales of finding their style on the Black and brown side of town.
Stream on: Amazon Prime Video
Halston (2019)
Capturing the life and work of American designer Roy Halston Frowick, Frédéric Tcheng's documentary weaves rare archival footage and interviews with some of the Halston's closest friends, family and colleagues, including Liza Minnelli and Jacqueline Kennedy, to delve into the glamorous, hedonistic world of a designer who helped to shape the aesthetics of the Seventies, Studio 54, and womenswear as we know it.
Stream on: Amazon Prime Video
Iris (2014)
Iris Apfel founded interior design firm Old World Weavers with her husband and counts the White House among her clients. It wasn't until she was in her 80s however that she became a household name and style icon, recognisable for her trademark round glasses, bold costume jewellery and extravagantly patterned robes. This uplifting documentary celebrates her eclectic, offbeat aesthetic while portraying Apfel as a down-to-earth, whipsmart philosopher. Much like the aforementioned, affable Bill Cunningham, we could all learn a thing or two from our elders.
Stream on: Apple TV, YouTube
Martin Margiela: In His Own Words (2020)
This divisive documentary shines a rare spotlight on enigmatic Belgian fashion designer Martin Margiela. It charts his career as Jean Paul Gaultier's assistant, through his time as creative director of Hermès, to leading his own eponymous cult brand. Margiela left the fashion industry in 2008 and has remained a figure of intrigue ever since. Some have dubbed this hagiographic documentary as thinly veiled brand management, full of gushing commentary from past collaborators. Margiela fans, however, will relish the archival imagery of white paint, trompe l'oeil motifs and cloven Tabi boots, as well as a rare chance to learn more about the man behind the myth. The notoriously elusive Margiela is strictly off-camera, but still manages to create a sense of intimacy through his warm, softly-spoken voice.
Stream on: Apple TV, YouTube
Notebook on Cities and Clothes (1989)
German filmmaker Wim Wenders has captured musicians, artists and activists, as well as directing films including Bafta-winning Paris, Texas (1984). This 1989 documentary considers the work of Japanese designer Yohji Yamamoto. In true Wenders style, he eschews the classic interview format in favour of a philosophical look at identity, comparing Yamamoto's chosen medium to his own. It highlights an influential period in fashion, where avant-garde Japanese designers like Yamamoto, along with then-girlfriend Rei Kawakubo, disrupted the industry with their anti-establishment aesthetic.
Stream on: Vimeo
The First Monday in May (2016)
Filmmaker Andrew Rossi goes behind-the-scenes at Vogue as editor-in-chief Anna Wintour and Andrew Bolton, curator of the Metropolitan Museum of Art's Costume Institute, work to create the 2015 exhibition, China: Through the Looking Glass, and subsequently prepare for the annual Met Gala. Questioning fashion as art, the film – which features cameos from Rihanna, Lady Gaga and Wong Kar-wai – gives viewers an exclusive glimpse into the spectacular glamour of this blockbuster event, and at the well-oiled (and well-heeled) machine that makes it possible.
Stream on: Netflix
The Gospel According to André (2018)
"He's the Nelson Mandela of couture, the Kofi Annan of what you got on," says producer Will.I.Am of the late great fashion reporter and editor André Leon Talley in this unapologetic portrait of the trail-blazing Black creative. Featuring interviews with everyone from Whoopi Goldberg and Fran Leibowitz to Marc Jacobs and Tom Ford, The Gospel According to André, offers a raw and insightful window into the life and mind of one of fashion's biggest personalities, from his humble beginnings in the Jim Crow South of North Carolina to the upper echelons of the fashion industry.
Stream on: Amazon Prime Video
The September Issue (2009)
In another look behind-the-scenes at American Vogue, this 2009 fashion documentary chronicles Anna Wintour's preparations for the magazine's blockbuster 2007 September issue. Filmed as the fashion industry was on the cusp of change, The September Issue captures a time before Instagram, influencers, budget cuts and sustainability. Thakoon is New York's rising star, Sienna Miller is the Vogue cover girl and Anna Wintour is filmed using both a Blackberry and a Motorola flip phone. The late André Leon Talley also stars in the documentary, alongside Grace Coddington and Edward Enninful.
Stream on: NowTV
The True Cost (2015)
Essential watching for anyone with even a passing interest in fashion, The True Cost examines, well, the true cost of the fashion system across the global South and developing nations. From the Rana Plaza factory collapse of 2013, to the mental and physical disabilities suffered by people working in close proximity to the harmful chemicals in Punjab's contaminated cotton fields, and the West's insatiable demand for newness, with insights from eco-fashion activists including Lucy Siegle, Stella McCartney and Safia Minney of People Tree, the documentary considers the long-term impacts of consumer culture and what we can do to curb the damage and create a better fashion system for all.
Stream on: Amazon Prime Video
Unzipped (1994)
Unzipped is the ultimate Nineties fashion documentary, following New York designer and self-confessed drama-king Isaac Mizrahi, as he prepares for his Autumn/Winter '94 show. Shot by his then-boyfriend Douglas Keeve, it presents rare footage of the decade's most celebrated models – including Naomi Campbell, Cindy Crawford and Linda Evangelista – as well as fashion editors, musicians and a teenage Kate Moss. Led by Mizrahi's comedic dialogue and flamboyant zest, Unzipped offers an intimate look at the pre-digital fashion world as the clock ticks down until showtime.
Stream on: Amazon Prime Video
Valentino: The Last Emperor (2008)
If you're after comedic one-liners and lavish excess then watch The Last Emperor. Shot between 2005 and 2007, this documentary film profiles Valentino Garavani, the bronzed, coiffed couturier, and his one-time boyfriend and business partner Giancarlo Giammetti. Director Matt Tyrnauer was given unprecedented access to Valentino and his inner circle, including an entourage of pugs. While light in the way of biographical detail, there are plenty of private jets, galas, gowns and witty remarks to entertain, set to a dramatic Italian score. "An evening dress that reveals a woman's ankles while walking is the most disgusting thing I have ever seen," he quips. The duo left the label in 2008 and this documentary, which follows the run-up to Valentino's farewell show, majestically portrays the end of an era in haute couture.
Stream on: Amazon Prime Video, Apple TV
Versailles '73: American Runway Revolution (2012)
It is rare in fashion that a single moment will come along to completely up-end the status quo, and usher in a new era, but Versailles '73: American Runway Revolution revisits one such paradigm-shifting occasion. On 28 November 1973, at the Chateau de Versailles, the best of French haute couture (Christian Dior, Yves Saint Laurent, Hubert de Givenchy, Pierre Cardin and Emmanual Ungaro) faced off against the behemoths of American fashion design (Anne Klein, Oscar de la Renta, Halston and Stephen Burrows) at the infamous Battle of Versailles. Told by those who were there, from models Pat Cleveland and Marisa Berenson, to designers Klein and Burrows, Deborah Riley Draper's retrospective looks back at one of the most pivotal moments in modern fashion history.
Stream on: Vimeo
Very Ralph (2019)
Very Ralph charts the rags-to-riches story of former tie salesman Ralph Lauren as he chases the American Dream, achieves it, repackages it and sells it back to America in the form of plaid dresses, figure-hugging polo shirts and an inimitable, aspirational Ivy League-inspired aesthetic. Commissioned on the occasion of his eponymous brand's 50th anniversary, and featuring interviews with Karl Lagerfeld, Naomi Campbell, Anna Wintour, Kanye West, Calvin Klein and Hilary Clinton, the documentary divulges as much – perhaps more – about Lauren's personal life as it does his professional success, charting how a second-generation immigrant from the Bronx became what Lagerfeld calls "the American designer".
Stream on: Amazon Prime Video