Crockett & Jones: Back to the future of English shoemaking
From the darkness of a fading industry, Crockett & Jones has emerged as a shining light, carrying the torch for a craft that's in sharp decline. Luxury London visited the storied shoemaker at its Northampton-based headquarters
"You can't keep a factory going on crocodile shoes." Well, you can. If by crocodile shoes you're talking about a certain type of plastic foam clog, which, against all the odds, have gained a cult-like status among TikTokers, thanks, in no small part, to Mr Justin Bieber. But James Fox, Crockett & Jones's head of marketing and e-commerce, isn't talking about plastic foam clogs beloved by Canadian pop stars. James Fox is talking about proper, grown-up, Goodyear-welted, made-in-England shoes. And James Fox can't make those types of shoes quickly enough.
Crockett & Jones's factory, in which its head office is based, emerges from a row of Victorian-era terraces in inner-city Northampton. It transports you to a time when Art Deco was en vogue – the symmetrical, Tiffany-blue tiling in the second-floor toilets is straight out of a Wes Anderson film – and when buildings were made of solid brick. Well, mostly. Fox explains that the five-storey section of the factory we've just left, added to the original in 1910, was actually the first all-steel-structured building in Northamptonshire. It allowed natural light to flood through huge glass windows, something that Crockett & Jones's shoemakers continue to benefit from today. "Oh, and you see that oak wooden flooring over there?" Fox points out, "that's from an old naval warship."
Amid the racks of yellow lasts – Last 200 dates back to 1934 and is still used to mould Crockett & Jones's Chukka boots today – and banks of men and women (it's a fairly even split) huddled over benches, staining, stitching and welting, we've stumbled upon a very un-Crockett-and-Jones-like pair of pointy derbies in black crocodile leather.
Top shelf, explains Fox. More than £4,000 a pair, but that's mostly due to the crocodile hides, which cost almost £1,000 apiece. Crockett & Jones doesn't make many of these rather outré party shoes. You can't buy them online; they have to be ordered by special request in store. You can't keep a factory going on crocodile shoes, after all.
Today, Crockett & Jones manufactures between 100,000 and 120,000 pairs of shoes each year. Down from its 1930s heyday, when annual production was around 750,000. But a world away from its nadir in the 1970s, when an influx of cheap, foreign-manufactured footwear – and department stores' eagerness to stock it – decimated swathes of Northampton's historic shoe industry.
It was touch and go, for a while. The business had simply run out of cash. A meeting was called. A document issued: 'The Closure of Crockett & Jones'. Step in 25-year-old Jonathan Jones, a 4th generation Jones who'd recently abandoned a prospective career in law to devote his life to the family business (his father, Richard, was managing director).
Persuading suppliers to extend their terms of credit, Jones set to work refining Crockett & Jones's product line and building a network of wholesalers. "Wholesalers were the key," says Fox, "and they remain so today." He lists the names of some other well-known Northampton-based shoemakers that turned their backs on wholesalers to disastrous effect.
After two decades of hard graft, and constant product refinement, by the early 90s Crockett & Jones was supplying almost all of London's premium footwear retailers and making white-label shoes for a number of household names, including Ralph Lauren.
Footings secured (pun intended), in 1997 a ribbon was cut on a flagship retail store at 69 Jermyn Street. Ten more bricks-and-mortar stores have followed. Last year, to mark the 25years of success on Jermyn Street, Crockett & Jones took two of its most iconic styles, the Cavendish loafer and Coniston boot, both of which featured in the company's inaugural 1997 retail collection, and, for the very first time, produced them in super-strong, super-rare Hatch Grain Shell Cordovan leather (you can identify Hatch Grain Shell Cordovan leather from lesser leathers by its unique oily sheen, the result of a slower-than-usual tanning process).
If Crockett & Jones isn't single-handedly spearheading top-tier English shoemaking, then it's certainly shouldering most of the weight. In 1968, the British shoe industry employed some 92,000 workers. It manufactured more than 200 million pairs of shoes in that year alone (the vast majority destined for the domestic market). Only a few English shoemakers survive; of those that do, many are under foreign control: Church's was bought by the Prada Group in 1999; John Lobb had been snapped up by Hermès back in 1976; Edward Green was bought by an American leather magnate a year after that.
Like Hermès, and Patek Philippe, Crockett and Jones is one of very few luxury brands still in family hands. (Fox hates the world 'luxury', ditto, but perhaps he'll value the Hermès and Patek Phillippe comparison). Fox runs me through the family tree.
Jonathan Jones is now managing director, his father an honorary chairman. Jonathan's brother, Nick, is production director, his two children, Philippa and William, now represent 5th generation Joneses to have worked for the company. Of the Crocketts? Sadly, many were lost during the Second World War, a conflict that saw Crockett & Jones manufacture more than one million boots for servicemen and women. Even Fox is part of the family, having entered the firm through his marriage to Philippa.
In the finishing room, there's a rack of whole-cut racy black Oxfords ready for polishing. The 007 insignia embossed on the stealthy black shoe trees inside point towards what, probably, surely, represents the biggest news in Crockett & Jones's modern history.
While a lot of the cars and clothes and bottles of Heineken we see in Bond films are the hammy result of paid-for partnerships, the shoes that 007 has been wearing since 2012's Skyfall have been at the bequest of Daniel Craig himself.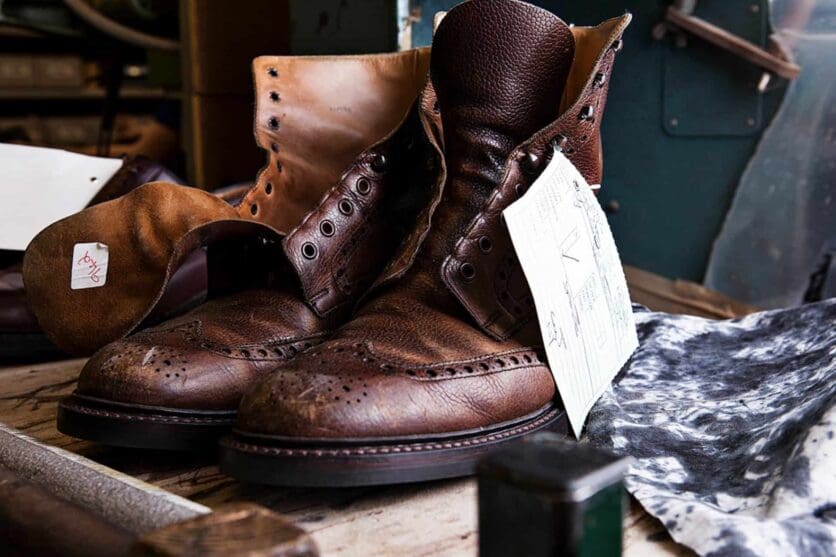 A long-term Crockett & Jones customer, for his last three outings as the sharp-dressing secret agent, Craig insisted on wearing shoes that had been made in the factory in which I'm standing now. Remember the premiere of No Time to Die? You know, when Craig wore that fuchsia-pink double-breasted velvet dinner jacket and the commotion it caused became the most talked-about moment in menswear in, like, ever? Have a stab at who made the shiny, patent-leather dress shoes he was wearing that evening? Uh-huh.
So, business is good. Derbies and Oxfords might not sell like they used to. But loafers are up; boots are in. A sign of the times. They could sell more shoes, if they could manufacture them quickly enough. E-commerce is booming; retail is strong. But they're flat out – it's a laborious process, manufacturing shoes (mostly) by hand. Eight stages of production. More than 200 unique operations. Each pair spends two months on the production line. Crocodile shoes even longer.
Crockett & Jones still puts a layer of cork in the cavity between welts and uppers. Very few shoemakers bother with that expensive faff anymore. So far, the company has steered clear of the white-soled sneaker arena. Any plans to dip a toe into that saturated pond? Not on your nelly.
Nope, Fox and family are happy doing what generations of Crocketts and Joneses had done before them. Manufacturing proper, grown-up, Goodyear-welted, cork-filled shoes from its time machine in Northampton. Oh, and the odd crocodile shoe, too, whenever an order comes in.
Visit crockettandjones.com