Pininfarina Battista: What's it like to drive the fastest production car on the planet?
From 0-124mph it's faster than a Formula 1 car, and from 0-62mph it will embarrass pretty much anything else on the road. For a comparison of just how fast the £2 million all-electric Pininfarina Battista GT
TThe world's first extreme electric vehicle wasn't designed for economical drives or those burdened with range anxiety. Instead, the Pininfarina Battista is a £2 million triumph of automotive engineering that makes no compromises and, for the moment at least, simply has no equal.
A hyper GT, Battista is the work of legendary Italian style house Pininfarina – famous for designing countless Ferraris and other legendary cars, including the Alfa Romeo 'boat-tail' Spider, Peugeot 205 and Bentley Azure.
Following a well-publicised split with Ferrari in 2017 – two years after Indian multinational Mahindra bought a majority share in the car manufacturer – Battista is Pininfarina's first own-brand vehicle since the company formed in 1930.
What it represents, as the battery revolution continues apace, is the future of high-performance motoring. When the combustion engine is history, Battista will be remembered as a ground-breaking machine, one that outpaced anything McLaren or Lamborghini was ever able to muster.
Just 150 will be handcrafted in Turin, guaranteeing future collectability. Each is loaded with a T-shaped battery pack producing an astonishing 1,874bhp, or the equivalent of more than a dozen Honda Civics.
It has the statistics to blow every other car – combustion or electric – out of the water: 0-62mph in 1.9 seconds, 0-124mph in less than six (faster than an F1 car) and 0-184mph in 12 seconds, which, according to Pininfarina, is quicker than an F16 fighter jet.
Battista, as you can see, is also very easy on the eye – just what you would expect from a company with an unrivalled design heritage. "It perfectly balances the technological innovations of today with a nod to our elegant past," says company chairman, Paolo Pinninfarina. "It is defined by just two lines, typical of our designs, with a curvaceous and sculptural carbon body and sweeping glass. An accent line around the car enhances the iconic Pininfarina teardrop shape of the cabin to perfection. Battista retains emotion and a glorious heritage at its core."
Hurtling into a bend in the Piedmont region of Italy, it's an understatement to say that the Battista feels like the most powerful car I've ever driven. But the breath-taking speed is made all the more remarkable for what's missing – noise.
Instead of a snorting V8, engineers have created Suono Puro, or pure sound. The dreamy frequency is set at a calming 54 Hz, fine-tuned from 2,000 hours of 'well-being compositions', then pumped out through speakers.
"Driving an electric vehicle, your senses are heightened due to the lack of engine noise," says Pininfarina. "You hear more detail, experience more of the car and how it interacts with the road. Instead of trying to recreate engine noises of the past, we've formed a unique soundscape for Battista that embraces its place as a forward-thinking car."
The makers are keen to stress the eco nature of the cabin materials, too, using olive leaves to tan the sustainably-sourced leather and recycled fishing nets for the floor mats. The entire car can be personalised inside and out – even the paint colour applied to the underside of the pop-up rear wing.
That giant 'intelligent' spoiler isn't just for show. It deploys automatically at high speeds and can generate up to 500kg of downforce – which Pininfarina says is more than the weight of a fully-grown polar bear (a rather bizarre comparison, it must be said).
If you really can't bare the lack of noise, audiophiles can play with a bespoke 1,300W audio system designed by Naim – the same British company employed by Bentley. If there's time between dashing from corner to corner, there are ten speakers to discover in the cabin.
Tearing around the Italian countryside, the Battista is blisteringly fast, pressing me back into the driver's seat, daring me to up the power through the sportier drive modes. In one pedal mode, as you lift your foot off the accelerator, the engine brakes and uses that energy to help re-charge the battery.
Even over rough road surfaces, the electric hypercar refuses to give up grip, with all-wheel drive and an immensely rigid carbon-fibre chassis inspiring confidence. Floor it and the Battista takes off at Warp Factor 9, with no chance of glancing down to check out the crazy antics of the speedometer.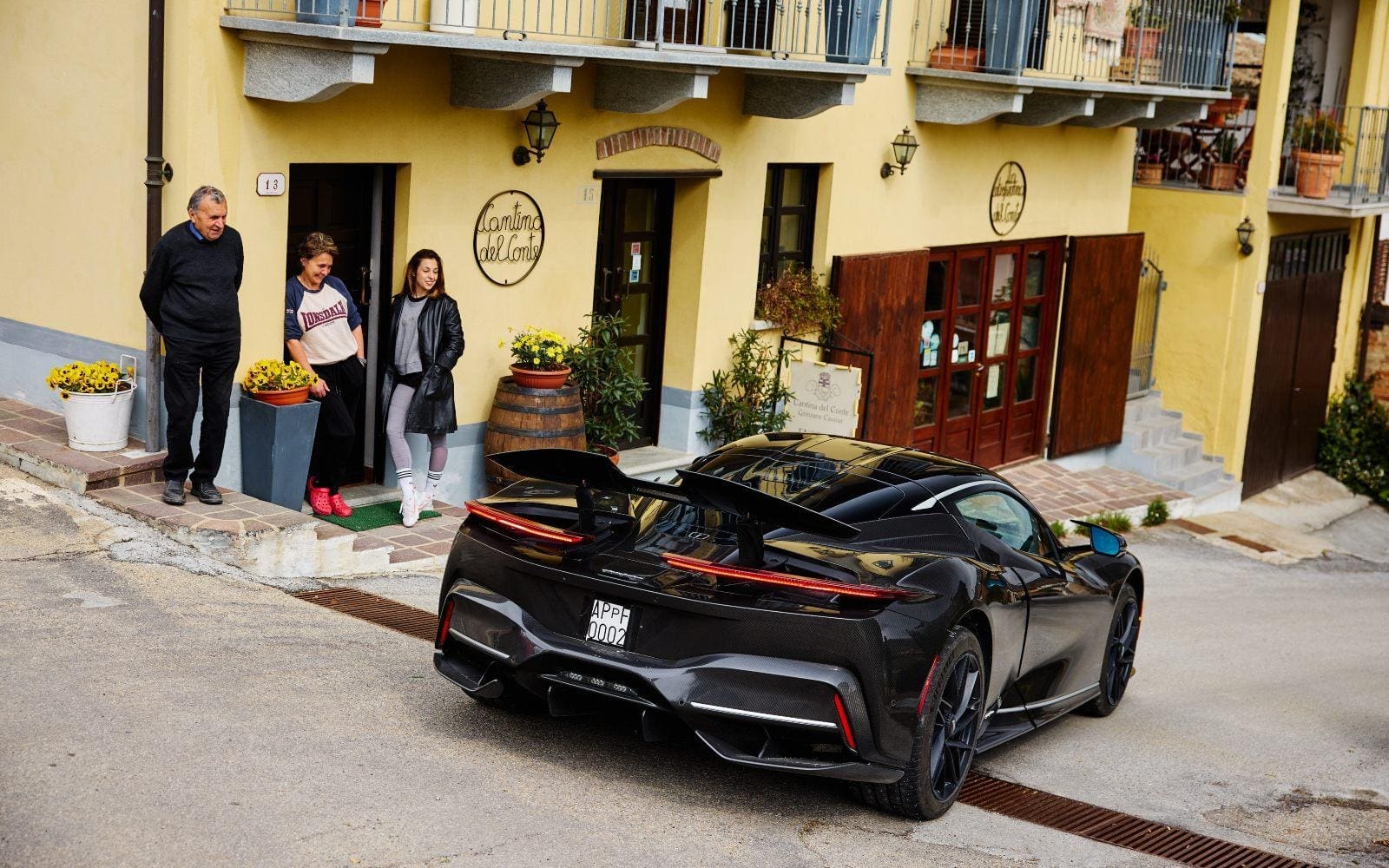 Thankfully, the car has great brakes. The Battista features advanced, race-inspired units from Brembo, cut from carbon-ceramic materials. There's a choice of 20 or 21-inch alloy wheels and, unusually, owners can choose between Michelin or Pirelli tyres.
The neat electric plug-in flap is bang centre at the rear – wouldn't you just love to pull into a charge station in one of these? Pininfarina claims that the Battista is good for 310 miles. On a 'spirited' drive, I imagine you can slice that distance in half.
Travelling at ridiculous speeds while cocooned inside a silent carbon-fibre passenger shell is an eerie experience. The Battista is composed, beautifully balanced and remarkably civilised – you just press the pedal and go.
After a while I imagine that I would miss the thrill of playing with a throttle pedal and flicking through gears. The sound of silence may not be to every enthusiast's taste, but boy, is it quick.
The cockpit is a relaxed place in which to sit, despite the madness of Battista's performance stats. In fact, the cosy cabin isn't that different to any other low-slung supercar – aluminium knobs and buttons, a large infotainment screen each side of the steering wheel and phone-sized speedo in the centre. An outsize dial selects the driving mode, while even the seats are adjusted via a touchscreen. Though, just like in a Lambo, I can't say any of it is that intuitive.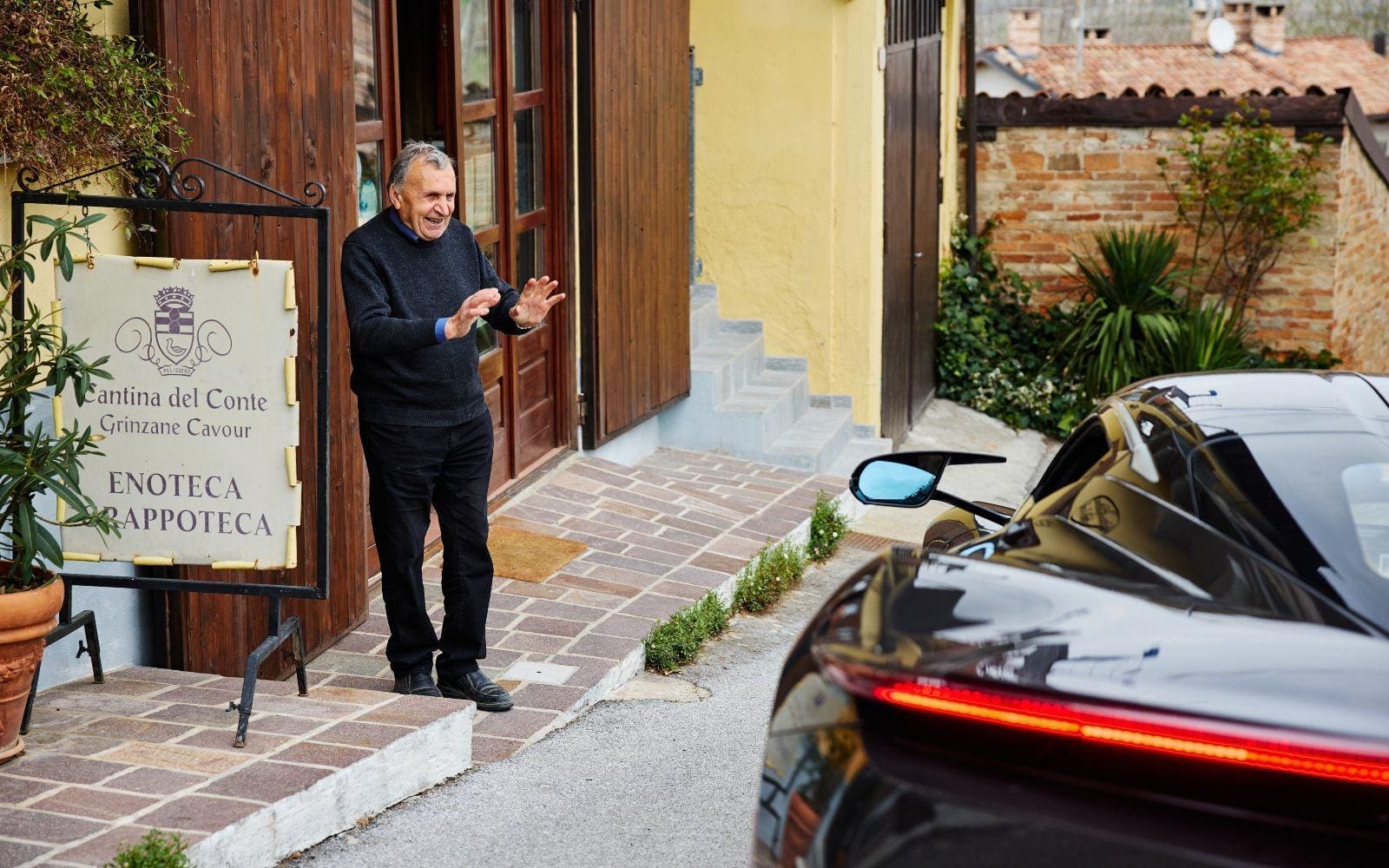 There are five driving modes to choose from – Carattere (Character), Calma (Calm), Pura (Pure), Energetic (Energetic) and the wonderfully-named Furiosa (Furious), which makes the Battista very angry indeed.
Naturally, Pininfarina owners can connect with their motor using a mobile phone app. Importantly, that includes diagnostics, because highly-tuned, advanced vehicles like this won't always start the first time – as I discovered in Italy. Admittedly, my car was a pre-production model, but no AA man is going to have the manual for a Battista.
The first car to bear the Pininfarina badge is a massively fast car and a tribute to company-founder Battista Pininfarina. According to Paolo, there's more to come. "My grandfather always had the vision that one day, there would be a stand-alone range of Pininfarina-branded cars," he says. "The Battista is a glorious way to link our past with the future of motoring."
Rimac and Lotus Racing both have electric hypercars due out this year. For now, though, it's Pininfarina that's leading the charge into the high-performance electric future.
Battery: 120 kWh (supplied by Rimac Automobili)Single charge range: 310mHorsepower: 1,900Torque: 2,300 Nm0-62mph: 1.9 secondsTop speed: 217mph Price: from £2 million