Phil Daniels: The consummate Londoner that won't be categorised
"It's a weird one when you do something that becomes iconic"
"I 'd never heard of them," says Phil Daniels, speaking of Blur. "Recording those lines took about an hour and then I didn't think any more of it. I asked Steve Sutherland [the editor of NME at the time, who suggested Daniels for the part] what to do about the fee and he said 'Take a cut!' – but I'm never gonna buy a mansion out of it."
While you're unlikely to get Daniels to riff off one of the most quotable tracks of the 90s on cue – 'I get up when I want, except on Wednesdays…' – he has, of course, revisited the line on numerous occasions with the band itself. He hangs about behind the drums, comes on and does his bit to 120,000 people to rapturous applause. What the younger faces in those crowds might not realise is just how far and wide the career of the Parklife narrator has ranged.
Indeed, if anyone has made the case for the virtue of keeping your head down and working your nuts off, it's Daniels. Since emerging in the early 1970s as one of the country's most talented young actors – having trained at Islington's Anna Scher Theatre School alongside the likes of Pauline Quirke, Kathy Burke and Gary Kemp, he was just 20 years old when he stole the show in Quadrophenia and starred alongside Ray Winstone in the seminal Scum – the King's Cross-born 63-year-old has done nothing but graft.
Daniels isn't just cockney-Mod Jimmy Cooper and tearaway gangster Richards. Daniels isn't just the voice of Parklife and Kevin Wicks from EastEnders (one of Daniels' most high-profile roles, before he left the soap in 2007). Rather, Daniels, as anyone with a passing interest in theatre will know, is a veteran of the stage. Many of his landmark performances have been in a renaissance play, Shakespeare's works especially. If you saw Daniels play the fool, opposite Ian McKellen, in King Lear a few years back, you'll know just how finely calibrated his live performances can be.
Daniels has done musicals, pantomime and politically-charged theatre – most notably playing the Labour Party chief whip in This House at the National Theatre – but it is the nuances found in the works of Shakespeare that he most enjoys sinking his teeth into.
"I started on the stage and always enjoyed that, but I was lucky in a way because Shakespeare never got pushed at me in school, so when I first encountered the plays it was in work, acting, and I think that's good because when you get taught Shakespeare it becomes very academic, when it should be acted. Once you start investigating one of his plays it's often about something very different to what your master told you at school. People think they don't like Shakespeare. They don't [get to] appreciate just how brilliant a writer he was.
"The fact is that with average plays you exhaust the possibilities. The mark of a good play is that you keep finding things as the show goes on, and [the actor] finds more interesting ways of developing the character. You can do that with all of Shakespeare."
It was the opportunity for character development that drew Daniels to his current role in Mike Bartlett's Cock, opposite Jonathan Bailey, Jade Anouka and Taron Egerton at the Ambassadors Theatre in Covent Garden. "It's a farce really about two guys who live together, and one of them has an affair with a lady and there's this dinner party where they all meet up," he explains.
"I play the father of one of the men, and turn up at the dinner party too. And all hell breaks loose basically. So when they asked me to do it I thought, 'why not? That sounds fun'. But Cock is just such good writing because you think it's a tragedy when in fact it's a comedy. We've done run-throughs of the play, in the same room, with the same people, and no one laughs. And we're doing a comedy. So you've got to suck it and see."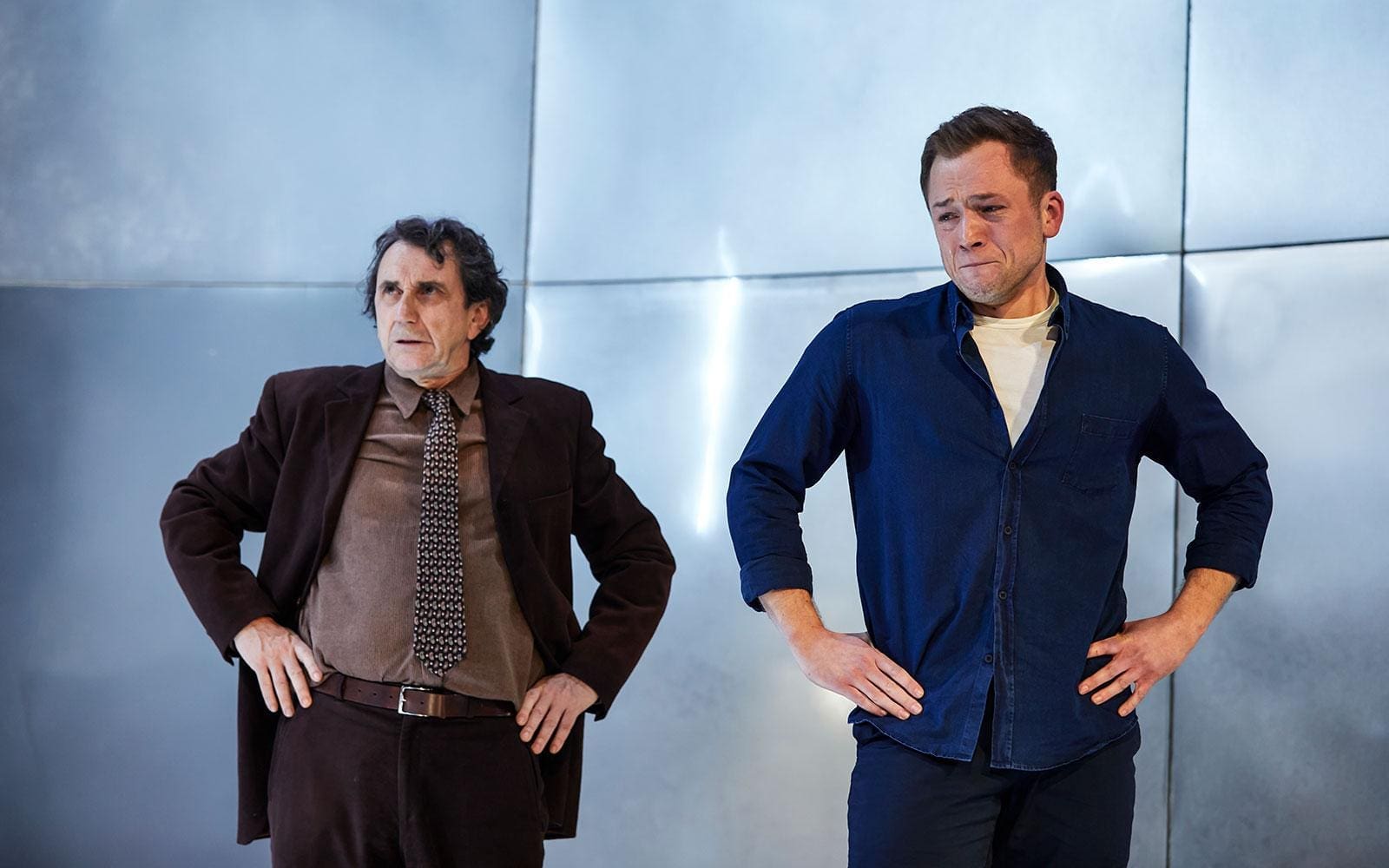 Many of Daniels' early roles saw him play disaffected, anti-establishment figures, one of a then-new generation of working-class actors who broke through the glass ceiling at a time when playwrights were providing punchier material.
"I think with the early work, in the 80s, we were all trying to change the world a bit – and there were writers trying to say things about society. There were social documentary dramas happening in the 60s but up until [the 80s] bovver boys with leather jackets were about it and they never had anything interesting to say. I think maybe what happened was that my type of actor came along at the right time. Equal opportunities across the board seem to be better [for working class actors since then] but whether they actually are I don't know. If you have money and an education there's more opportunity – in all walks of life."
Daniels is lucky enough – or not, depending on your point of view – to have been central to not just one pop-culture icon, in Parklife, but two. His portrayal of Jimmy, the young Mod who escapes his humdrum work life by dancing and pill-popping in Quadrophenia, has gone down in cinematic history. The film itself has a 100 per cent rating on Rotten Tomatoes. Daniels still puts in guest star appearances at the occasional Mod convention and talks about Quadrophenia fondly, yet discusses the film with the nostalgia of something that happened a very long time ago.
"It's a weird one when you do something that becomes iconic. For years, for me, it was just a job. You know, I was 19. I was big fan of The Who [the film is loosely based on the band's rock opera of the same name] and suddenly I had a part in that film which was amazing. But when it came out, because there weren't any cassettes or DVDs, it just did its bit. The critics weren't great on it – they thought it was a load of yobs running around – and then for years it wasn't massively big. It became quite a big film with DVDs coming out.
"It says something that I took the bus to the premier," says Daniels. "No one was bothered with the film. Now, if I put a tweet out with a picture of me as Jimmy, the Mods go mad. There are so many of them still out there that still live that life. For years, I just blew it out and didn't bother with [the Mod interest]. But, you know, if you can't beat them, join them…" Daniels has only recently bought a vintage scooter.
When he's not in front of a camera or, as is his preference, it seems, up on stage – "I like the whole process of getting [the production] to a certain point and, having learned the whole thing, doing it in front of the audience and, you know, getting it on" – Daniels keeps himself busy with sport, both watching and playing. If his afternoons are free of matinee performances, there's a good chance you'll find him on the golf course.
"People have said that that's surprising. Why is that surprising?" he asks, perplexed. "I've reached a good standard. I play with my mates and we play for the drinks after. I'm not spending every hour out there. It's a zen game and I think I've seen my limit. But, you know, I like to dream big."
And then there's football. Despite being a North Londoner, he supports Chelsea FC. "I think liking [1970s Chelsea player] Peter Osgood was about the strength of it. I always say the No.14 bus went to Highbury one way and the other to Fulham Broadway – and I just got on the wrong bus."
Directed by Tony- and Olivier-award winning Marianne Elliott, Cock, runs at Covent Garden's Ambassadors Theatre from 5 March to 4 June, tickets from £20, cocktheplay.co.uk
Read more: Kristen Bell and Dax Shepard on parenting and not being perfect