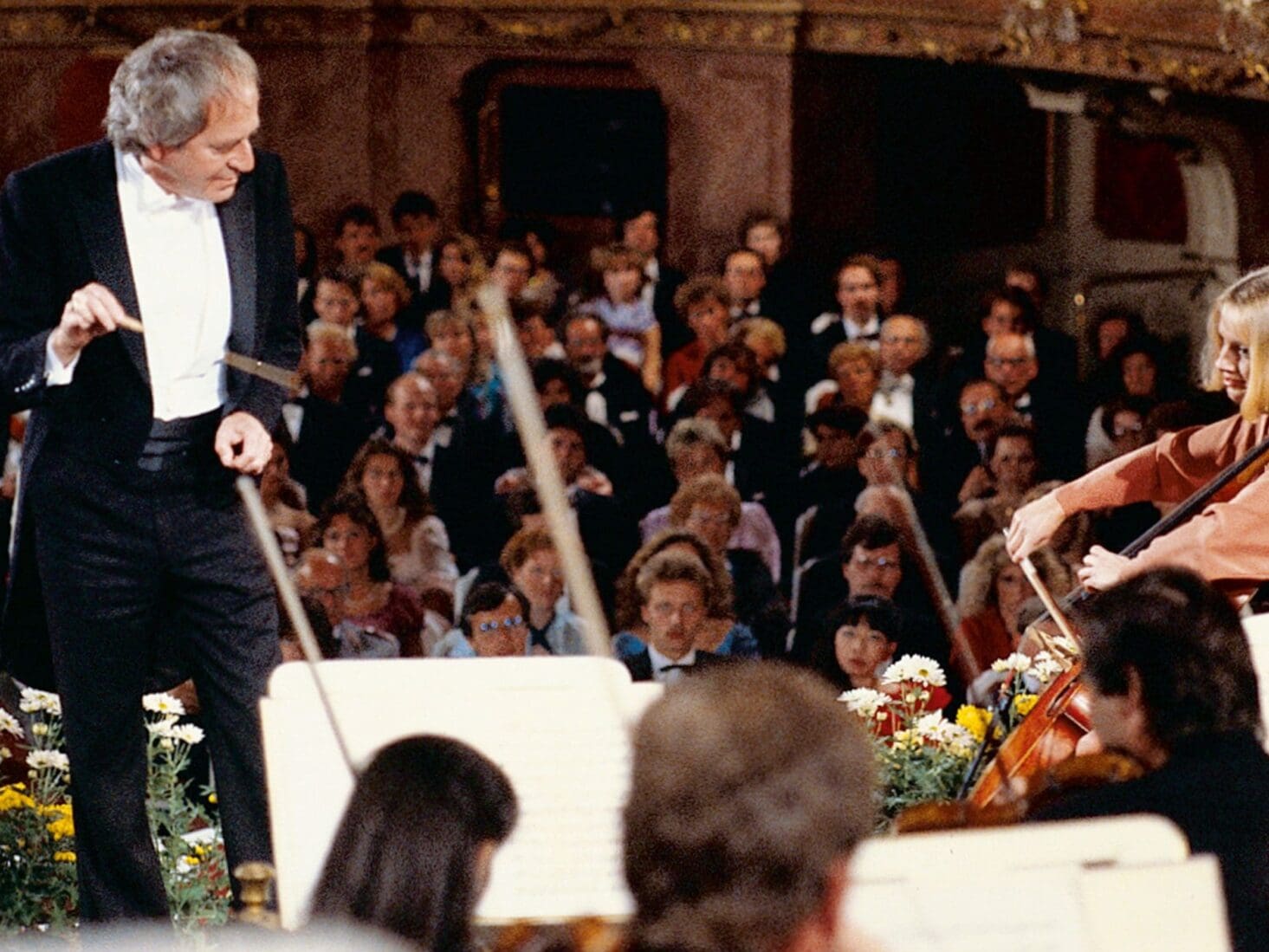 Downloads are forever: Every James Bond theme song ranked from worst to best
From big ballads to modern masterpieces, a James Bond theme song is often as highly anticipated as the film itself. But they haven't always been brilliant...
Byron Lee made the oldest one; Billie Eilish is the youngest to sing one. And A-Ha had the worst haircuts while performing one. Of course, we're talking James Bond themes: the Spotify playlist that all of us have, at some point, put on while planting window boxes, washing oven trays or filing tax returns in a desperate attempt to delude ourselves into believing we're doing something more exciting than the mundane activity at hand.
Many have tried to rank Bond themes in order of awesomeness before now. But, frankly, all of them have been wrong. Here is the definitive worst to best rundown of every 007 theme there has ever been…
25. You Know My Name by Chris Cornell
The worst misstep in Bond theme history. Listen to this clunky, sludgy dirge by numbers without any 007 context and you'd be forgiven for thinking that this is a Soundgarden B-side from 1994. If this was your assumption then you would have guessed the identity of the artist correctly (the late Cornell was the lead singer of the band) but you'd also be a decade and a half out of date. For this was 2007 and we were about to witness the most vital and necessary Bond reboot of them all, as Daniel Craig took over from Pierce Brosnan and saved the whole franchise from mutating into Austin Powers shtick. This dreadful plaid-shirt attired throwback is, literally, the only bad thing about Casino Royale. Which makes its stink even more eye-watering.
UK chart position: 7
24. Die Another Day by Madonna
The worst Bond film of the modern era (and very probably the worst one of all time) has a theme that matches the absolutely ludicrous invisible car sequence for try-hard-but-the-horse-has-bolted hipster points. Madonna would have been a fantastic choice to sing a Bond theme in the early 80s when she was a young whippersnapper. By 2002, however, she was desperately playing catch up with the kids and this theme's auto-tuned slickness and staccato techo-glitch backbeat all feel horribly like the vicar making an unwanted appearance on the school disco dancefloor. Bad but, unbelievably, not as bad as the film itself.
UK chart position: 3
23. The Man With The Golden Gun by Lulu
With Christopher Lee sporting a third nipple and Britt Ekland starring as a Roger Moore love interest called 'Goodnight', this is, even by 1970's Bond movie standards, one of the campiest films in 007 history. It's hugely enjoyable in its way but the theme tune just takes the kitsch value a little too high. Lulu's voice sounds painfully strained as she attempts to add some menace to the vocal and the end result sounds way too close to satire for comfort. Undoubtedly a Bond theme that would have got douze points were it entered in that year's Eurovision Song Contest. Even composer John Barry stated later, "It's the least interesting Bond song. It's the one I hate the most. It's the one thing I think was really… bad. It was bad."
UK chart position: Didn't chart
22. Kingston Calypso by Byron Lee and the Dragonaires
It's a tad unfair to include this track from Dr. No – the very first Bond film from way back in 1962. There were, of course, no demands for a swaggering Bond theme back then. Although we heard Monty Norman's iconic target and gunshot intro music at the beginning, the tradition of a grandiose 'Bond-esque' theme sung by a luminary of the day had yet to begin. What we did get, however, is this utterly charming piece of vintage calypso (based on the children's tune Three Blind Mice) sung by ska band Byron Lee and the Dragonaires. We have a young Chris Blackwell, then a location scout in Jamaica and the man who would go on to found Island Records and bring Bob Marley to a global audience, to thank for this one.
UK chart position: Not released as a single
21. All Time High by Rita Coolidge
Roger Moore was looking horrendously long in the tooth by the time Octopussy was released in 1983 and the film got the theme tune it deserved; an almost disturbingly bland piece of middle-of-the-road balladering that, if you remove the vocals, sounds like the music for a DFS furniture sale advert. Written by the composer of Evita, Tim Rice, the whole thing feels like a track knocked off in a tea break and even Rita Coolidge (the now utterly forgotten but big-at-the-time partner of Kris Kristofferson) sounds entirely unengaged. Perhaps she was distracted by the low, low prices on three-piece suites in the store across from the recording studio.
UK chart position: 75
20. Another Way To Die by Jack White and Alicia Keys
Possibly the oddest choice for a Bond theme of all time. We can only assume the memo from Bond HQ read: 'Take two of the era's most celebrated, creative and individual artists but make sure they have almost nothing in common and have never worked together before. Then get them to do a duet nobody will remember'. And this is the result; one of the most forgettable Bond themes of all time sung, perversely, by two of the most memorable artists of their generation. The whole thing doesn't make sense on any level unless you see it as a song written as an international marketing campaign first and a good tune second. The ultimate 'Bond by numbers' theme and, rather like Quantum of Solace itself, an astonishing missed opportunity.
UK chart position: 9
19. Goldeneye by Tina Turner
Everything about this should work. A much-needed Bond reboot for the 1990s after the confusion of the Timothy Dalton years accompanied by a tune sung by a woman seemingly lab-made to blast out a Bond theme song to rival Shirley Bassey. But it just didn't quite pan out. Goldeneye has all the pre-requisites of a good Bond theme. And perhaps that's its problem. By this point, we felt we'd heard it all before. Turner essentially re-treads the path already worn by Bassey in previous (and better) songs. This track is safe and familiar – exactly what the Bond franchise needed in 1995 – cut the deja vu makes the exercise feel a tad yawn-inducing. Plus, the lyrics are an absolute feast of schlocky hokum. Who came up with the line 'It's a golden honey trap I've got for you tonight'?
UK chart position: 10
18. The Living Daylights by A-Ha
If you're going to embrace the 1980s you may as well do it properly – and there are few bands that define the era of mullets, ski-wear nowhere near ski slopes and Roland synthesisers played by morose men in baseball caps than A-Ha. Co-composer John Barry despised the band and compared working with them to 'playing ping-pong with four balls'. The Norwegians claimed that Barry didn't even deserve a credit on the song. If they want to take the blame for this lugubrious piece of deadwood then so be it.
UK chart position: 5
17. A View To A Kill by Duran Duran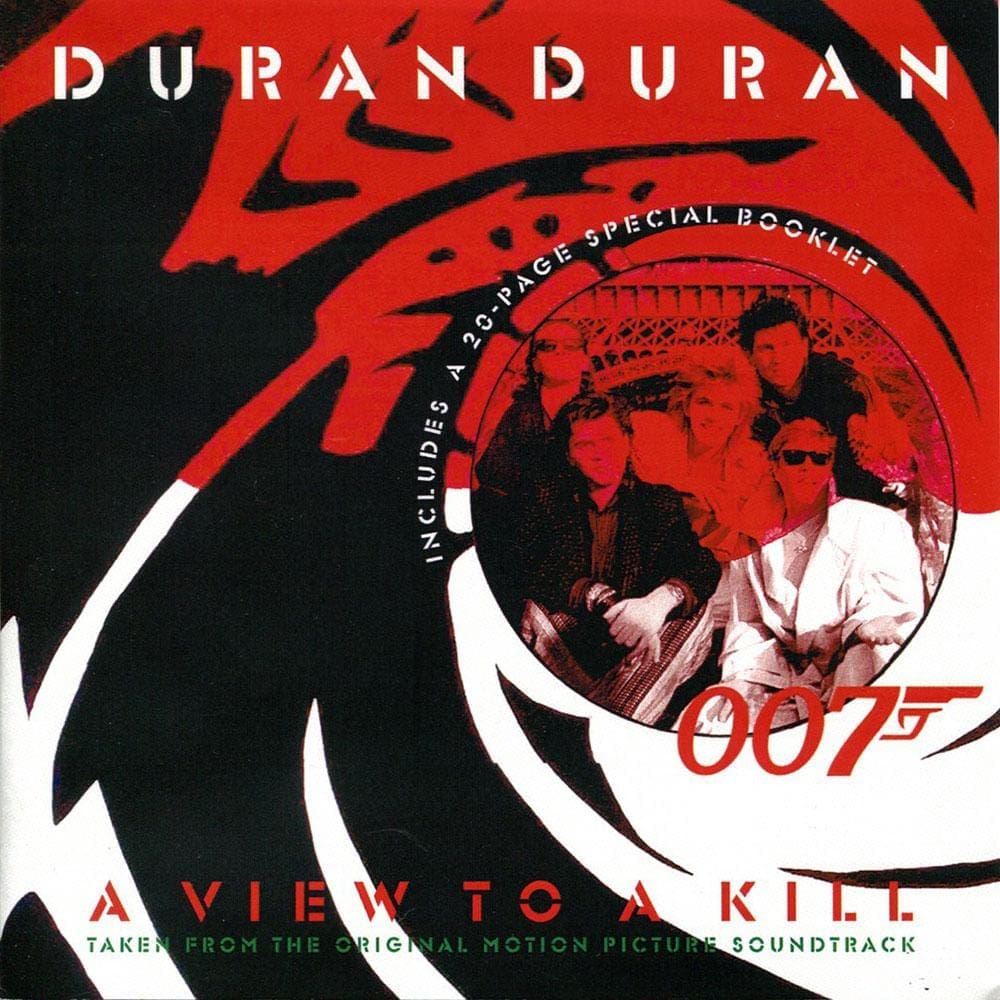 The second of the 'let's just give in to it', 1980s-drenched Bond themes, this one just about has the edge over A-Ha as it does a better job of propping up one of the shoddiest Bond films in the entire series. Also, Duran Duran were simply better at being an 80's band, with all the yachts, cocaine and rolled-up jacket sleeves that came with it. This is a bombastic little rattler of a theme song that gave the film itself a desperately needed shot of energy, though the synths sound like they were bought from Argos and the whole thing has aged every bit as horribly as you would expect. Put bluntly: this song sounded dated by the time the audience had reached the foyer at the end of the movie's premiere.
UK chart position: 2
16. Skyfall by Adele
She gives it her all. She really does. But there's just a certain something lacking from Adele's theme to what will always be known as 'the London Bond film'. The song certainly reflects the claustrophobic pathos and bleakness of the film but a good Bond theme requires an ability to make the core melancholy of 007 sound dramatic, desirable and glamorous. Adele's lyrical nonsense (and the lyrics really are dismal this time around) in front of a strangely maudlin orchestral showdown has the ultimate effect of making us feel we're about to watch a John Le Carre book adaption made with a Marvel budget. Awkward in pretty much every respect.
UK chart position: 2
15. Writing On The Wall by Sam Smith
One of the best elements of Craig-era Bond is the slight vulnerability that comes across in the character. But this exploration of depth and nuance doesn't often work when it's extended to the theme song. Sam Smith won an Academy Award for his theme to Spectre though it's a frustrating piece of work. Sparse and ethereal, as you would expect from Smith, the swooning strings and ominous drums keep threatening to erupt into a proper Bond theme orchestral blow out. But it never happens, leaving the listener grasping at thin air for a hook that never quite arrives. A misstep in the pantheon of Bond themes, but definitely one of the more interesting ones.
UK chart position: 1
14. Licence to Kill by Gladys Knight
The Bond franchise was all over the place by 1989, with Dalton's second and final outing as Bond being the most violent and yet also one of the most underrated films in 007 history. The theme tune harks back to happier times, however, with Knight pretty much nailing the smouldering innuendo of vintage Bond themes from two decades previously. Mercifully light on any 1980's instrumentation or studio effects, this is a Bond theme that swings a straight bat and is all the better for it.
UK chart position: 6
13. Thunderball by Tom Jones
Probably the weakest of the classic-era Bond themes, the problem here is definitely nothing to do with Sir Tom, who gives it everything his throbbing baritone has got. The issue is that the song itself just isn't much cop compared to the others that Bond theme composing duo Don Black and John Barry were knocking out seemingly for fun during this time. This could be due to the fact that this was never meant to be the theme song at all: the original, Mr. Kiss Kiss Bang Bang, was vetoed late in the day for not featuring the film's title. Lacking in subtlety and sounding just a little forced, Thunderball is the Bond theme equivalent of a boozy night out in Soho where you haven't booked anywhere in advance; in other words, noisy and exhausting.
UK chart position: Not released as a single
12. Moonraker by Shirley Bassey
The third and final outing for the First Lady of Bond themes just cannot compete with her previous magnum opuses. Drafted in as a safe pair of lungs after Johnny Mathis pulled out, Bassey's voice is still a sonorous Scud missile testing the brittle stereo speakers of the era to the absolute limits and the song does possess a just-about-to-burst piercing intensity. If this was sung by anyone else it would be in the top five but it's impossible to hear this without comparing it to Diamonds and Goldfinger. It also probably doesn't help that the film itself is such an appalling Star Wars cash in that it only barely merits inclusion as a proper Bond film.
UK chart position: Did not chart
11. For Your Eyes Only by Sheena Easton
Unfairly maligned as being the beginning of the 1980's Bond theme decline, this is actually a tremendous track that fits mid-period Roger Moore to a tee. Unusually for a Bond theme, this one has had a long life span outside of the film; you don't have to listen to any 80s themed radio station or compilation album for long before this track pops up. Easton puts some serious conviction into the song and sends it flying far above the slightly dated production. Well overdue a reassessment.
UK chart position: 8
10. No Time To Die by Billie Eilish
A natural choice for a 2021 Bond, the youngest theme singer to date delivers something that hitherto hadn't been done successfully in a Bond intro: delivering a song that insinuates the pain and solitude of being a contemporary assassin without lurching into naval-gazing balladry. It's a neat trick to pull off and Eilish is up to the task; this is a track that simmers and broods in all the right places but also, thank goodness, has the chorus that Sam Smith seemed to forget to write when he had a go at setting Bond's psychological cogs to music.
UK chart position: 1
9. The World Is Not Enough by Garbage
This is a Bond film that rarely gets the respect it deserves. Robert Carlyle played one of the most sinister Bond villains of the modern era and Brosnan had really settled into the role by this time. The theme tune is a crepuscular number that, unusually, is written from the role of the bad guy. Shirley Manson really puts some guts and heart into the delivery, which builds into a highly alluring roar. Well worth listening to again.
UK chart position: 11
8. Tomorrow Never Dies by Sheryl Crow
The best film of the Brosnan era also has one of the finest modern Bond theme songs. This soaring and mournful yet uplifting epic is the best attempt we've heard by a modern artist at recreating a 'classic' era Bond theme – while also adding just the right amount of tech wizardry. Crow's voice has, in all honesty, never sounded better than on this track which has that one element common to all the best Bond songs: a hook worm chorus that you can't quite sing along to accurately, as much as you try, due to the sheer vocal magnificence of the talent behind the microphone.
UK chart position: 12
7. From Russia With Love by Matt Monro
Now we're cooking on gas. Nobody managed to strain the atmosphere of the Fleming novels into musical form better. This is a track that takes you straight into the post-war, pre-sexual revolution English world of smoky gaming rooms, fossilised gentleman's clubs, treble lunchtime whiskies and BOAC flight bags. As daring and fashionable as a retirement community in Broadstairs, this dreamy, yet oddly sinister-sounding croon could never work today but holds its own among its contemporary rivals by sheer weight of Monro's utterly insouciant vocals and those opening strings. The musical equivalent of waking up in silk bed linen in a hotel room overlooking the Bosphorus.
UK chart position: Not released as a single
6. Goldfinger by Shirley Bassey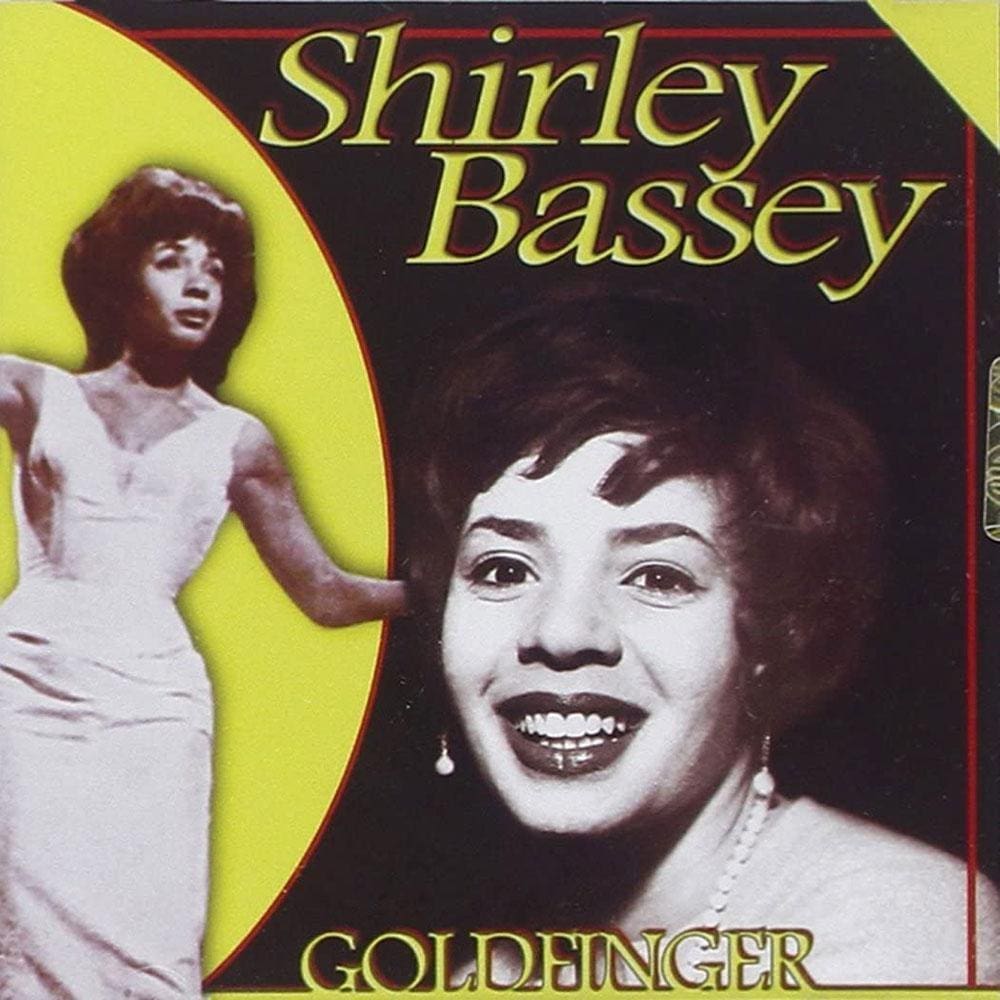 The one Bond film theme that everyone from the ages of 10 to 100 can sing at least the first line of. But this is so much more than just a belting out of 'the man with the Midas touch'. The orchestra has a fresh-from-the-oven shimmer and gleam to it, the lyrics are, refreshingly, not an afterthought and, Bassey's performance will surely never be beaten by any Bond theme vocalist in terms of sheer clamorous bombast.
UK chart position: 21
5. You Only Live Twice by Nancy Sinatra
The twirling French horns and violins at the start of this song are perhaps the best intro to a Bond theme – leading you straight into an atmosphere of glamour, deception and deviousness with Savile Row tailoring. Ol' Blue Eyes himself was meant to sing this but Frank gave it to his daughter who absolutely nails the requisite of a good Bond theme from a female vocalist- to sound both available, pleading and yet slightly aloof from the more carnal elements of what's about to, ahem, come in the next two hours on screen.
UK chart position: 11
4. We Have All The Time In The World by Louis Armstrong
An anomaly in so many ways, not only is On Her Majesty's Secret Service the solitary Bond outing of George Lazenby, it's also the only Bond film where the theme isn't heard over the opening credits. This John Barry penned classic is played during a midway love scene between Bond and Diana Rigg. This is a Bond theme that breaks nearly all the rules with its sad, low key, reflective tone and it absolutely shouldn't work in this context. But, more successfully than any attempt before or since, this song acts as the finest conduit into the solitary loneliness of Bond's soul without compromising the movie's more muscular credentials one iota. Sheer brilliance.
UK chart position: Did not chart, though a re-released version in 1994 got to 3
3. Diamonds Are Forever by Shirley Bassey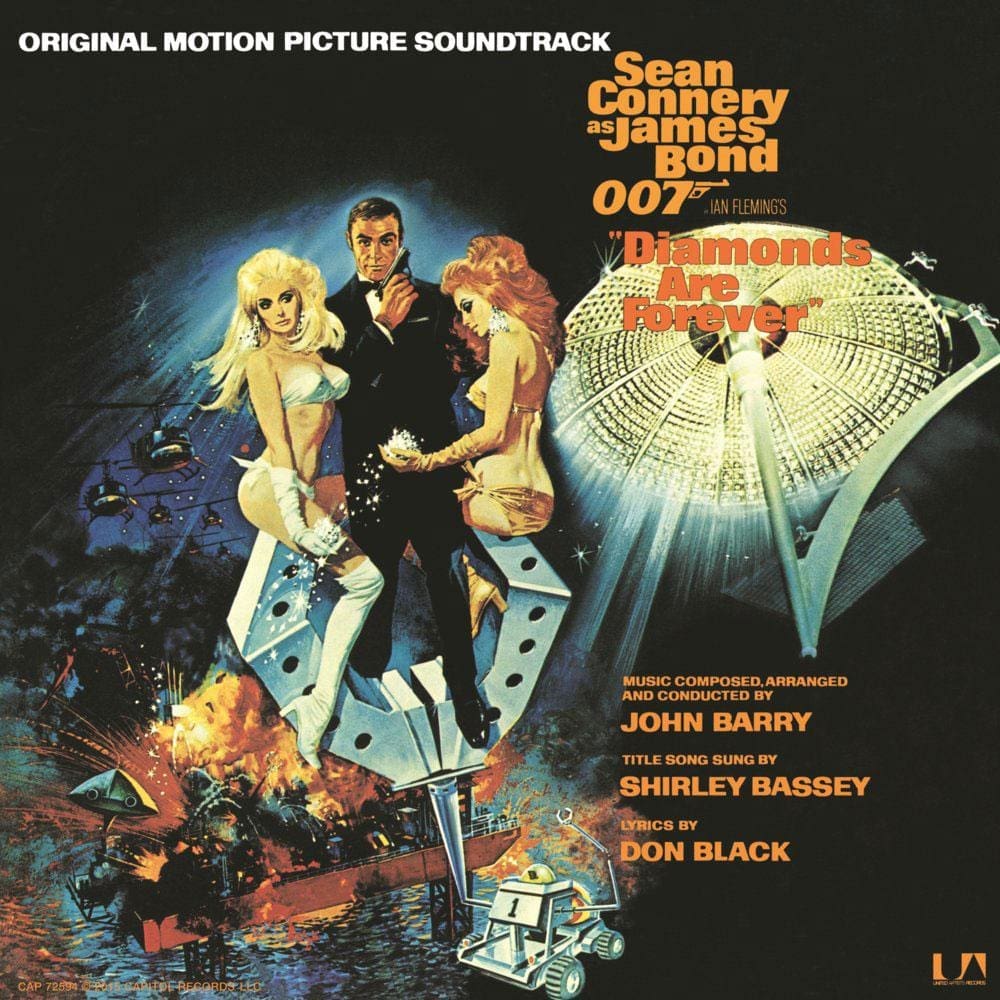 So chilled as to have a layer of freezer frost over the top of it, this is Bassey's finest hour: a glacial, cold-hearted, contemptuous and yet utterly seductive slice of vintage Bond cool. 'Men are mere mortals who aren't worth going to your grave for,' she wails, the sentiment being that humans wither and die and only materialism is worth fighting for. An icy moral stance but one that Bond probably wouldn't argue with. Let this track 'stimulate and tease' you; there's no other Bond theme in the canon that captures the same level of anomie towards sentiment and love that is found in Fleming's novels. Misanthropy has never sounded this good before or since.
UK chart position: 38
2. Live and Let Die by Paul McCartney and Wings
Good lord, now this is how you write a Bond theme. Legend has it Macca composed this in about 20 minutes which, if true, is enough to make every other songwriter currently in business retire on the spot in utter despondency. There's never been another Bond theme that features both an instrumental chorus and a reggae middle eight – and if anyone other than Sir Paul even attempted to take such insane risks it would be laughable. Yet, not only is this McCartney's greatest post-Beatles achievement, it's also the only Bond theme that literally seems to leave ashes and smoke in the air at its conclusion, such is its absolute commitment and ferocity. A bona fide, hands down masterpiece.
UK chart position: 9
1. Nobody Does It Better by Carly Simon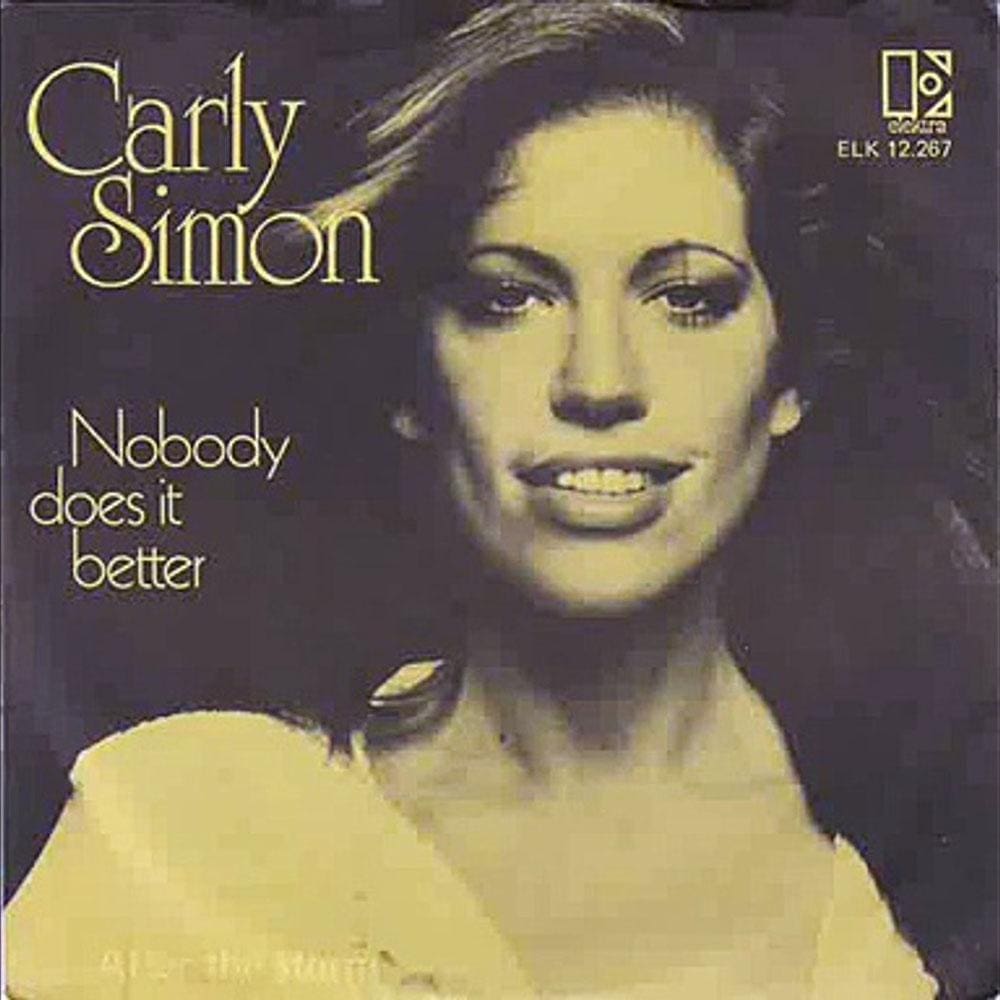 And here comes the dessert trolley. Here lies masterful songwriting by Marvin Hamlisch and Carole Bayer Sager which was given to a singer at the absolute top of her game. This is peak Bond and don't let anyone tell you otherwise. By far Roger Moore's greatest outing as 007, and a box office smash that got bums on cinema seats to a degree that's unusual even for Bond films, Carly Simon's theme to 1977's The Spy Who Loved Me simply delivers everything the rational human being could ever desire from a Bond tune.
Flourishing orchestral upswings, lyrics with just the right dollop of arch innuendo ('There's some kind of magic inside you/That keeps me from running/But just keeps me coming'), an insanely complex layered build-up to the climax which sounds effortless and a chorus that simply refuses to give up long term residence in your brain. It is simply impossible to listen to this song without sprinting over to your TV and watching the film itself immediately – and isn't that what the theme is ultimately about? Sheer, eye-watering, neck-hair tingling, vintage Bond brilliance that still thrills after nearly half a century.
UK chart position: 7