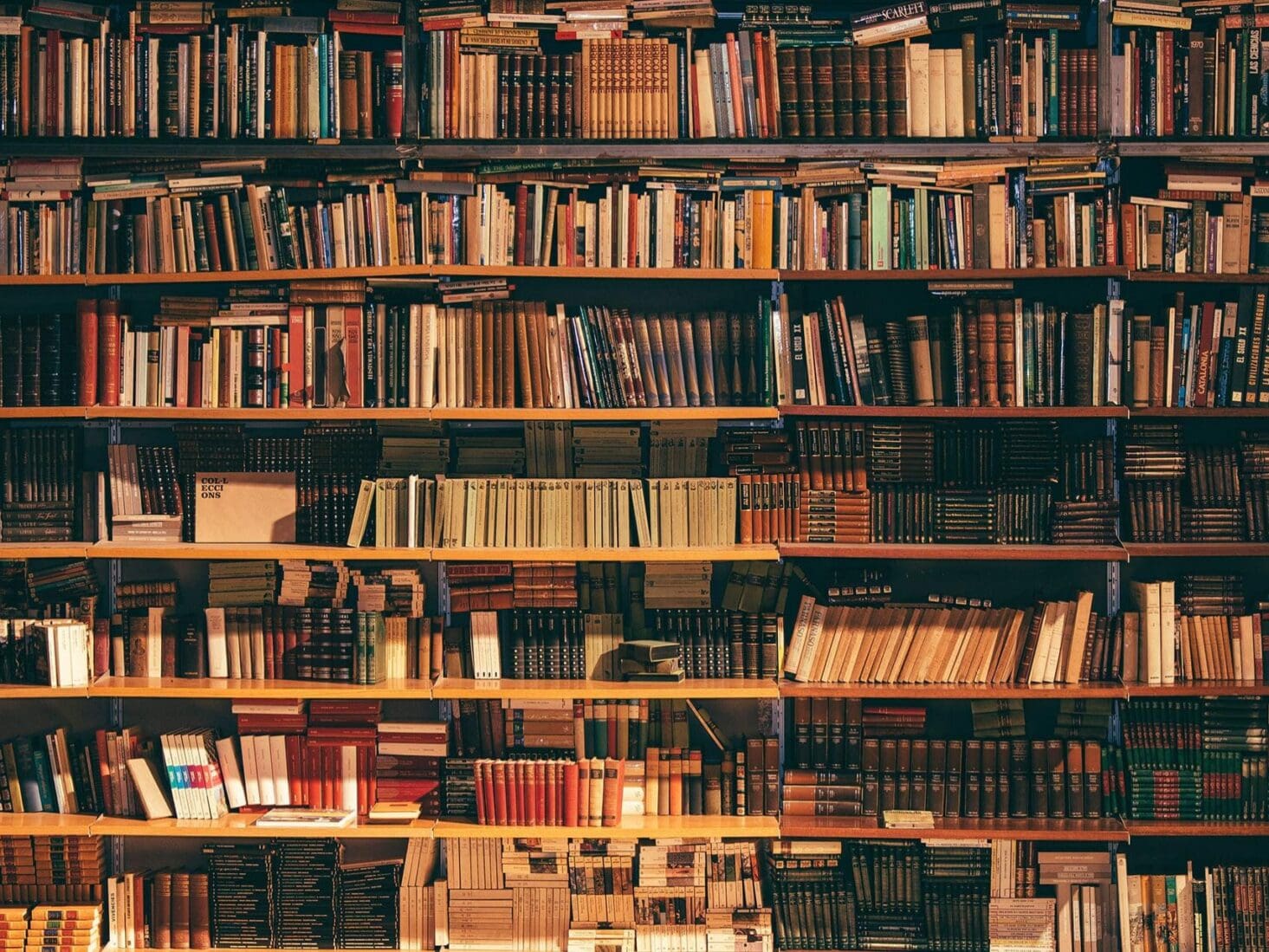 London's best independent bookshops
Celebrate World Book Day by supporting the capital's top indie book sellers
While all retail sectors have been hit hard by the ongoing economic crisis, few are feeling the pinch more than small independent stores – and, in particular, bookshops. Even before the pandemic, many book stores were facing increased competition from the likes of Amazon and, with the cost of living crisis reducing disposable incomes, these neighbourhood hubs are becoming an endangered species.
From book signings with big-name authors to live readings for children, independent bookshops offer a vital place for communities to come together to discover and discuss new works. Not sure where to find your local independent bookshop? Read on for our pick of the finest to discover this World Book Day.
The Notting Hill Bookshop, Notting Hill
Made famous by the 1999 film Notting Hill, which copied the bookshop's interior for the movie, fans from all over the world continue to travel to The Notting Hill Bookshop to tread the same boards as Julia Roberts and Hugh Grant two decades ago. Located just a stone's throw away from the vibrant Portobello Market, this bookshop is a hotspot for tourists but caters for the masses with its wide range of fiction and non-fiction.
It originally opened in 1979 specialising in travel books, however, in 2011 the shop changed tack and broadened its stock to cover a wide range of publishing. Don't worry globetrotters, there's still a sizeable travel section to sink your teeth into. The Notting Hill Bookshop is also known for its beautiful gift editions, pocket hardbacks, satin-bound classics and golden gilt leather bounds – especially great for those in need of finding a thoughtful, meaningful present.
13 Blenheim Crescent, W11 2EE. Visit thenottinghillbookshop.co.uk.
Brick Lane Bookshop, Shoreditch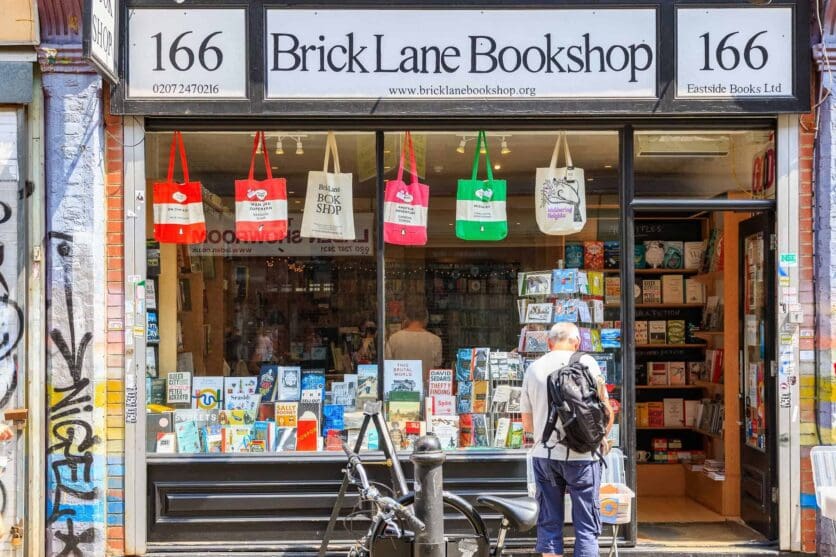 Another stalwart of London's independent bookshop scene is the Brick Lane Bookshop. You can normally spot it a mile off, with queues often trailing out of the monochrome-clad store and down Shoreditch's historic Brick Lane. Inside, you'll find an array of fiction, non-fiction, London history, poetry, travel and children's books. However, few know the bookshop's storied history.
Opened in 1977 as the Tower Hamlets Arts Project Bookshop, it was the first bookshop in the area, surprising given it was the birthplace of iconic writers such as writers Isaac Rosenberg, Bernard Kops and Mary Wollstonecraft. Despite several relocations and a name change, Brick Lane Bookshop's ethos has always remained the same: to help and develop authors. The 1980s saw the shop host guest readings from poets Mike Rosen and Adrian Mitchell, as well as writers Andrea Levy and Jeanette Winterson. This tradition has continued, with writers Sarah Waters, James Sallis, Beryl Bainbridge, Jennifer Worth, Sarah Wise, Iain Sinclair and many others reading at packed events.
166 Brick Lane, E1 6RU. Visit bricklanebookshop.org.
South Kensington Books, Kensington
Situated in the heart of South Kensington's museum quarter, neighbouring the Natural History Museum and the V&A, a bookshop has occupied the premises at 22 Thurloe Street since the 1940s. South Kensington Books serves as a one-stop shop for all the literary needs of the local community and tourists, covering areas of interest including art, history, fashion, children's fiction and the sciences, reflecting the nearby cultural destinations. Too much choice? Don't worry, the knowledgeable staff are always on hand to help and advise, so you can find the perfect book for you.
22 Thurloe Street, SW7 2LT. Visit kensingtonbooks.co.uk.
New Beacon Books, Finsbury Park
Founded in 1966, New Beacon Books was the UK's first black publisher, specialist bookshop and international book distributor. Stocking poetry, literature, non-fiction, history and children's books from Africa, the Caribbean, Asia, African America, Europe, South America and Black Britain, the bookshop remains one of the most valued indie sellers in the capital. Despite a brief closure in 2016, a crowd-funding effort in 2017 revived the bookshop and reopened both the physical space and launched a website.
As well as selling an array of fiction and non-fiction, New Beacon Books also plays host to a number of events highlighting heritage and culture. A highlight of the March calendar is the Style in My DNA American Swagger event, where author Lorna Holder will discuss her new book which documents 70 years of Caribbean influence on British fashion.
76 Stroud Green Road, N4 3EN. Visit newbeaconbooks.com.
BookBar, Finsbury Park
Comprising both a bookshop and a wine/coffee bar, BookBar has become one of the most popular bookshops in London which offers its customers something different. As well as stocking all the newest releases and, of course, the classics, BookBar has become renowned for its literary events. On a mission to bring people together and create a community around books, the Blackstock Road store hosts live music, readings, wine tastings and even read-dating – a fun version of speed-dating for book lovers. For those open to venturing outside of their comfort zone in the search for a new book, sign up to BookBar's prescription programme Shelf Medicate, designed for anyone and everyone with the desire to pick up a book. Wine and books, what more could you want?
166 Blackstock Road, N5 1HA. Visit bookbaruk.com.
Word On The Water – The London Bookbarge, King's Cross
You may not have been to Word On The Water, but we bet you've seen it on social media. That bookshelf-laden, fairylight-draped barge on the King's Cross canal? Yes, that is actually a functioning bookshop.
Word On The Water offers a lot more than just an aesthetically-pleasing Instagram shot, displaying both new and old books on its wooden, barge-side tables. Working from the barge itself, the staff are on hand to help source and deliver (nearly) any book you desire and promise it will be outside your front door within 48 hours. How's that for service?
Regent's Canal Towpath, N1C 4LW. Visit wordonthewater.co.uk.
Village Books, Dulwich Village
The site on which Village Books now stands, in the heart of pretty Dulwich Village, has been home to a bookshop in one form or another for more than 95 years. Now run by Hazel Broadfoot, and her crack team of dedicated bibliophiles, Village Books offers an award-winning range of titles (also available to buy online) along with a busy events programme for adults and children. Mary Berry, Michael Morpurgo, Yotam Ottolenghi and Michael Palin have all graced the store with their presence with recent highlights including readings and signings by the likes of David Walliams, Dame Eileen Atkins and Alexander McCall Smith.
1D Calton Avenue, SE21 7DE. Visit village-books.co.uk.
Pages of Hackney, Hackney
This small East London bookshop has been offering Hackney residents an eclectic and well-curated mix of fiction and non-fiction titles, including some carefully-selected vintage and second-hand tomes, since 2008. It pays particular attention to works by under-represented and marginalised voices, supported by its diverse range of author events; recent highlights have included discussions with Raven Leilani and Lola Olufemi. Pages of Hackney also houses a selection of LPs from The Record Deck, a record store on a narrowboat that specialises in classic vinyls, in its basement as well as running a monthly book group and a pay-it-forward scheme giving low-income families access to books.
70 Lower Clapton Road, E5 0RN. Visit pagesofhackney.co.uk.
Goldsboro Books, Covent Garden
Looking for something special? Covent Garden's Goldsboro Books specialises in signed, first-edition hardbacks from classic and contemporary authors, as well as rare, limited and special editions. The shop was founded by David Headley and Daniel Gedeon in 1999, and while Goldsboro's range spans almost every genre and era, the pair personally select new titles. In 2013, the store gained international fame for being the only bookstore in the world to have signed copies of The Cuckoo's Calling before its author, Robert Galbraith, was revealed to be J.K. Rowling. The pair are keen to share their expertise so, if you're looking to buy for investment, this is the bookshop for you.
23-27 Cecil Court, WC2N 4EZ. Visit goldsborobooks.com.
Gay's The Word, Bloomsbury
Originally opened in 1979 by a group of gay socialists, this community-centred store in Bloomsbury is also the capital's oldest LGBT bookshop. Now managed by a small team led by Jim MacSweeney, who has been at Gay's The Word since 1989, the store stocks a wide range of LGBT-centric titles and is also home to an array of community and literary events. Alongside signings, author discussions and book launches, the Lesbian Discussion Group has been meeting at Gay's The Word for more than 40 years, while Trans London and the London LGBT Book Group are also regulars.
66 Marchmont Street, WC1N 1AB. Visit gaystheword.co.uk.
Burley Fisher Books, Haggerston
If your main reason for opting for online retailers over local bookstores is a concern about the range available, allow Burley Fisher to dispel your worries. This East London bookshop has access to more than 4.5 million titles, all of which can be dispatched the same day. As such, the shop also specialises in introducing customers to fresh, undiscovered voices and books by independent publishers. Kickstart your new library with the help of the store's podcast, blog and 'Ask A Bookseller' online service and be sure to sign up to its innovative subscription service which delivers members a new small press fiction or poetry book each month.
400 Kingsland Road, E8 4AA. Visit burleyfisherbooks.com.
Hewson Books, Kew
One of a pair of bookshops in Kew and Sheen, this family-oriented store is the perfect place for helping little readers nurture their love of books. Offering a largely mainstream range of titles for both adults and children, Hewson Books hosts regular author events, signings and live readings and is staffed by an expert team always ready with a recommendation. In addition, the store works with local schools to host books fairs, author visits and curate reading lists to supplement the standard curriculum.
1-2 Station Approach, TW9 3QB. Visit hewsonbooks.co.uk.
Read more: The best new books coming out in March 2023