Flavio Briatore: What the Italian Kingpin did Next
"Success never comes by chance"
"It was a good race," says Flavio Briatore, in thick, guttural Itanglese, "easily the best of the season so far". It's early May and we're speaking a couple of days after the Azerbaijan Grand Prix. Briatore doesn't normally do interviews; a sensationalist media obsessed with the more salacious aspects of his life has seen to that. After some toing and froing, however, we've managed to secure this trans-Channel telephone interview as the 68-year-old fashion and nightclub magnate dances between meetings in Monaco. Aware of his aversion to the press, Formula One provides a patch of safe ground on which to kick things off.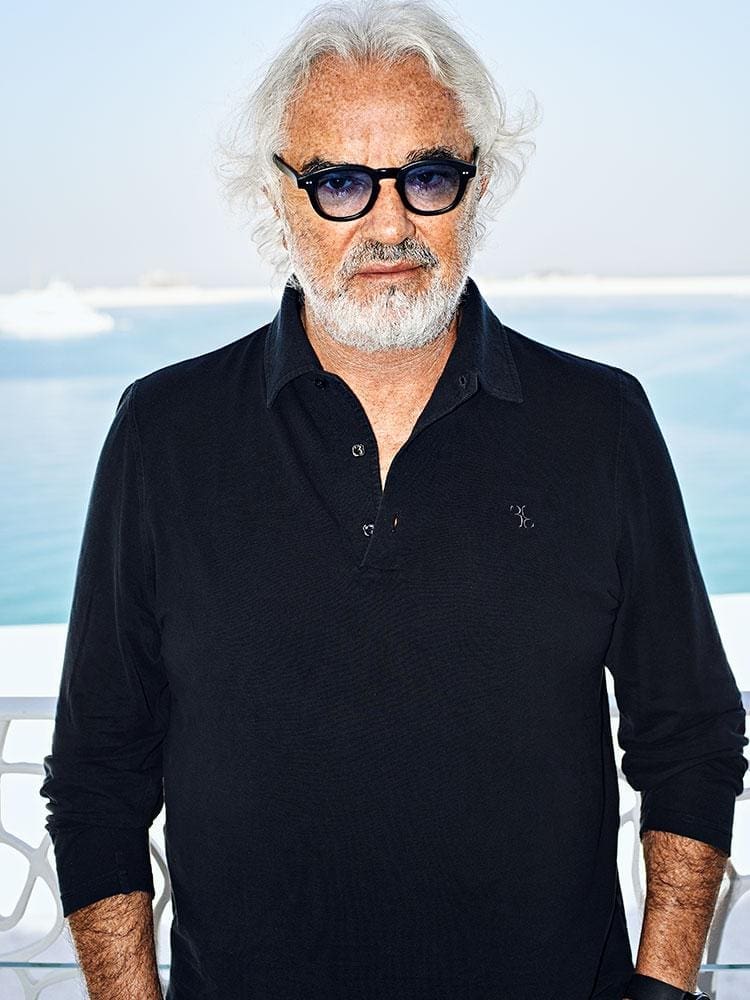 Two days earlier, the Baku-based street circuit yielded a nail-biter, the third in as many years. A puncture had deprived Mercedes' Valtteri Bottas of victory two laps from the finish line; his teammate, Lewis Hamilton, was gifted an unlikely victory after Ferrari's Sebastian Vettel botched a manoeuvre in the dying moments of the race. A reckless crash between Red Bull drivers Daniel Ricciardo and Max Verstappen had already ensured that both their weekends ended in discontent, and a scolding from some out-of-pocket team bosses.
"The street course makes the race more interesting," says Flavio, previous team principal of Benetton Formula and Renault F1, the former having been acquired by the latter at the turn of the millennium. "This is what people want. I feel sorry for Bottas – he should have won the race – but what happened between Hamilton and Vettel made things more exciting. It is this sort of excitement that people want to see!"
Excitement. Adventure. Danger. The thrill of the chase has been the guiding force in Flavio's life. This is the man who helped transform Formula One from a petrol-heads' hobby into the most glamorous sport on the planet; a man who grew Benetton into a global fashion empire before launching his own designer label, Billionaire Couture, which he later sold to Philipp Plein. Briatore owns nightclub-restaurants in London, Monte Carlo, Sardinia and Dubai; a safari resort in Kenya; and the 63-metre superyacht Force Blue, currently in the custody of Italian law enforcement (but that's another story).
In 2008, Briatore married Wonderbra model Elisabetta Gregoraci – 30 years his junior – but only after dating both Naomi Campbell and Heidi Klum (with whom he has a daughter). The wedding was attended by Silvio Berlusconi, Bernie Ecclestone – with whom Briatore briefly owned Queens Park Rangers football club – and former England manager Fabio Capello. Fernando Alonso drove the wedding car.
"When I go to my local and see the men in there, I think: there but for the grace of God go I," said Flavio in an interview with Elle magazine. "I see men locked to their mortgages, their cars, their jobs. These guys are stamped on, they're caged. The local paper, watching soaps on the telly, taking the dog for a walk … It's great for three days, but then I get panicky."
Born to Catholic school teacher parents in 1950 in Verzuolo, north west Italy, Briatore failed public school twice, before receiving a diploma in land surveying from a local private school. His first job was working as a ski instructor – "I didn't really like skiing," he told Esquire, "but all girls fancy the ski instructor, so it made sense" – later becoming an assistant to Attilio Dutto, owner of the Paramatti Vernici paint business. The company would provide Briatore's first brush with the law.
Paramatti's previous owner had been Sicily-born banker, Michele Sindona, a mafia-affiliated financier who laundered heroin proceeds for the infamous Gambino family. Sindona was later poisoned in prison. When Dutto was himself killed in a 1979 car bomb attack, Paramatti collapsed and Briatore was charged with fraudulent bankruptcy. He was given a four-and-a-half-year sentence that was subsequently quashed, but not before Briatore had absconded to the safety of the US Virgin Islands.
On being granted amnesty, Briatore moved to Milan and began working for Finanziaria Generale Italia on the Italian stock exchange. During this time, he met, and wooed, Luciano Benetton, founder of the eponymous clothing outfit. Having earmarked the United States as a growth opportunity, an enamoured Luciano appointed Briatore as director of Benetton's American operations. By 1989, Briatore had overseen the opening of 800 Benetton stores, shrewdly masterminding a cut of each franchising agreement.
In Australia in 1998, the former ski instructor attended his first Formula One Grand Prix. The race weekend would change his life. The following year, a self-confessed motorsport ignoramus, Briatore joined team Benetton simply as a "friend of Luciano". A year later, he was running the show. Derided as a T-shirt salesman by F1 rivals, Briatore nonetheless demonstrated a knack for spotting talent. In 1991, he signed up a budding young driver by the name of Michael Schumacher. The German would win his first titles with Benetton in 1994 and 1995.
After a two-year hiatus from team management – he'd been selling Renault-built Formula One engines to Williams and BAR – Briatore returned as managing director of Benetton-Renault in 2001 (Renault having purchased Benetton Formula the year before). In 2003, Briatore sensationally fired race driver Jenson Button in favour of a 21-year-old Fernando Alonso. Critics were silenced when the Spaniard won back-to-back Drivers' Championships in 2005 and 2006.
Briatore regularly touted the belief that Formula One should be entrusted to entertainers, not engineers, seeing no reason why a lack of mechanical experience should impede his managerial abilities. "It's not because you're a good spender with American Express that you'd make a good boss of that company," he said in The Sunday Times. "There's a difference, no? Because if there's not a difference, plenty of my ex-girlfriends would be chairmen."
Briatore, of course, is no longer involved in Formula One – he was given an indefinite ban in 2009 (later overturned) after allegedly ordering Nelson Piquet Jnr to crash deliberately at the 2008 Singapore Grand Prix, handing victory to teammate Alonso – yet his lion-maned silhouette continues to cast a shadow at race weekends. During the noughties, he helped create the star-studded carousel that Formula One is today, elevating, in the process, racing drivers back to movie star status. How, then, has the game changed since his departure?
"The championship is contested between four cars; those that belong to Ferrari and Mercedes. No one has the financial resource to keep up with these guys. You now have teams that have 1,200 people involved – 1,200 people to put two cars into a race. It's madness."
What can be done to improve competition? "They need to bring costs down – only then will everyone have an equal chance to compete. People want to see competition between six or seven drivers, not two, but that will only happen if it doesn't cost so much to race."
Just how good was Michael Schumacher? "Michael was of a certain breed; you have Michael, you have [Ayrton] Senna. I was lucky to work with Michael and Fernando Alonso. It was a unique time to have so many stars in Formula One. Now the mechanics and the technology are as important as the person in the car."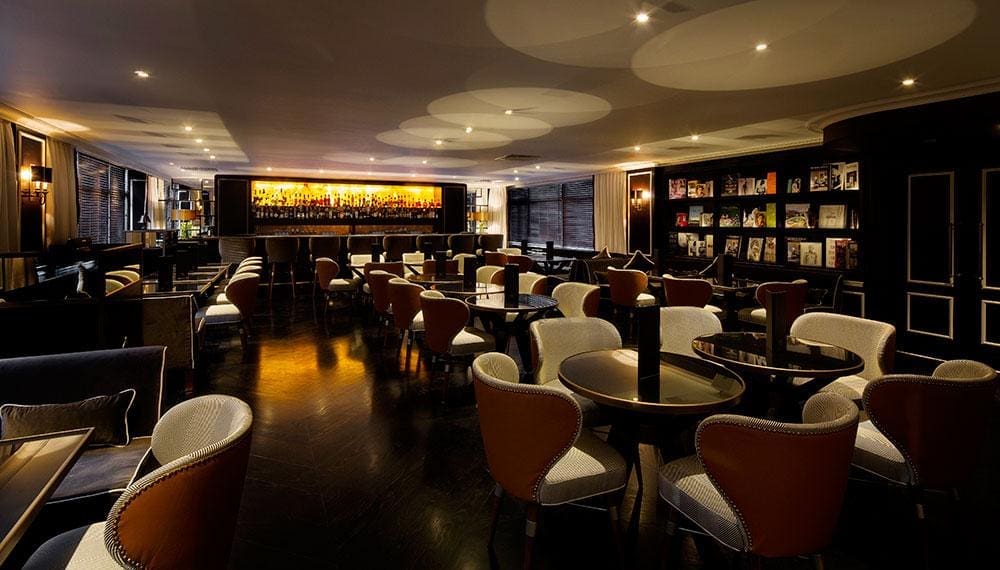 Who do you consider to be the greatest driver of all time? "It's difficult. Schumacher? Senna? Piquet? Hamilton, maybe? If you put them in the same car in the same race, I don't know. They all had different cars. In the time of Piquet and Senna, it was them driving the car. Whoever is driving a Mercedes today has the possibility of winning the championship."
From Formula One to high-end hospitality; in 1998, Flavio opened Billionaire nightclub in Sardinia's fashionable Costa Smeralda – "Billionaire is an arrogant name but I wanted a name for my brand that was exciting" – before rolling out the premium nightclub concept to Marbella, Bodrum and Monte Carlo. Italian restaurant Cipriani's arrived in Mayfair in 2004, before ventures in Tuscany and Dubai.
So what can diners expect from a Flavio Briatore restaurant, other than a lumpy bill? "Quality and exclusivity – and that doesn't just mean expensive food. The food is largely the same from London to Monaco to Dubai – what we try to do is create an atmosphere. That starts with good food, good staff, a good DJ – a restaurant must offer the whole package."
At the tail-end of 2016, Briatore teamed up with Janina Wolkow – founder of acclaimed upmarket Japanese restaurant chain Sumosan – to launch Sumosan Twiga, a three-floor Japanese-Italian hybrid at the Knightsbridge end of Sloane Street. Post interview, I was invited to dine there. Sandwiched between a top-floor bar and subterranean boîte, a black-and-white brasserie serves Italian classics alongside contemporary Japanese dishes. Rather than fuse together two contrary cuisines, Sumosan Twiga offers two separate menus side by side. Waiters encourage you to go cross country. It's weird but it works.
The setting isn't as chic as Zuma or Nobu, nor L'Anima or Locanda Locatelli – worn carpets, scuffed skirting and botched paintjobs can't hide the fact that the same premises has only recently been battered by unsuccessful ventures from Jamie Oliver, Alain Ducasse and Gordon Ramsay. The food, both types, however, is some of the best of its kind in the capital. Applause, too, to an upbeat playlist that has Briatore written all over it.
"People are looking for energy," says the man who previously presented the Italian version of The Apprentice, "a welcoming, exciting atmosphere. It's all about assembling the right team, just like it was in Formula One. We won there with a low budget because we had such good people. It's the same with restaurants."
In the background, sudden indistinctive instructions indicate that Flavio's people are calling time on the interview; my cue to wrap up. Who are your heroes? "I respect everybody who is successful. Everyone that is successful has worked for it. Success never comes by chance." What's the best piece of advice you've ever been given? "Never give up." How about the biggest risk you've ever taken? "The biggest risk would be to die."