Deborah Ayorinde: Meet the rising star of 'Riches'
Deborah Ayorinde on the importance of ITVX's new, majority-black financial drama
"It's rich, beautiful people behaving badly." That's how lead actor Deborah Ayorinde describes her upcoming series Riches – a show that promises to have audiences on the edge of their seats as they invest in the fractious financial family drama.
Riches tells the story of the Richards family. For more than 20 years, their hair and cosmetics empire, Flair & Glory, has dominated the hair and beauty scene. However, the unexpected death of the patriarch, Stephen Richards, causes drama within the family as he bequeaths the controlling interest in the business to the children of his first marriage – setting the scene for a messy showdown with both factions vying for control.
Ayorinde was drawn to the script, she tells me, because of the way Riches portrays people of colour from the UK in relation to wealth and power. "I loved seeing the affluence and the fact that they're not fazed by wealth," she explains. "Yes, they're fighting for it, but it's not the amount of money that's the big deal. They're more concerned about the family drama and who's doing this and who's sleeping with who. Wealth is not something that they're uncomfortable with or embarrassed by – you get to see different types of wealth."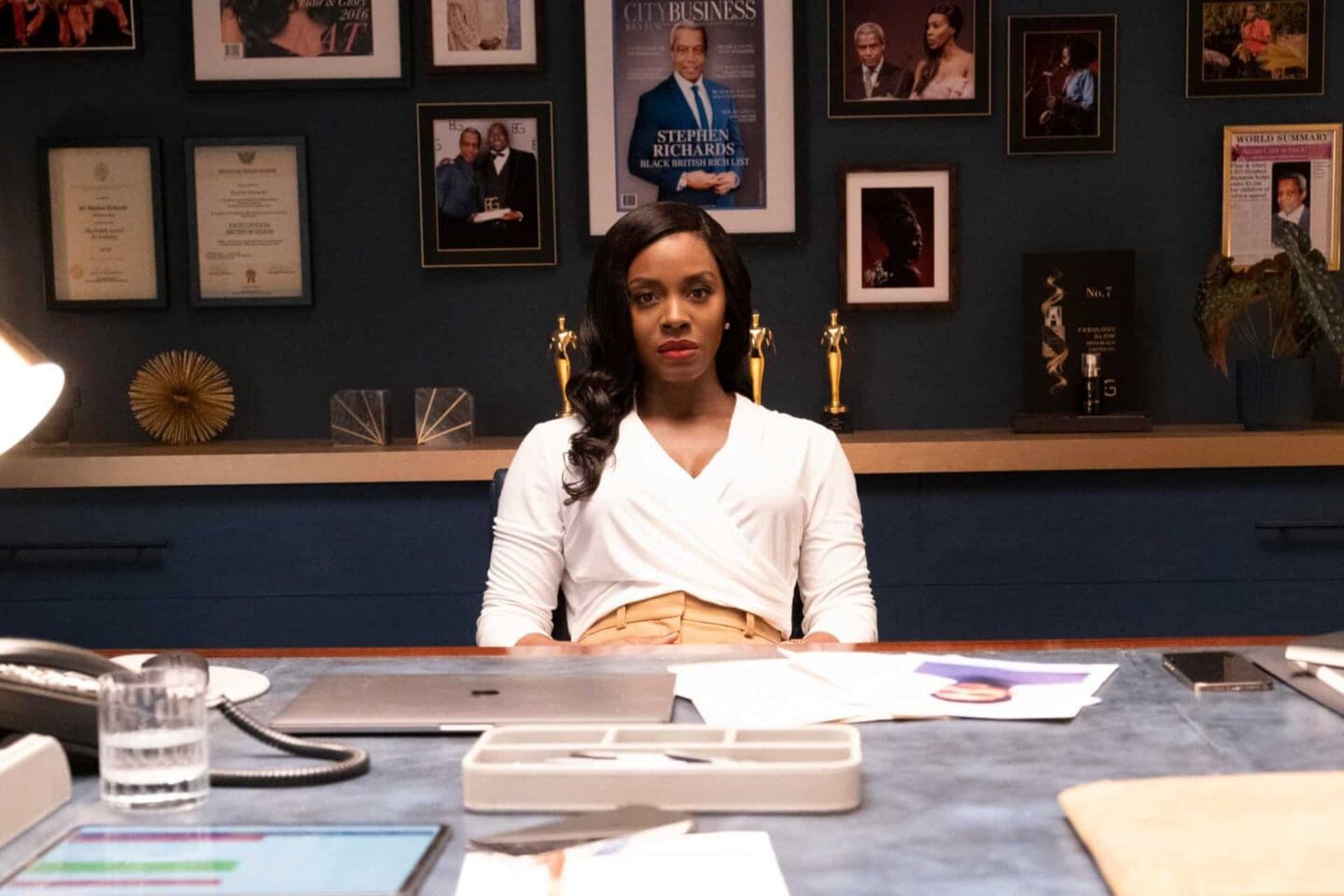 Ayorinde plays Nina Richards, the ambitious and intelligent estranged daughter of Stephen Richards from his first marriage. Nina feels restless in her life in New York and when she unexpectedly inherits her father's company, she makes a rash decision to move to London, where she's then dragged into the complicated Richards' family dynamics.
"When I first read the script, I noticed that Nina's story is very similar to my own," says Ayorinde. "I was born in London and after some family trauma, moved to America with my mum and sisters, but I recently moved back to London. What a story like this can bring up in a person is a longing for belonging, which I really understood in the character, just kind of trying to figure out where you belong."
Since the 2008 banking crisis, financial dramas have been growing in popularity, with shows like Succession, Billions and, more recently, Industry winning large audiences and the admiration of critics. Why does Ayorinde think this particular genre of series is proving so well-liked?
"There's something about seeing rich people behaving badly – it's just really exciting. When you see ridiculously wealthy people going through things that ordinary people go through, it emphasises the fact that we all get jealous, angry, sad and happy. It makes people feel less removed."
For inspiration of how to play her character, Ayorinde might have turned to Bobby Axelrod in Billions, or Logan Roy in Succession. Instead, she looked to her own sister.
"I draw most of my inspiration from real-life people and their real-life stories. With this particular character, because her story is so similar to mine, I didn't need to draw from anyone too far away. My older sister works in tech and worked in corporate America for the longest time. My portrayal of Nina is inspired a lot by her. She's just so business savvy and so smart. She's just such a boss, to be honest."
In Riches, Flair & Glory is a market-leading, Black hair and cosmetics brand. The focus on a beauty and cosmetics brand that specialises in Black hair and makeup was another major factor in Ayorinde accepting the role.
"I've always been really into cosmetics," she says, "and beauty and hair. I'm very well aware of the fact that Black people in the US and UK are the highest consumers of beauty products but a lot of times they're very underserved. It also brings up conversations surrounding racism and colorism which is very real in the beauty and hair industry."
Ayorinde talks about the 'subtle' colourism in the beauty industry and the way in which products for Black women are categorised. For example, hair care companies will have products labelled for 'normal hair' but separate labels for textured or curly hair. She also pointed to fashion with how tights can be labelled 'nude colour' which is very much subjective to the skin tone of the consumer.
Riches is centred on a family locked in an acrimonious battle. I ask if onscreen relations affected how the cast got on behind the scenes? "Not at all," says Ayorinde. "It was like a party on set! It's funny because on camera, it's super serious and having a go at each other but behind the scenes it was all love. It was so much fun.
"With any performance, you need chemistry. It doesn't matter whether you're playing a lover or a friend or a foe; if you have chemistry with the person you're playing with it makes the performance so much better. It's a partner dance, after all. Even if you're combat fighting, it's still a partner dance."
Riches launches on ITVX on 22 December