The Nici, Bournemouth: The hotel bringing luxury back to Britain's seaside resorts
A new, truly five-star destination resort has just opened in Bournemouth, and it's easily the best hotel in town. Book a stay at The Nici while you can…
Say what you want with your Union Jack-hued bunting still swaying in the rush hour breeze, bleaching pastel in the sun weeks after the Jubilee weekend, but our expectations for a British seaside staycation are always lower than if we're travelling abroad. The first reason for this is, of course, the weather.
The forecast may look promising, and the days preceding the planned getaway will always be balmy, if not positively roasting – "if it stays like this we'll be laughing" – you'll reassure yourselves anxiously, on repeat. Until, of course, it inevitably nosedives into raging storms and highs of 12 degrees (cue: "we'll still have a laugh, it's about the memories, there's plenty to do indoors, it's a change of scenery, just stop checking it there's nothing you can do now!") and you count the hours with a brewing dread until it's time to pack and leave your beautiful London home to drive two hours to a lesser abode, where you'll be sharing quarters that require extreme proximity to both children and grandparents. 24/7.
The second is the reality that, although it sounds very snobbish, hotels in Bournemouth tend to be, well, not great. Yes, we can dress it up as much as like – it's rustic, it's got old-world charm, it's not creepy/chintzy, it's full of character. But really, all it takes is a puff of dust containing generations of skin follicles from the heavy silk drapes and you'll secretly be longing for the home comforts of your newly renovated master with en-suite.
And that's why The Nici is worth shouting about. Previously operating as The Savoy (but nothing to do with its glorious London namesake), it relaunched in June 2022 after a first-phase facelift and instantly became easily the best hotel in the area. It's the only true luxury hotel in Bournemouth – even while the work is ongoing, as it was when we visited over the long June bank holiday weekend.
The five-star property comprises 73 guest bedrooms, including ten garden suites with outdoor hot tubs, and is also home to a bar and restaurant complete with an extended outdoor terrace, meeting and event spaces and a garden and pool with private poolside cabanas. I visited with my husband and two young children and was thrilled by the family room layout – almost triangular, their twin beds were set parallel to our large, sumptuous bed in a small annex with its own wall and TV, while the bathrooms had two entryways, (one by us, and the other by them).
Even though technically it was one large room, the half-wall separation gave us adults some privacy, while the little ones were thrilled to have their own space. It was clear that some thought had gone into the design of the room, as opposed to them just sticking a camp bed in the corner and charging us twice as much.
The hotel design screams South Beach (quite literally – the word Miami is written everywhere), complete with neon signs, flamingo statues in the public toilets and sumptuous furnishings in emerald, pink and Hollywood-smile white, set off with bold, quirky art and palms in oversized pots. The mini bar comes complete with a cocktail shaker and two pineapple-shaped portable cocktail glasses, which the children very much enjoyed filling with apple juice and pretending to be drunk on. The rooms are all light, bright, and airy with high ceilings, large windows, mid-century modern furniture, and a continuation of the pale colour palette contrasted with forest green and orange accents.
This first stage of the £25 million refurbishment has seen the outdoor pool revamped (but not redone quite yet, although it's very useable). A new 30 metre central outdoor pool and garden restaurant, followed by a first-class spa and fitness centre, as well as a rooftop bar and restaurant are all in the next phase, while still to come is the indoor pool, cinema, and kids' club. But with its stunning clifftop location, its extraordinary sea views and access down to Bournemouth's award-winning, sandy, and wholly unspoiled West Cliff beach and promenade, it's easy to forgive – and forget – the bits still under construction.
The summer months will see outdoor summer cinema screenings, Sunday yoga on the lawn and live entertainment for sundowners on the terrace. A fleet of bicycles is also available for guests to enjoy, with freshly prepared picnics for a day exploring the coastline whatever the weather, alongside grab-and-go beach bags for days spent basking in the sunshine (or hiding from the rain). A children's games room and an outdoor activities centre, offering surfboards, beach gear and games is also on the horizon.
And the food. While fish and chips wrapped in newspaper sounds picturesque (and, indeed, worth doing), the menu at the new open-plan, all-day-dining South Beach Bar, Restaurant & Terrace blends 'local catch' and cool Miami eatery effortlessly, all with smiley American-style service. We sat on the sun-soaked terrace for breakfast and lunch, sampling everything from pancakes with bacon and maple syrup (breakfast includes the buffet and an extensive and a la carte menu at no extra cost) to grilled jumbo prawns and battered fish and chips later in the day, washed down with a chilled bottle of Whispering Angel. I also sampled one of the beefiest Bloody Marys known to man, which could have worked as an appetiser so extensive were its garnishes.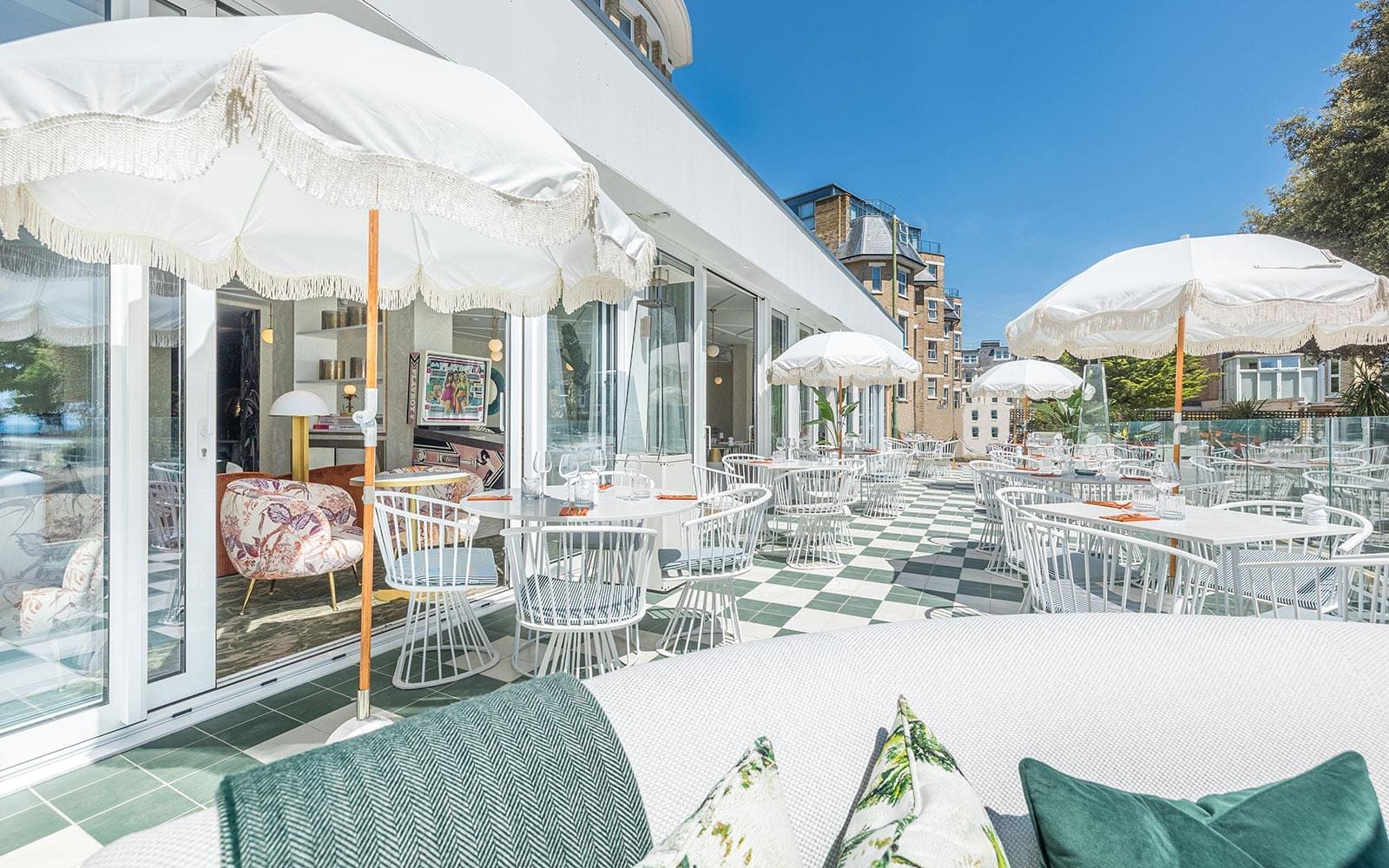 As you gaze out at the majestic sweep of Bournemouth Bay, The Purbecks to the west, and the Isle of Wight eastwards, the blue water and white beaches framed in all its glory by the elusive English sun, there's an added stroke of patriotic satisfaction in the weather turning out more than alright in the end. And, even if it had rained all weekend, we'd still have been happy we came.
Read more: The 1 West Hollywood is a true taste of California