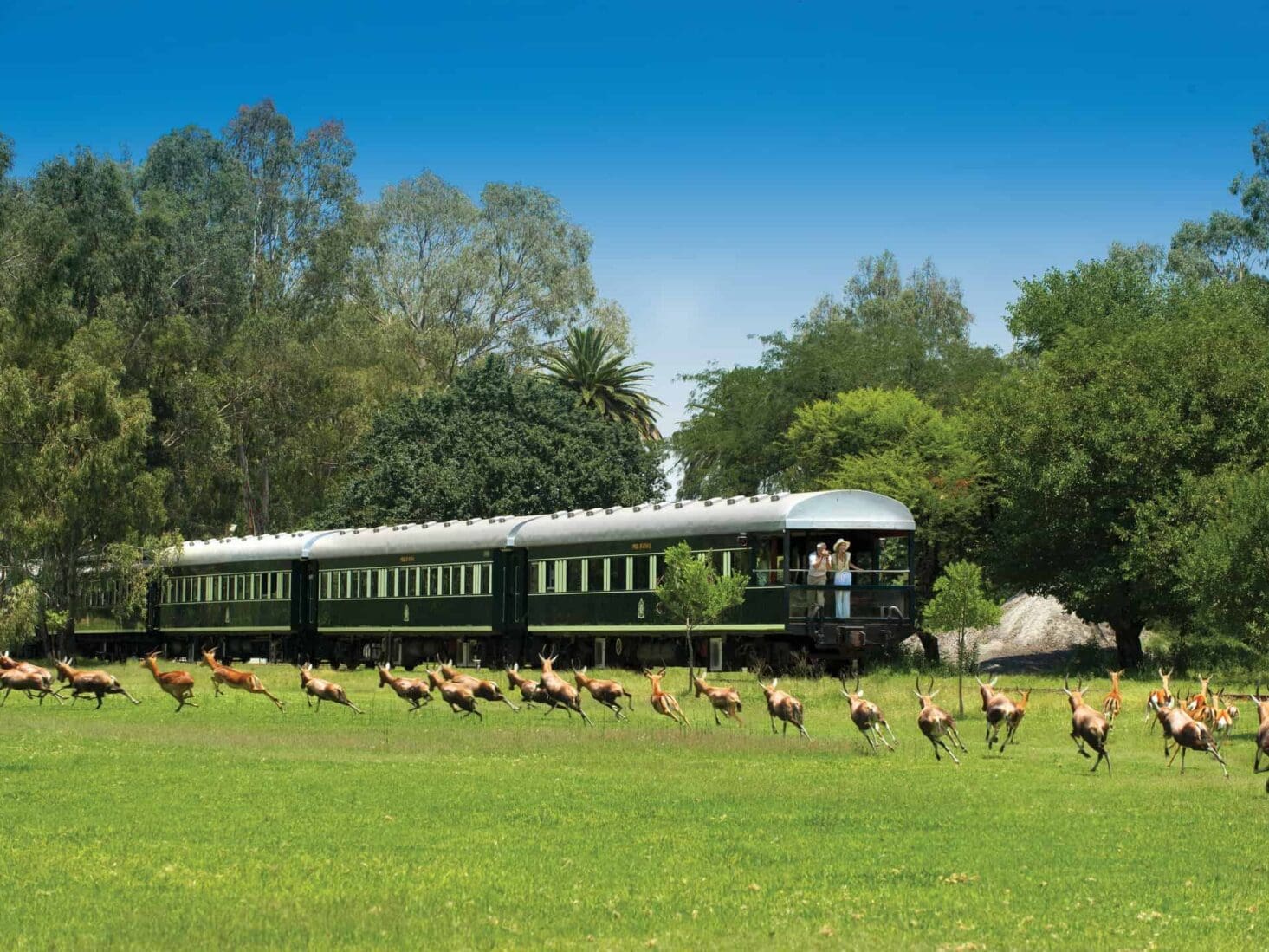 All aboard: The world's most luxurious train journeys
Offering a more sustainable way to see the world, high-end train travel is becoming an increasingly popular option. With offerings like these, it's not hard to see why…
It's not the destination, it's the journey, as the saying famously goes. If you're jetting off on a luxury holiday to Africa, India or beyond, you may as well travel in style. Long popular as a slow, scenic way of turning a necessary journey into an unforgettable experience, the world's most luxurious train journeys are so lavish that travelling onboard is often as incredible as the destinations you'll end up in.
Taking travellers back to a bygone era, these trains offer lavish dining cars, onboard bars and suites to match any five-star hotel. Add to this private butlers, marble-tiled bathrooms and guided excursions to landmarks along the way and it's easy to see why luxury train journeys are more than worth their price tag. From a restored locomotive that still offers African safaris, to a traditional route into the misty Andean mountains, these incredible train journeys will put even the most seasoned first-class explorer off travelling by plane ever again.
Venice-Simplon Orient Express, Europe
Belmond's Venice-Simplon Orient Express may be the most famous train in the world, frequented by celebrities and a fictional murder or two. Its routes take passengers from London to Paris, Verona, and the winding canals of Venice, the latter of which is the train's signature journey. Interiors are reminiscent of the golden age of rail travel, from the wood and gold-clad private cabins to three carefully restored 1920s dining cars and the romantically-lit Bar Car 3674, complete with a pianist.
Passengers can choose to rest their heads in Cabins, Suites or Grand Suites; the latter of which start at just under £10,000 per person and include 24-hour butler service, free-flowing champagne and marble ensuite bathrooms. Meal times, which also encompass afternoon tea, aperitifs and a caviar menu, are currently helmed by Chef Jean Imbert, who uses seasonal ingredients to create dishes such as lobster vol-au-vent and scallop carpaccio.
A four-night round-trip from London to Venice starts from £8,240, including meals, wine pairings and a dedicated onboard steward. Visit orient-express.com.
Maharaja's Express, India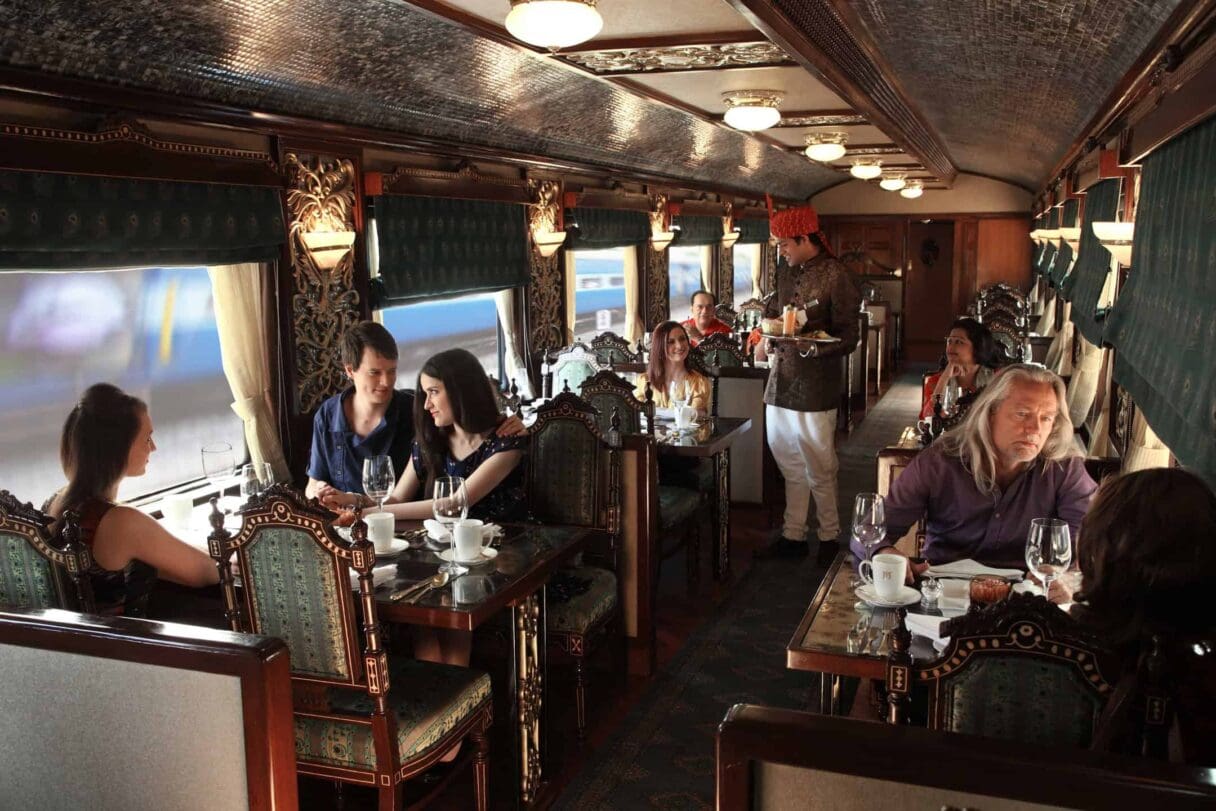 India is home to a variety of heritage-style train journeys, but the Maharaja's Express – also known as the Palace on Wheels – takes the top prize year after year. Journeys last a minimum of four nights, with four routes covering India's most famous sites, including the Taj Mahal, Amber Fort and Varanasi, meaning choosing the right room is paramount. Luckily, the train's incredible suites provide double beds, bathrooms with boutique toiletries and a private butler on call. At the top end of the scale, the expansive Presidential Suite measures 448 sq ft, with two living rooms and two bedrooms, as well as a private guide for excursions and all meals included.
The two dining cars have hand-painted frescoed ceilings and can seat 42 guests each, both of which serve Indian and international cuisine to a backdrop of unforgettable panoramic views. For a light aperitif or late-night cocktail, the Rajah Club and Safari Bar both have dedicated bartenders offering a range of fine wines, spirits and classic serves.
The seven-day Indian Panorama journey, which travels from Delhi to Mumbai via Agra and Jaipur, starts from USD $7,380 per person (approx. £6,460). Visit the-maharajas.com.
Rovos Rail, South Africa
Deep mahogany carriages, plush carpeting, spacious suites and even free-standing bathtubs ensure the Rovos Rail locomotives feel like luxury hotels on wheels. The company's journeys last between two days and 14 nights, visiting spectacular locations such as Cape Town, Victoria Falls and Namibia. Suites come complete with top-of-the-line double beds and living spaces, as well as enormous private bathrooms so there's no sacrificing on comfort.
Rovos Rail also has arguably the most beautiful dining cars of any train, decorated with delicately carved wooden pillars, linen tablecloths and leather-backed chairs. Each evening's four-course meal is made with fresh, local ingredients and accompanied by carefully selected South African wines. As well as excursions, including guided city tours and safari game drives, guests are well-advised to use their time to explore the train itself.
The lounge car hosts afternoon tea and historical lectures, while the observation car has elegantly upholstered sofas, a wood-panelled bar and an open-air balcony for soaking in views of the African plains.
A two-night journey from Pretoria to Durban starts from £1,440 per person. Visit rovos.com.
The Blue Train, South Africa
Daubed in its iconic sapphire blue, the Blue Train's classic route runs from Pretoria to Cape Town over 31 hours, and has welcomed Nelson Mandela, Desmond Tutu and Elton John onboard. In the Luxury and DeLuxe Suites, guests are greeted by goose-down bedding in the bedroom, which adjoins a gold and marble-trimmed bathroom equipped with monogrammed towels and underfloor heating. Each suite also has a personal butler on hand to cater to your every whim.
Each afternoon high tea is served in the main lounge car while, at dinner, you can expect to sample seasonal South African ingredients, such as ostrich, venison and oysters, accompanied by the relaxing sounds of the Soweto String Quartet. Naturally, there are no jeans and trainers here: tuxedos, evening gowns and fine jewellery are required at night, whether in the dining car, drinking at the bar or enjoying a Cuban cigar and game of backgammon in the ambient Club Car.
The Pretoria to Cape Town route starts at £1,700 one-way, including all meals, drinks, high tea and excursions. Visit bluetrain.co.za.
The Ghan, Australia
The Australian outback is one of the most unique landscapes in the world, and The Ghan is the perfect way to explore it, with routes between Darwin and Adelaide passing deserts, salt pans and the majestic Uluru along the way. The Ghan Expedition is the train's original route, travelling directly through the heart of the country from south to north over four days, including an off-train dinner under the stars.
For maximum space and comfort, the Platinum Service offers full-sized beds and en suites, Bollinger champagne and private transfers at the start and end of your trip. Platinum Service guests also have access to their own private lounge car. Designed in a modern style with quartz tables, it has an array of top-shelf spirits and huge windows for watching the world go by.
The Outback Explorer Lounge, meanwhile, is at the heart of the train, where travellers mingle, drinks flow freely and live musicians play into the evening. Elsewhere, onboard chefs work hard behind the scenes for your arrival in the Queen Adelaide restaurant, where guests can sample some of Australia's best vintages, paired with local dishes such as saltwater barramundi and grilled kangaroo.
The Ghan Expedition starts from £2,115 per person; Platinum Service starts from £3,980. Visit journeybeyondrail.com.au.
Andean Explorer, Peru
Belmond simply knows how to do trains, and between the Flying Scotsman, British Pullman and Hiram Bingham journeys, there are almost too many to choose from. However, the Andean Explorer, which journeys through the deep valleys and verdant green mountains of Peru is hard to beat. Routes start from Cusco and pass Lake Titicaca, the La Raya mountains and Colca Canyon, which guests are free to explore on excursions from the train.
Rooms onboard are far removed from the traditional British heritage style, instead featuring Peruvian furnishings and Alpaca linens, while ensuite bathrooms are made with local stone and even feature built-in oxygen tanks for high altitudes. You'll need them: the views will take your breath away.
The Llama and Muña dining cars are accented with colourful local artwork, where guests enjoy rich Peruvian flavours before moving to the Lounge Car or Piano Bar Car to enjoy pisco sours to the sound of tinkling ivories. The most noteworthy carriage, however, may be the spa – something which is unheard of on even the most luxurious of train journeys. Guests can choose from a whole menu of treatments, including altitude acclimatisation and obsidian massages, as well as pressure therapy and Vitamin C facials.
The two-night Peruvian Highlands journey starts from approx. £4,490 including meals, drinks and excursions. Visit belmond.com.
Read more: St Moritz: A crowd-pleasing winter wonderland – no skis required