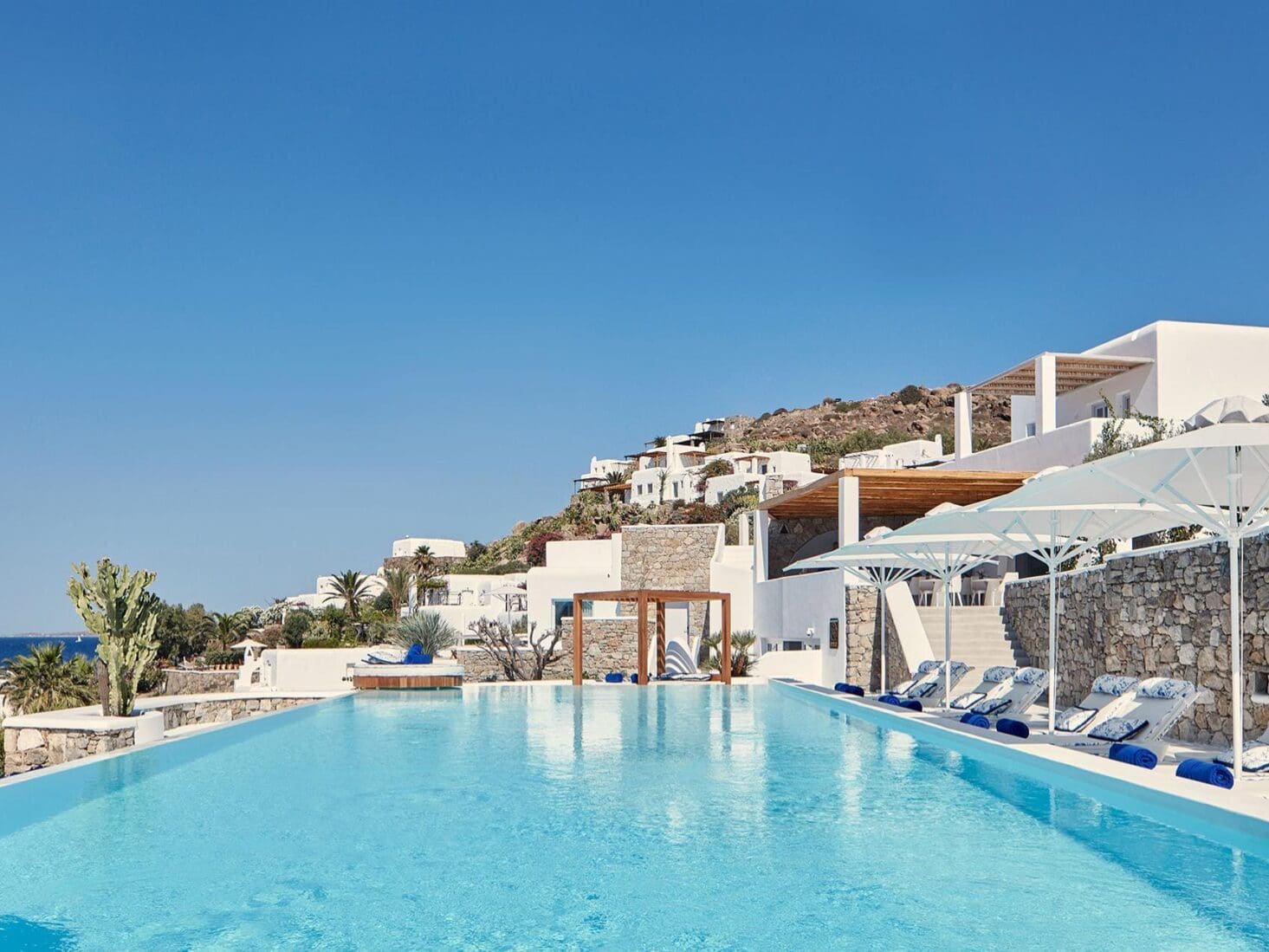 Why Katikies is the Only Place to Stay in Mykonos this Summer
Chic, discreet, grown-up luxury
The sun shines brighter in Agios Ioannis – figuratively, mythically, literally. Literally, because this slowly-climbing crescent of land in south-west Mykonos receives the last of the day's sunshine. Figuratively, because a number of the island's chicest hotels have found a home for themselves between the boulders that litter this natural amphitheatre ('mykon' is derived from a word meaning 'pile of rocks'; the huge stones found throughout the island are said to be remnants of a war between the gods and the giants – the gods won). And mythically – well, you see that tiny island across the bay? That's Delos, the birthplace of Apollo, the God of Sun. Bring your shades.
It was Delos, that inconspicuous, low-lying sliver of rock, that helped make Mykonos what it is today – a melting pot of hedonists, honeymooners, high-flying execs, economy-flying hipsters, new money, old money, backpackers, party seekers, cruise shippers, super-yachters, A-listers, D-listers, footballers, fashionistas and us – a couple of can't-believe-our-luckers drinking in the historic vista from the private plunge pool of our just-opened, whitewashed, sun-kissed, sugar-cube suite. Pass the champagne.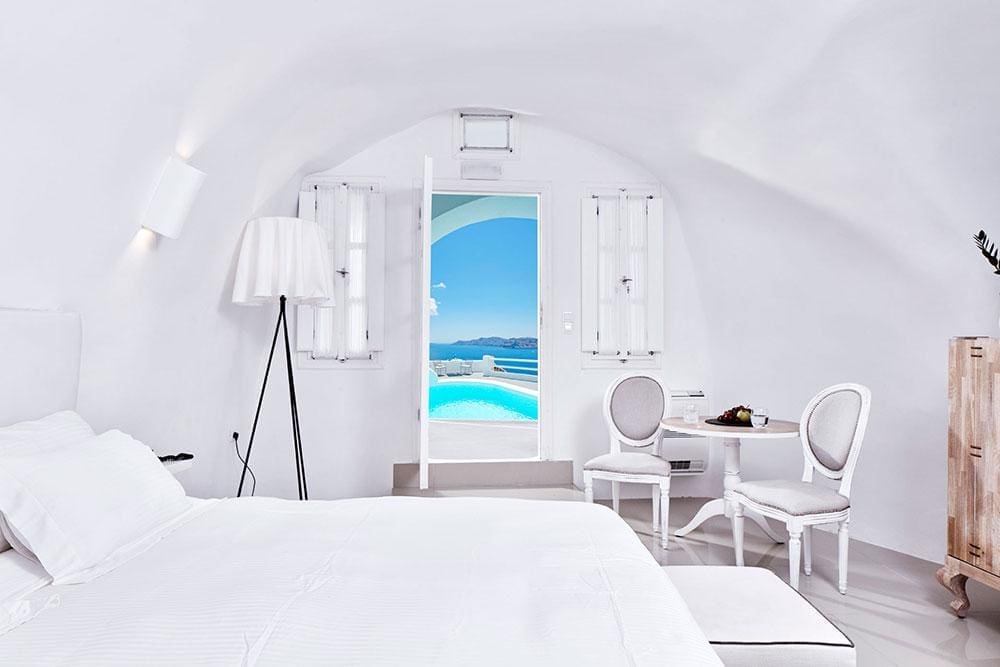 In the 1930s and 40s, archaeological investigations on Delos started garnering international attention (excavators have since found more ancient monuments on Delos than on any other island of earth, so be sure to book a day trip). With zero hotels on the island – it remains uninhabited – archaeologists were forced to seek sustenance and shelter on neighbouring Mykonos. By the 50s and 60s, visitors had realised there was a lot to be said for the island's turquoise waters and picturesque towns. Word spread. Today, cruise ships alone can deliver 10,000 tourists a day to this tiny island.
Regular visitors to the Cyclades may be familiar with the name Katikies from neighbouring Santorini. Opened just over 30 years ago, the hotel was the first to feature infinity pools and suites with their own plunge pools – pioneering the blueprint for the type of architecture that has come to typify luxury accommodation on that volcanic island.
Katikies Mykonos opened in summer 2018 with similar ambition. "We wanted to create a hotel that would mirror the levels of service and comfort enjoyed by guests of Katikies Santorini," says Nikolaos Pagonis, owner of Katikies Resorts & Club, which operates six hotels in Santorini and two in Mykonos. "We wanted to cater to the ever-growing number of discerning travellers that are heading to the island each year. We're confident that Katikies Mykonos will set a new standard for luxury on the island."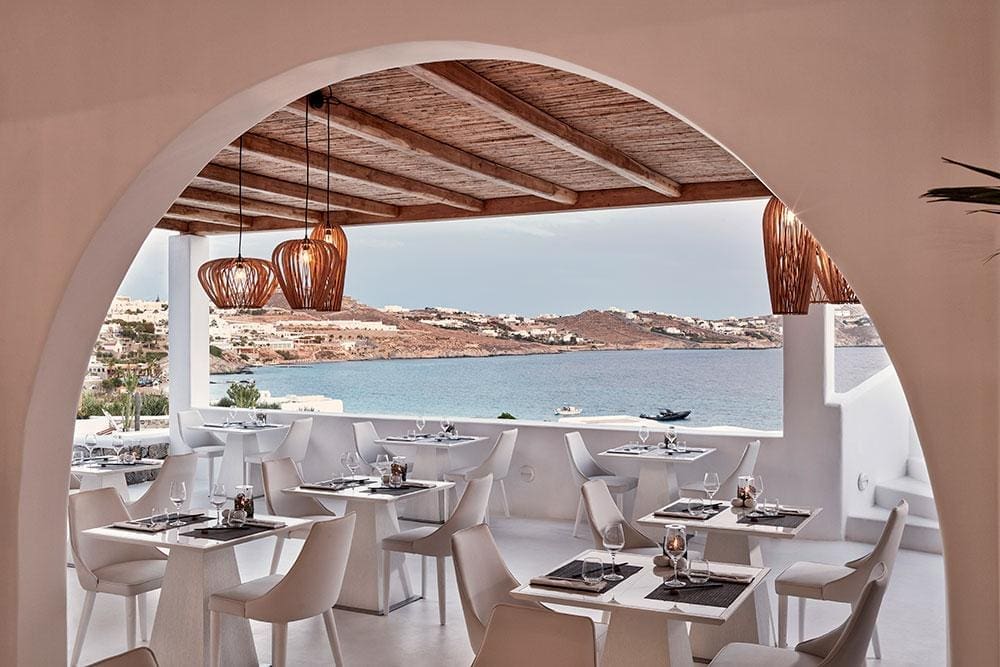 Following its own fail-safe formula, the group's latest offering is characterised by secluded suites with private plunge pools, spectacular ocean views and a whiter-than-white design aesthetic that will set your irises on fire. A labyrinth of steps connects 35 independent rooms which climb up a gently-sloping hillside between two large infinity pools. Adjacent to the lower pool is Seltz – a champagne bar and restaurant that gives traditional Greek cuisine a zeitgeisty Asian interpretation (it also serves an out-of-this world Eggs Benedict for breakfast). Beside the higher pool, Mikrasia provides fine dining in the sand to a background of live music. Both restaurants are overseen by culinary architect Angelos Bakopoulos, who shot to fame via MasterChef Greece.
Top hotels are marked out by their attention to detail. Katikies receives top marks for meticulousness. Less than a year after it launched, the property is already endorsed by the Leading Hotels of the World group. From easy-on-the-eye interiors to the outfits of ever obliging staff to the soothing playlists of the DJs who appear from nowhere come mid-afternoon (performing, in our case, to an audience of two) careful consideration makes Katikies a calming, classy retreat from the madness of Mykonos. Chic, discreet, grown-up luxury – something that's not easy to find on an island gripped by illusions of grandeur.
Rates at Katikies Mykonos start from €345 per night for double room, including breakfast, katikies.com