Inside the world's most luxurious ski chalets
Welcome to Europe's most exclusive slope-side escapes, where casinos, climbing walls and cinema rooms are de rigueur
Chalet Aconcagua
Zermatt, Switzerland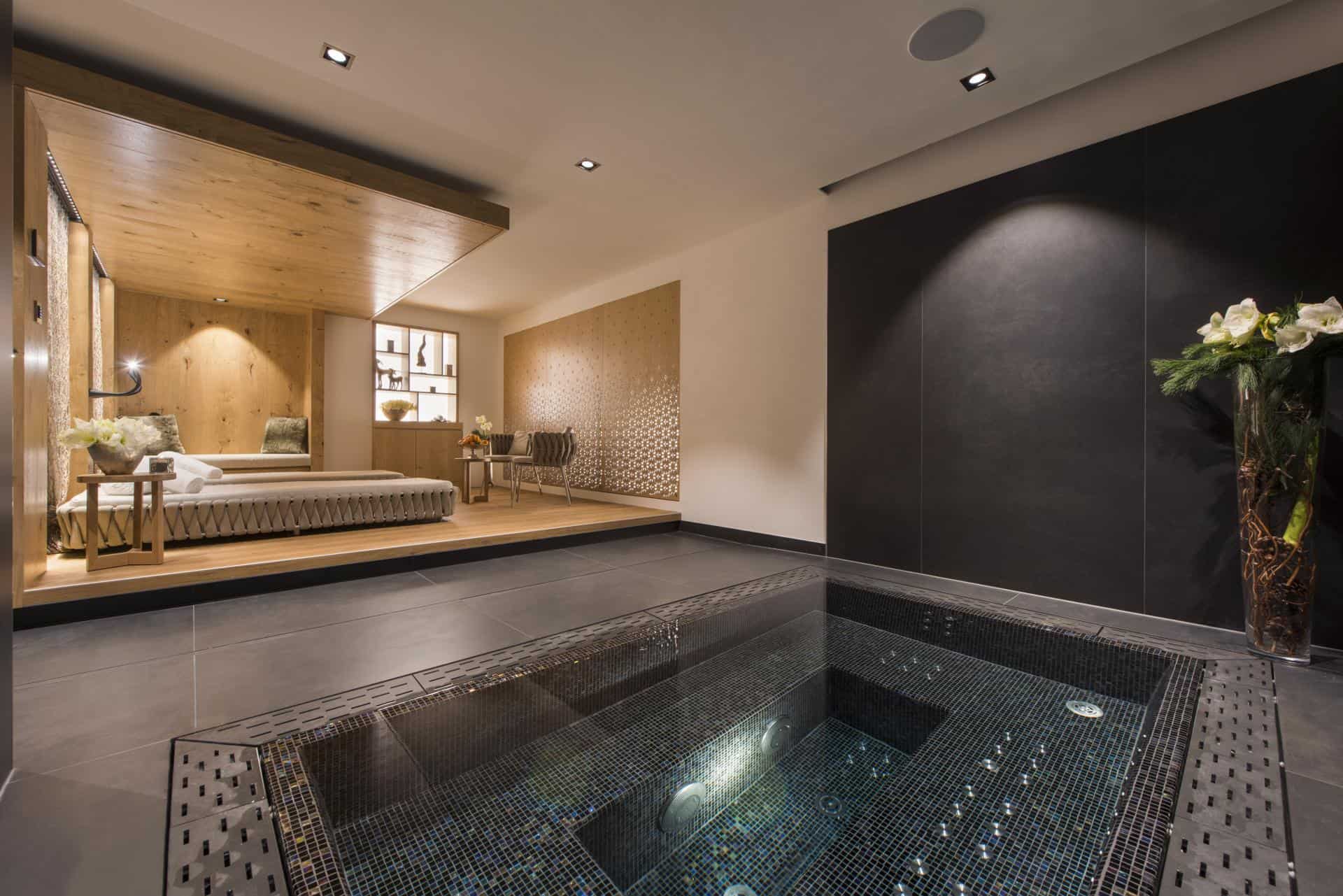 SLEEPS: 10USP: Located in the heart of ZermattPRICE: From approx. £50,000 per week, www.leotrippi.com
Part of Zermatt's impressive 7 Heavens development, Chalet Aconcagua is an ultra-modern residence exemplifying luxury living at its finest. The chalet is located close to Zermatt's main railway station, shopping and nightlife areas, providing a convenient base. Set over four floors, there's a hot tub, steam room, cinema, bar and gym to ensure the most indulgent experience. With the iconic Matterhorn looming over the town, views from the chalet will undoubtedly be spellbinding.
Chalet N
OberLech, Austria
SLEEPS: 20USP: Ultimate relaxationPRICE: From approx. £189,295 per week, www.leotrippi.com
Describing itself as six-star, this nine-bedroom chalet is indeed as stellar as it gets. With its own cinema, an enviable wine cellar and a whole floor dedicated to a spa, including a swimming pool, whirlpool, two saunas, a salt mine steam bath, and hair salon, nothing has been overlooked – including a welcome massage for guests on arrival. It also comes staffed with a butler, concierge, chef and chauffeur. All you have to do is ski.
Chalet Pierre Avoi
Verbier, Switzerland
SLEEPS: 14USP: Champagne on tap PRICE: From approx. £21,641, www.firefly-collection.com
There are 10 complimentary house wines and two champagnes – Perrier-Jouët Grand Brut and G.H. Mumm Cordon Rouge – to choose from during your stay at Chalet Pierre Avoi, which takes après-ski to the next level thanks to its open bar. Between bottles, relax in the outdoor Jacuzzi or sauna, or opt for a massage in the chalet's private treatment room. The resort centre and two main lift stations are just a five-minute car journey away and, naturally, the house comes with its own 24-hour chauffeur to shuttle you to the slopes.
Chalet Mont Blanc
Megève, France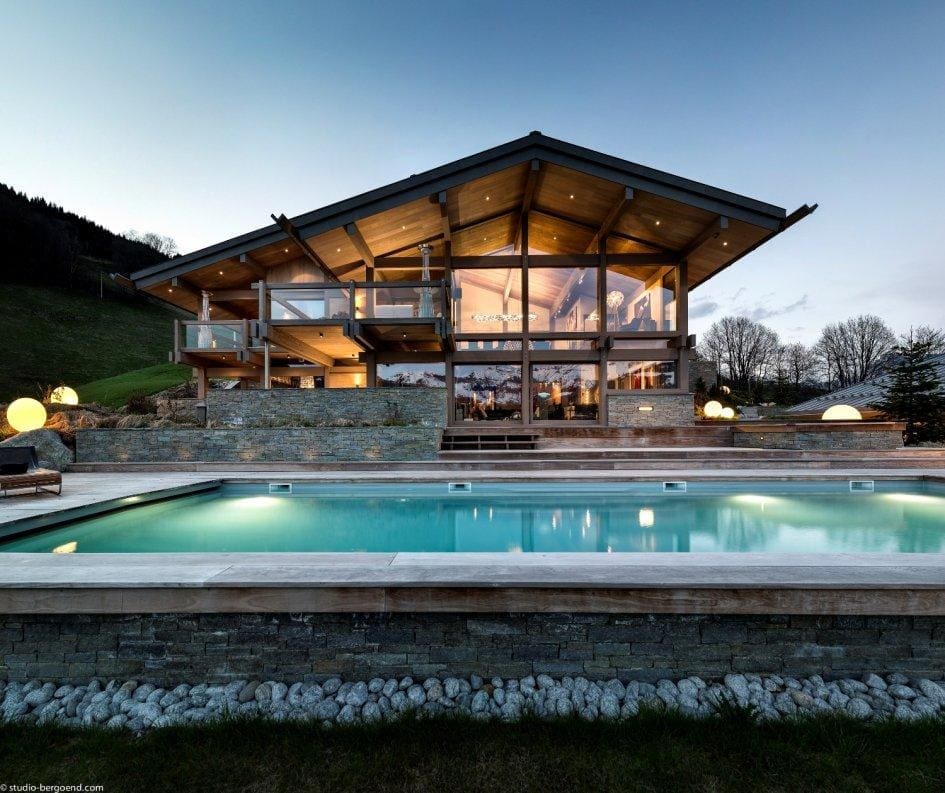 Sleeps: 12 adults + 4 childrenUSP: Rooms with a viewPRICE: From approx. £111,372 per week, www.oxfordski.com
With every luxury amenity box well and truly ticked, Chalet Mont Blanc is hard to beat. The exhaustive list includes an outdoor heated infinity pool, an indoor pool, a private gym and a hammam, a cocktail bar, an integrated Bang & Olufsen sound system, a cinema and a wine cellar. Oh, and don't forget about the private helipad.
Chalet Überhaus
Lech, Austria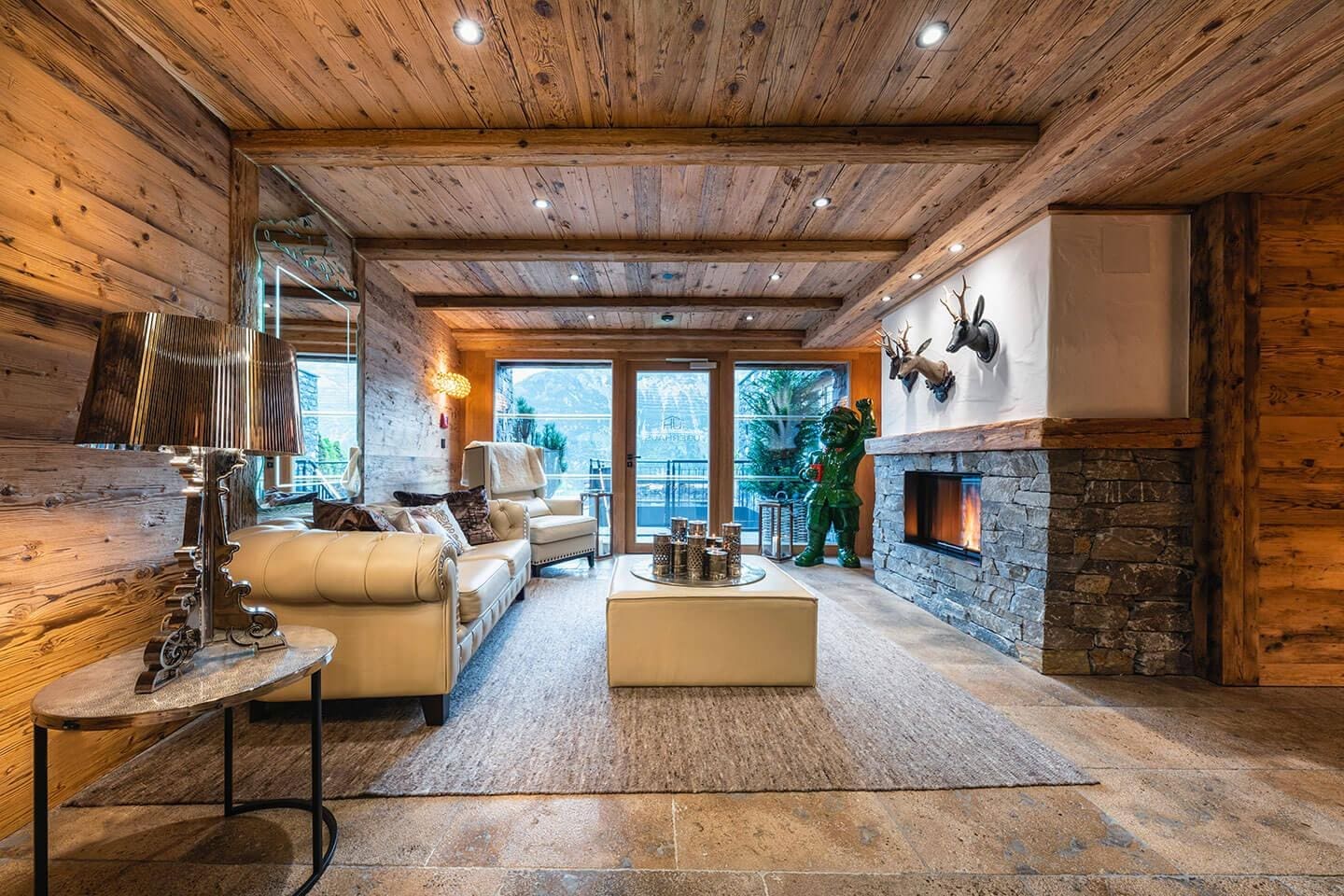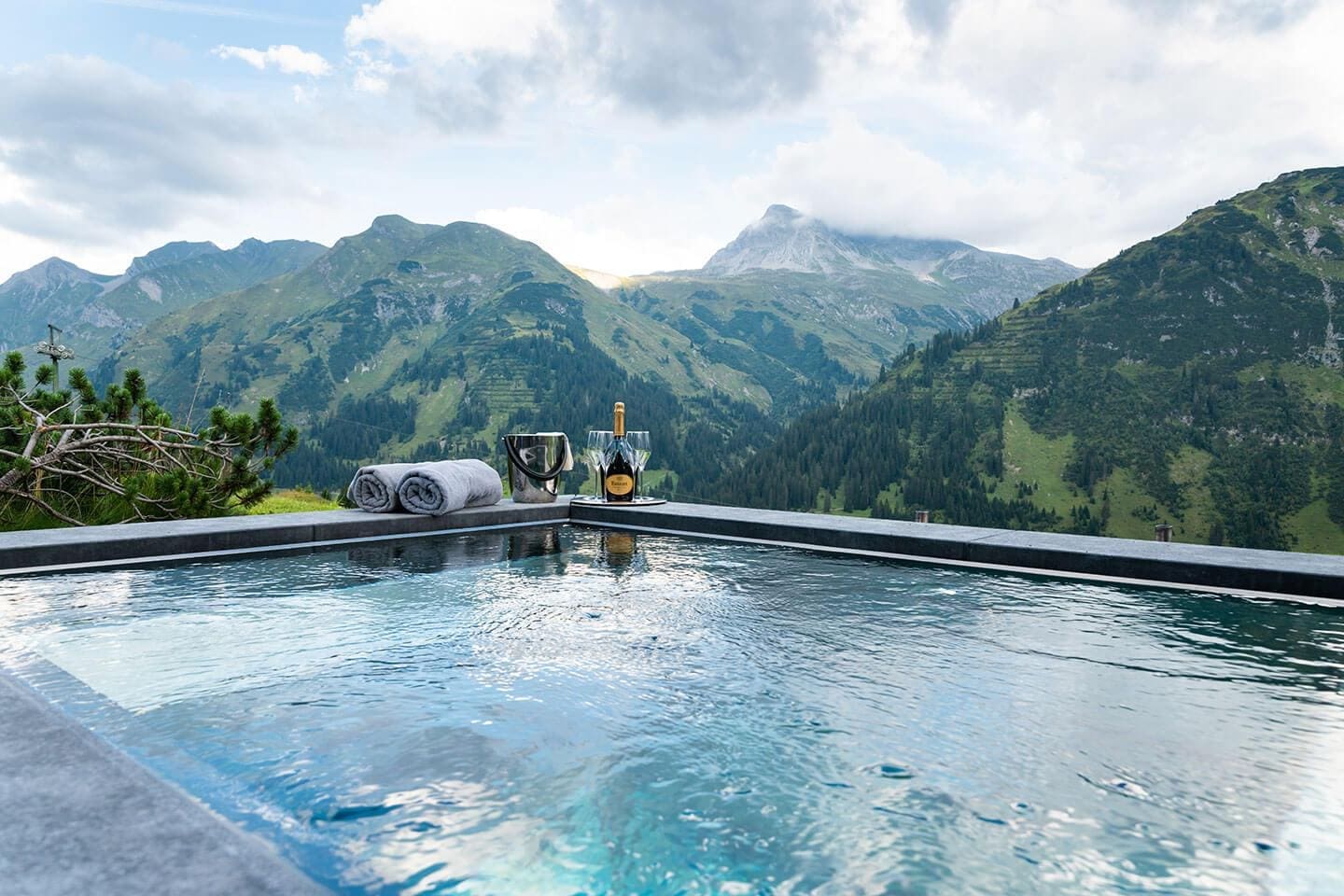 SLEEPS: 10USP: For serious skiingPRICE: From £49,000 per week, www.uberhaus-lech.com
Austria's Chalet Überhaus lives up to its name, with a wine cellar, a hammam and an outdoor heated swimming pool with superb views of the surrounding peaks – but skiing is the big pull here. There is a personal Ski Butler, who can assist with equipment hire and ski passes, a heated boot room and, perhaps best of all, guests are given two complimentary days of private ski instruction.
Chalet L'Alpensia
Courchevel, France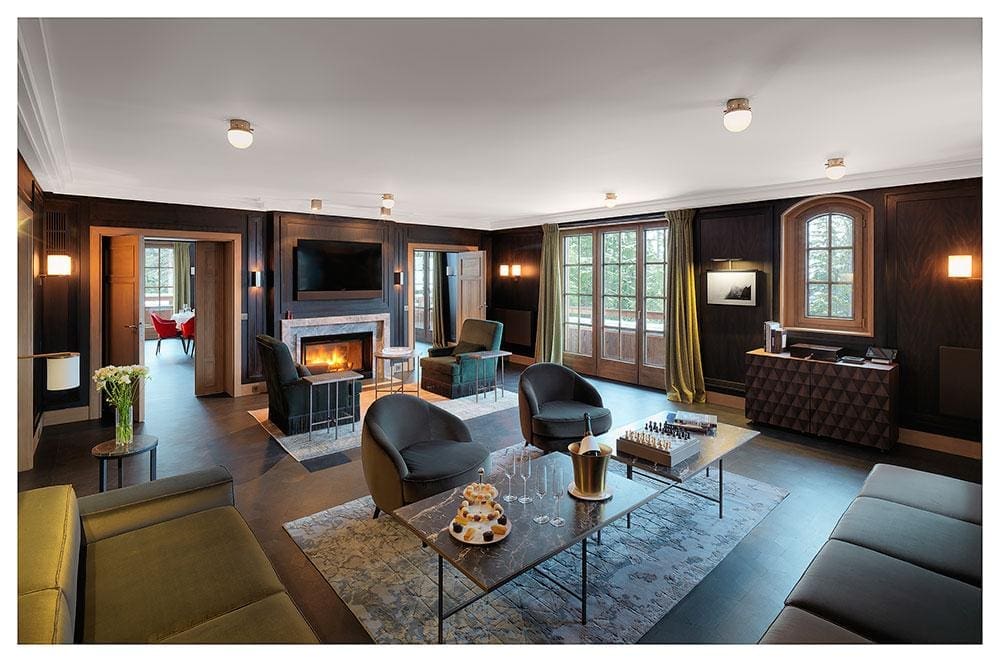 Sleeps: 10USP: Award-winning designPRICE: Approx. £9,728 per night on a half board basis, www.oetkercollection.com
Masterminded by Parisian double act Joseph Dirand and India Mahdavi – the brain behind Sketch's award-winning bubblegum tea room – Chalet L'Alpensia is a lesson in slick design: think velvet upholstery and marble bathrooms. Outside, the views are equally exquisite; this chalet is perched on the top of a former Olympic ski jump.
Chalet Edelweiss
Courchevel, France
SLEEPS: 16USP: For art loversPRICE: Approx. £71,207 per week, www.leotrippi.com
It's no surprise that the alpine retreat of art collector Christian Levett is home to a plethora of exquisite pieces. From Damien Hirst to Picasso, to Salvador Dalí to Joan Miró, Levett's collection is regularly rotated in this lodge-turned-gallery. Not so into art? Not a problem: there's a nightclub, a wine cellar and a 16m swimming pool.
Chalet Husky
Val d'isère, France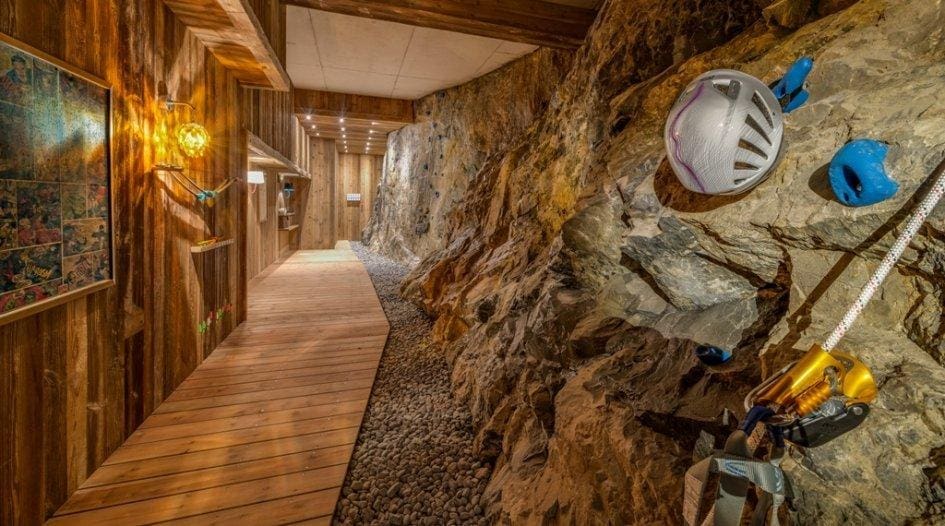 SLEEPS: 14USP: The ultimate games roomPRICE: From £1,700 per week during low season, www.scottdunn.com
There's no danger of cabin fever in this chalet-cum-arcade. Chalet Husky is home to a climbing wall, an archery range and rifle shooting. There is also a wellness area complete with a huge pool and infinity waterfall, sauna and Jacuzzi.
Chalet Zermatt Peak
Zermatt, Switzerland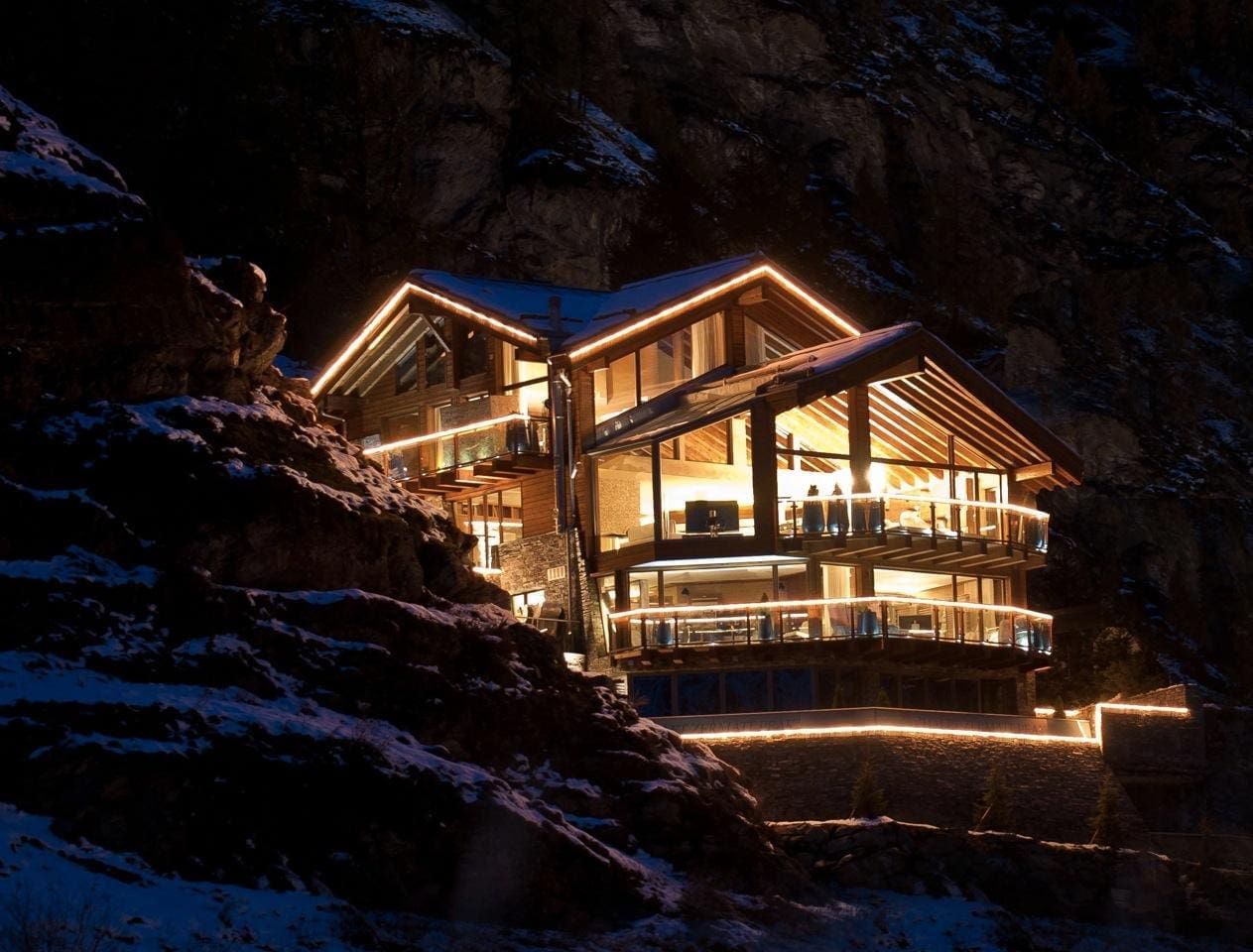 SLEEPS: 12USP: For James Bond loversPRICE: From £46,225 per week, www.leotrippi.com
Accessed via a tunnel carved out of the mountain, this chalet is a thrill-a-minute from the moment you arrive. A top-floor gallery bedroom has a glass roof for star-gazing, while the floating glass staircase will impress even the most jaded of architects. Don't forget to pick up Zermatt Peak's complimentary Zai skis and Ugg walking boots en route to the slopes.
Le Petit Palais
Courchevel, France
SLEEPS: 14USP: Après-ski entertainmentPRICE: From approx. £72,131 per week,www.firefly-collection.com
A black-and-gold colour theme gives this six-storey chalet an opulent edge – as does its master suite, which takes up an entire floor – but it's the royal-blue subterranean bunker that steals the show. Three levels below Le Petit Palais' peaceful mezzanine library, you'll find a sanctuary for those harbouring a ski-hard, play-hard mentality, equipped with a nightclub (complete with a professional DJ kit), wine cellar and poker table. If a party of 14 seems restrained, a unique concept is offered in the form of an underground tunnel to sister chalet Le Petit Chateau, enabling a 30-strong guest list. Good luck making the first ski lift the next day.
Chalet La Bergerie
Courchevel, France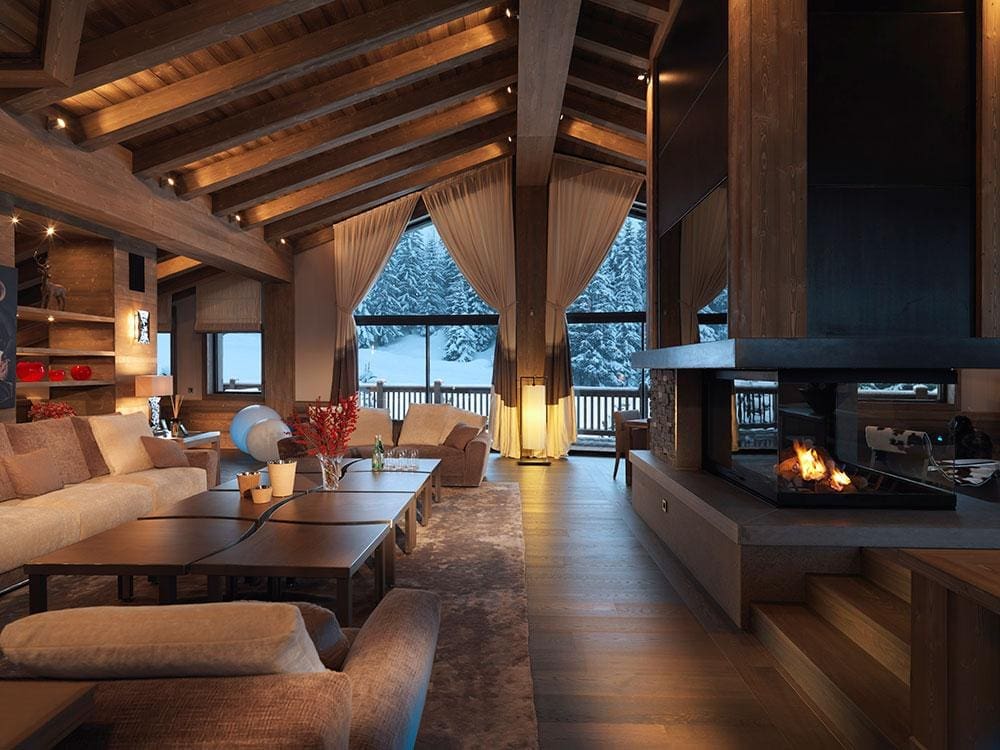 SLEEPS: 14USP: Delicious dining opportunitiesPRICE: From approx. £130,596, www.firefly-collection.com
The vast Chalet La Bergerie is a haven in the hilltops for foodies. Located in a 17th-century shepherd's hut (or 'bergerie'), the lodge is home to a team of 10 staff, including a professional chef, who service all five floors. An extensively stocked kitchen, bar and wine cellar ensure each guest at the 18-seat dining table can indulge in a personalised culinary experience.