A Luxury Guide to the Amalfi Coast: Sorrento, Positano & Capri
For centuries, the Amalfi Coast has been where artists, actors and royalty have travelled in order to get away from it all. Its storied past tells of pirates, mythical sirens and Roman gods; where Elizabeth Taylor
Today, Hollywood and honeymooners continue to amble along the 30-mile stretch of spectacular coastline, where time slows down to the roll of the waves and sun-splashed terraces emerge from hillsides, crowned by bougainvillea. Luxury hotels and Michelin-starred restaurants punctuate these coast-hugging roads and stomach-flipping cliff edges, underlined by romance and glamour.
Sunbathers and gourmands, hedonists and hillwalkers will all find solace on the Amalfi Coast; a resplendent, blissful stretch of fine cuisine, tropical gardens, rustic glamour and outstanding views. Scroll through our guide to holidaying on the Amalfi Coast in Sorrento, Positano and Carpi, starring three of the most sublime hotels in the world.
Grand Hotel Excelsior Vittori, Sorrento
Often referred to as the gateway to the Amalfi coast, Sorrento is an ideal base from which you can explore the Campania region. It is a short boat trip from Capri and trains and busses run regularly to Positano, Pompeii and Naples. This vibrant town is a labyrinth of bars, restaurants and pocket-sized boutiques, punctuated by imposing cathedrals, Renaissance palazzi and pizzerias. Head off the beaten track and spend a night at the Marina Grande; a local, laid-back fishing village set around a small bay, bustling with bars and well-priced restaurants serving vast portions of fresh fish at the edge of the sea.
The crowning jewel of this seaside town is the Grand Hotel Excelsior Vittoria; a Belle Époque palace has been run by the Fiorentino family since its inception in 1834. Despite its position on Sorrento's main square, it is a private oasis, nestled in a vivid garden of cascading palm trees, clouds of blossom, citrus plants and olive groves.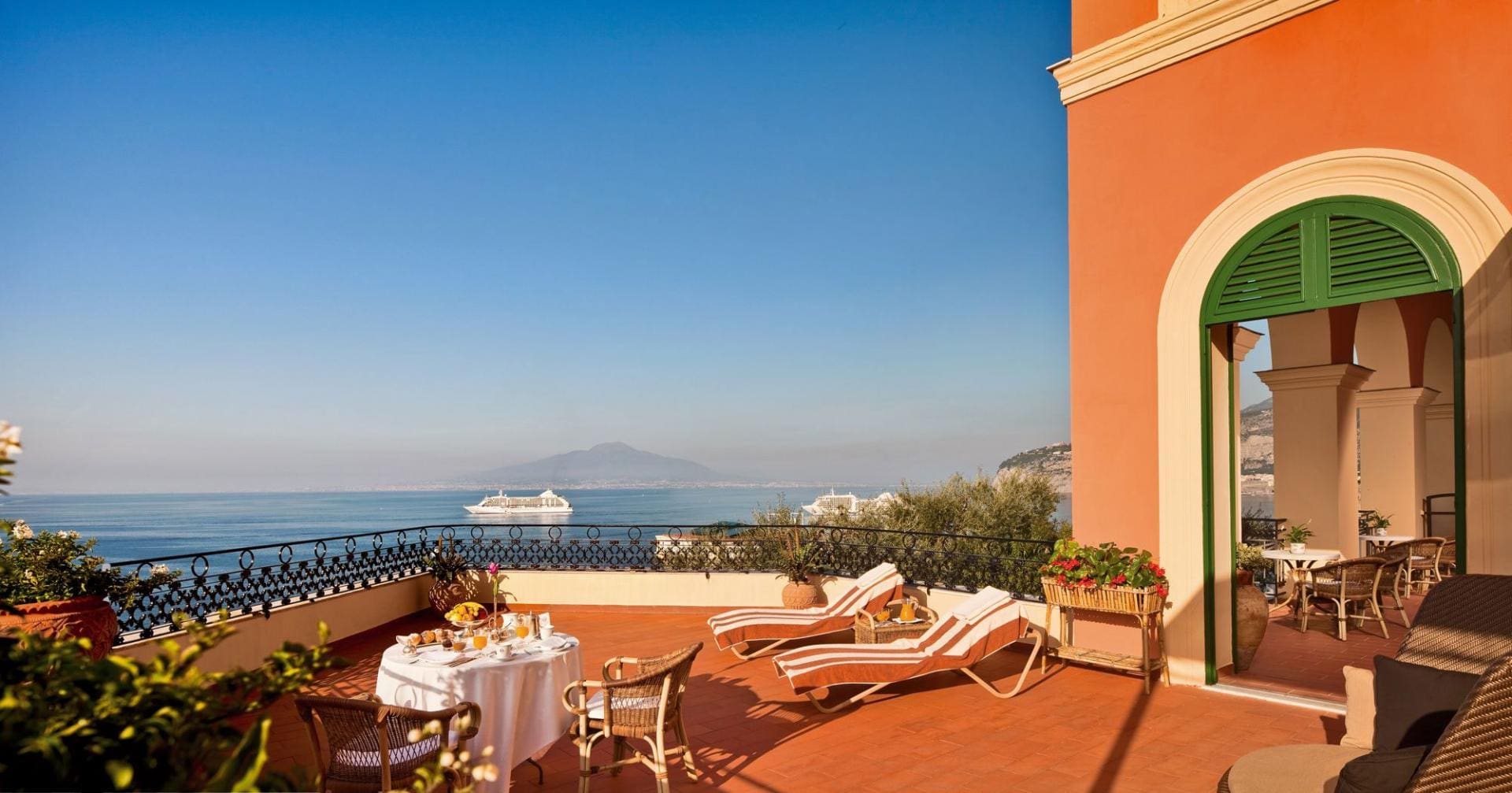 The Excelsior Vittoria breathes romance, from the hand-painted, frescoed high ceilings and Art Nouveau-style interiors to the live piano music that ripples through the hallways. Regal decor is opulent but not stuffy, flourished with clues to its illustrious, fabled past: suites named in honour of past guests from Queen Victoria of Sweden to legendary Italian tenor Enrico Caruso, alongside antique paintings and a photograph of Sophia Loren dressed as a chambermaid whilst filming Aurora at the hotel in 1984.
The hotel holds 84 rooms and suites and a Michelin-starred restaurant, in addition to a nifty private lift that sweeps guests directly from the harbour to the hotel, 165 feet above the Marina Piccola. Our room is a porthole to 19th century Italy, swathed in marble and furnished with period furniture and a grand crystal chandelier, with views overlooking the Bay of Naples, speckled with superyachts.
There is a wedding nearly every evening at Excelsior Vittoria, but don't let that put you off. It makes for wonderful people-watching from your balcony and the wedding party is cordoned off from the rest of the hotel, ensuring it doesn't infringe on your evening sundowner. Al fresco drinks on the terrace are a must, with beguiling views over the bay of Sorrento crowned by Mount Vesuvius. On my visit, everybody I speak to is a returning guest; a loyal and international set, united by a love for the hotel's transporting decor, fine cuisine, impeccable service and that seductive, scintillating sunset. Spend your days lolling by the swanky swimming pool, encircled by lemon trees or strolling the verdant gardens, pit-stopping for a glass of something special along the way.
The Grand Hotel Excelsior Vittoria, Sorrento, has rooms from €460 per night based on 2 sharing a classic garden view room on a B&B basis (excl. 10% VAT); www.exvitt.it
Il San Pietro di Positano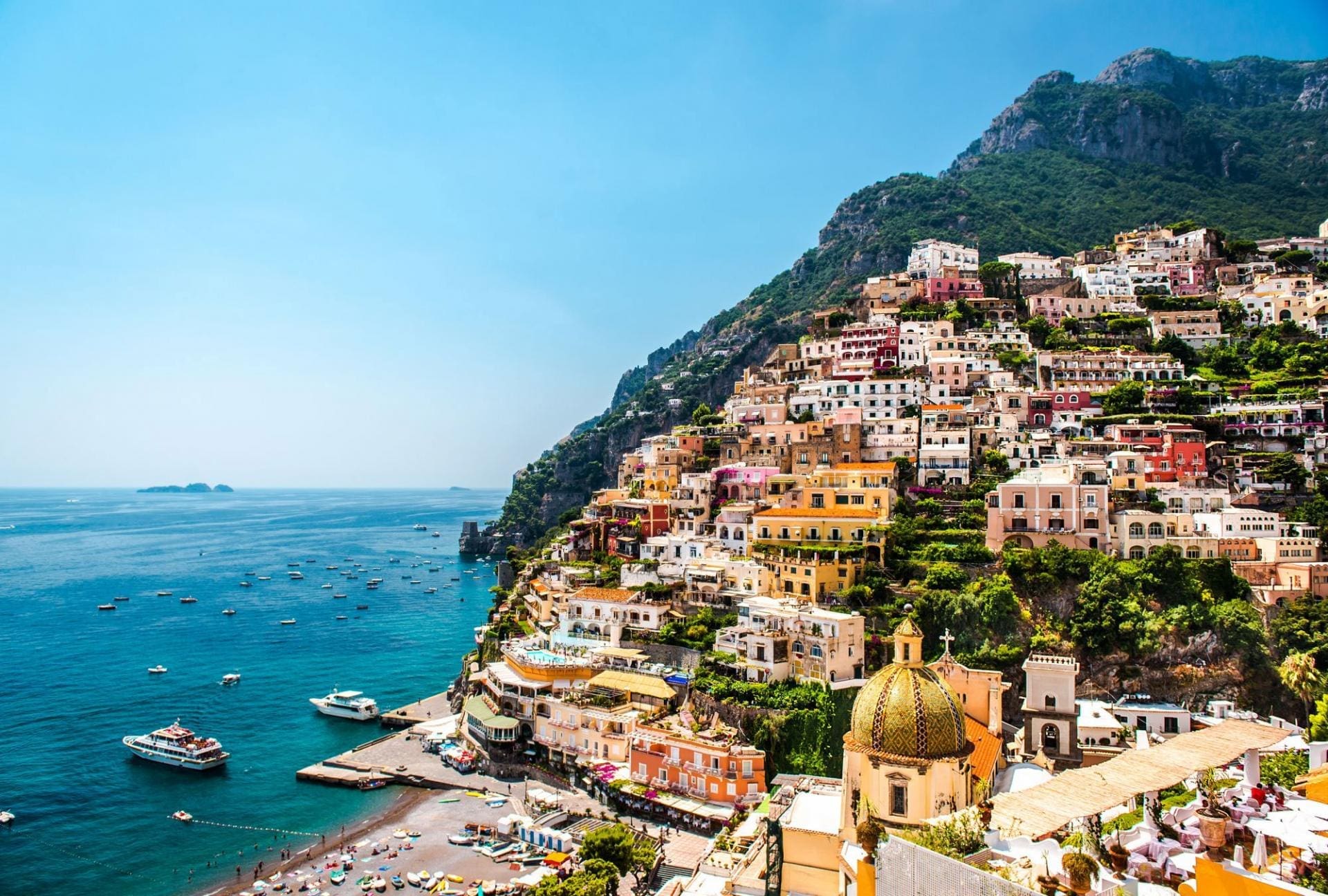 There is no bad view in Positano – a charming town built into the cliffs of the Amalfi Coast, made up of steep, narrow roads and hairpin curves, scattered with higgledy-piggledy pastel houses, framed with exotic blooms.
Positano is famed for its opulence but unlike its neighbouring Italian sisters, it channels low-key luxe. Heels are impossible on the cobbled paths and precipitous terrain and service is unusually intimate. It inspired both a Rolling Stones song (Midnight Rambler) and an essay by John Steinbeck, who wrote in 1953: "Positano bites deep. It is a dream place that isn't quite real when you are there and becomes beckoningly real after you have gone."
If you are looking for the best panorama in Positano, visit the resplendent Il San Pietro di Positano; a truly enchanting, five-star hideaway on the Amalfi Coast, cantilevered over a cliff located 1km from the main town. The hotel was sculpted into the rock by Carlo Cinque as a spectacular villa in 1970. It took eight years to complete and Clinque's descendants still own the family-run hotel today. The famed hotel sets the bar for luxury in Positano and is positioned below street level for complete privacy. It retains an air of old-school, retro glamour, bolstered by charming staff, who glide the gleaming hallways in white blazers and bow ties. Past patrons include Hollywood icons, Sir Laurence Olivier and Gregory Peck, as well as George Clooney and Julia Roberts.
I visit for dinner at Zass, the Michelin-starred restaurant renowned for its homemade pasta and seafood specialities, paired with vegetables grown in the hotel gardens. Arriving early, we settle in on the frescoed terrace for cocktail hour. It is a setting fit for a fairytale, with Positano's spellbinding sunset on our right and the hotel façade, dripping in magenta bougainvillea and climbing vines, on our left.
Away from Il San Pietro di Positano, make the pilgrimage up the 1700-step climb to the lesser-known mountain village of Nocelle, located 400 metres above sea level. (There is also a regular bus from Positano.) Walk The Path of the Gods (Sentiero degli Dei), a name that highlights its serenity and astounding beauty, enveloped by tropical greenery and scented with lemon trees. Dine out at Il Ristoro degli Dei, a casual but blissfully romantic restaurant set high above Positano, where generous portions are rivalled only by the view; a colourful cacophony during daytime and a seductive, twinkling jewel by night.
Il San Pietro di Positano, rooms from €496, www.ilsanpietro.it
Hotel Punta Tragara, Capri
Stretching just 10 square kilometers, Capri is a secluded slice of paradise on the Mediterranean coast. This fabled fantasy island evokes glamour, high fashion, multi-million pound yachts and Dolce & Gabbana adverts. Greek poet Homer coined Capri as the 'land of sweet idleness,' a line that still rings true today; it is where the international glitterati come to live La Dolce Vita lifestyle in sybaritic splendour.
Heaving ferry boats bring hundreds of tourists to Capri daily in the summer. Narrow, cobbled streets are lined with designer boutiques, bars and restaurants and celebrity photographs hang in windows, starring everyone from Michael Douglas and Catherine Zeta Jones to Jay Z, Beyonce and Jackie Kennedy.
Follow the beguiling Via Tragara pathway and you reach Hotel Punta Tragara, a peach-coloured palace etched into the side of a cliff. It overlooks Capri's scintillating turquoise sea and iconic Faraglioni; three jagged, limestone crags thrusting out of the water.
The hotel is the former villa of engineer Emilio Errico Vismara and was designed by Swiss-French architect Le Corbusier in 1920. Opulent, vaulted ceilings, gleaming sculptures and vibrant, patterned furniture set the tone for a chic hotel that pairs historic architecture with bold colour and modern flair. Sleek, cosy interiors are characterised by marble, brass, plush velvet furnishings and vivid textiles.
The hotel features 44 rooms, of which no two are the same. I stay in the Junior Suite, a charming duplex, flourished with contemporary art. During the day, the pool and terrace offer an idyllic, peaceful sunbathing spot with spectacular views over Marina Piccola Bay, framed in exotic greenery. At night, it is a laid-back, sultry cocktail destination, steered by a dynamic team of lively bartenders. The recently launched 'gin club' menu boasts a vast selection of gin from around the world, alongside a bounty of unusual tonic and garnishes.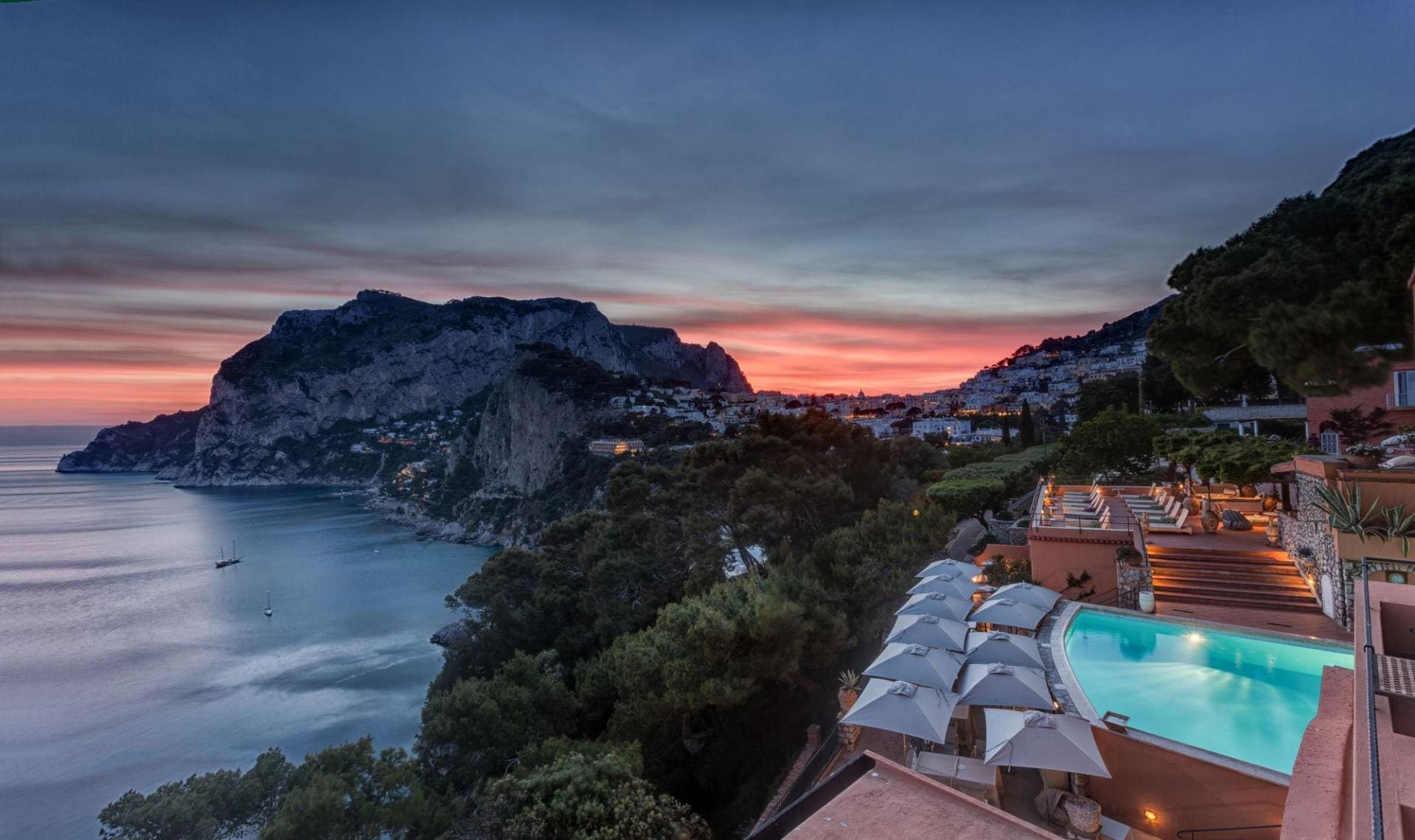 Hotel restaurant Monzù takes its moniker from 'monsieur', the name given to the chefs of Neapolitan aristocracy between the 13th and 19th century. Food is a masterful take on Neapolitan cooking, served within an intimate, wildly romantic setting lit by twinkling candles. It is the only restaurant where I have been asked to select from ten different mineral waters, exemplifying the second-to-none service and opulent menu of traditional Italian dishes, exquisite desserts and extensive wine selection.
The hotel's sister restaurant, Mammà, is located an olive-throw from the famous Piazzetta, Capri's bustling central square. Mammà is a chic, all-white Michelin-starred restaurant that pairs European glamour with soulful Italian cooking: generous, hulking portions of mozzarella and aubergine with delicate white fish; roasted artichoke and homemade tagliatelli, dancing in juicy ragù, "just like mamma used to make". It has all the charm of an old school Italian restaurant, amid the opulence and intimacy of five-star Capri.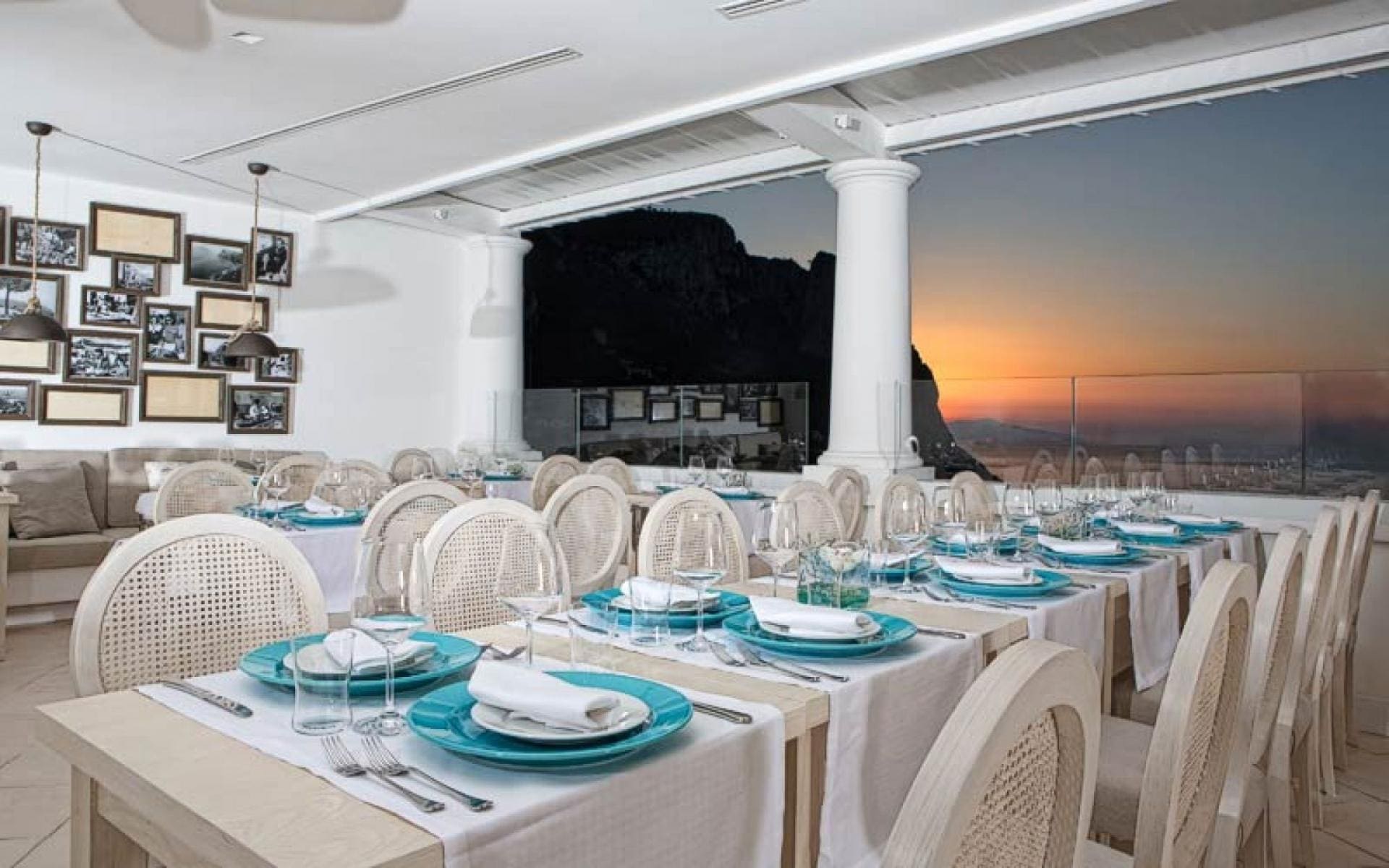 On the evening I visit, there is a freak rainstorm (almost unheard of on the island). Animated staff efficiently shutter the glass partition doors, and I tuck into seared cuttlefish against a wonderfully dramatic backdrop of thundering rain.
On my final morning at Hotel Punta Tragara, I reluctantly check out and wander down that flower-filled path for the final time, waving farewell to the Faraglioni rocks, verdant greenery, glistening sea and baking sun. As the old song goes, 'twas goodbye on the Isle of Capri.
Punta Tragara, Capri, has rooms available from €600 per room per night, based on two adults sharing a Prestige Bedroom on a B&B basis, including VAT and service charge. For further information and reservations, please visit www.hoteltragara.com