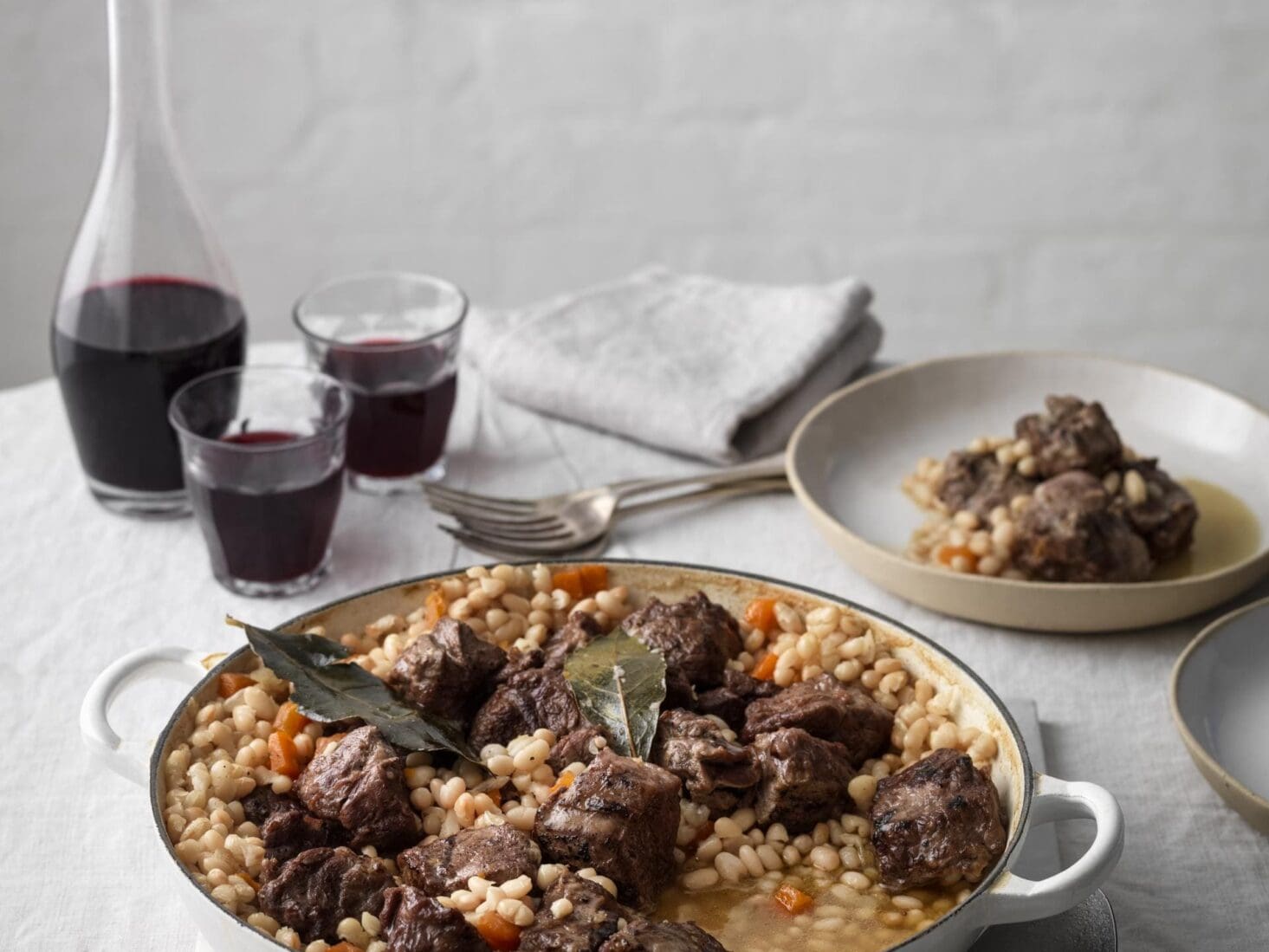 Michel Roux Jr's lamb with haricot beans
"Of course we eat differently at home to the food we serve in our restaurants, and this dish with lamb and haricot beans shows that French food doesn't have to be time-consuming to prepare, and it
Serves six
Ingredients
500g dried haricot beans2 onions, peeled and diced1 bay leaf4 garlic cloves, peeled and crushed2 bouquets garnis4 tbsp vegetable oil1.2 kg boned lamb neck or shoulder, cut into 4 cam pieces2 carrots, peeled and diced2 tbsp tomato paste~Salt and freshly ground black pepper
Method
"Of course we eat differently at home to the food we serve in our restaurants, and this dish with lamb and haricot beans shows that French food doesn't have to be time-consuming to prepare, and it doesn't need fussing over once it's underway."
Soak the beans in cold water overnight. Drain them, put them in a pan with half the diced onions and the bay leaf, then cover generously with cold water. Add 2 of the garlic cloves and a bouquet garni and bring to the boil. Simmer for 45 minutes or until almost tender – the beans will be cooked again later. Drain the beans and set them and the cooking liquid aside.
Heat 2 tablespoons of the oil in a large flameproof casserole dish and sear the meat until golden. It's best to do this in batches so as not to overcrowd the pan. Remove each batch as it is browned.
Discard any fat in the pan. Add the rest of the oil and cook the remaining onion and garlic with the carrots over a medium heat until lightly coloured.
Add the tomato paste and the remaining bouquet garni and stir, scraping the bottom of the pan well. Put the meat back in the pan with enough of the bean cooking liquid to cover. Season, cover the pan and simmer gently for 45 minutes. Add the beans with more water if needed and simmer for a further 30 minutes. Serve in wide bowls.
The above recipe and image are from Michel Roux Jr's cookbook 'The French Revolution', published by Hachette, which is a collection of recipes that Michel and his family cook and eat at home.