You can't make good wine with bad grapes; you don't get a decent barbecue with bad meat – facts of which Eduardo Barsotti and Ruth Cezar are clearly aware. Having opened the under-the-radar Omnino Steakhouse in Leadenhall in 2014 – Barsotti heading up the kitchen, Cezar overseeing the front of house – the couple – both from São Paulo, both previously of Gaucho – launched a second Square Mile-based meat Mecca – Omnino Brazilian Barbecue – earlier this summer. You'll find it on the spot where Fleet Street meets Ludgate Hill.
For its lamb and pork, Omnino uses the award-winning Rhug Estate in North Wales; the majority of the restaurant's beef comes from the Argentine Pampas, except for three specific cuts that hail from a small farm just south of the Brazil-Uruguay border. Omnino uses the same supplier as Hawksmoor and Goodman – telling you all you need to know about the seriousness with which the restaurant treats its steak.
Whereas you'll have to fork out £33 for a 400g rib-eye in Hawksmoor, however, and £32 for a 250g fillet in Goodman, Omnino charges you a respectively reasonable £38.95 for a starter, a selection of tapas and 12 – yes, a dozen – types of premium meat.
This being a Brazilian joint, the meat arrives in all-you-can-eat, rodizio-style, overly-salty, cooked medium-to-well-done (medium-rare is not a thing in the land of Samba) and is carved at your table from big metal skewers by men with sharp silver knives. The trick is not to eat too much too soon. Toscana sausage, marinated chicken, roast pork and slices of lamb provide an oleaginous overture to a fleshy finale of spicy ribeye and Argentine fillet. Omnino's pièce de résistance, however, is its picaña – a little-known cut that's as tender as fillet, as rich as rump, which, for whatever reason, no one seems to eat outside of Brazil.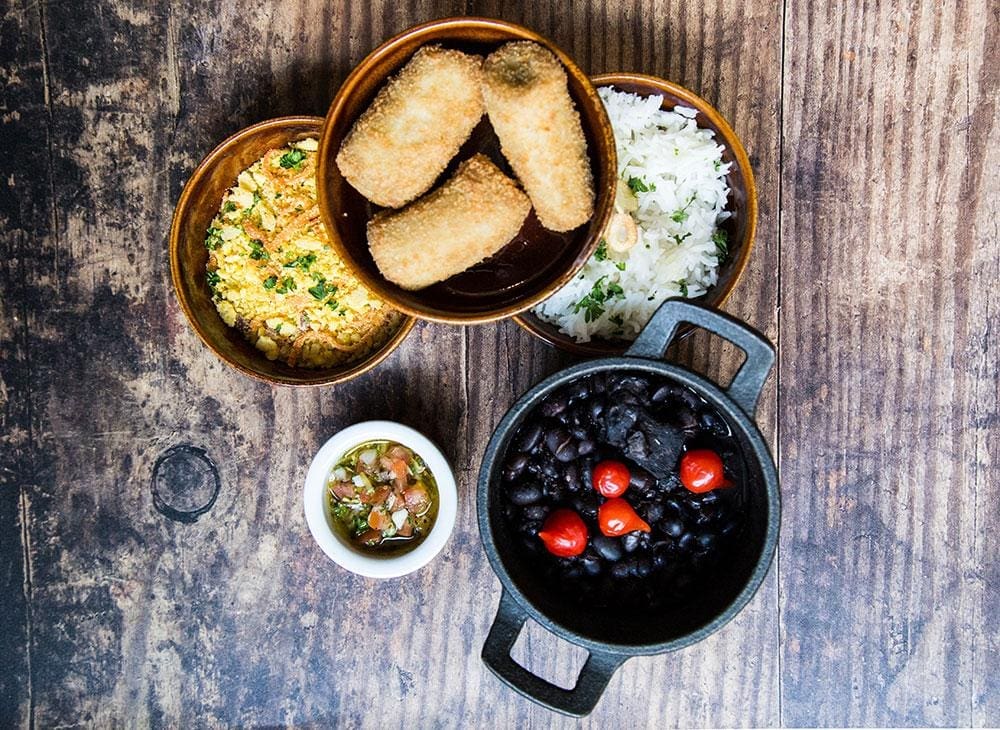 The décor is a dark, disconcerting clash of heavy-chestnut floors, bronze chandeliers, deep-red banquettes, charcoal-grey walls and black metro wall tiles. Thankfully, the place is lit up by the sunny, South American disposition of Cezar and her congenial staff.
If you know any Brazilians, or have been lucky enough to have spent any time in the botecos of São Paulo, you'll know that in Brazil, barbecue is religion. Not for them processed burgers and cheap kofta kebabs. It's a faith you won't find practised in the cheap-meat, buffet-style rodizios of London's more tawdry tourist attractions. For a true taste of Brazil make for Omnino – it might just serve the most authentic picaña this side of Rio.
Lunch, Mon – Fri, £24, 6 sides & 6 types of meat
Dinner, Mon – Sat, £38.95, 10 sides & 12 types of meat
7-9 St Bride Street, London EC4, omninorestaurants.com