Sparkle and shine: The most dazzling high jewellery collections of 2022
Meet the most magnificent jewels you'll see this year
While the eyes of the fashion world may be on the runways of Paris Couture Week, over on the Place Vendôme, collections of a different but equally stunning nature are being unveiled. The traditional home of high jewellery – the term reserved for the most exquisite, innovative and, inevitably, expensive jewellery collections released each year – the Place Vendôme is also the address of choice for the select few houses capable of crafting creations worthy of the title.
Featuring the finest craftsmanship and most flawless stones, and with almost every piece a unique design, these are jewels destined for truly VVIP customers – with many snapped up within days of being released (despite price tags that can reach six figures). Our round-up of 2022's most spectacular high jewellery collections may be the closest you'll ever come to seeing them but, trust us, they're worth the scroll.
Cartier Beautés du Monde
| | |
| --- | --- |
| Rituel | Iwana |
Cartier's latest high jewellery collection takes its cues from the beauty of the natural world, exploring the jeweller's ability to reflect and extend the majesty of Mother Earth through design and stone cutting. Accordingly, alongside the traditional stones of high jewellery – diamonds, rubies, emeralds and sapphire – the collection utilises gems and semi-precious stones to create colourful pieces reminiscent of the elements. Take, for example, the draw-dropping Rituel necklace, which frames a lattice of diamonds and rubies with two rows of cabochon chalcedonies interspersed with Art deco style diamonds and onyx.
Elsewhere, platinum, emeralds, coral, amethysts and diamonds come together in a vibrant explosion of a necklace while the Amodea ring put diamonds and rubies to work highlighting the beauty of a lavender-hued central spinel. Forget dainty and delicate, these are jewels for people not afraid to make a statement.
Chaumet Ondes & Marveilles
| | |
| --- | --- |
| À Fleur d'Eau necklace and earrings | Gulfstream |
Drawing on the same inspiration as its January 2022 high jewellery collection Déferlante, Chaumet's Ondes & Marveilles is an ode to the sea rendered in precious stones. Across the 69-piece collection, which includes Chaumet signatures such as hair jewellery, tiaras and transformable pieces, the house explores the power of the ocean to take you to new horizons and depicts its extremes, from serene shorelines to tempestuous currents. Among the standout pieces is the À Fleur d'Eau set, the star of which a parure constructed from a series of articulated overlapping marquise diamond waves which shimmer and sway like oceans swells and from which suspends a detachable 7.18 carat pear-shaped diamond. Accompanying the necklace is a transformable head jewel that can be divided into two brooches, a three-carat diamond ring and pendant earrings, all featuring the articulated wave design.
Further highlights include the Gulfstream: a parure showcasing a 26-carat mint-green Colombian emerald with a Madagascan sapphire which can be worn alternately on a chain set with sapphires, emeralds and tourmalines or a long necklace culminating in a 19.84 carat black opal. Pearl fans, meanwhile, will be hugely taken with Comète des Mers, a show-stopping necklace in which strings of mismatched natural pearls overlap a graduated diamond necklace connecting to a multi-coloured star with an incredible oval-cut Padparadscha sapphire at its centre.
Dior Print
Dior's Victoire de Castellane is undoubtedly one of jewellery's most prolific designers. Following spring's Dior Galons high jewellery collection, and her season collaborations with Kim Jones for Dior's men's collections, Victoire de Castellane has created a huge 137-piece Dior Print high jewellery collection for summer. As the name suggests, Dior Print is inspired by the designer's wish to 'draw' print on her jewellery as a fashion designer does with clothing. Accordingly, checks, stripes, tie-dye and Liberty prints find themselves picked out across pieces that emulate the fluidity of ribbons and silk scarves or the whimsical, flamboyance of clashing motifs.
Among the collection's stand-out stones are a 12.07-carat Madagascan sapphire dangling from a diamond ribbon necklace, an 11.92-carat Colombian emerald nestling within the fold of a fabric-like necklace and a series of ring and cuffs variously highlighting a 14.66-carat Burmese sapphire, a 10.27 carat Mozambique ruby and an 11.58 carat D flawless pear-shaped diamond.
Van Cleef & Arpels Legend of Diamonds
Since its inception – the result of the marriage between Estelle Arpels, daughter of a gemstone merchant, and Alfred Van Cleef, the son of a lapidary – stones have been at the heart of every Van Cleef & Arpels collection. For 2022 it celebrates this legacy with a two-part collection named the Legend of Diamonds. The first chapter, 25 Mystery Set Jewels, stems from the 2018 discovery of the 910-carat Lesotho Legend rough diamond, which was acquired by Van Cleef & Arpels and cut into 67 Flawless to Internally Flawless stones, including four weighing in at 25.06, 31.24, 51.14 and 79.35-carats. The 25 most exceptional are now presented in a single, incredible high jewellery collection characterised by the use of Van Cleef & Arpels' unique Mystery Set technique, in which stones are individually placed on concealed rails to create a smooth, radiant finish.
Chapter two, White Diamond Variations, is an 82-piece collection drawing on the house's archive of heritage diamond pieces rendered in designs distinctive of their corresponding eras. These modern translations can be easily seen in the Floraison de Diamants bracelet which is inspired by bandeaux bracelets created by Van Cleef & Arpels in the 1920s and features a graphic overlapping design of snow, rail, prong, festooned and closed-set diamonds that reflects the light with astonishing intensity. Alternatively, the New Rubens ring presents a thoroughly modern take on the Between the Finger rings which Van Cleef has been offering since the 1970s. On one side a 3.08-carat emerald-cut diamond offers a minimalism and simplicity offset by an intricate paisley leaf picked out in round and baguette diamonds.
Graff Graffabulous
Released, somewhat unusually, in April – outside of the traditional schedule of January and June – Graff's mammoth 80-plus piece Graffabulous high jewellery collection showcases more than 3,600 carats of diamonds, emeralds, rubies and sapphires making it one of the most extraordinary single gatherings of exceptional stones ever witnessed. As well as expanding on themes seen in the house's previous Tribal collection, many of which prompted Graff's diamond-cutters to create new custom stone cuts, necklaces feature prominently in the Graffabulous collection. The intricacy and fluidity of these designs serve to highlight the technical expertise of the house, showcasing its innovation in gem-setting and its ability to create layers of detail to best exhibit each stone.
"As designers, we listen to the songs the stones are singing, focusing on the music and the rhythm," says Anne-Eva Geffroy, Design Director at Graff. "Like the ripples that emanate outwards when a stone is dropped in water, the tempo increases as the jewels graduate in size until they reach a crescendo: a central motif where the full force of these natural gemstones is concentrated."
Chanel 1932
This year will see Chanel mark the 90th anniversary of its Bijoux de Diamants collection – the first high jewellery collection created by Coco Chanel in 1932. Accordingly, it debuted a new high jewellery collection, named 1932, in May with just one piece tantalisingly launched during Paris Couture Week in January. The Allure Céleste necklace is hailed as the hero of the 1932 collection, which, like Bijoux de Diamants, will carry a celestial theme throughout. This stellar transformable piece incorporates star, sun and moon motifs, with two particularly stunning stones – an 8.05 carat pear-cut diamond and 55.55 carat oval-cut sapphire – offering the most exquisite focal points.
The wider collection, meanwhile, is ordered into a triptych, with each part named for the celestial beings that inspired Coco Chanel throughout her life and which appeared in the original Bijoux de Diamants collection: the sun, the moon and comets. Designed by Patrice Leguéreau, director of the Chanel Fine Jewellery Creation Studio, the 77-piece collection (including 13 transformable designs) focuses not only on incredible stones but also on the way they lay and interact with the body when worn. Highlights include the Comète Constellation ring featuring an exceptional 14.52-carat D IF Type IIa cushion-cut diamond, the Lune Talisman set comprising a necklace, brooch and earrings showcasing the purity of white diamonds and the Soleil Contrasté bracelet which captures the brilliance of the sun in motion.
Chaumet Déferlante
Building on the success of 2021's Torsade de Chaumet high jewellery collection – a range imbued with life and movement thanks to ribbons of diamonds twisted around coloured gemstones – Déferlante offers fluidity inspired by another source: water. Taking its cues from the Wavescroll tiara, which was designed by founder Joseph Chaumet circa 1900, among the highlights of the eight-piece collection is the Déferlante tiara, which features 1,600 brilliant and step-cut diamonds with an intricate design based on an archival drawing of a fountain.
Elsewhere, a 6.05 carat diamond is framed by a spray of stones on a ring which upends notions of the traditional solitaire, while a magnificent necklace features three rows of intertwining diamonds from which are suspended emerald, square and pear-cut diamonds forming the most decadent dewdrops.
Boucheron Histoire de Style: New Maharajahs
Just as the couture collections often hark back to the signature silhouettes and fabrics of a fashion house, so too do designers delve into the history of jewellery maisons – and Boucheron's latest collection is inspired by one of the most memorable moments of them all. In 1928 Bhupindar Sing, the Maharajah of Patiala, visited Paris, bringing with him 40 staff and taking over 35 suites at the Ritz. A famous fan of all things sparkly, jewellers waited with bated breath to see which Place Vendôme boutique he would favour before he stepped into the Boucheron atelier and placed the largest order in the square's history: 149 custom pieces to be exact.
With New Maharajahs, Boucheron creative director Claire Choisne pays homage to this remarkable moment – and the resulting designs – to create intricate, lavish pieces centred around diamonds, emeralds and pearls. "In our archives, we have kept the 149 original designs from which I got my inspiration for this collection," says Choisne. "I wanted to transpose these designs into the 21st century, and to reinvent them for today's Maharanis and Maharajahs." Stand out pieces include the New Maharani Nacre necklace: a transformable piece in which 5,178 Japanese pearls cascade from a diamond necklace which can be worn long, or as a short necklace and two-bracelet set.
Galons Dior
One of the most expansive of the Spring 2022 high jewellery collections, Galons Dior features 81 original pieces designed by artistic director Victoire de Castellane and inspired by Christian Dior and his mastery of couture. Indeed even the name 'Galons' is taken from the world of high dressmaking, referring to the pretty decorative ribbons found on many couture pieces and, in turn, the care and attention to detail that goes into each piece.
Across the Galons collection white diamonds are punctuated by rubies, sapphires and emeralds in a series of delicate, intricate designs that utilise the span of stone cuts to create asymmetric pieces that juxtapose contemporary geometric patterns with romantic florals and traditional, fluid lines. For the first time in Dior Joaillerie's history, the Galons high jewellery collection also includes a range of brooches and cufflinks for men, reflecting the ongoing jewellery partnership between de Castellane and menswear designer Kim Jones (see more below).
De Beers The Alchemist of Light
| | |
| --- | --- |
| Atomique | Rays of Light |
A great jeweller knows that sourcing a good stone is only half the battle. To reveal the true beauty of a diamond it must be cut in such a way as to allow the light to highlight its depth and clarity – and it is this expertise that De Beers celebrates with its latest high jewellery collection. "Our new The Alchemist of Light High Jewellery collection represents the pinnacle of diamond expertise and artistry," explains Céline Assimon, CEO of De Beers Jewellers. "These daring designs push creative and technical boundaries, inspired by the exceptional diamonds that De Beers is able to source, cut and polish to the most exacting standards. A sublime fusion of art and science, precision and imagination, tradition and modernity."
Created as two chapters, unveiled respectively during the Paris Couture Weeks in January and July, the first edition is comprised of the Atomique and Light Rays sets. The former is dedicated to the purity of white diamonds, pressing them into the service of geometric patterns and abstract designs, with a draw-dropping 18.57 carat flawless round diamond providing the centrepiece of a necklace, ring and earring set. Light Rays, meanwhile, boasts nine pieces incorporating diamonds and coloured stones inspired by the hues of sunshine breaking through dark clouds.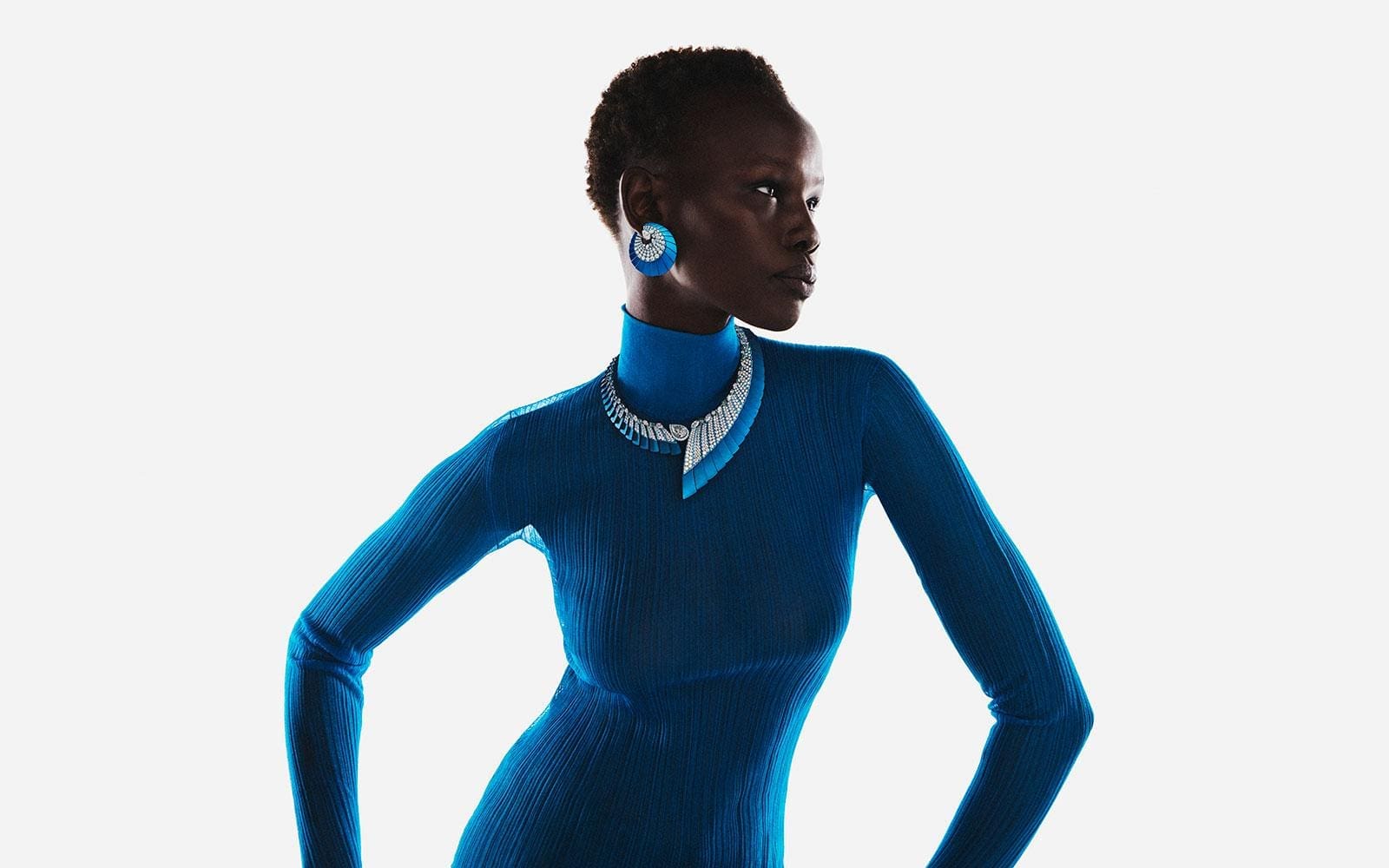 The second edition comprised a further five sets: Midnight Aura, Frozen Capture, Ascending Shadows, Dusk Reflections and Optical Wonder. Each striking set draws on the way light changes during different seasons and times of day, capturing these differences variously through the dusky hues of white diamonds set in yellow and rose gold, the icy hardness of rock crystal, the inky twilight darkness of grey diamonds and anodised titanium and the startingly pastel hues of the Milky Way when spotted in the midnight sky. A gorgeously lyrical and evocative collection.
Dior Men's Haute Joaillerie
While recent seasons have seen some change – both Valentino and Boucheron included pieces for men in their recent collections – it's fair to say that both couture and high jewellery are disciplines still largely reserved for women. Which makes Dior's ongoing collaboration between menswear designer Kim Jones and fine jewellery creative director Victoire de Castellane quite the innovation.
Debuting with the Summer 2022 men's collection, the partnership has so far yielded three high jewellery pieces, each corresponding to, and inspired by, Jones' menswear designs. The latest, for Winter 2022-23, is an Art Deco white gold bracelet with emeralds and diamonds which, in tribute to the house's founder, foregrounds the initials 'CD'.