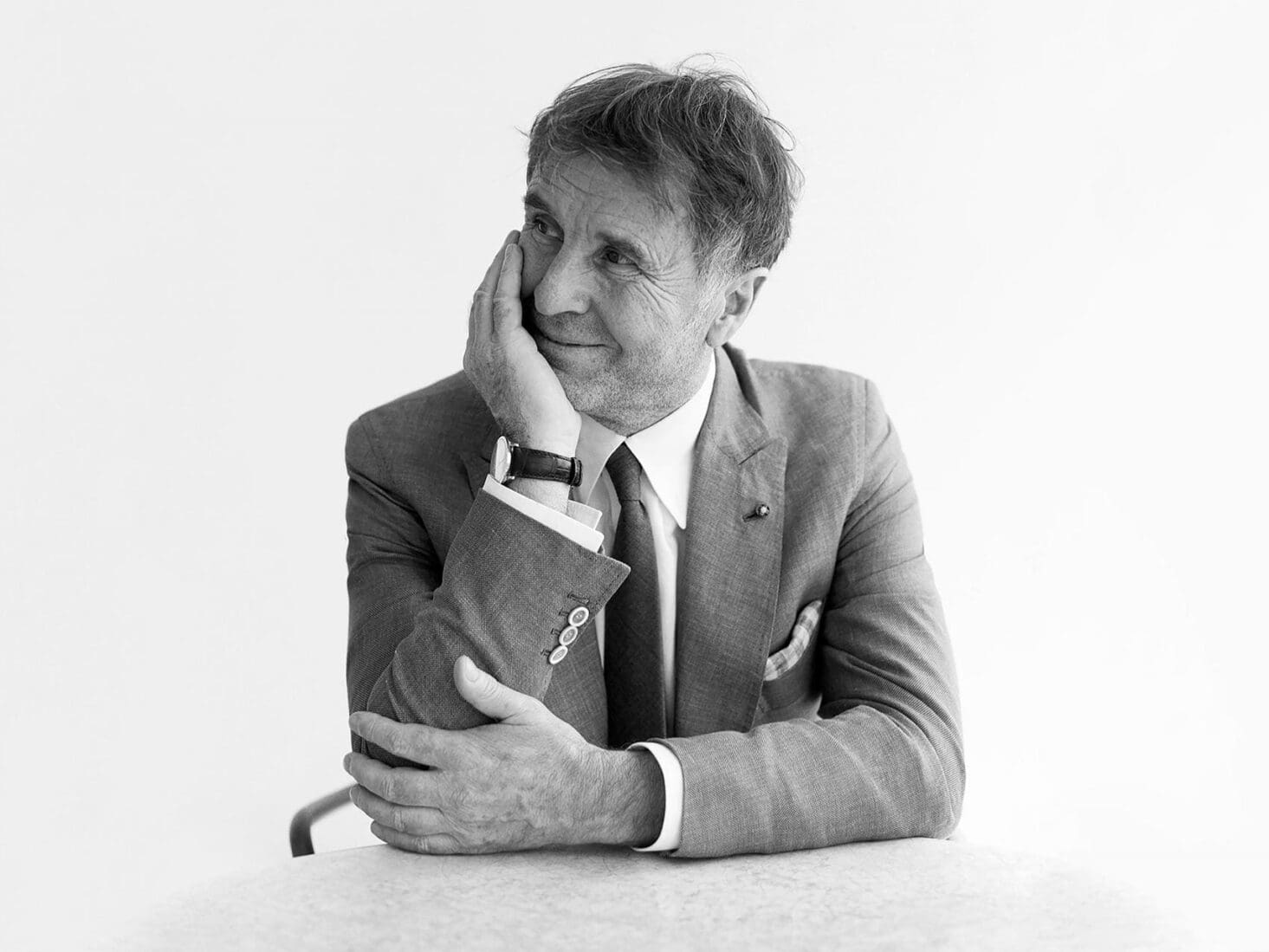 Inside Solomeo: the Umbrian Utopia being built by Brunello Cucinelli
"The heart is always stronger than the mind. Feelings succeed in obtaining results that mathematics would prove impossible" - Brunello Cucinelli
In a terracotta courtyard at the summit of Solomeo, a hilltop hamlet half-an-hour from the village in which he was born, Brunello Cucinelli takes to the stage in pleated cream trousers, a white button-down shirt and an immaculately-tailored double-breasted navy blazer. In the valley behind him – a patchwork quilt of late-summer yellow and emerging greens – are the low-rise, lozenge-shaped factories that produce samples for his uber-exclusive, super-expensive cashmere-centric clothing collections. In front, a 500-strong congregation of friends, investors and international press has been invited to this Umbrian utopia to celebrate the Italian industrialist's 65th birthday – a milestone that just so happens to coincide with the 40th anniversary of his eponymous brand.
Slate-grey clouds have been threatening to dampen festivities all afternoon but, as if by some kind of divine intervention, just as Cucinelli begins to speak, the heavens clear and the Italian capitalist (he hates that word, he will later say), famous, in fashion circles at least, for his philosophic approach to business, is cast in a column of celestial light. Pathetic fallacy playing out in the Solomeo skies. It's impossibly apostolic given Cucinelli's status as the high priest of high fashion.
Brunello Cucinelli attends Pitti Immagine Uomo 93, January 2018
"We need to reinvest in the great ideals of humanity," says the salt-and-pepper-topped sexagenarian, his words competing with the bells of the Church of Saint Bartholomew, restored, like much of the town, by the man now holding court. "We need to return to the big ideas – to family, religion, respect, ethics. Living in cities is hard. Why can we not work from villages? Why can we not return to a village way of life, redesign mankind from there?"
This is Cucinelli's dream. Solomeo the manifestation of that dream.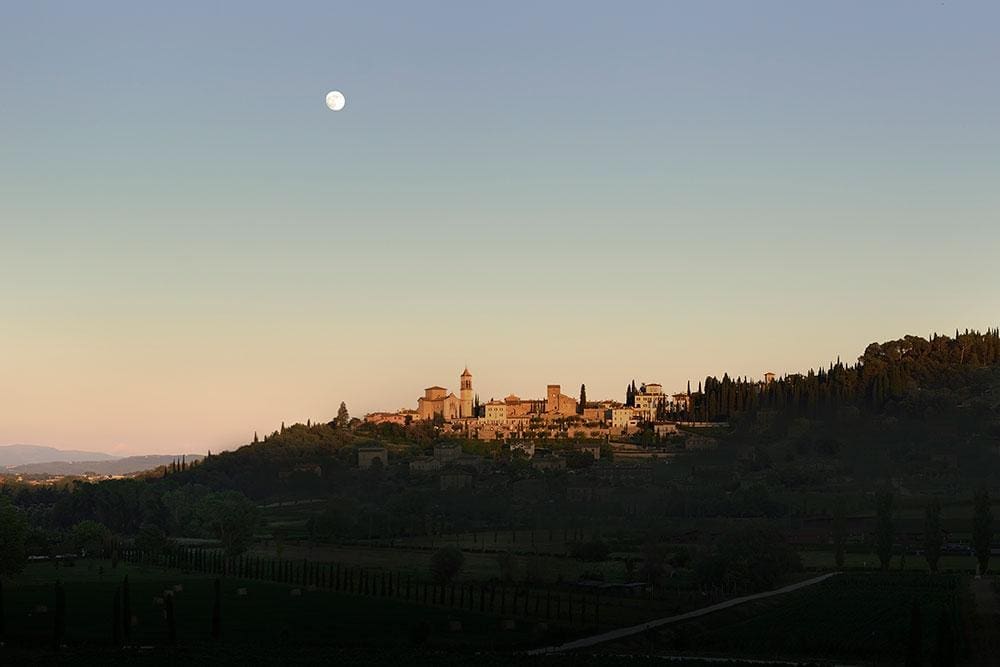 The hamlet of Solomeo, home to Brunello Cucinelli HQ
It was here, in 1978, that the 25-year-old, having obtained a diploma as a building surveyor before dropping out of engineering college, decided to pursue a career in knitwear. Inspired by the success of Benetton's variegated sweaters, Cucinelli identified a gap in the market – high-quality cashmere jumpers for women, coloured in bright hues according to contemporary taste, at a time when cashmere typically came in black or grey.
Cucinelli's wife, Federica, was born in Solomeo – they'd got engaged when he was 17 and she was 16 – and it was here that she ran a small clothing shop. Once Cucinelli's fledgling brand had outgrown its original premises on the outskirts of Perugia – annual production grew to 200,000 jumpers within eight years, thanks, largely, to the compassion of some compatriot creditors and a penchant for high-grade woolly jumpers in Germany – the medieval village become the obvious choice for Cucinelli's new HQ.
'I suffered the melancholic decline and the state of neglect of that ancient small village,' Cucinelli writes in The Dream of Solomeo, a fresh-off-the-press autobiography presented to every attendee of that early-autumn soiree. 'One day, instinctively, I thought of trying to buy the tower and the medieval castle. I was enchanted by those architectures that witnessed the signs of so much history: they seemed eternal, and perfect for the headquarters of my small company.'
Cucinelli began by purchasing the town's 14th-century fortress in 1985, turning its small stone rooms into one of the most remarkable manufacturing facilities in fashion. As his knitwear business became an empire, spreading from America through Europe to Russia and Japan, Cucinelli used his profit to employ traditional craftspeople to rebuild Solomeo, restoring churches, repaving streets, stone by stone, slab by slab, to a romanticised version of its former self.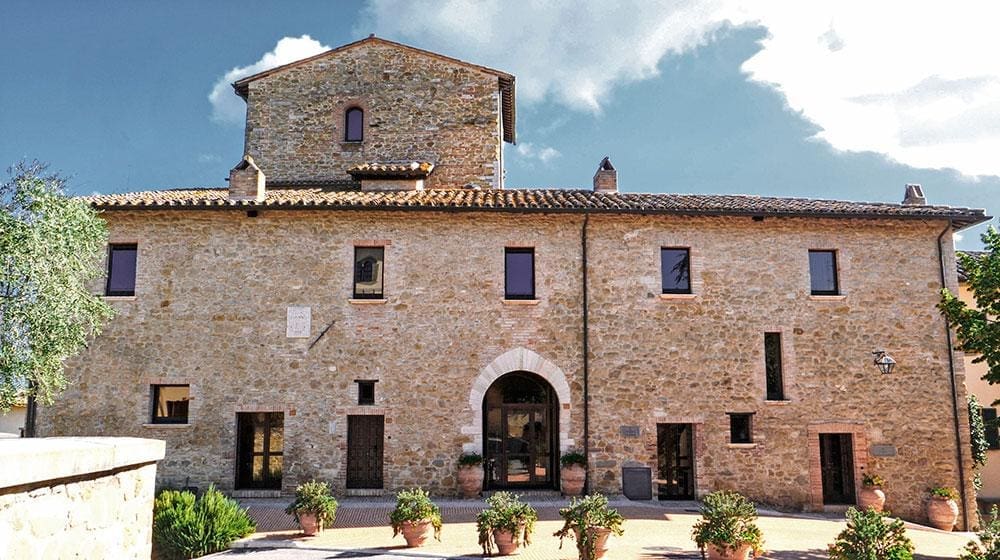 The 14-century Solomeo Castle, which Cucinelli bought, restored and turned into a manufacturing facility
'At that time, many people did not like to live in the villages,' writes Cucinelli. 'There was a certain tendency for moving towards the cities where, as it had been for my family, we hoped to find better economic and social conditions. The opposite happened to me, and the company continued to grow, together with my love for this village… I think that this moment marked the very beginning of my masterplan for my company and for Solomeo.'
At the start of the century, Cucinelli expanded from women's jumpers and accessories into full collections for both women and men. His women's collections grew according to his understanding of the burgeoning luxury sportswear market; for men, he drew inspiration from his personal wardrobe.
Despite commanding some of the highest prices in the industry – think £2,000 gilets, £600 sweatshirts and belts that run up to £500; justified, he says, by the quality of the fabric, the fact that all of his clothes are made in Italy and his decision to pay staff above-average salaries – the cult of Cucinelli found a global following.
In 2012, the company floated on the Milan Stock Exchange with a share price of €7.75, valuing the business at around €527 million. Today, that figure has more than doubled, allowing Cucinelli to endow Solomeo with a classically-designed amphitheatre, a School of Arts and Crafts, and the 240-seat Cucinelli Theatre.
The Church of Saint Bartholomew, restored by Cucinelli
Inside the Church of Saint Bartholomew
In 2014, Cucinelli announced his 'Project for Beauty' – the intention to landscape 100 hectares of mixed-use land in the valley below Solomeo into three distinct parks. The scheme was completed just in time for Cucinelli's 65th birthday celebrations.
Characterised by neat gardens and cypress-lined roundabouts, the Industrial Park houses the company's headquarters. 'We basically renovated the old factory with new wooden galleries and large windows opening on to the landscape; a fountain surrounded by roses, pines and cypresses; the green of new flowers and new trees… It is an example of how an industrial building can fit positively into an ancient landscape.'
The Laic Oratory Park is intended for recreational use – six hectares of manicured grounds centred around a small stadium (where Cucinelli himself plays football) – while the Agrarian Park comprises a plant nursery, an olive grove and an expansive vineyard laid out in the style of a Renaissance garden. At the edge of the vineyard, by the entrance to an elegant, elevated wine cellar, is a statue of Bacchus, the Roman god of agriculture.
Cucinelli's version of heaven on earth might be a 14th-century Lorenzetti painting come to life, but his idealistic worldview doesn't make him an outsider among leaders of the modern, more technologically-inclined, world. He's been invited to give TED talks and lectured at Harvard and MIT. Germany's esteemed Kiel Institute for the World Economy awarded him its Global Economy Prize, while the University of Perugia presented him with an honorary degree. Cucinelli counts Amazon-founder, and current wealthiest man in the world, Jeff Bezos, as a friend, and was asked by Silicon Valley to discuss the topic 'Kind Technology and Humanism' at San Francisco's Yerba Buena Center for the Arts – a speech he remembers in his book.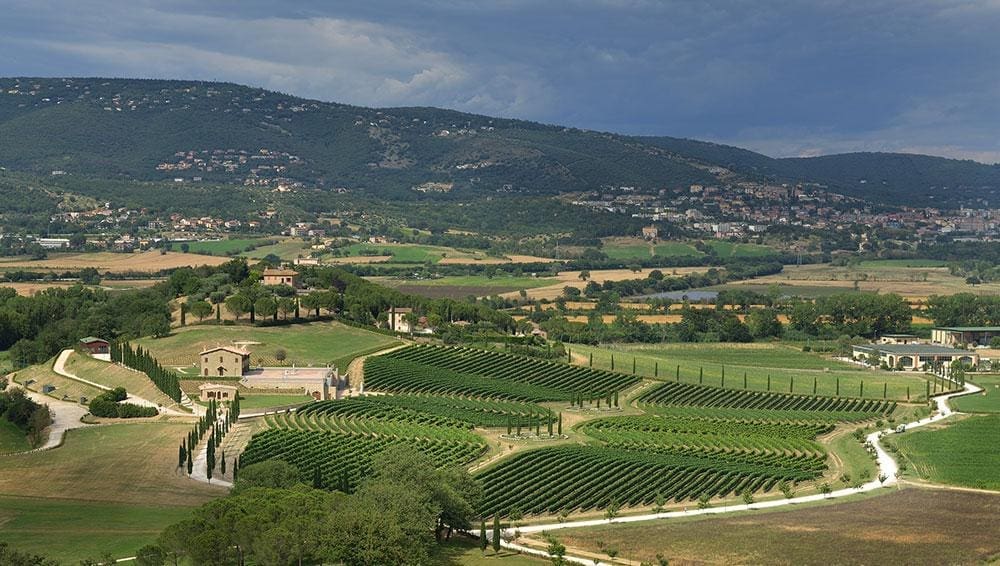 The Valley of Solomeo, 100 hectares of which has been landscaped into three distinct parks
"I am honoured to be among you in this historic theatre, in the cradle of modern talent, among you, the new 21st-century Leonardos. But remember that Leonardo was a great humanist and for this reason I ask you to measure up to your destiny and to humanise the internet. A good connection is surely important, but it should not steal our soul… Today I feel, from time to time, the psychological burden of my smartphone: the idea that this object knows everything about me, listens to me at every moment, even when it is switched off, robs me of some of the comfort coming from my solitude. In the future I imagine that the real luxury for the soul would be to lead a life unknown to our loyal companion." It was a sentiment he echoed on stage at Solomeo. "In the future, I believe that luxury will be a life without a smartphone."
When he's not travelling, Cucinelli likes to wake up early. At the very end of the night, as dawn spreads through the streets and caresses the houses of the town he's dedicated three decades of his life to rebuilding, Cucinelli closes his eyes, breathes in the scents of the countryside and imagines he's in an immense garden. His walk always ends at his small studio in the castle, with its ancient paintings and small windows overlooking the village and the valley below. The place where it all began.
"How would you like your epitaph to read?" Someone in the crowd asks Cucinelli as his birthday speech draws to a close.
He thinks for a moment. "He loved beauty," he answers, "and was a good person."